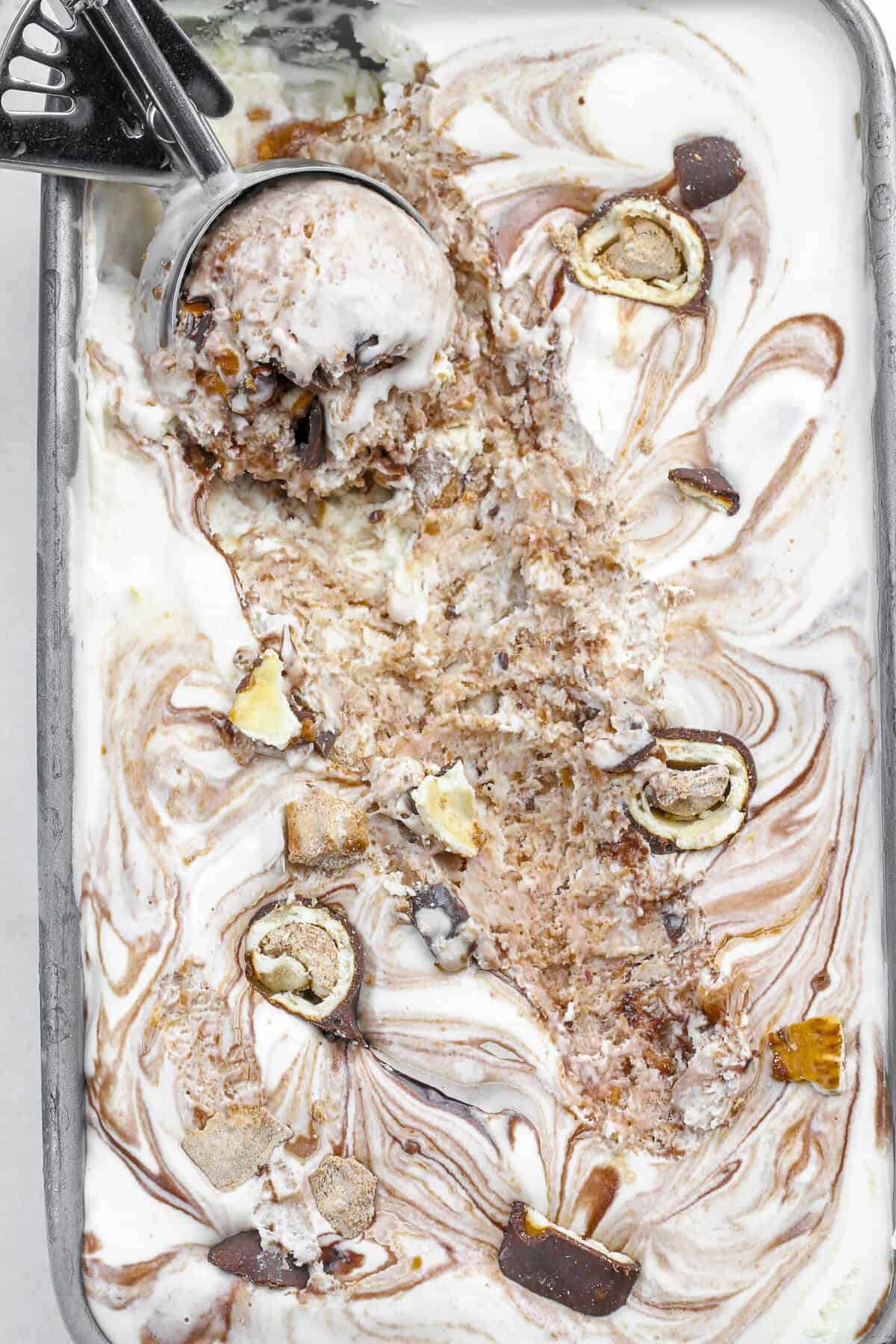 I am thrilled to be sharing this easy Chubby Hubby ice cream recipe (no-churn, egg free).  Chubby Hubby and I go way back. I mean waaaay back, like the 90's. This was my absolute favorite childhood ice cream. I would eat it by the pint in one sitting – not even joking. My family was more into Cherry's Garcia, always a classic, but Chubby Hubby was more my thing. Chocolate covered peanut butter pretzels, chocolate and peanut butter swirled among malted vanilla ice cream. Chubby Hubby  was literally designed for me.
I say "was" because as of ~2008, I stopped being able to find it in stores. Especially in Atlanta, it is nowhere to be found. If you use the store locator tool on the website it shows that it's carried at Walgreens all across the city. Oh the lies they tell me!!!!  This ice cream is not sold anywhere in Atlanta (trust me, I have literally gone 40 miles out of my way to check) and I assume this must be true for other places as well. So, like I do in these situations, I create a copycat version because I must be reunited with my first love! Rest assured, as a connoisseur of this ice cream flavor, I've made this recipe taste identical to the real thing. You will not be disappointed.

No worries if you don't own an ice cream machine because you won't need any fancy gadgets for this recipe. Just a hand mixer or stand mixer to whip up some heavy cream then a few hours in the freezer. In no time you too will have your very own Chubby Hubby to enjoy by the trough-full!

What is Ben & Jerry's Chubby Hubby Ice Cream?
According to Ben & Jerry's, Chubby Hubby came about when two tricksters convinced a co-worker this flavor really existed (it didn't), then felt guilty & made him an actual batch packed with pretzels, peanut butter & fudge. He loved it, & the rest is history.
But they don't use just regular pretzels, the pretzels in Chubby Hubby are stuffed with peanut butter and covered in chocolate. The pretzels surprisingly stay nice and crunchy in the ice cream indefinitely. The peanut butter swirl is perfectly salty and has a nice crunchy texture when it gets frozen. The chocolate is just enough of a swirl to balance out the peanut butter but not too overpowering. Then the delicious malted vanilla ice cream that serves as the base for all this flavor-overload is subtle and lets the mix-ins do the talking, but that maltiness adds a perfect bit of nostalgia.
What is No-Churn Ice Cream?
No-churn ice cream means that you do not need to churn the ice cream ingredients in an ice cream machine or ice cream maker. This is a super easy shortcut recipe doesn't need  any rock salt or special steps to make fantastic ice cream at home. I think it's safe to say that most people don't have ice cream makers. It's an extra gadget that takes up space and is only used on rare occasion (well, for the average person, for me, I am ashamed to say I use mine almost monthly!). It's not very realistic to create a recipe that only a few people can make, so this no-churn version gives everyone access to ice cream at home with complete ease and just a handful of ingredients.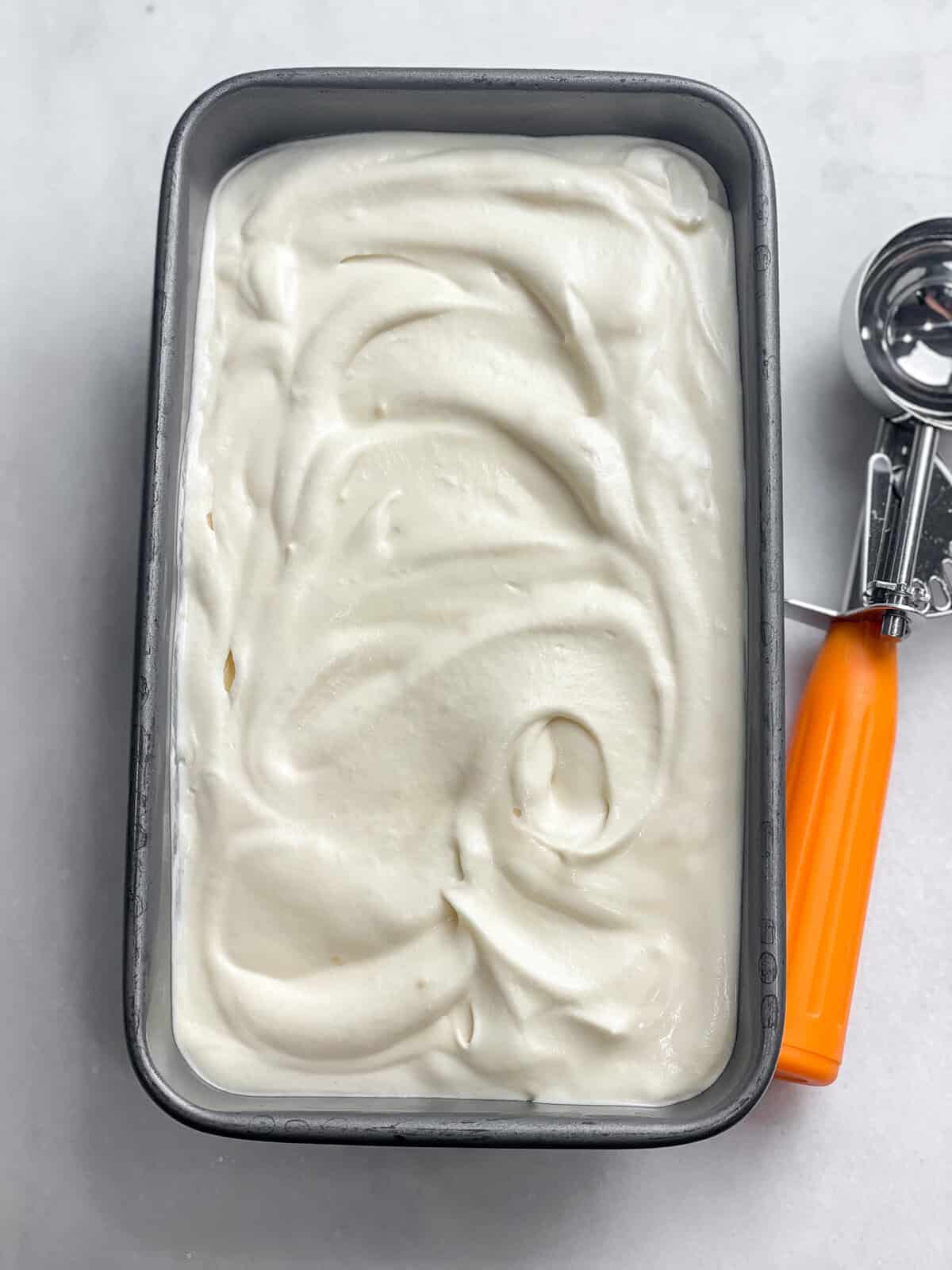 What Ingredients Are In This Chubby Hubby Ice Cream Recipe?
Heavy Cream – this is the most important ingredient. There is no skimping here and trying half and half instead or mixing the two. You need heavy whipping cream because it's the whipped fluffiness of the cream that creates the base of the ice cream texture. I always recommend a good quality brand like Horizon, because they do not use carrageenan (a cancer-causing preservative).
Sweetened Condensed Milk – not only adds it add sweetness, but it also softens the whipped cream and creates a smooth texture. Have you ever frozen whipped cream by itself before? It gets full of ice crystals and doesn't have an ice cream texture. The sweetened condensed milk solves that problem, making it imperative in this recipe.
Malted Milk Powder – malted milk powder is a staple for malt ice cream! Just a few scoops will create the perfect nostalgic malted flavor. You can usually find this ingredient in the baking aisle at the store next to sweetened condensed milk. Carnation is the main brand they sell nationwide.
Chocolate Covered Peanut Butter Filled Pretzels – let's talk about the star of the show! Not only are these fun the snack on and you should keep a bag in your pantry at all times, these are truly the highlight of this dessert. The #1 best tasting brand I've found is Flipz Stuff'd Peanut Butter Pretzels. These taste incredible. Trader Joe's sells a big bag of their own brand, but sadly they taste awfully cheap. The chocolate coating doesn't taste like real chocolate, so these would be my second choice. They aren't bad on their own but when you compare the two, you would only buy the Flipz brand.
Chocolate Swirl – I used a quality brand of chocolate syrup for this. I found chocolate fudge to be too thick and not swirly enough. Avoid a cheap brand of chocolate sauce to ensure it doesn't cheapen the flavor of the ice cream. I wouldn't use Hershey's syrup here. But Ghiradelli, Torani, or Hollander syrup is a better choice. These sauces are also a bit thicker and less watery than Hershey's.
Peanut Butter Swirl – In this recipe we use crunchy natural peanut butter because it freezes up with a bit of a crunch. Make sure the peanut butter you choose is not emulsified (no regular Jif here) and not a peanut butter "spread". It is also important that it has salt. You need the saltiness in the peanut butter to really bring out the flavor. Here are my favorite options: Crazy Richard's 100% Natural Crunchy Peanut Butter, Smucker's Chunky Natural Peanut Butter, and Kroger Natural Crunchy Peanut Butter.  As long as the only ingredients listed are Peanuts and Salt, you should be good to go.
How Do you Make Chubby Hubby Ice Cream (No-Churn, Egg Free)?
With just a few easy steps, you'll be eating the most incredible version of Chubby Hubby ice cream. The best part, you control the amount of pretzels, peanut butter and fudgey chocolate swirl to add in your ice cream. This isn't like the store version where you are left wishing there were a bunch more chocolate covered peanut butter pretzels.
Step 1: Mix together one can of sweetened condensed milk with 1 tablespoon of vanilla extract.
Step 2: In a separate bowl, whip the heavy cream until stiff peaks form. Fold a portion of the whipped cream into the condensed milk. Add the malted milk powder. Then carefully fold in the remained whipped cream.
Step 3: Pour mixture into a metal or glass loaf pan. Freeze for 1 hour
Step 4: Once it's the texture of soft serve, swirl in your toppings. Return to the freezer until it's fully set, about 4 more hours.

Does No-Churn Ice Cream Taste Different?
Before ever attempting a no-churn ice cream recipe, I was turned off by the idea of essentially freezing whipped cream and expecting it to taste like ice cream. Honestly, no thank you, that does not sound appealing. I am an ice cream lover and I enjoy really, really good ice cream. Sometimes shortcut recipes don't pay off and I feared it would be the case with no-churn ice cream.
But…. it's not at all the case. This is REAL ice cream without compromises. There are subtle differences (I wouldn't even say trade-offs) but this is an incredible shortcut that you will absolutely LOVE and will give you the freedom to now make your favorite ice cream in a jiffy!
Here are the key differences:
It's a bit fattier tasting than regular ice cream.

The heavy cream does add more of a fatty taste. This isn't really a bad thing and it doesn't make it too rich tasting. Heck, I still downed a hefty amount in one sitting and had to force myself to stop eating it. But it does give a little bit of that fat coating in your mouth after a while. I would compare it to the same feeling you get when drinking Taro Bubble Tea.

The texture is 100% regular ice cream!

There is no trade-off on texture. It scoops like normal, freezes like normal. However, when it melts, it melts a bit fluffier than normal ice cream and the appearance changes to look more like whipped cream. Once it re-freezes, it returns nicely back to that perfect ice cream form.

You can taste the sweetened condensed milk –

which is certainly not a bad thing. But if you despise sweetened condensed milk, this may not be right for you. Don't worry though, it doesn't overpower this ice cream recipe. All of the other flavors pack such a powerful punch! You will be blinded by Chubby Hubby divinity!!

Looking for More Copycat Recipes?
Dairy Queen Peanut Buster Parfait Copycat Recipe
Cherry, Butterscotch & Chocolate Dipped Cones (Dairy Queen Copycat Recipe)
Wendy's French Fries Copycat Recipe
The Best Five Guys Burger Copycat Recipe
Starbucks Pumpkin Cream Cold Brew Copycat Recipe
Entenmann's Devil's Food Donuts Copycat Recipe
KFC Chicken Littles Copycat Recipe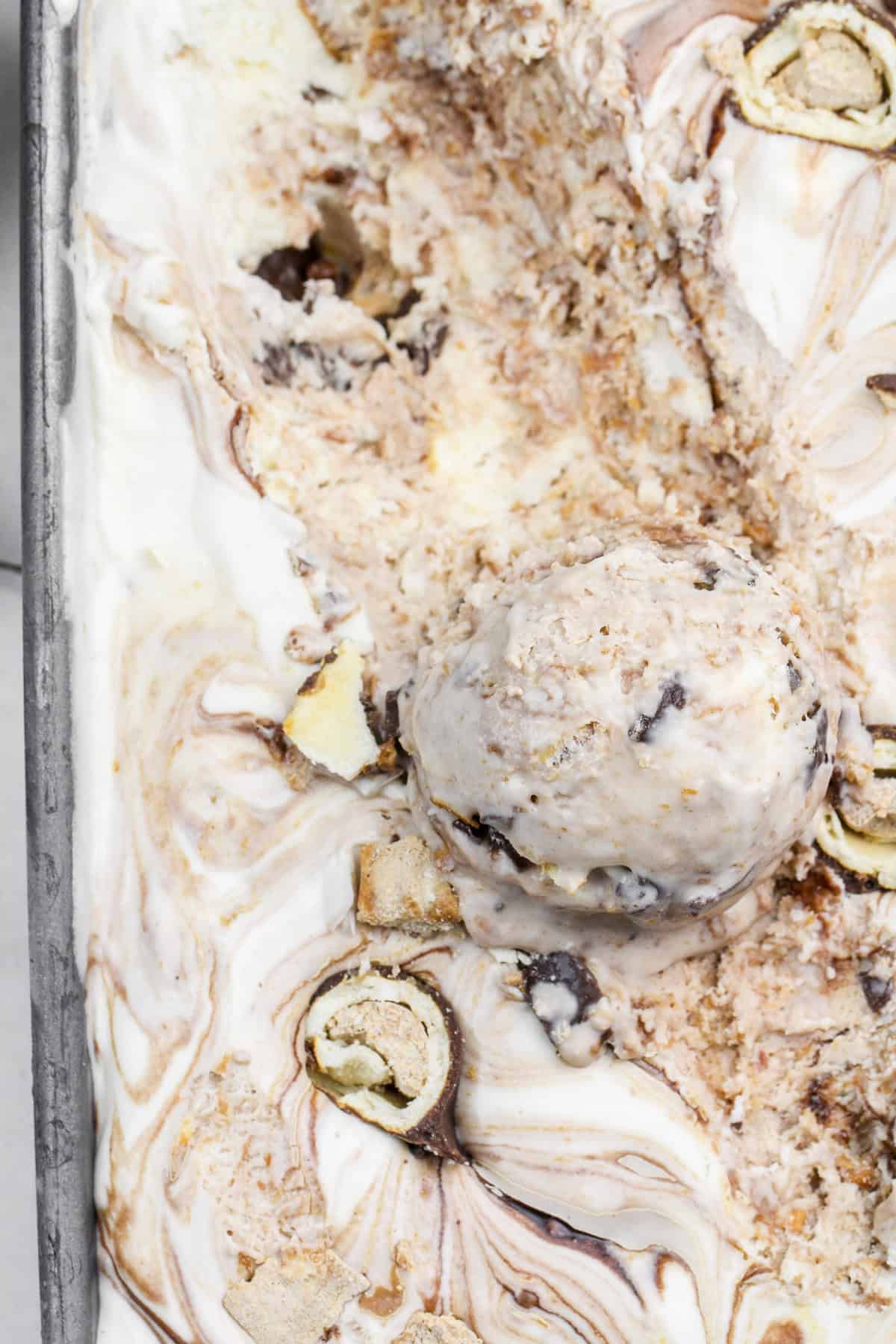 I look forward to your questions and feedback below. Please be sure to tag me @BadBatchBaking using hashtag #badbatchbaking if you made this recipe and I will feature you on my story! Plus, I LOVE to see your baking accomplishments
Print Recipe
Chubby Hubby Ice Cream Recipe (No Churn, No Eggs)
This super easy no-churn Chubby Hubby ice cream recipe is a copycat version of Ben & Jerry's. You can make this at home with no ice cream machine or rock salt required. With just a few simple ingredients and a hand mixer you can whip up your own sweet and salty batch of Chubby Hubby!
Servings:
12
servings (6 cup)
Equipment
Hand mixer or a stand mixer

9" Metal loaf pan or similar sized deep glass dish
Ingredients
Malted Vanilla Ice Cream Base
1

14 oz can

sweetened condensed milk

1

tablespoon

vanilla extract

2

cups

heavy whipping cream, cold

pinch

fine salt

3

tablespoons

malted milk powder
Chubby Hubby Mix-Ins
1 1/2

cups

chocolate covered peanut butter stuffed pretzels

cut in half

4-5

tablespoons

natural crunchy peanut butter

*see notes*

3-4

tablespoons

chocolate sauce

good quality like Ghiradelli
Instructions
Start by whisking together the sweetened condensed milk, vanilla extract and pinch of salt in a medium bowl. Set aside

In a separate bowl, whip 2 cups of cold heavy whipping cream using a hand mixer or a stand mixer, until still peaks form. Carefully fold 1 cup of the whipped cream into the sweetened condensed milk mixture with a rubber spatula. Add the malted milk powder and carefully stir until it is dissolved.

Add the sweetened condensed milk mixture into the bowl of remaining whipped cream. Carefully and delicately fold the whipped cream in, until it's fully combined. Pour into a glass or metal loaf pan, cover with plastic wrap, and freeze for about 1 hour.

After 1 hour the ice cream should be the texture of soft serve. Fold in the chopped pretzel chunks until they are evenly distributed. Plop in spoonfuls of peanut butter and chocolate sauce and swirl them in, being careful not to blend them too much into the ice cream. Top will a few additional pretzel pieces. Cover tightly with plastic wrap and freeze for another 4-5 hours.
Notes
**As explained in the body of this blog post, do not use emulsified peanut butter (such as regular Jif). It does not freeze well and won't taste as much like Chubby Hubby. Pick a natural, crunchy peanut butter that only has two ingredients: peanuts, salt.