No, of course I didn't scour the web trying to find a restaurant supply site that sold ice cream parlor shell dip, then spend $16.49 for each 96 ounce canister (x3 flavors) and add rush shipping to the order for instant gratification…
Yes, it's true. This did just happen. I think it's time for my intervention.
But can you blame me? Look at these beauties. Who wants to crunch into one of these right now? Read more for the recipe.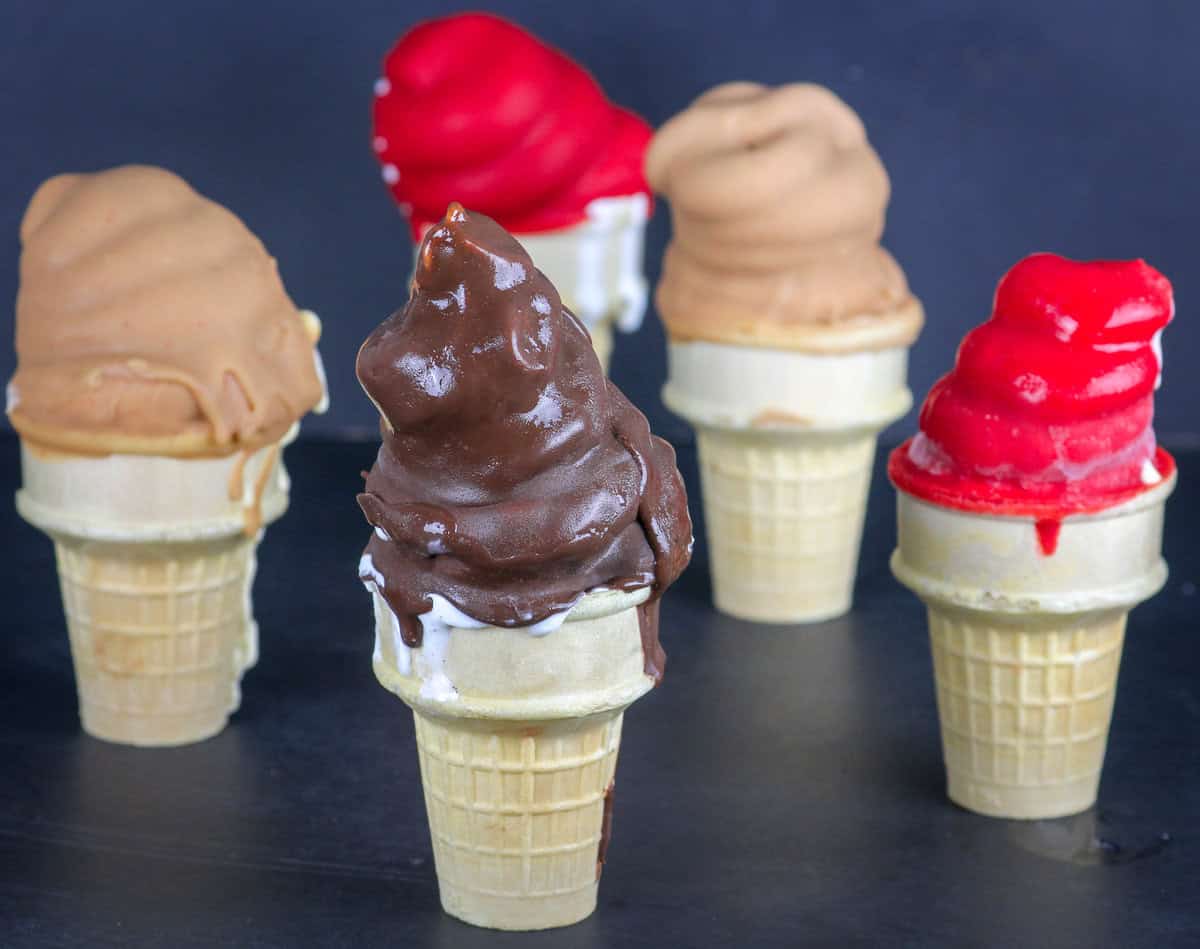 These nostalgic ice cream cones dipped in cherry, butterscotch and chocolate are easy to make at home! These three flavors are identical to Dairy Queen and Twistee Treat.
Even though we all likely have a Dairy Queen in a nearby town, there is something so awesome about making these at home. Especially if you are preparing them for a birthday party or sleepover for kids.
If you want to save a few steps and not pipe the ice cream, you can serve scoops in a bowl and pour a few tablespoons of the dip atop the ice cream (probably easier for a crowd). It hardens instantly and is still amazing, though you miss the sensation of being able to crunch into the cone – my favorite part!
This is a recipe you have to plan ahead for and invest in a bit. The dip isn't cheap (again, ~$16 per canister from Webstaurant Store). But each can is ginormous, so you can probably get a zillion uses out of it. I emptied the contents of mine into food storage containers and tossed the cans so that they could be properly resealed for future usage.
I have to be honest, the solidified oil that you will see when opening up a canister of this dream dip leaves a lot to be desired. Sometimes seeing the behind-the-scenes of food isn't always pretty. And this clearly is not some healthy organic shell dip, this is your classic childhood "crap" lol. But I really believe there are exceptions where we need to just embrace a few artery-clogging ingredients for the sake of a beautiful experience!
Cherry, Butterscotch & Chocolate Dipped Cones (Dairy Queen Copycat)
Print recipe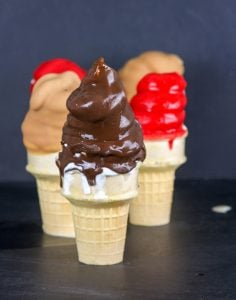 Ingredients
piping/cake decorating bags
shell dip, flavors of your choice
1 Gallon vanilla ice cream
4-6 sugar cones
Directions
Take a portion of the shell dip and place into tall, wide glasses. Following the manufacturers instructions, melt until just barely softened. Make sure it comes to room temperature before dipping the ice cream otherwise it will cause melting.
In a metal bowl or a stand mixer, empty the gallon of ice cream into the bowl by scooping it. Blend the ice cream until the texture is very smooth and silky. Put the bowl in the freezer for 30 minutes or so to prevent it from getting melty but still keeping it's softened form.
While ice cream is re-freezing, prepare your dipping station by lining up your shell flavors and having ample space in the freezer to rest your ice cream cones for after dipping so they can quickly harden.
Scoop ice cream into a piping bag fitted with a large round tip (or just cut the bottom of the piping bag by 1"). Pipe the ice cream like you are frosting a cupcake. Make sure to fill the bottom of the cone with ice cream first as it acts like "tree roots", allowing the ice cream to stay sturdily in place when turning upside down.

Pipe to the desired shape (it's hard to make them perfect but close enough was good for me), turn the cones upside down and dip into each shell flavor.

Remove, then re-dunk to ensure full saturation. Allow excess to drip off, then immediately place it back into the freezer to set for 10 minutes and serve!