This post is all about how to make my Fried Chicken Street Corn Tacos with bacon and a creamy jalapeño lime ranch. These fried chicken tacos are dripping in flavors that will overwhelm you! Not only is the chicken perfectly seasoned and crunchy, the street corn is crunchy and so addictive. Then you add the creamy, spicy, tangy sauce on top – you'll be in an absolute heaven!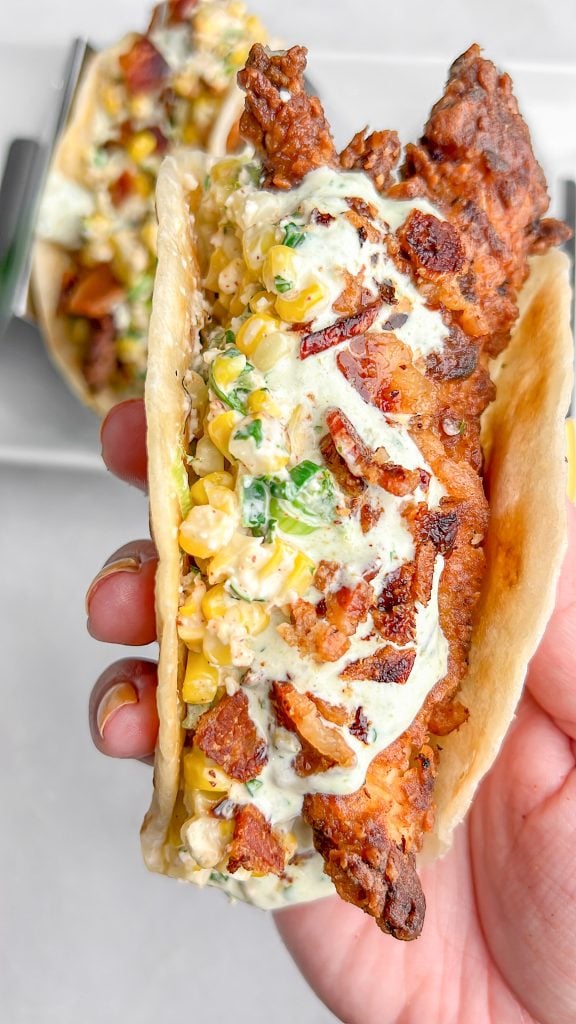 Smoky, crunchy, tangy, sweet – these tacos are ALL the things! Crispy tender chicken, tangy sweet street corn, spicy creamy sauce, smoky bacon and it's all wrapped in a pan-fried flour tortilla shell.
These addictively delicious fried chicken tacos start with crunchy, country-fried chicken tenders. I marinade the tenders in pickle juice and buttermilk to ensure they are super tender with a subtle tangy pickle flavor.
This post is all about fried chicken tacos topped with street corn and jalapeño-lime ranch, an absolute fan favorite!
Street Corn Fried Chicken Tacos
This street corn salad is one of the best you'll ever make – crunchy sweet corn that's blackened on the stove or grill, scallions, lime zest, a little fresh garlic are just some of the ingredients that make this salad so full of flavor!
One of my favorite elements of this fried chicken taco is the jalapeno lime ranch. This is a sauce that I reuse again and again in my recipes because it's so flavorful and addictive. This is my copycat version of Chuy's famous creamy jalapeno. Considering this is what Chuy's is best known for, it's no wonder why this sauce works so well on these tacos, or just to enjoy with tortilla chips.
Sometimes you come across a recipe that you HAVE to make. You can't stop thinking about it, like it almost makes you drool and you can taste it just by looking at photos. I recently made a cheesy brisket version of this taco, Brisket Street Corn tacos but I couldn't stop thinking about how good this would be with fried chicken instead.
This taco idea hasn't left my mind since and today was the day I finally brought this idea into fruition. If I am being honest, I almost like it more than the brisket. It is a totally different vibe but it's probably more MY style than the shredded beef.
My Favorite Tools for these Fried Chicken Tacos
These are some of my favorite tools to make my absolute favorite taco right now – this fried chicken taco.
Metal Tongs – these are an extension of my hands in almost every recipe
Pyrex Mixing Bowls – for mixing up my sauces, corn, and toppings
Lodge Cast Iron Skillet – a large 15″ skillet to make the fried chicken for these tacos (among lots of other good eats)
What if I don't have time to make the fried chicken?
If you're looking for a shortcut way to enjoy these tacos, I highly recommend grabbing a to-go order of your favorite chicken tenders from a nearby restaurant. Ideally you can visit a chicken joint like Slim Chickens, Raising Cane's, Gus', etc. but some chain restaurants have good tenders too. Longhorn and Red Robin have some of my favorites.
Key ingredients needed for this over-the-top delicious fried chicken tacos:
Seasonings: cayenne powder, paprika, garlic powder, onion powder, dry ranch seasoning, salt and pepper
Sauces/Condiments: olive oil, peanut/vegetable oil, mayo, pickled jalapenos, pickle juice,
Dairy/meat: buttermilk or milk, sour cream, cojita cheese, chicken tenders, bacon
Produce: Limes, cilantro, scallions, corn on the cob, garlic
Looking for other popular recipes?
Brisket Street Corn Tacos with Jalapeno Lime Ranch
Olive Garden Chicken Alfredo Pizza Fritta Copycat Recipe
Crispy Honey Chicken from PF Changs Copycat Recipe
Roasted Salmon with Garlic Parmesan Cream Sauce over Mashed Potatoes
Better Than Olive Garden Chicken Scampi Copycat Recipe
The Best General Tso's Chicken
Did you love this Fried Chicken Tacos Recipe? Be sure to comment below with any questions or feedback. Don't forget to tag me on IG with any photos; @BadBatchBaking and use #BadBatchBaking
Print Recipe
Fried Chicken Street Corn Taco with Jalapeno Lime Ranch
These tacos are all the things! Crunchy fried chicken, smoky bacon, tangy creamy jalapeno lime ranch sauce, sweet creamy street corn. You will absolutely LOVE these fried chicken tacos
Ingredients
Bacon, cooked crisp and diced

1 strip per taco

Flour tortillas
Chicken Tender Marinade
1.5

lbs.

chicken tenders

1

cup

pickle juice

1/2

cup

buttermilk
Chicken Coating
1.5

cups

all-purpose flour

1/4

cup

cornstarch

1

tablespoon

garlic powder

1

tablespoon

paprika

2

tsp

salt

2

tsp

onion powder

2

tsp

black pepper

1

tsp

cayenne powder

2

tablespoons

hot sauce

1.5

cups

buttermilk

peanut oil or vegetable oil

for frying chicken and for pan-frying shells
Street Corn Salad
5-6

ears of corn

husked and grilled in a skillet/grill

1/3

cup

mayo

1

garlic clove, minced

1

lime, juiced and zested

1/3

cup

sliced scallions

1/3

cup

grated cojita cheese

1/4

cup

cilantro, minced

1

jalapeno, diced

1/2-1

tsp

chili powder

1/4

tsp

salt
Jalapeno Lime Ranch
3/4

cup

mayo

3/4

cup

sour cream

1

tablespoon

dry ranch seasoning

1/2

tsp

garlic powder

1/2

tsp

salt

1/2

cup

pickled jalapenos

1/2 cup or 3/4 cup depending on how spicy you prefer

2

tablespoons

juice from pickled jalapenos

3/4

cup

cilantro

large stems removed

1

tablespoon

lime juice

1/4

cup

buttermilk

milk could be used as substitute
Instructions
Frying Chicken
Add pickle juice and buttermilk into a medium bowl. Submerge chicken then cover with plastic wrap and let it marinate in the fridge for at least 2 hours, but it's best if you can let it sit overnight to truly get the flavor of pickle juice.

Once ready to fry the chicken, put the flour mixture in a medium-sized bowl: flour, cornstarch and seasonings. In a seperate medium bowl, add buttermilk and hot sauce into stir until combined. Add a few tablespoons of the buttermilk into the flour and stir to create crumbs that will stick to the chicken.

Heat oil in a cast iron skillet or deep fryer. Preheat to 350°F.

Taking the chicken pieces one at a time, pat them dry from marinade. Place in the flour mixture, then dunk into the buttermilk/hot sauce. Then back into flour mixture, make sure the chicken is well coated. Shake off any excess.

Set the chicken aside and let it sit for a few minutes until the coating starts to look a little pasty. Use seperate hands for wet and dry handling to prevent flour caking on your fingers.

Carefully add chicken strips to the fry oil a few at a time. Don't add more than three or four pieces at at time. You will need to fry in batches so you do not overcrowd the pan. Fry until golden brown or until internal temp reaches 165 degrees, turning every few minutes.
Street Corn Salad
Grill up the corn and carefully slice it off the cob. Combine all street corn ingredients in a bowl and mix well. Refrigerate until you're ready to use. You can make this a day ahead for maximum flavor and ease.
Jalapeno Lime Ranch (Chuy's Creamy Jalapeno Copycat Recipe)
In a food processor (or blender works too), puree cilantro leaves with the pickled jalapenos and their juice. Puree until mostly smooth, scraping down the sides a few times. In a mixing bowl, add the mayo, ranch seasoning, garlic powder, and salt. Mix well to combine.

Pour cilantro mix directly into the sour cream mixture. Stir to combine. Add lime juice, then add in buttermilk a little at a time until you reach desired consistency. Store in a mason jar or a bowl tightly sealed. Refrigerate up to five days. Best served chilled so they flavors have time to meld together.
Assemble
Add a few tablespoons of neutral oil to a skillet over medium low heat. Add tortillas 1-2 at a time and cook on each side for 1-2 minutes or until they are golden brown but still pliable. Place pan-fried shells on a few layers of paper towels to absorb excess oil.

Assemble the taco by adding one chicken tender, a scoop of the elote salad, and a drizzle of the sauce. Serve with lime wedges.