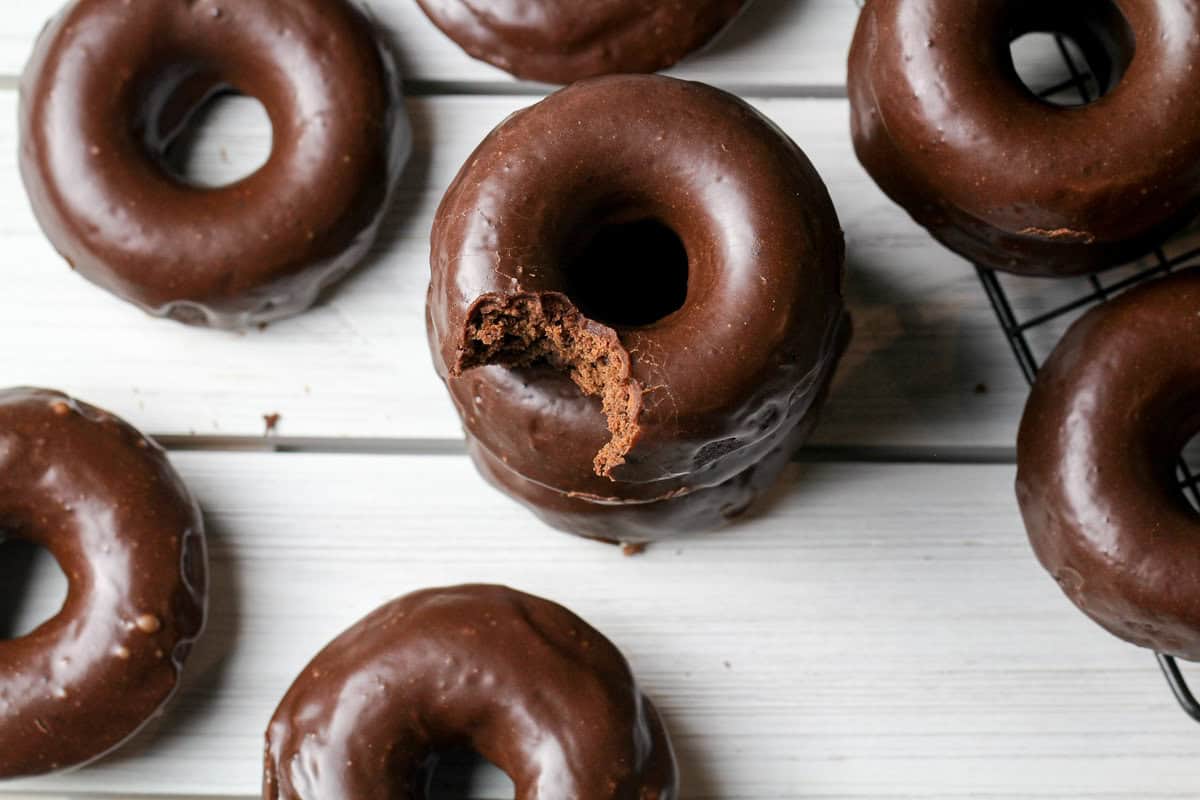 "Everyone's Got A Favorite" Entenmann's and mine is the Devil's Food Donuts!
Since this is one of my first posts since I took a three month wedding/honeymoon/moving apartments hiatus from my blog, I figured it was appropriate for my comeback recipe to be recreating a very special memory from my time on my honeymoon with my new husband. A chocolate, store-bought donut. Yes, it's the little things 🙂 
My husband introduced me to this store-bought dessert when we were on our honeymoon back in March. We were driving from Orlando to Miami and stopped for a night in Melbourne. We got up super early the next morning and enjoyed the sunrise on the desolate beach. It was one of my best memories of our trip. It was completely unplanned like the rest of our honeymoon. We always have the most fun being spontaneous. We had decided that we would spend our honeymoon in Florida (where we had the wedding) and we would just go wherever the road took us.
Here are some photos of us on the beach at 6am:
During our road trip, we made a stop at a grocery store and he grabbed these donuts for the car ride. My first time trying these. Amazingly good. I am usually a fan of their crumb cake, but I still haven't had any of these snacks in years and rarely ever buy them. I wasn't sure at the time if it was this delicious just because it was my first awful-for-you snack food since my nine month wedding diet or if they were really as good as they tasted. Packed full of preservatives of course, but still, why was I not able to put the box down? Ok, again, maybe it was the addiction-laden preservatives.
But you know, usually these treats taste "cheap". These seriously don't have that Twinkie or Ding Dong taste where you can get that chemical essence  in your mouth. These are legit, seriously.
So I've decided to make these homemade so we can enjoy an upgraded version of these donuts while using better ingredients 🙂 Whether you are an existing fan of the Devil's Food Donuts or just love chocolate donuts in general you will love these.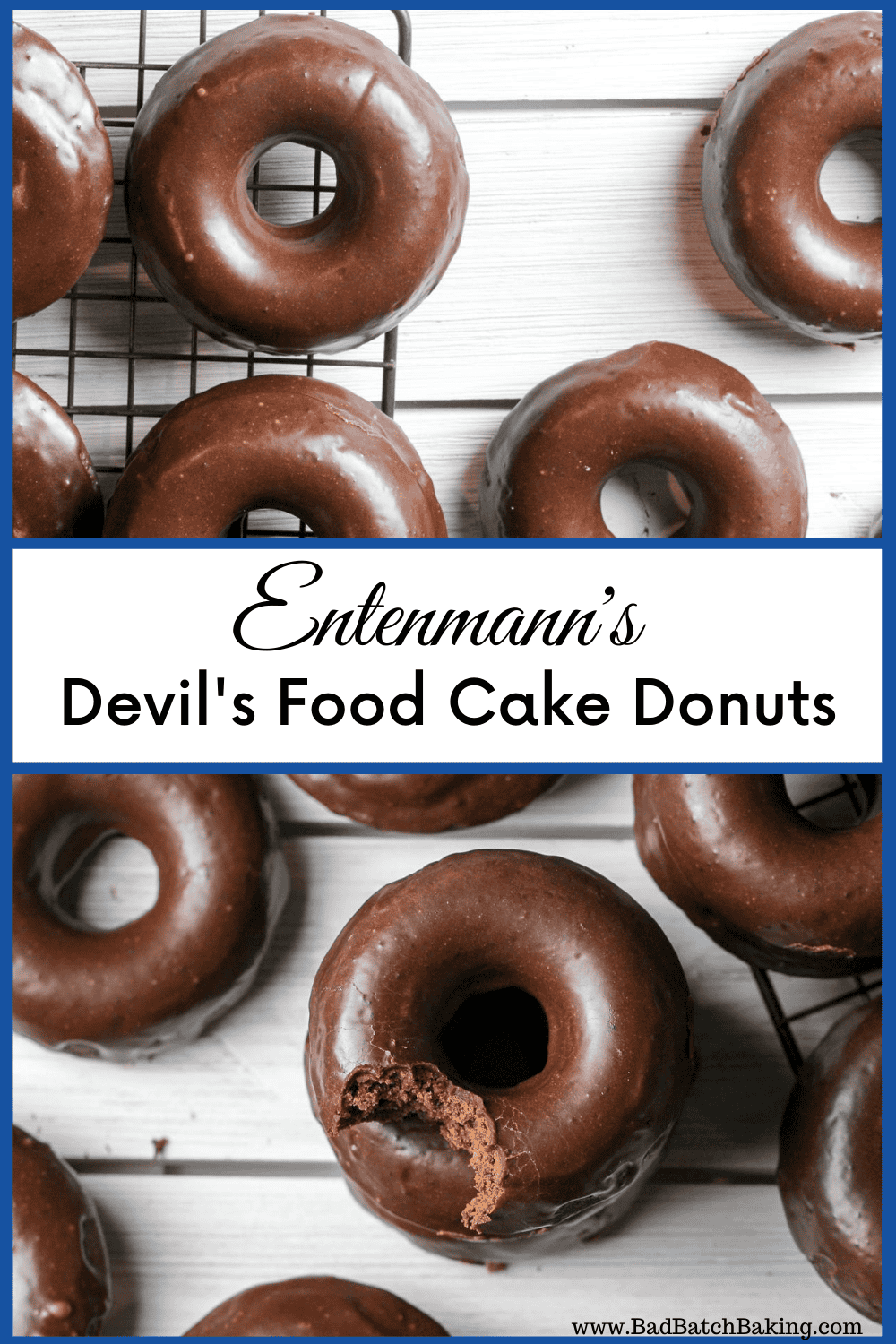 Donut Pan or DIY Donut Pan
To get started, let's be sure you have the right equipment. A donut pan is very helpful. I got mine on Amazon here:
A donut pan isn't necessary as you can do a makeshift pan using a muffin/cupcake pan by simply shaping some foil. Here is a video
CHOCOLATE CAKE DONUTS VS. THIS ENTENMANN'S RECIPE:
The difference between these and typical chocolate cake donuts is that
1) The frosting hardens so you get a chocolate shell rather than creamy frosting on top.
2) This is full 360 frosting coverage, just like the ones you get in the box. Yes. Dunked entirely in chocolate glaze on every square inch. That chocolate shell insulates the donuts, keeping them extremely soft and adding a bit of a crunchy bite.
The chocolate hardening also makes it easier to transfer the donuts onto a plate or into a storage container without messing up the frosting.
Looking for more dessert copycat recipes? Try these:
Tagalong Girl Scout Cookie Copycat Recipe
Sweet Martha's Cookie Jar Copycat Recipe
Dairy Queen Peanut Buster Parfait Copycat Recipe
Hostess Suzy Q's Copycat Recipe
If you give these a try, I would love to know what you think of them! Be sure to tag @BadBatchBaking and use #badbatchbaking on IG so I can be sure to share it in my story. I look forward to your questions/comments below.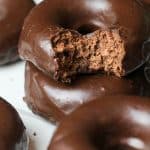 Print Recipe
Entenmann's Devil's Food Cake Donuts Copycat Recipe
These Entenmann's copycat chocolate cake donuts are extremely moist and covered in 360 degrees of chocolate buttery glaze.
Equipment
Donut Pan (ideal)

Piping Bags (ideal)
Ingredients
Devil's Food Donuts
2

cups

140g all-purpose flour

1/2

cup

unsweetened cocoa powder

1/2

teaspoon

baking soda

1

teaspoon

baking powder

1/4

teaspoon

salt

2

large eggs

1

cup

granulated sugar

2/3

cup

milk (2% or whole)

1/2

cup

sour cream

4

tablespoons

butter, melted

(add't butter used for greasing pan)

1

teaspoon

vanilla extract
Chocolate (Hardening) Glaze
4

tablespoons

butter

4

tablespoons

unsweetened cocoa powder, sifted

1/2

cup

heavy whipping cream

1

teaspoon

vanilla extract

2

cups

powdered sugar, sifted
Instructions
Make Donuts
Whisk together these ingredients in a bowl: flour, cocoa powder, baking soda, baking powder powder, and salt.

In a medium bowl, whisk eggs with the sugar until it is well combined. To it, add milk, yogurt, (cooled) melted butter and vanilla extract. Continue to mix until smooth. 

Pour the WET into the DRY flour mixture and mix by hand until just combined and no more big clumps. Be careful not to overmix. The batter will be thick.

Grease the donut pans with butter or non-stick spray. Pour the batter into each donut hole using a piping bag or carefully spooning it in. Tap the tray a few times to smooth out the batter. Cook for about 10 minutes or until a toothpick inserted in the center comes out clean.
Chocolate (hardening) Glaze
Melt the butter in a small saucepan over low heat.

Add the sifted cocoa powder and cream. Whisk until it thickens but do not let it boil. About 2 minutes total.

Remove from the heat and add vanilla extract, whisking to incorporate. Add the sifted powdered sugar and whisk slowly until perfectly smooth. Note - If you whisk too quickly you will get air bubbles in your glaze. Pour the chocolate glaze into a bowl (I used a cereal bowl) so the chocolate is deep enough to submerge the whole donut.
Coat the Donuts
Place one donut at a time into the chocolate glaze, push it down until chocolate is coming up the sides and up through the middle. Use a toothpick or carefully use your finger to lift and flip the donut through the middle. Repeat on the opposite side. Lift donut out of glaze, allow it to drip access off donut then place on a cooling rack and allow to set.

Once fully set, store the donuts in a zip top bag or an airtight container.