"Everyone's Got A Favorite" Entenmann's and mine is the Devil's Food Donuts.
Since this is one of my first posts since I took a three month wedding/honeymoon/moving apartments hiatus from my blog, I figured it was appropriate for my comeback recipe to be recreating a very special memory from my time on my honeymoon with my new husband. A chocolate, store-bought donut. Yes, it's the little things 🙂 
My husband introduced me to this store-bought dessert when we were on our honeymoon back in March. We were driving from Orlando to Miami and stopped for a night in Melbourne. We got up super early the next morning and enjoyed the sunrise on the desolate beach. It was one of my best memories of our trip. It was completely unplanned like the rest of our honeymoon. We always have the most fun being spontaneous. We had decided that we would spend our honeymoon in Florida (where we had the wedding) and we would just go wherever the road took us.
Here are some photos of us on the beach at 6am: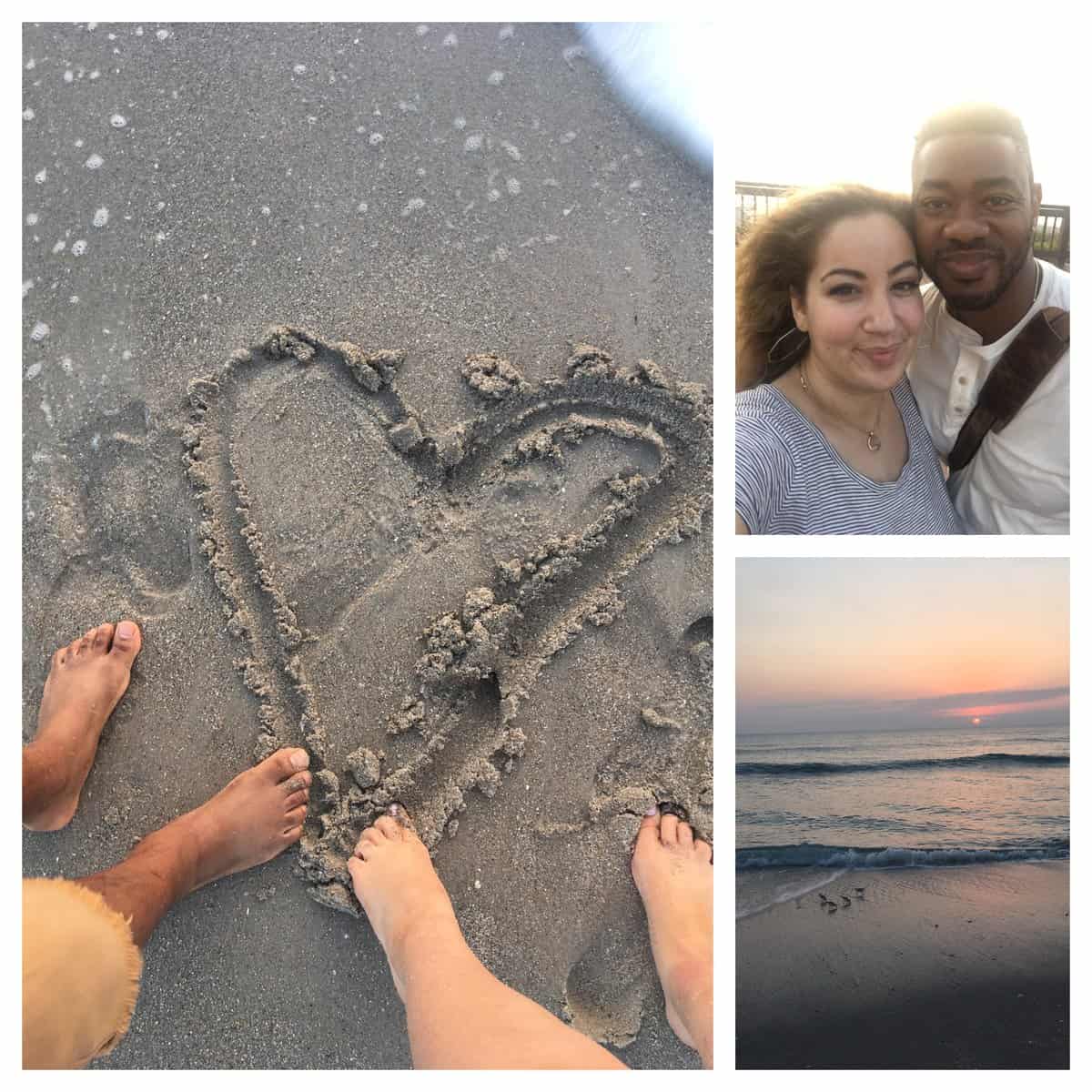 During our road trip, we made a stop at a Walmart Neighborhood store and he grabbed these donuts for the car ride. My first time trying these. Amazingly good. I am usually a fan of their crumb cake, but I still haven't had any of these snacks in years and rarely to never buy them. I wasn't sure at the time if it was this delicious just because it was my first awful-for-you snack food since my nine month wedding diet or if they were really as good as they tasted. Packed full of preservatives of course, but still, why was I not able to put the box down? Ok, again, maybe it was the addiction-laden preservatives and additives.
But you know, usually these treats taste "cheap". These seriously don't have that Twinkie or Ding Dong taste where you can get that chemical essence  in your mouth. These are legit, seriously.
Whether you are an existing fan of the Devil's Food Donuts or just love chocolate donuts in general you will love these. You can choose to bake them of fry them. This version was actually fried, mainly because I don't have a donut pan. Frying definitely takes away a little of the softness/cake texture and makes it more of an Old-Fashioned donut with the crispiness on the outer edges. Still amazing, but not as true to the Entenmann's version. So I went out and bought a donut pan and re-tried the recipe. Another batch of these donuts in the house, what a bummer! I have the worst life.
The difference between these and a typical chocolate cake donut is that the frosting is full 360 coverage. Yes. Entirely dunked in chocolate glaze on every square inch. It keeps the inside insulated in chocolate, keeping them extremely soft.
Go ahead, make these. Love these.
Entenmann's Devil's Food Donut Recipe

Print recipe
Ingredients
Devil's Food Donut
2 1/2 cups all purpose flour
1 cup unsweetened cocoa powder
1 teaspoon salt
2 teaspoons baking powder
1 tablespoon espresso powder
4 eggs, beaten with 1/4 cup water
1 3/4 cup granulated sugar
1/3 cup buttermilk
5 tablespoons butter, melted and cooled
oil for frying
Chocolate Glaze
1 cup melted semi-sweet chocolate chips (quality brand)
6 tablespoons melted butter
1/2 cup milk
3-4 tablespoons light corn syrup
2-3 cups powdered sugar
1 teaspoon salt
Directions
Devils Food Donut
In a large bowl, whisk together all dry ingredients.

In a smaller bowl, whisk eggs for about 1 minute. Add the sugar, melted/cooled butter, and buttermilk and whisk for another minute or so.

Add the wet ingredients to the dry and mix together with a rubber spatula, until they come together. Do not overmix.

**If baking instead - pipe the dough into a greased doughnut pan. Bake in the oven at 350 degrees for 10-12 minutes, until they are "just" done. Be careful not to overbake as they will firm up as they set.**
Flour a work surface and turn the dough out onto it. Give the dough a fold so it comes together in one mass, then allow it to rest for 10 minutes.

Liberally flour the top of the dough. Dough will be very sticky. Add more flour as you go, to each sticky area. Use a rolling pin to make the dough an even 1/2 inch thick. Using cutters dipped in flour, cut the donuts and place on a floured tray. Saving the holes for frying as well.
Prepare your frying oil. Place a large, heavy pot on the stove and rest the candy thermometer inside. Heat oil to around 375 degrees. Maintain this temp throughout frying process. Adjusting heat as necessary.

Set up a cooling rack covered with paper towels next to the stove and get tongs or slotted spoon ready.
Once the oil has reached 375°F, begin to add the donuts, one at a time. Cake donuts will sink to the bottom of the oil, then cook for a bit before rising up.

Once the doughnut bobs to the surface, fry it for approximately 1-2 minutes more before turning it and fry for an additional 2 minutes on the other side. Be careful not to overcook. Place the doughnuts on the prepared cooling rack.
Chocolate Glaze
Combine butter, milk and corn syrup in a small bowl. Whisk in melted chocolate chips and powdered sugar until smooth. (I melted my chocolate in the microwave for 30 seconds, then 10 second intervals until completely smooth. Remember to not over cook chocolate or it will seize!)

Glaze will set up, so return it to the microwave if needed to soften and whisk smooth again.
Prepare a cooling rack with foil or parchment paper set below the rack to catch the drippings and prevent mess.

Dip each cooled donut into the glaze, ensuring full coverage of glaze. Flip donut and spoon glaze over, being sure it runs over all sides and completely covers donut. Remove with two forks, tap excess off the edge of bowl and place onto cooling rack. Repeat with remaining donuts.