Looking for the best Labor Day food ideas? I have some unique recipes to share if you have had your fill of the usual burgers and hot dogs this summer.
I always think of Memorial Day as the kick-off of the summer season and Labor Day earmarks the end of summer festivities. It can feel a little sad to say good-bye to summer (although we can still enjoy nice weather for another 6-10 weeks depending on where you are located) but sadness aside, we get to welcome in fall!
Let's make the most of this end of summer era with some incredible Labor Day recipes for your Labor Day cookout. Most of these recipes are focused on grilled recipes and smoker recipes, but I've also included air-fry friendly recipes as well.
Kicking off my list of Labor Day food ideas, we have smoked brisket sliders with street corn elote salad and Alabama white barbecue sauce.
This slider uses a 12-hour smoked brisket but you can easily substitute the protein for my instant pot brisket recipe.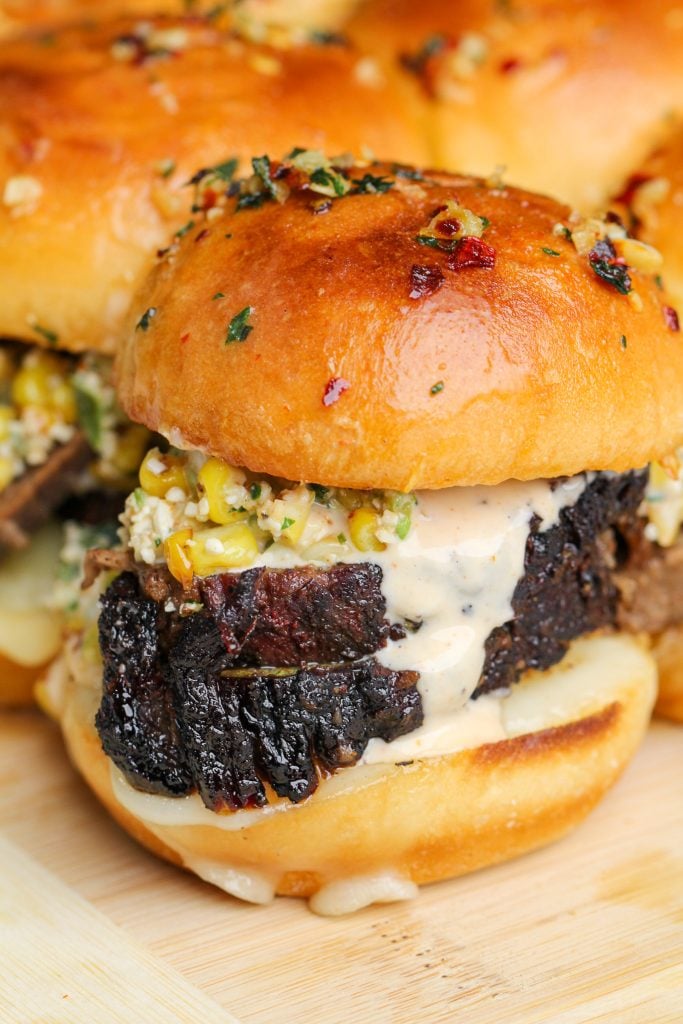 Bacon Wrapped Chicken Bites are stuffed with cheddar cheese and parmesan cheese, then tossed in a spiced-up brown sugar. I like to air fry them until the bacon crisps up but you can also easily prepare these in an oven.
The chicken stuffed inside stays incredibly tender and juicy since it's blanketed by the salt bacon. Dip them in ranch for a cheddar-bacon-ranch symphony of flavors.
This is one addictive dip and I assure you, your labor day cookout guests are going to ADORE this one! Rich cream cheese, fresh jalapeños, smoky bacon and lots of cheese are easily combined in one pan and placed on the smoker until warmed through.
You can pair this addictive dip with crackers, pita chips, tortilla chips, or baguette and it'll be gone in no time. No smoker? No problem. You can easily make this in the oven as well!
One of my favorite Labor Day food ideas are chicken skewers. It just doesn't get much more cookout friendly than chicken skewers. You can walk around as you eat them or take them pool or lake-side. They are also great cold which makes them super convenient for picnics and beach outings.
Hot lemon pepper is super lemon-peppery, with lots of tang, garlic, butter and a kick of sweetness. They are incredible on the grill but you can also pop them in the air fryer or oven.
Unlike most recipes on this list, these sliders are for my indoor cats. Those of us that like to enjoy the outdoors from the window but cook inside. My city folks who can't house grills but still want that summery taste of BBQ.
Tender shredded BBQ chicken is made in an instant pot then it's crisped under a broiler and tucked into toasty slider buns. We then top the sliders with tangy Alabama white smothered coleslaw, red onions and my favorite part – crunchy barbecue chips! Yes, we actually add chips IN the sandwich!
These sliders are exploding with incredible textures and flavors that is suer to give you the summer cookout fix you're looking for.
Fried Chicken Street Corn Tacos topped with bacon and a drizzle of creamy jalapeño lime ranch. These fried chicken tacos are dripping in flavors that will overwhelm you! The street corn that is added is so crunchy and addictive. Then you add the creamy, spicy, tangy sauce on top – your cookout guests will be in absolute heaven!
Smoky, crunchy, tangy, sweet – these tacos are ALL the things! Crispy tender chicken, tangy sweet street corn, spicy creamy sauce, smoky bacon and it's all wrapped in a pan-fried flour tortilla shell.
My favorite time-saving hack is to buy premade tenders for this recipe. It'll save you time, fuss less and you can avoid any frying, cause who wants to do that on a hot day?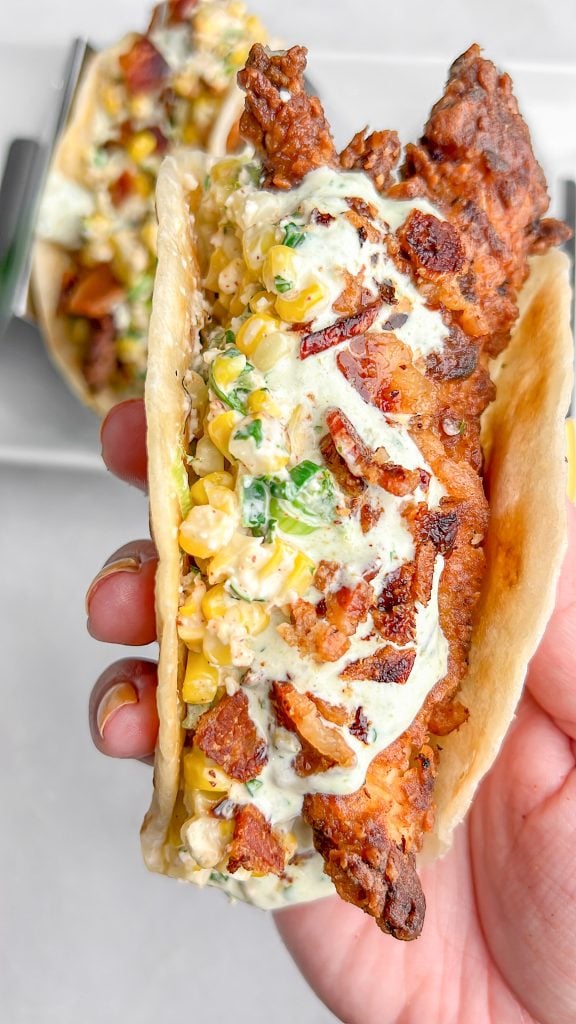 Move over salsa, queso, and guac. Creamy Jalapeno is all you are ever going to need with your chips and margs. This stuff is SO addictively good, get ready to be uncomfortably full from the shameful amount of creamy jalapeno and chips you'll consume – no joke! This is the BEST Chuy's Creamy Jalapeno copycat recipe and it is one to keep in your recipe arsenal.
This creamy dip is speckled with pureed tangy and spicy pickled jalapenos, cilantro and lime juice in a buttermilk ranch base. This is extraordinarily popular and made famous by Chuy's Tex Mex restaurant from Texas.
Up at #8 on my Labor Day food ideas list, these blackened chicken BLT sliders with golden honey mustard are the perfect handheld snack for gatherings, game day parties, cookouts, pool side, you name it! These are a crowd favorite and super easy to make.
It starts with toasted slider buns topped with juicy pan seared blackened chicken. Then they are piled high with bacon, lettuce, tomato and drizzled with honey mustard and mayo. To finish them off, the tops of the buns are smothered in garlic butter.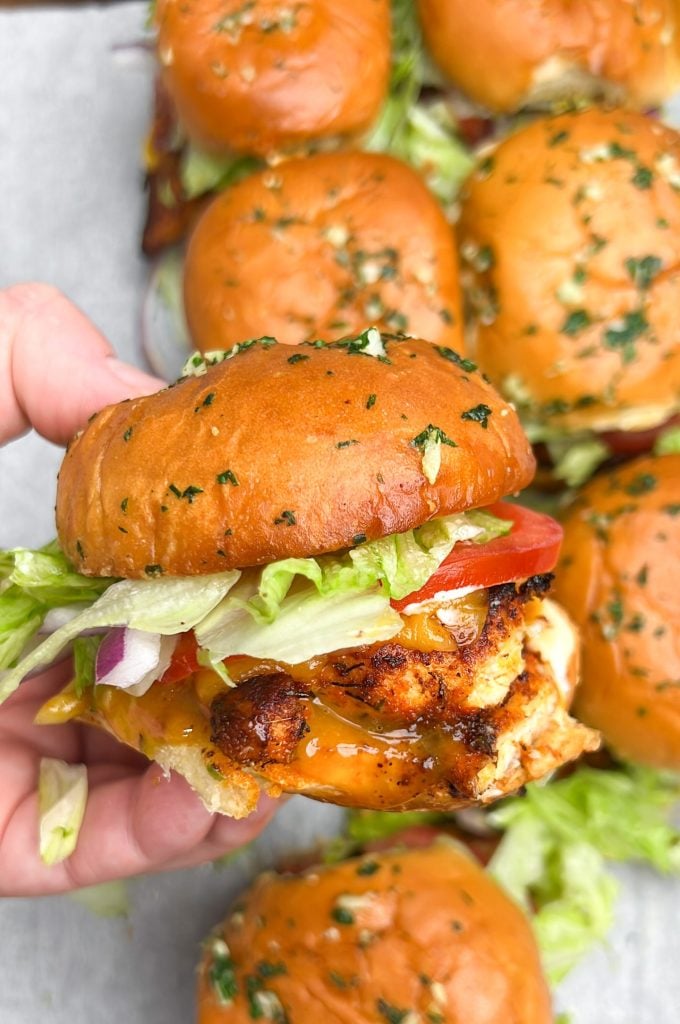 It doesn't get much more summertime than a dip that uses fresh corn at the peak of corn season. You can throw this dip on the smoker for a backyard Labor Day gathering and it pairs great with ice cold beers.
jalapeño popper hot corn dip is a cheesy and creamy skillet corn dip loaded with bacon, jalapeños, cream cheese and lots of cheese! Add this Labor Day food idea to your menu.
Steak is a staple for any cookout recipe in my house and these are on our menu for our Labor Day cookout this year. These handheld sandwiches are soft and tender and melt in your mouth. From the juicy beef tenderloin to the zesty-herby cowboy butter smothered buns and melty havarti cheese, these are addictively delicious sandwiches you just can't get enough of.
This will be a very impressive slider to serve to your guests for Labor Day and one of my favorite Labor Day food ideas.
I couldn't make this list of the best Labor Day recipes without including my most viral recipe yet.
These garlic parmesan chicken sliders will steal the spotlight at your next gathering. The chicken is so incredibly tender and juicy that it just falls right off the skewers. Be sure to make extra because these will disappear in seconds.
The key to getting these super tender is being sure to pack the chicken pieces together as you thread them on the skewers and best them with the butter mixture throughout the cooking process.
You can easily make these on the grill or even in the air fryer or oven.