Move over salsa, queso, and guac. Creamy Jalapeno is all you are ever going to need with your chips and margs. This stuff is SO addictively good, get ready to be uncomfortably full from the shameful amount of creamy jalapeno and chips you'll consume – no joke! This is the BEST Chuy's Creamy Jalapeno copycat recipe and it is one to keep in your recipe arsenal.
What is Chuy's Creamy Jalapeno?
This creamy dip is speckled with pureed tangy and spicy pickled jalapenos, cilantro and lime juice in a buttermilk ranch base. This is extraordinarily popular and made famous by Chuy's Tex Mex restaurant from Texas. The spice is low-medium. I don't find pickled jalapenos to be too terribly hot. Plus, the creaminess from the mayo, buttermilk, and sour cream offset the heat quite a bit.
Chuy's Creamy Jalapeno starts with a delicious ranch dressing base. I've tried this recipe using my delicious homemade ranch, but in all honesty, it tasted less like the Chuy's version. The powdered Hidden Ranch seasoning packet is the closest I can find to tasting exactly like Chuy's!
How to Make The BEST Chuy's Creamy Jalapeno Copycat Recipe?
I start with a 1:1 ratio of mayo and sour cream. Don't skimp on brands here, Daisy or similar quality sour cream and Duke's or Hellman/Best Foods mayo really make a difference here. Then I flavored the ranch with fresh jalapeños and fresh cilantro, that I puree in a food processor or blender. Add some fresh buttermilk and fresh lime juice and you have BETTER than Chuy's Creamy Jalapeno dip!
There is speculation that Chuy's uses tomatillo's in this creamy jalapeno dip but that's actually not the case. After a bit of research with the help of some awesome staff at my local Chuy's, they gave me the scoop on this phenomenal sauce and it's true to my recipe below!
Let The Creamy Jalapeno Chill First!
Although it will still be delicious immediately…
Allowing this dip time to chill in the fridge – at least 4 hours – will give the flavors time to blend and intensify.
As for the flavor, I always recommend tasting it just before serving in order to adjust the salt, pepper, and lime, if necessary.
Looking for other delish copycat recipes?
Olive Garden Chicken Alfredo Pizza Fritta Copycat Recipe
Better Than Olive Garden Chicken Scampi
Crispy Honey Chicken PF Changs Copycat Recipe
McDonald's Chicken McGriddle Copycat Recipe
KFC Chicken Littles Copycat Recipe
Popeye's Famous Chicken Sandwich Recipe
CPK Cauliflower Buffalo Bites Copycat Recipe
Cheesecake Factory Southern Fried Chicken Sliders Copycat Recipe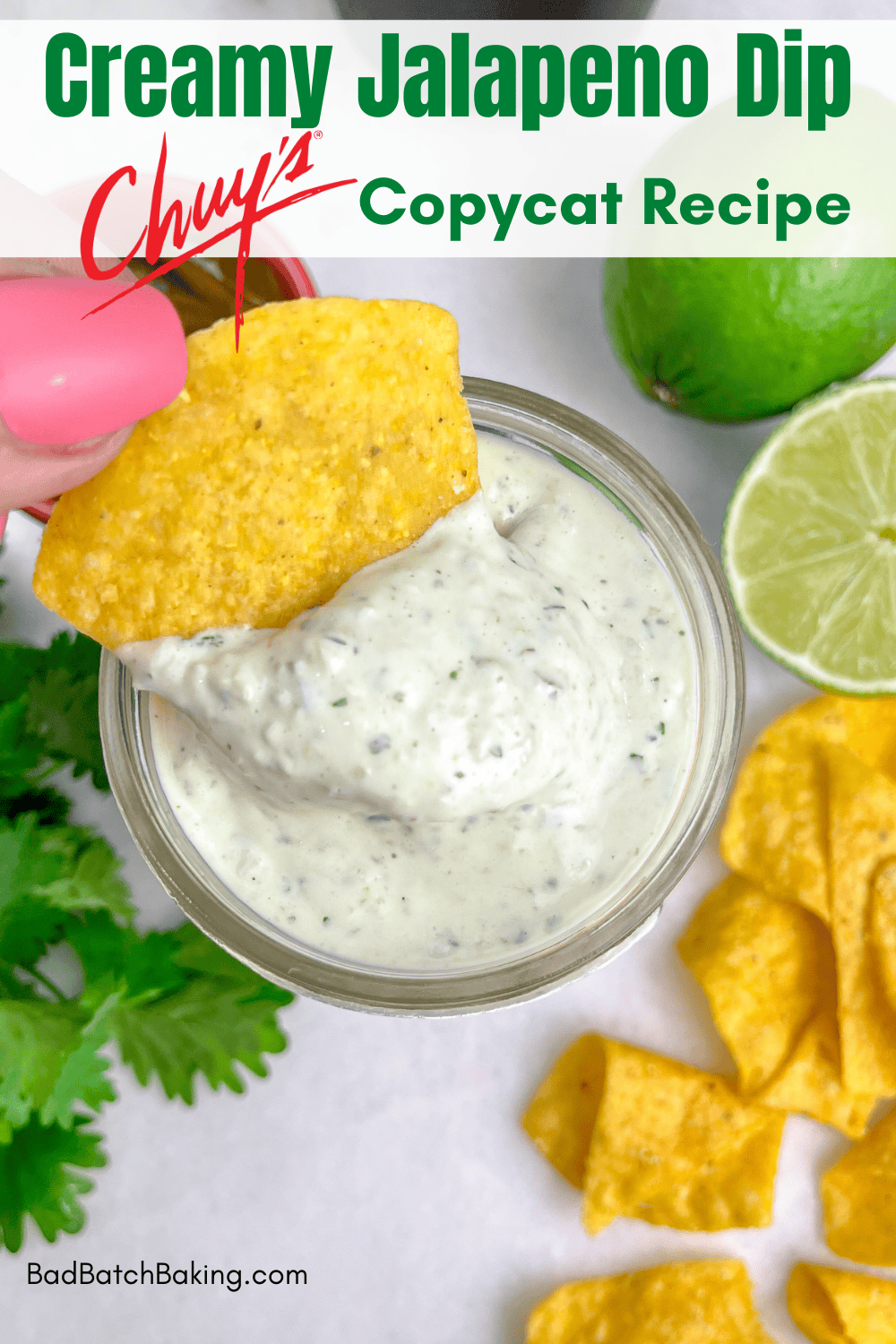 I look forward to your questions and feedback. Please be sure to tag me @BadBatchBaking using hashtag #badbatchbaking if you made this recipe and I will feature you on my story! Plus, I LOVE to see your baking accomplishments!
Print Recipe
The BEST Chuy's Creamy Jalapeno Copycat Recipe
The famous creamy jalapeno dip from Chuy's can be easily made at home with a few quick steps. The sauce is a ranch base, loaded with zesty lime juice, tangy pickled jalapenos and cilantro.
Serve it as a party dip alongside chips and salsa or use this as a condiment for tacos, burgers, or sandwiches.
Ingredients
3/4

cup

cilantro leaves, large stems removed

1/2

cup

pickled Jalapenos

2

tablespoons

juice from pickled Jalapenos

3/4

cup

mayonnaise

3/4

cup

sour cream

1

heaping tablespoon

dry ranch seasoning

Hidden Valley or similar

1/2

teaspoon

garlic powder

1/2

teaspoon

salt

1

tablespoon

lime juice (fresh)

1/4

cup

buttermilk

optional
Instructions
In a food processor (or blender works too), purée cilantro leaves with the pickled jalapenos and 2 tbsp of their juice. Purée until as minced as possible, scraping down the sides a few times.

Put the mayo and sour cream in a mixing bowl. Add the ranch seasoning, garlic powder, and salt. Mix well to combine.

Pour cilantro mixture directly into the sour cream mixture. Stir to combine. Add lime juice, then a little buttermilk if needed to thin it out, a splash at a time until you reach desired consistency.

Store in a mason jar, condiment bottle, or a bowl tightly sealed. Refrigerate up to five days. Best served chilled so they flavors have time to meld together.