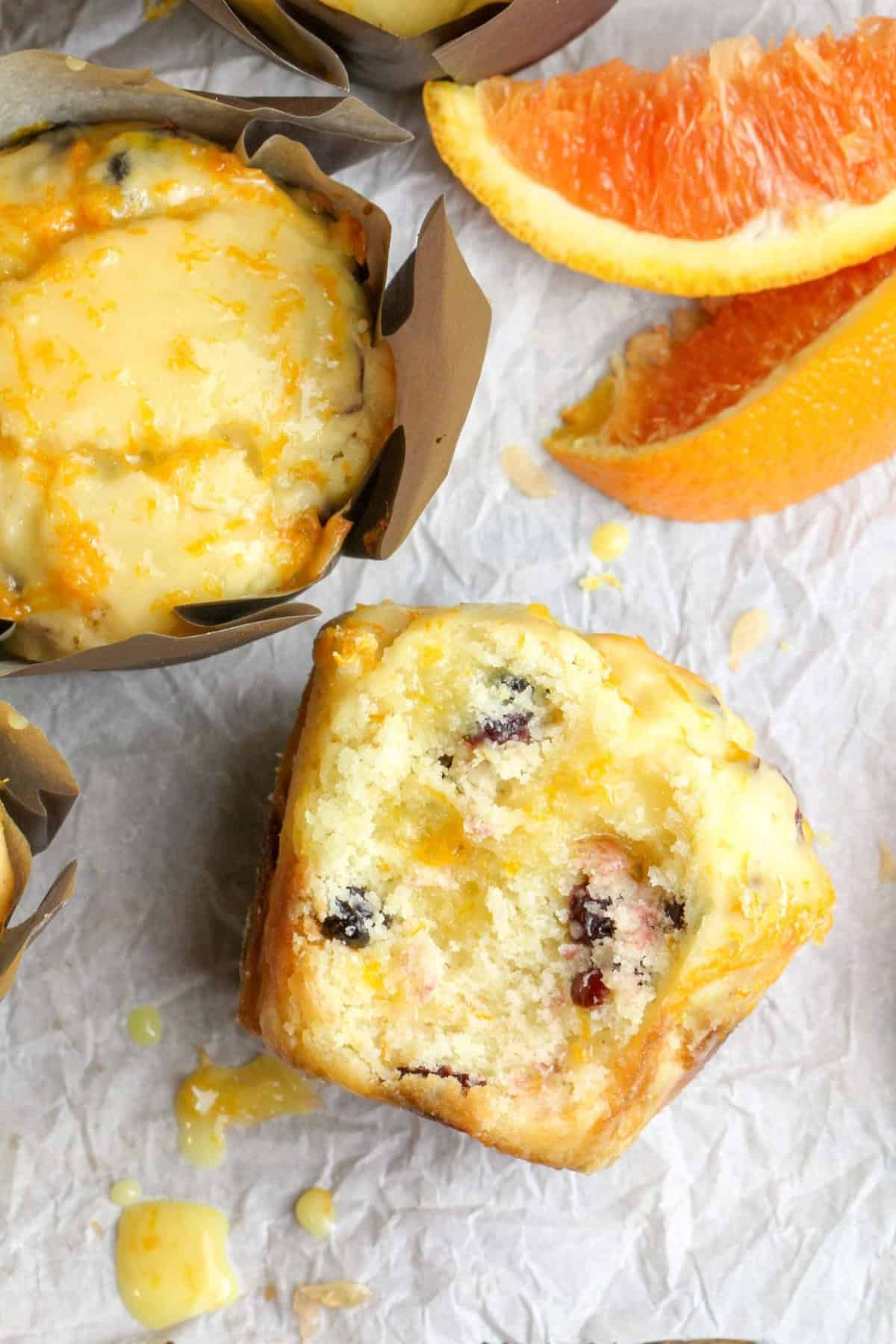 If you're anything like me, you may not consider yourself much of a muffin person. Sure, you don't dislike them. But you never think to order them at coffee shops, or often overlook them and instead reach for the chocolate croissant at bakeries. However, I am convinced these muffins (sort of like my Pistachio Muffins) can turn everyone into muffin lovers!! The name muffin may not sound exciting, in fact, I usually think dry or boring, but these are, in my opinion, way better than even eating a cupcake! Something about that ultra-velvety soft, buttery and moist crumb that literally disappears in your mouth, or the tart cranberries that add wonderful texture and tang, and zesty orange flavor that will fill your home with love and all the happy homemaker vibes! YOU NEED THESE!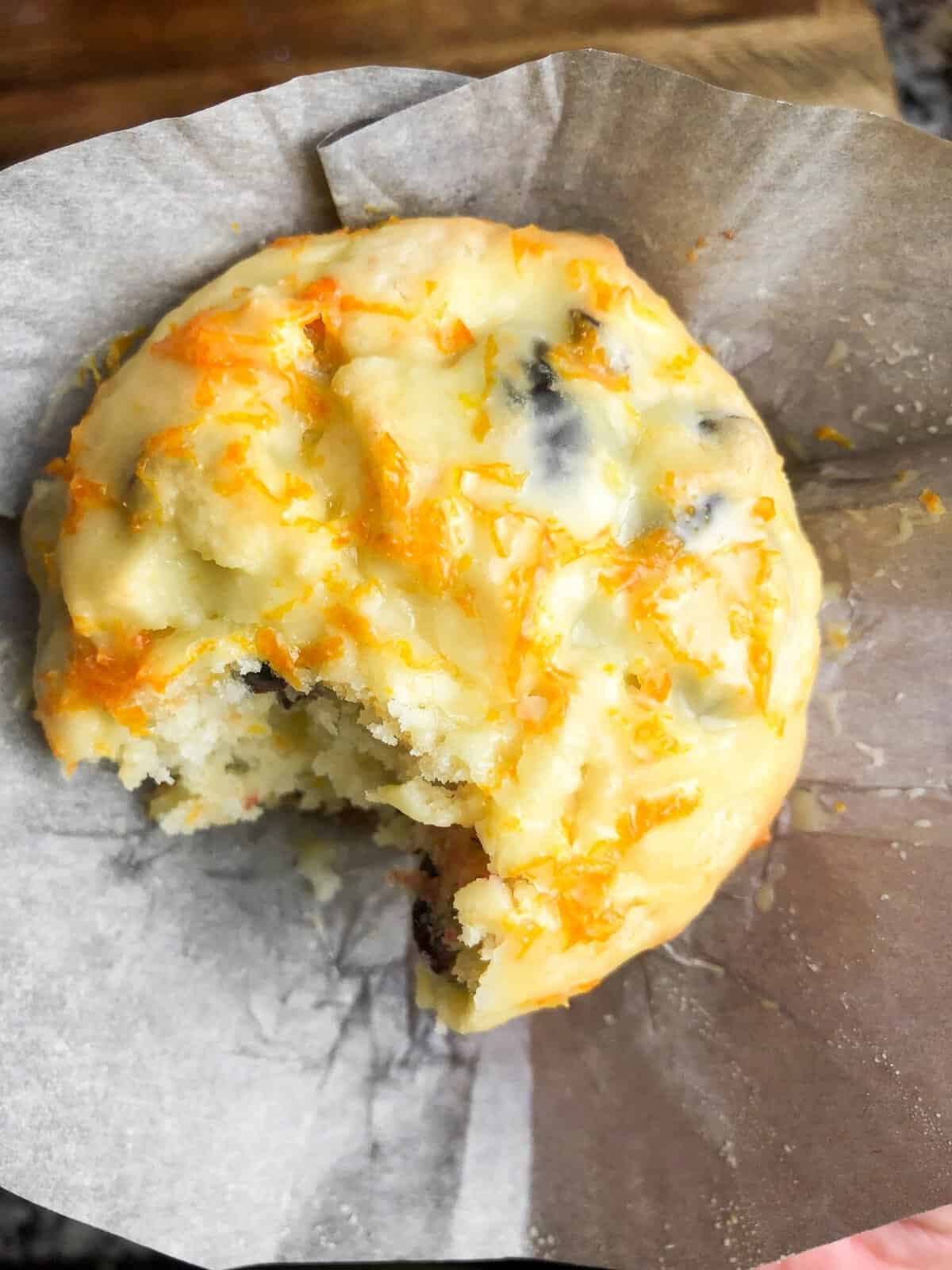 I was inspired to make the ultimate orange-cranberry muffins after watching an episode of Desperate Housewives. Yes, I really did stoop this low. I never got into that show my whole life, until last year when my husband and I made the mistake of watching just one episode "in the background" and got stupidly hooked, then binged watched it all month. We were slightly ashamed of ourselves as it's equally corny as it was endearing, but nonetheless, it was our guilty pleasure last November.
Bree Van de Kamp, at least for most seasons, was our favorite character. Her character was a traditional, perfectionist homemaker (think Stepford Wives) and she always baked for her neighbors – no matter the circumstances. Something about that feels so nostalgic for me and I really loved her character for better or worse. She made a batch of orange muffins and without notice, I sprang into action testing what is now these Zesty Buttery Orange Cranberry Muffins.
What Makes These Orange Cranberry Muffins So Moist?
Think cupcake meets pound cake – that's the texture of these zesty buttery orange cranberry muffins. The secret to  these muffins having the perfect buttery crumb and extremely moist texture is of course, butter and sour cream!
Sour Cream:
Not only does the sour cream add a little tang to the flavor (which pairs perfectly with the zippy zest of orange!) but the acidity also reduces some of the sweetness and really balances the flavor. But most importantly, that moisture in the sour cream just locks right into the muffin and yield the most tender, moist texture.
Irish Butter:
Butter is important in most all baked goods. Although oil is used in some recipes, butter adds a richness that can never be duplicated by oil. For this recipe I use Irish butter which takes a step further to capture the ultimate richness. Irish butter (Kerrygold, Presidente, etc.) is creamier and a little saltier than traditional butter. The taste difference is incredible and I highly recommend it, although regular butter can easily be substituted.
No Mixer Needed & 3 Easy Steps!
This zesty buttery orange cranberry muffins recipe can be whipped up in just a few minutes without any mixer or hand mixer. I think it took me not even ten minutes to prepare these last time I made them and I only dirtied two bowls.
The bowl you start with that has all the dry ingredients will be your main bowl. To that, you will add the wet ingredients. You can use a big glass measuring cup or even a gallon ziplock bag for the wet ingredients to save on dishes. Give them a good whisking and then add wet to dry.

Add the cranberries and just barely mix the batter with a rubber spatula until it's just combined, maybe a dozen or less stirs.

Into the muffin tins they go for a quick bake in the oven at 400 degrees (enough heat to give it a good rise!). Then, we frost the muffins with a few ingredients you can whip up while the muffins are baking. Dunk the muffins into the glaze once they cool a bit, or you can just spoon drizzle the glaze all over the muffins.
Tips, Tricks, & Equipment
My go-to equipment
A few tips and tricks worth noting…
You can forego the bakery-sized parchment liners and do standard cupcake sizes instead. Just be sure to note the baking time difference in the "Notes" section of the recipe.

I wouldn't recommend dunking the muffins head first into the glaze unless you are using standard sized liners. It would be a bit cumbersome and messy with parchment liners. In this instance, I just spooned the glaze over the tops!

These muffins are best served immediately, but if they don't get all gobbled up, be sure to store them in either a domed cake stand or another air tight container. I don't like my baked goods to sit out very long but these are good for a few days.

For freezing – be sure to let the muffins cool completely. Avoid any glaze/topping and just freeze them plain. I'd recommend wrapping each muffins tightly in cling wrap, then in a freezer bag or airtight container.
More of my favorite baked goods!
Easy Bakery-Style Pistachio Muffins
Triple Oreo Chocolate Cupcakes
Entenmann's Devil's Food Cake Donuts Copycat Recipe
Brownie Stuffed Chocolate Chip Cookies
The Best Hostess Cupcake Copycat Recipe
Four Layer Peanut Butter Brownie Bars
Soft-Batch Triple Chocolate Peppermint Cookies
I look forward to your questions and feedback below. Please be sure to tag me @BadBatchBaking using hashtag #badbatchbaking if you made this recipe and I will feature you on my story! Plus, I LOVE to see your baking accomplishments.
Print Recipe
Zesty, Buttery Orange Cranberry Muffins
No-mixer needed muffins! These muffins have an incredible citrus tang that gives you a kick in the cheeks and the smell of warm orangey-muffins will fill your home. These are perfect for summertime, or the holiday season! Use real cranberries when they are in season, or you can use tart dried cherries!
Ingredients
Orange Cranberry Muffins
3 1/2

cups

all-purpose flour

1 1/3

cup

granulated sugar

2

tablespoon

baking powder

1/2

teaspoon

salt

1

cup

1 stick salted butter, melted and cooled a bit

I use Kerrygold for a strong butter flavor

2

cup

sour cream

room temp

2

large egg

room temp

2 tsp

vanilla extract

1/2

cup

freshly squeezed orange juice

Zest of 2 oranges

be sure to clean before zesting

1 cup

dried cranberries

dried cherries can also be used
Tangy Orange Glaze
1 1/2

cups

powdered' sugar, sifted

4

tablespoons

freshly squeezed orange juice

from the oranges you zested

1

tablespoon

orange zest

1

tsp

vanilla extract
Instructions
Make the Muffins
Preheat oven to 400 degrees F. Line a muffin tin with bakery-style parchment paper muffin liners

In a large bowl, combine all of the dry ingredients: flour, sugar, baking powder and salt. Whisk to combine and set aside.

In another bowl, whisk together melted butter, sour cream, eggs, vanilla extract, orange juice and orange zest. Whisk to combine until eggs are incorporated. Pour the wet ingredients into the center of the dry ingredients. Add dried cranberries and carefully stir with a spatula until just combined.

Using an ice cream scoop or 1/3 cup, scoop the batter evenly into the muffin liners, filling 3/4 of the full. Place into the oven and bake for 14-16 minutes, or until a toothpick inserted in the center comes out clean.
Tangy Citrus Glaze
To make the tangy citrus glaze, combine the sifted powdered sugar, orange juice, vanilla extract and orange zest. Whisk until smooth. If the glaze is too thin, add a little more sifted powdered sugar as needed.

Allow the muffins to cool on a cooling rack before frosting otherwise it will melt off. You can spoon it over the muffins or dip them upside down into the glaze. Glaze should set up hard once it dries.
Notes
**For standard sized muffins: use cupcake liners instead and fill muffins batter to the top of the liners. Bake for 13-15 minutes, or until a toothpick inserted in the center comes out clean. The oven temp will remain the same.