Sometimes you come across a recipe that I like to call a "back pocket recipe". The recipe that every crowd loves, a recipe people always ask you for or request you re-make it at the next immediate function. And that's a recipe you can turn to time and time again and know people will go crazy for. That's what these Triple Oreo Chocolate Cupcakes are. Sort of my claim-to-fame in the cupcake world.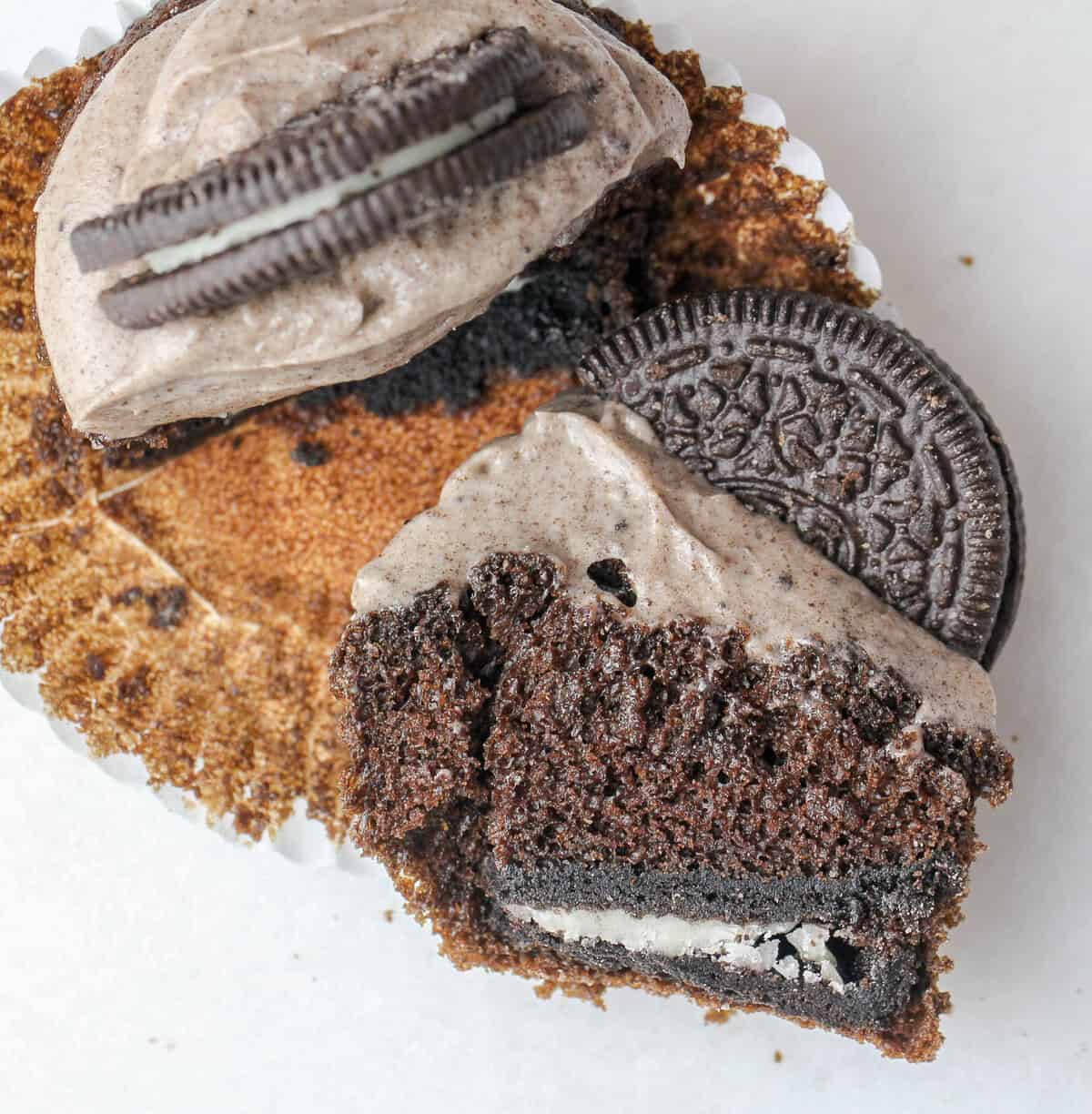 I have been making these cupcakes for YEARS! I think 2014 was the first time I started experimenting with placing a whole Oreo cookie inside of cupcake batter. Boom, mind blown. The Oreo's return to a hard cookie after the cupcake cools. Isn't that crazy? So not only do you get a chocolate cupcake, you get a surprise crunchy Oreo cookie as the base of the cupcake. What more could you ask for?
Oreo frosting. That's the more you could ask for!
In this recipe I use almost two whole packages of Oreo cookies. Don't be mad. I know it can get a little expensive, and we all broke, but it's sooooooooo worth it. Especially if you know someone who loves cookies and cream or anything Oreo. The frosting is a cream cheese base with marshmallow fluff and then (sorry) two dozen crushed Oreo's…. oops! We basically mimic the cream filling of the Oreo for the frosting, but then add Oreo's to that cream filling so it's this twisted Oreo/filling phenomenon that just plays with your emotions. You gotta try it.
Looking for Piping Bags? Check these out:
PICTURE PICTURE
How to Pipe Cupcakes (without even using a Piping Tip)
It took me forever to realize in order to get those big floofy poofy swirls on my frosting, I needed to toss the piping tips and do an ole' makeshift rendition. After stalking the Wilton aisle at Michael's and my local cake decorating store, buying the largest tips I could find, all my frosting swirls still came out like spaghetti noodles. No! I wanted the beautiful frosting you see in bakery windows. I wanted it to look professional and the there was no round tip I could find big enough.
So here is how to get "the look" for perfectly piped frosting:
Measure 1.5 inches up from the tip of the bag, mark with a pen:

Cut off the tip where you marked. You should be left with a 1-inch wide opening:

Fill 2/3 full with frosting, push frosting toward the bottom of the bag, and secure the top by twisting:

Place upright into a tall glass until ready to use to prevent frosting from seeping out of the bag.
Happy Baking! I am always here if you have any questions!
Looking for other delish dessert recipes?
Cookies & Cream Tres Leche Cake Recipe
Entenmann's Devil's Food Cake Donuts Copycat Recipe
Brownie Stuffed Chocolate Chip Cookies
The Best Hostess Cupcake Copycat Recipe
Four Layer Peanut Butter Brownie Bars
Soft-Batch Triple Chocolate Peppermint Cookies
I look forward to your questions and feedback below. Please be sure to tag me @BadBatchBaking using hashtag #badbatchbaking if you made this recipe and I will feature you on my story! Plus, I LOVE to see your baking accomplishments.
Print Recipe
Triple Oreo Chocolate Cupcakes
Oreo cookie lovers unite! These super moist chocolate cupcakes have a hidden Oreo cookie inside, then topped with a cream cheese marshmallow frosting, and adorned with a whole Oreo cookie on top!
Ingredients
Super Moist Chocolate Cupcakes
1

cup

all-purpose flour

1

cup

granulated sugar

1/2

cup

cocoa

1

teaspoon

baking powder

1/2

teaspoon

baking soda

1/2

teaspoon

salt

1/2

cup

milk

1/4

cup

vegetable oil

1

large egg

1/2

teaspoon

vanilla

1/2

cup

boiling water

1/2

teaspoon

espresso powder

32

Oreo cookies, divided*

see note below
Creamy Oreo Frosting
1

stick

butter, salted

softened to room temp

1

8 oz block

Philadelphia cream cheese

softened to room temp

4

cups

powdered sugar

2

teaspoons

vanilla extract

1

cup

marshmallow fluff

Marshmallow creme can also be used

24

Oreo cookies, crushed*

see note below
Instructions
Super Moist Chocolate Cupcakes
Preheat oven to 325º F. Prepare cupcake liners in muffin tin.

In a large mixing bowl add the flour, sugar, cocoa, baking powder, baking soda, and salt. Whisk through to combine using a hand mixer or stand mixer.

To the dry ingredients add milk, vegetable oil, egg, and vanilla to flour mixture. Mix on medium low until just combined. Boil the water in the microwave, then to it add the espresso powder and mix until dissolved (caution - it may bubble).

Reduce speed to low and carefully add boiling water to the cake batter. Once incorporated, beat on high for 1 minute to aerate the batter.

Place one whole Oreo to the bottom of each cupcake liner**. Fill each liner with batter, just 3/4 full. If any Oreo's rise to the top, use a fork to push them down. Most will settle to the bottom while baking.

Bake for about 16-18 minutes, or until a toothpick inserted in the center comes out clean.

Remove from the oven and allow the cupcakes to cool completely on a cooling rack.
Creamy Oreo Frosting
In a food processor, add the 24 Oreo's (filling in-tact) and pulse until they are finely ground to a crumb.

In a mixing bowl, add the butter and cream cheese and beat (with a hand mixer or stand mixer) until creamy and smooth. Add half the powdered sugar, one cup at a time, fully incorporating as you go.

To the frosting, add the Marshmallow fluff and vanilla extract and continue to beat until fluffy. Continue with the remaining two cups of powdered sugar, one cup at a time. Finally, add the Oreo cookie crumbs and mix until just incorporated. Taste and adjust as needed.
Cupcake Assembly
Using a piping bag with a wide tip, pipe the frosting to your desired look, then top each cupcake with a full oreo. See notes for storage.
Notes
* You will need two 14.3 oz packages total of Oreo cookies to ensure you have plenty for this recipe. Each package comes with ~45 Oreo's each.
* The Oreo's at the bottom of the cupcake will return to a firm cookie once the cupcakes are cooled. This creates a delicious crunch to the bottom of the cupcake and a fun surprise for your guests.
* Surprisingly, I never use a piping tip when piping standard frosting. What I use on my cupcakes in the photos you see is a standard disposable piping bag with the pointy end cut about one inch up.  See photos above!