I came across an article about Balaboosta's Bakery in East Norwich, NY and I was immediately fixated on these brownie stuffed chocolate chip cookies they are famous for. They looked ridiculously amazing, better than the ones I have created here. They are the masters of stuffing brownies into cookies.
Now I don't claim that these will be as perfect, but since I am not hopping on a plane and flying to NY anytime soon, I just had to attempt to create a second-best option! These are outstanding. By far the best cookie I have ever eaten, and I don't say that lightly. It really merges two of the best desserts into one cookie, and better than "brookies", because the brownie is on the inside, it stays slightly under-done, creating one phenomenal cookie.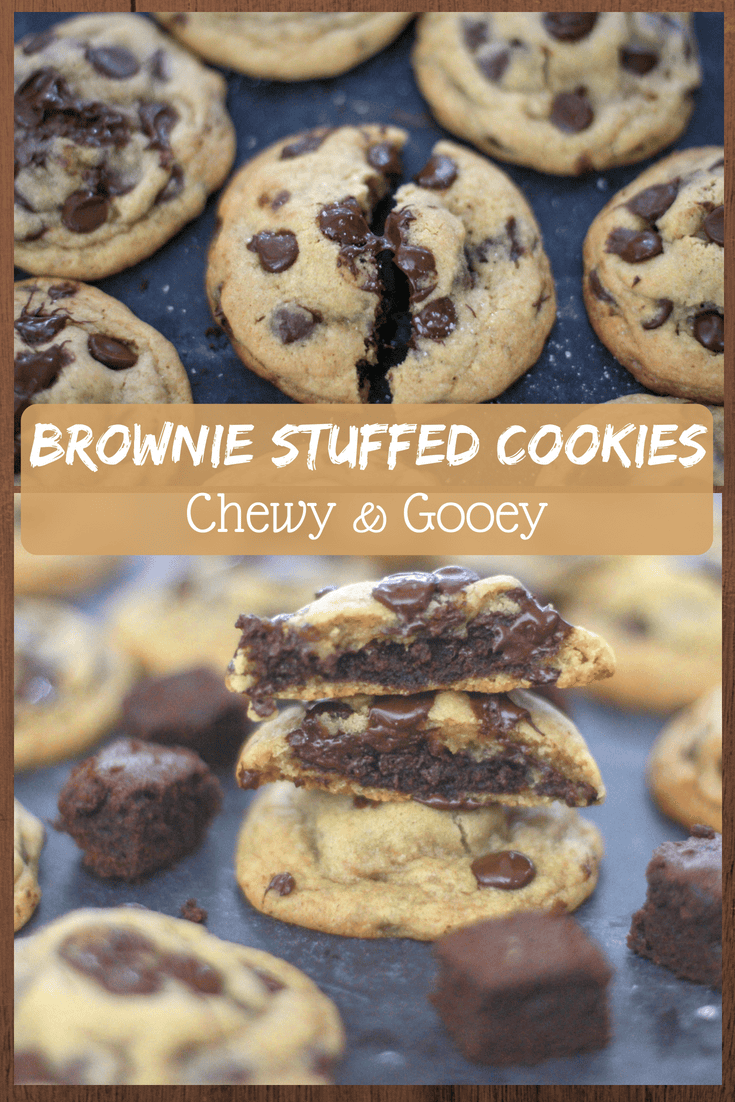 What is a Brownie Stuffed Chocolate Chip Cookie?
A brownie stuffed chocolate cookie is exactly how it sounds – two perfect desserts in one. This recipe uses my ultimate soft and chewy chocolate chip cookie recipe which you can find here. We stuff half-baked brownies into the flattened cookie dough discs. These are pillowy, oozing with chocolate and oh so decadent! Here is a quick video I posted on TikTok showing how to assemble these cookies:
Recipe Tips & Shortcuts
This recipe can look a little time consuming when you consider it's literally two desserts in one. Twice the ingredients, twice the steps, twice the baking times, etc. My recipe below provides the details to make both from scratch but if this recipe feels overwhelming but you still want the gratification of these cookies, try these hacks to make it a little easier:
Make the cookie dough a day or so ahead of time
Bake the brownies ahead of time, cool, cut to size, then place in an airtight container in the fridge.
Use a boxed brownie mix if necessary. Nothing beats homemade, but in this case, since it is just the center of the cookie and not the main attraction – you can get away with using boxed brownie mix.
Since these brownies require not being fully baked, I would not recommend buying pre-made brownies for this recipe.
I absolutely love trying to re-make famous food items from different areas of the country that I may never visit. Like after a viral video I watched on Sweet Martha's Cookie Jar at the Minnesota State Fair, I did a bunch of research on the cookies then remade them. You can find the recipe here if you are a cookie fiend like me!
Looking for more dessert recipes? Check these out:
Reese's Pieces Chocolate Peanut Butter Cookies
Cookies & Cream Tres Leches Cake Recipe
Sweet Martha's Cookie Jar Cookie Recipe
School Cafeteria Brownies Recipe
Hostess Suzy Q's Copycat Recipes
Cherry Almond Chocolate Cookies
I look forward to your questions and feedback below. Please be sure to tag me @BadBatchBaking using hashtag #badbatchbaking if you made this recipe and I will feature you on my story! Seeing your photos make my day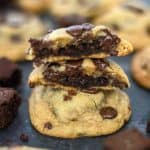 Print Recipe
Brownie Stuffed Chocolate Chip Cookies
These are the ultimate, decadent brownie stuffed chocolate chip cookies. Soft and chewy chocolate chips cookies and a gooey fudge brownie surprise in the middle.
Ingredients
Chocolate Chip Cookies
2

cups

+ 2 tablespoons all-purpose flour

1

teaspoon

baking powder

2

teaspoons

cornstarch

1

teaspoon

salt

1 1/2

stick butter

melted and cooled

1

cup

dark brown sugar

1/2

cup

granulated sugar

2

large eggs

2

teaspoons

vanilla extract

1 1/2

cup

chocolate chips
Half-baked brownies (or sub for boxed brownie mix like Duncan Hines)
1

cup

melted butter

2

tablespoons

vegetable oil

1

cup

dark brown sugar

1

cup

granulated sugar

4

eggs

large

2

teaspoons

vanilla extract

1

cup

all-purpose flour

1

cup

cocoa powder

unsweetened

2

teaspoons

instant espresso

1

teaspoon

salt

1 1/2

cup

chocolate chips
Instructions
Half-baked brownies (follow the box directions if using brownie mix but reduce cook time by 10 minutes)
Preheat oven to 350. Grease an 9x13 baking dish or line with parchment paper.

In large bowl, mix together melted butter, oil, sugars. Add eggs and vanilla and mix well, scraping the bottom and sides of the bowl as you go.

Sift together the flour, salt, espresso and cocoa powder. Add the dry mixture to the wet mixture, stirring carefully until just mixed. Be careful not to over-mix. Fold in 3/4 of the chocolate chunks.

Pour the batter into the prepared baking dish, spreading evenly. Then top with final chocolate chunks.

Bake in the oven for 20-25 minutes, until the brownies have set but not fully cooked. Remove from the oven and place the pan onto cooling rack.
Chocolate Chip Cookie
In a medium-sized bowl, whisk together the flour, baking soda, cornstarch, and salt. Set aside.

In a large bowl, beat together the cooled melted butter and the sugars with a hand-mixer for about one minute. Then, add in the eggs and vanilla extract. Beat until just combined.

Slowly add in the dry ingredients and mix briefly, just until there are no flour clumps left. Fold in the chocolate chips.

Cover and refrigerate the dough for 30 minutes to an hour.

Brownie Stuffed Chocolate Chip Cookies

If oven is turned off, pre-heat oven to 350 degrees.

Cut the brownies into small 1" x 1" bite sized pieces. Using a cookie scoop, make balls of cookie dough, place on a baking sheet and flatten slightly by making an indent for the brownie.

Place one brownie bite on each indented dough ball. Take an additional tablespoon of cookie dough, flatten to a disk, drape it over the brownie and reform dough into a perfect ball.

Bake on a cookie sheet for 9-11 minutes, or until just barely done and edges are beginning to brown slightly. Cool on a cooling rack and sprinkle lightly with sea salt