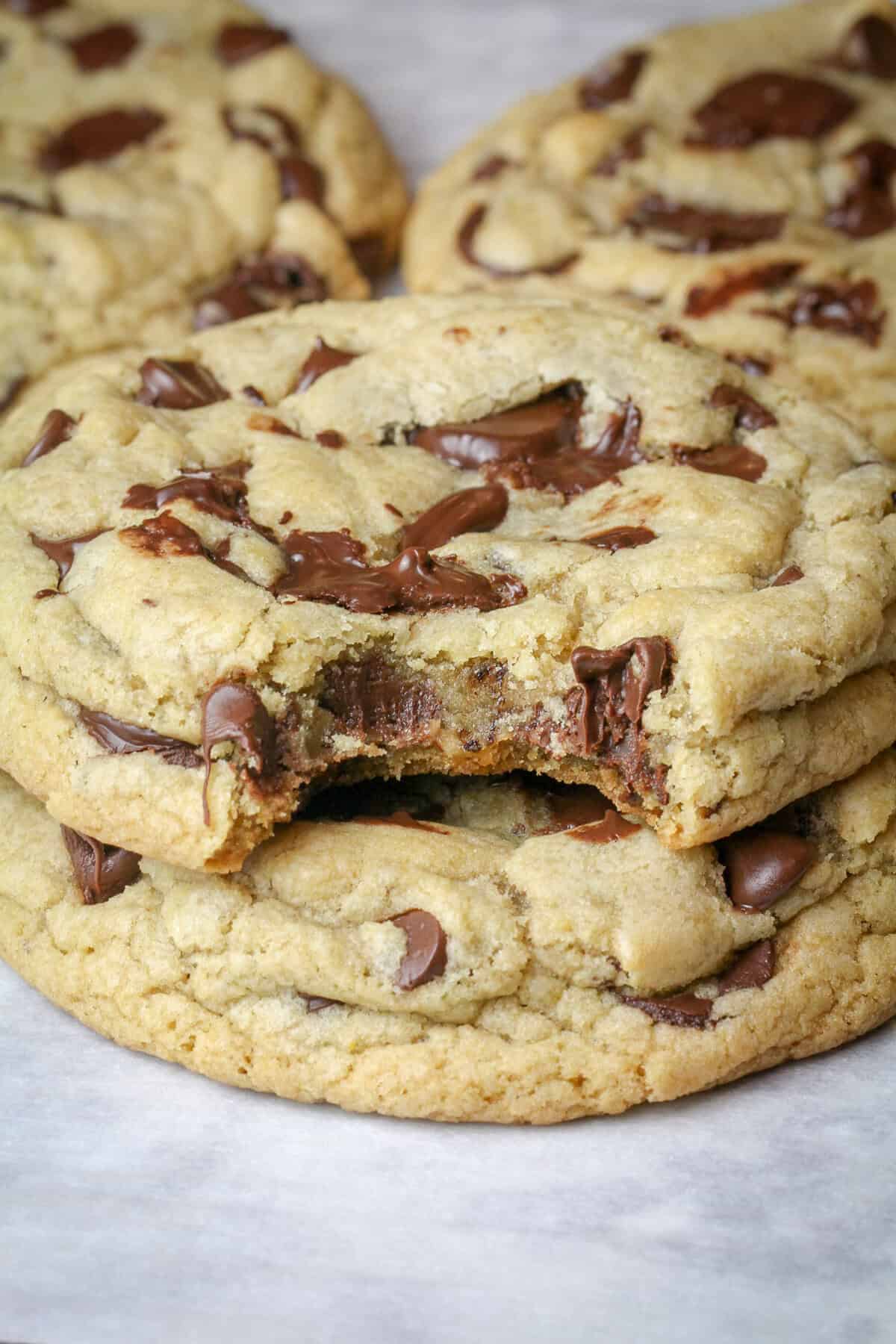 Chocolate chip recipes are a dime a dozen. You get inundated with options online and in cookbooks and since there are several variations, it's hard to know which one will be the best cookie for you. Looking for a simpler way to still have a perfectly delicious cookie while avoiding having to brown my butter first, I made some alterations to my go-to recipe and created what, to me, is the absolute perfect and EASY chocolate chip cookie. Is this Ultimate Chewy Chocolate Chip cookie for you? Lets see. These cookies are…
Extremely chewy and super thick!
Large bakery-style sized cookies
Perfectly gooey, slightly under-baked centers.
Soft and tender, even better the next day
Super buttery with flecks of finishing salt
Variety of chocolate chunks and chips with varying richness.
No refrigeration needed. You can pull the recipe together in 10 minutes. Freezing the cookie balls before baking is recommended but not at all necessary.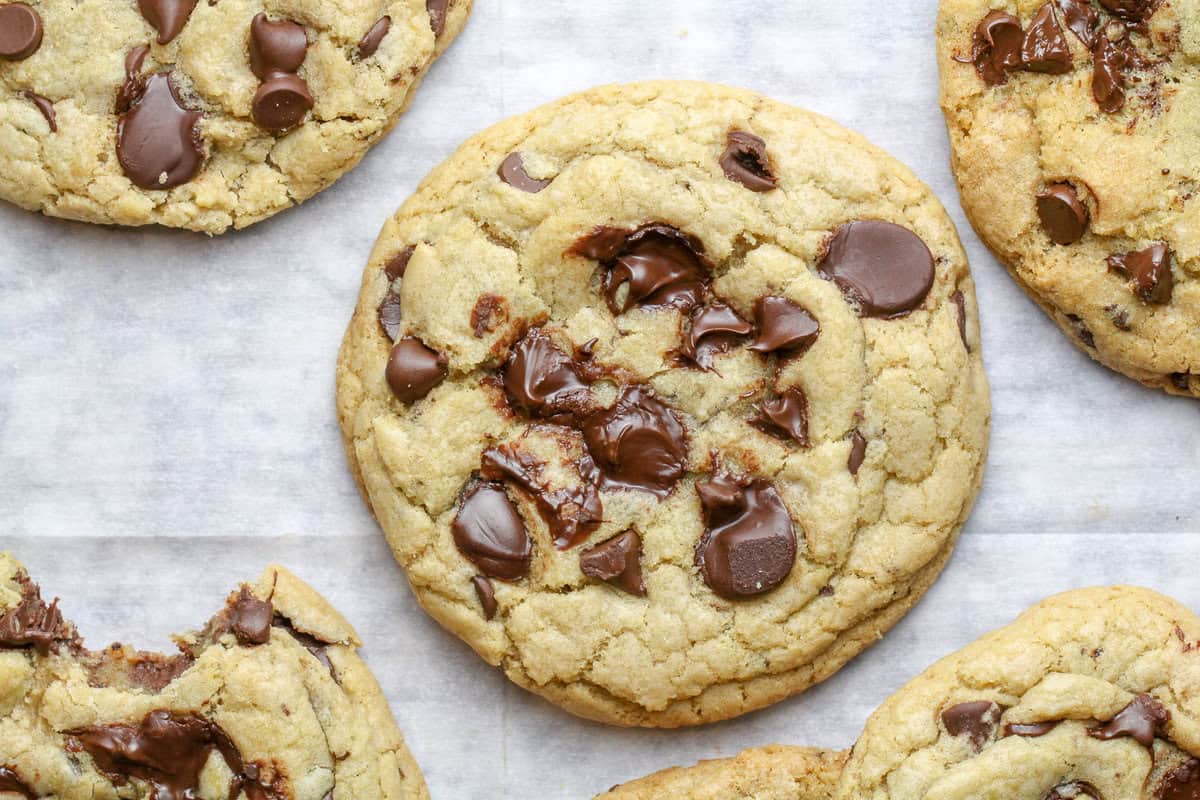 What makes these cookies soft and chewy?
Creaming the ingredients – spending the time to cream the butter with the sugars and eggs until it comes to a whipped texture, will ensure the ingredients are aerated. This process is described as "mechanical leavening" – physically cramming air into dough so that it'll puff up in the oven like a hot-air balloon.
Extra egg yolk – The fat in egg yolks tenderizes the dough by shortening the gluten strands, gives your cookies a richer flavor and will also help make cookies chewier.
Corn starch –  Adding cornstarch to your cookies will create a super tender crumb texture rather than crisp. Corn starch is the key ingredient in homemade cake flour.
Melted butter – Rather than room temperature butter, melting the butter in any cookie recipe ensures the most chewy cookies!
Baking time – Grabbing these cookies out of the oven before they are cooked through in the center will guarantee a soft and chewy cookie. If these are over-baked, they will be a bit crisp. Although the cookies to sit on the pan for a few minutes after you remove them from the oven.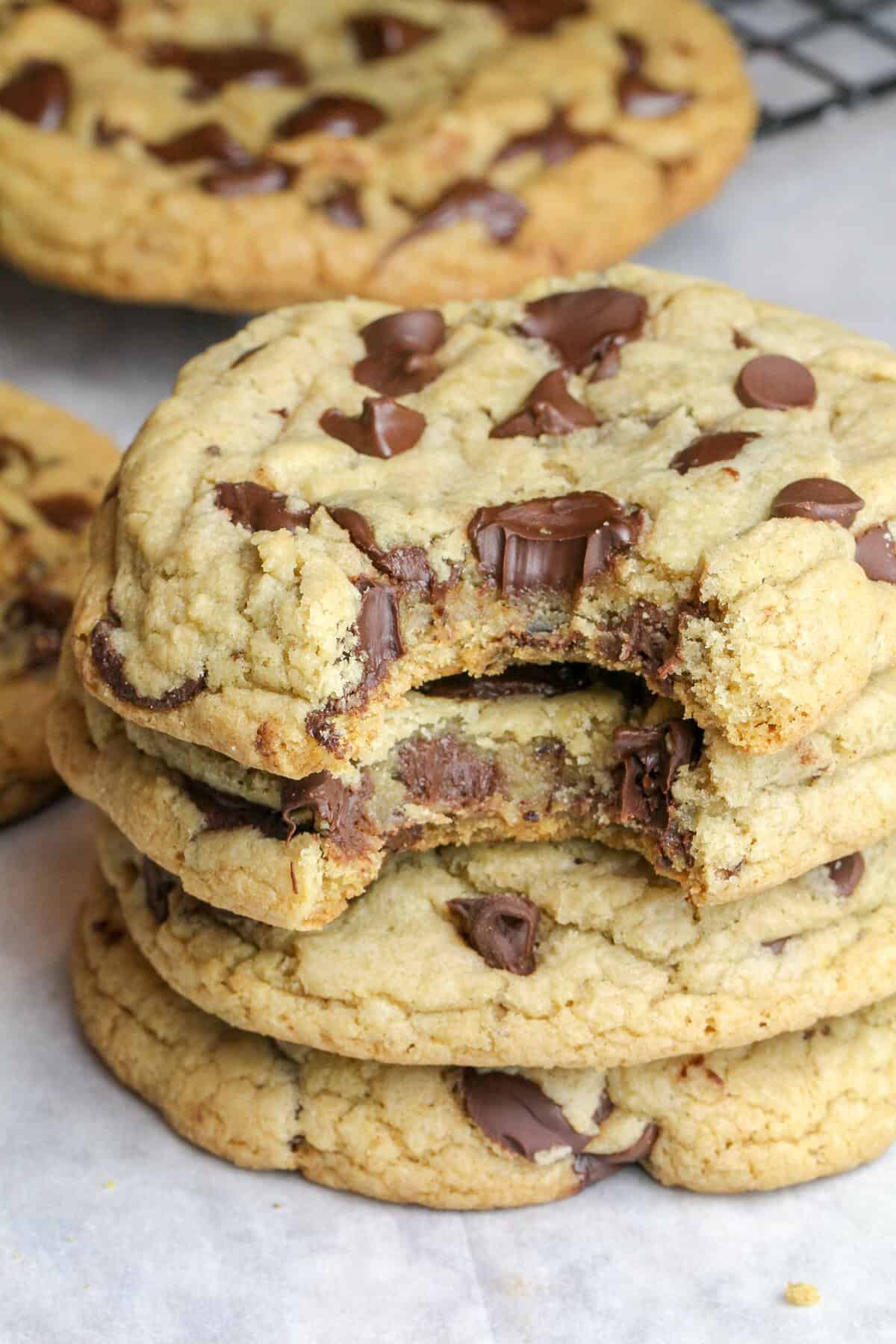 Baking tools needed for this recipe:
As long as you have an oven, a whisk and measuring cups, this recipe is possible! However, there are some more specialized tools that can help in making the perfect cookie.
Cookie scoop: for these cookies, I use the larger scoop, about 1/4 cup size.  This will yield large cookies, the size you would find at your neighborhood bakery.
Parchment paper: it's best to use parchment over silpat when you want the bottoms of your cookies to crisp up. I love these pre-cut, unbleached sheets.
Baking sheet: I prefer baking sheets that are as light as possible. The darker the baking sheet, the darker your baked goods will turn out. Calphalon is one of my favorite brands of cook and bakeware.
Cooling rack: cooling racks are convenient for quicker cooling, but I also love using these as an easy way to transport my cookies to the table when I am decorating sugar cookies.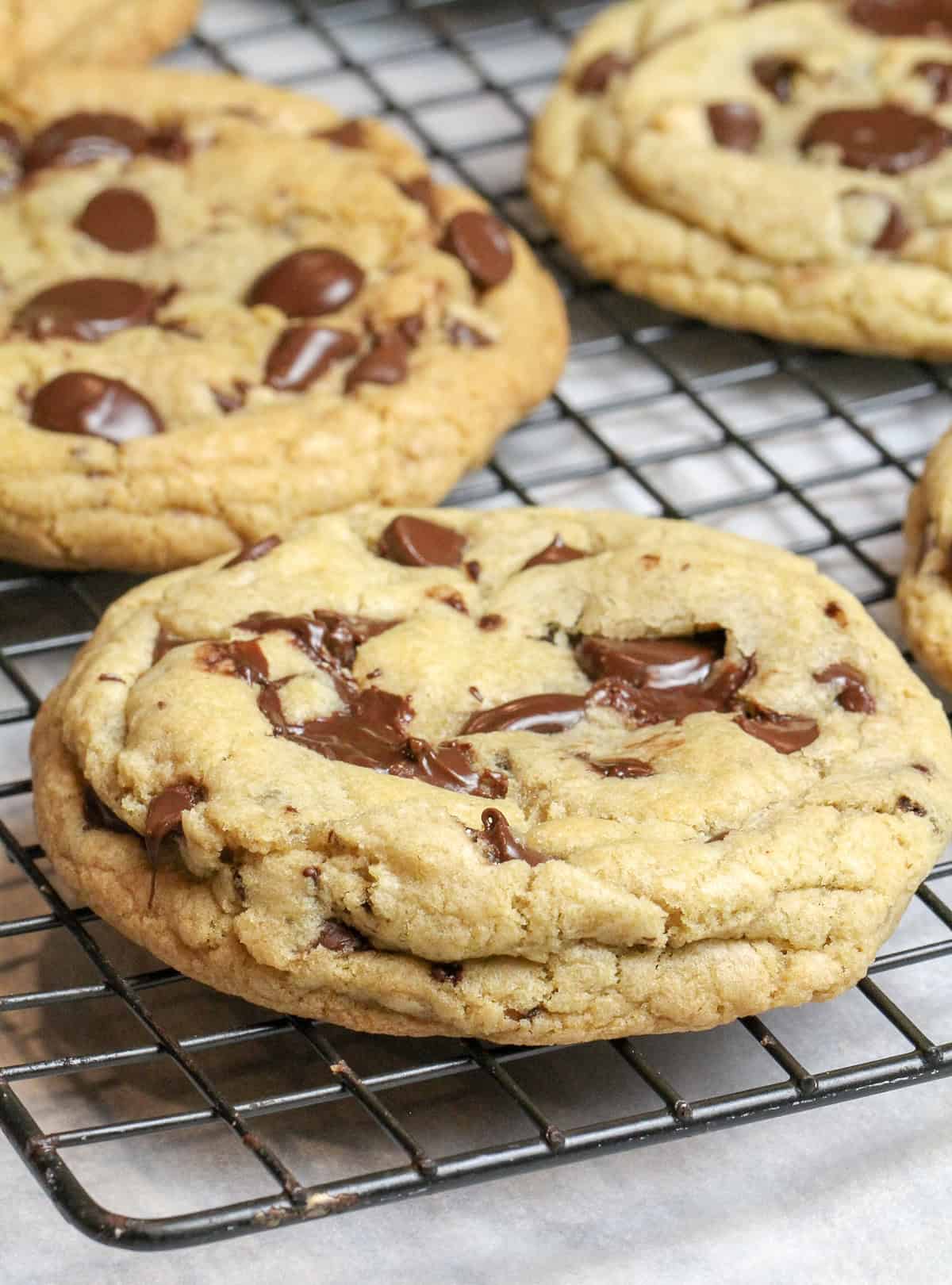 Ingredients Needed for The Ultimate Chewy Chocolate Chip Cookies:
• 2 1/3 cups all-purpose flour
• 1 teaspoon baking soda
• 1 tablespoon corn starch
• 1/4 teaspoon salt
• 1 tablespoon vanilla extract
• 3/4 cup salted butter; melted and cooled
• 1 cup brown sugar
• 1/2 cup granulated sugar
• 1 egg + 1 egg yolk at room temperature
• 3/4 cup semi-sweet chocolate chips or chunks
• 3/4 cup bittersweet chocolate chips or chunks
• fleur de sel for garnish optional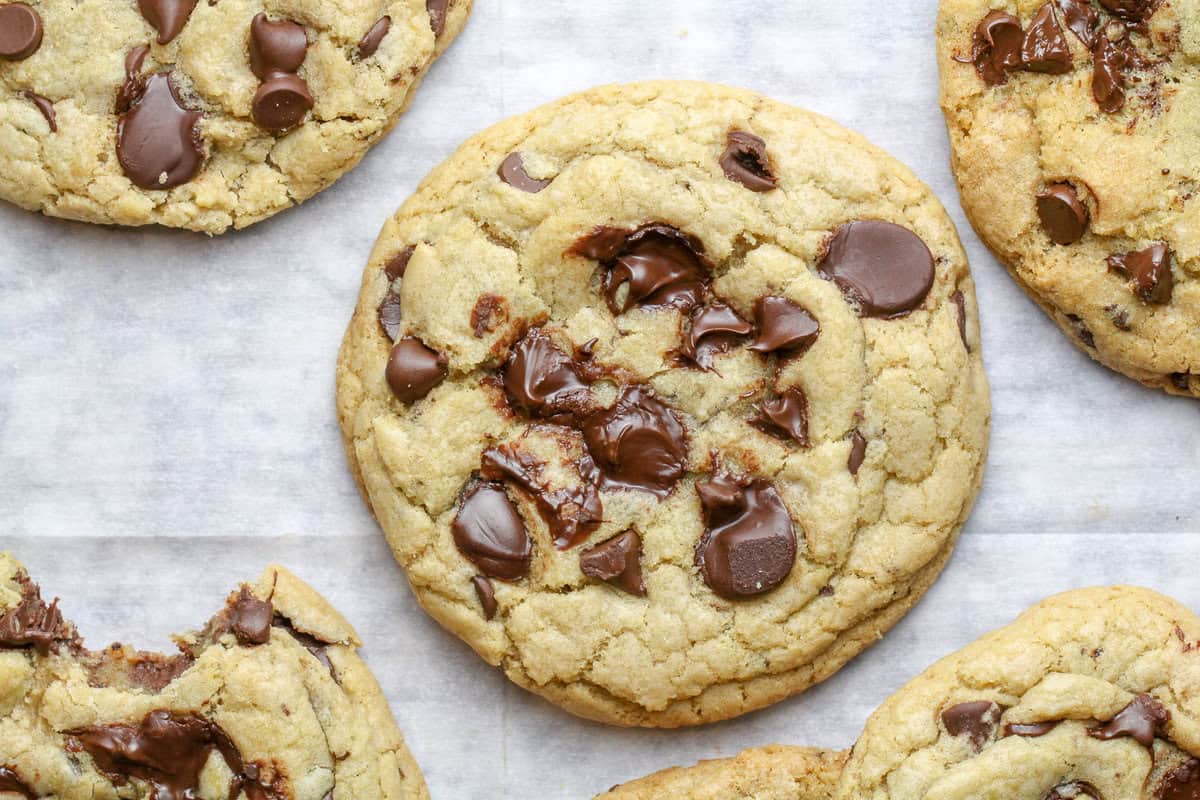 How to make the ultimate chewy chocolate chip cookies?
This easy chocolate chip cookie recipe takes less than 10 minutes to pull together.
Combine the cooled melted butter and sugars in a bowl. Whisk in eggs and vanilla extract, cream until whipped, about 5 minutes.
Stir in dry ingredients just until combined. Stir in chocolate chips/chunks.
Scoop dough into balls and freeze for 30 minutes.
Bake  until still slightly underdone in the center. Sprinkle with finish sea salt.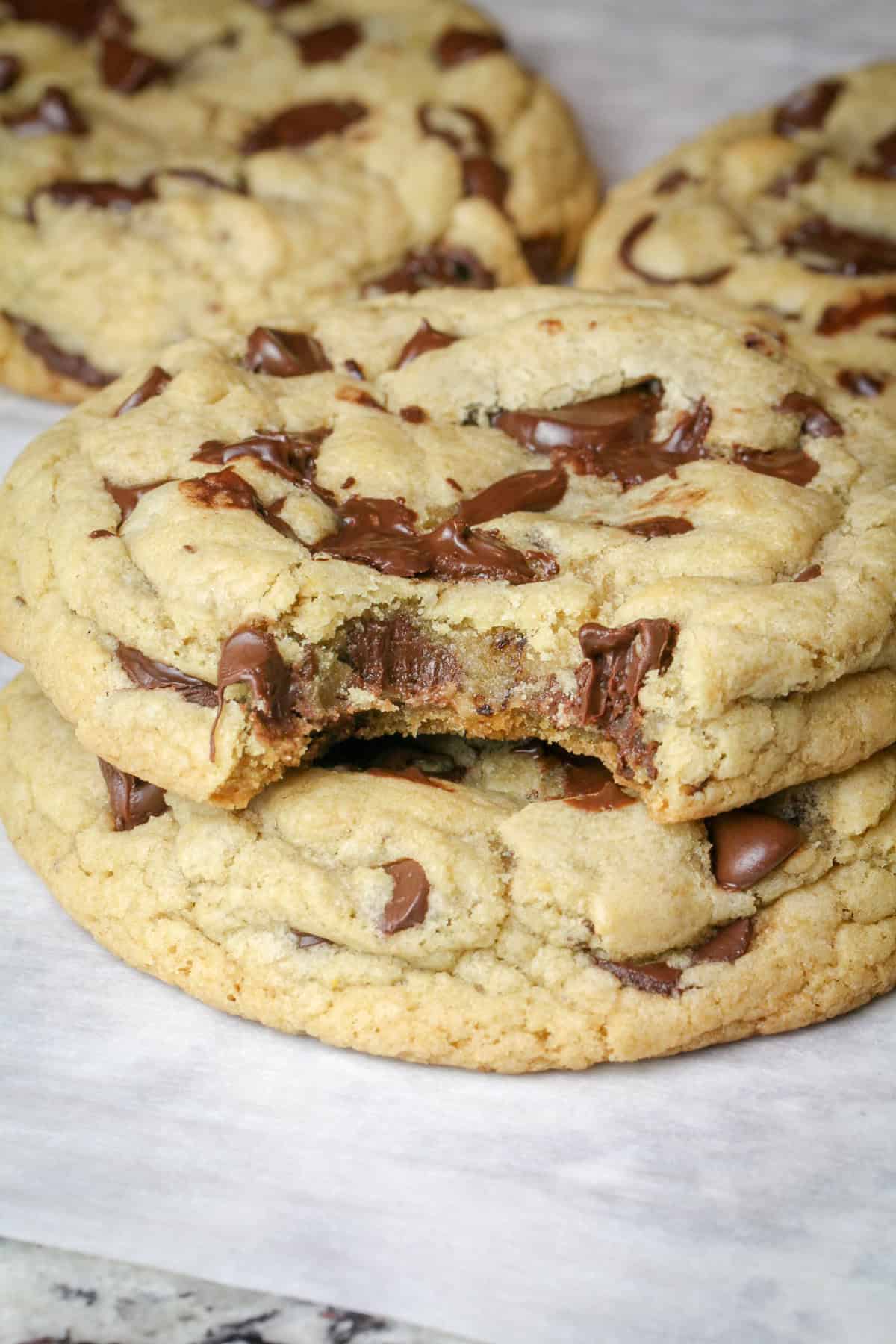 Ingredient quality always matters:
Butter. It's no secret that my favorite butter is Kerrygold Salted Butter. Unlike a lot of people, I actually use salted butter in most of my baked goods and then just add less salt. Kerrygold is unmatched in terms of creaminess and flavor!
White Sugar.  I always use Domino Sugar (it's called C&H in some areas of the US). Domino Sugar is 100% pure cane sugar, whereas some competitors brands are a mix of beet sugar and other lower grade sugar.
Brown sugar. I usually default to dark brown sugar for most my recipes as it adds a deeper, richer depth of flavor. Again, Domino Sugar brand is my go-to.
Flour. I recommend using an unbleached, all-purpose flour to make these chocolate chip cookies. King Arthur Flour is the best!
Sea Salt. I exclusively bake and cook with pure sea salt (usually purchased from Trader Joe's or Sprouts, their house brands). Sea salt is different than table salt (that is iodized), so if you use salt other than sea salt I recommend testing the recipe first with 1/2 tsp and then adjusting to your taste.
Finishing Sea Salt. Finishing salt is very different than regular salt. Although the finishing salt clumps are larger, they are less "salty". They add a punch of salt with each bite, rather than making the cookie salty overall.
Chocolate Chips. As you can see from the photos, sometimes I use chocolate chunks, chopped chocolate, or chocolate chips. It doesn't matter what you use, as long as you use 2 cups and a variety in range of chocolates will make the flavor more interesting. I use a combination of semi-sweet chocolate and bittersweet chocolate. My favorite brands: Guittard, Callebaut, Ghiradelli Bittersweet, Scharffen Berger Baking Chunks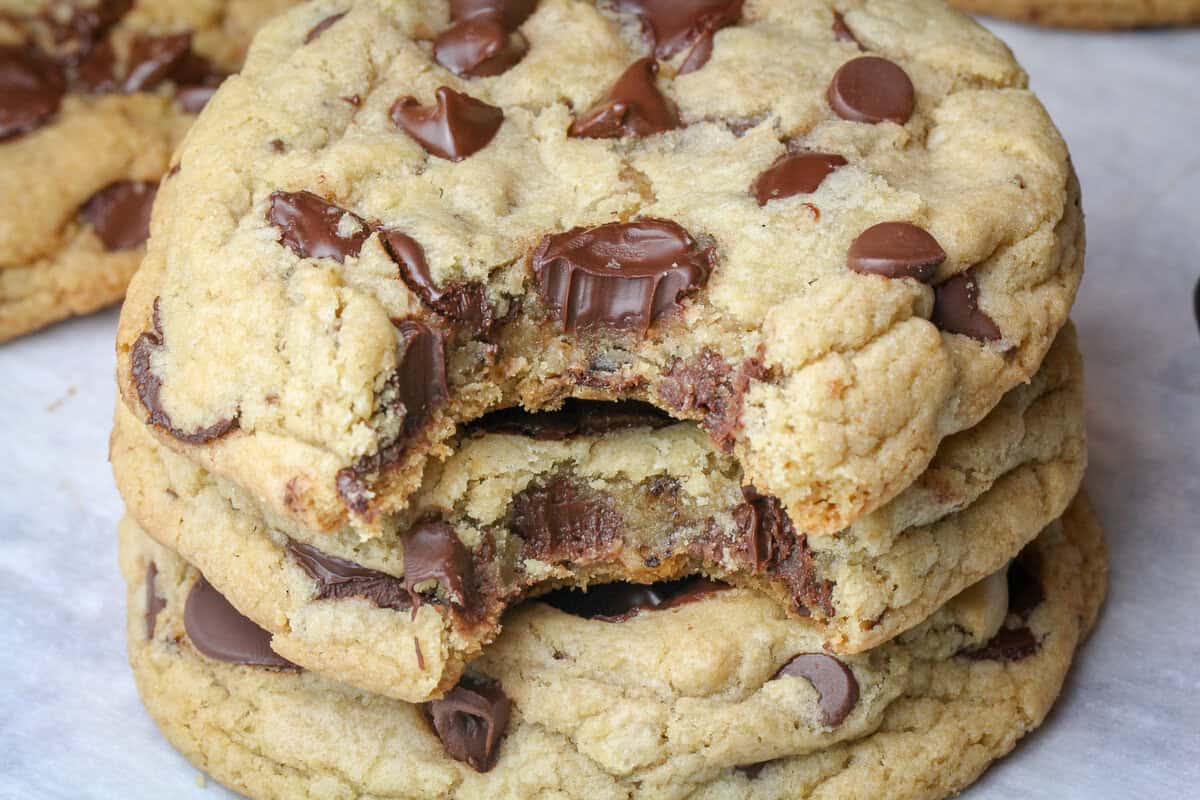 Looking for More Cookies & Dessert Recipes: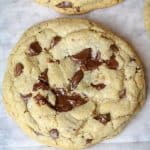 Print Recipe
The Ultimate Chewy Chocolate Chip Cookies
Soft, chewy and extra thick bakery-style cookies with a gooey center and loaded with chocolate chunks, making these the ultimate chocolate chip cookies!
Servings:
12
Large Cookies
Ingredients
2 1/3

cups

all-purpose flour

1

teaspoon

baking soda

1

tablespoon

corn starch

1/4

teaspoon

salt

1

tablespoon

vanilla extract

3/4

cup

salted butter; melted and cooled

1

cup

brown sugar

1/2

cup

granulated sugar

1

egg + 1 egg yolk at room temperature

3/4

cup

semi-sweet chocolate chips or chunks

3/4

cup

bittersweet chocolate chips or chunks

fleur de sel for garnish

optional
Instructions
Using a hand mixer, beat together the melted butter, brown sugar and granulated sugar in a large bowl. Add in the vanilla extract, egg + egg yolk until the mixture is light and creamy, about 5 full minutes. This part is imparative in the chewiness of the cookie. Be sure to scrape the bottom of the bowl occasionally.

In a zip top bag or bowl, add the flour, baking soda, corn starch and salt and mix just until combined. Add dry mixture to the wet mixture, mix until just combined. Stir in the chocolate chips by hand with a spatula.

Scoop out cookie dough, about 1/4 cup per cookie, and form large, even dough balls until smooth. Place on a parchment lined baking sheet and freeze for about 30 minutes

Preheat oven to 325 degrees.

Bake for 10-12 minutes, rotating the pan halfway through and adding additional chocolate chips to the tops of the cookies. Cookies are done when the edges are slightly golden and center still looks under baked.

Let the cookies cool on the baking sheet for at least 5 minutes and then transfer to a wire racks to finish cooling. Add finishing salt if desired. Store in an airtight container.