This authentic recipe will truly result in the best southern chicken fried chicken you will ever have! It's a recipe that will make him fall in love with you all over again. The type of dish that transports you back to your favorite childhood memory at your grandma's house where you eat more helpings even after you are stuffed. Pair this with your favorite country sides and you will have one hearty family dinner. The gravy is full of flavor and makes you want to smother it over potatoes and dip a biscuit or dinner rolls in it. This dish is a must-make!
What is Chicken Fried Chicken?
Often found at restaurants and diners here in the south and made nationally popular by Cracker Barrel, Chicken Fried Chicken is a southern-style breaded chicken that is fried and served with a delicious white gravy. Many recipes I've tried are good but you'll find two issues – the gravy is lame or the chicken is bland, or not crispy. We solve that in this recipe, as a food blogger that was raised by country cooks, and spent 12 years in the heart of the south (Georgia), rest-assured this is a truly southern addition of chicken fried chicken that will impress your family and friends.
What Makes this The Best Southern Chicken Fried Chicken?
In this recipe, we'll be nailing the flavor and the crispiness of fried chicken which are the two important indicators of whether or not this is a great dish. There are a few tips to ensuring the chicken is crispy.
Do not use buttermilk to batter the chicken, instead use whole milk. it's a common misconception that buttermilk should be used for dredging chicken, but it actually softens the breading. Now buttermilk is amazing if you want to marinate chicken BEFORE battering, but we don't use that step in this recipe.
Make sure to drain your fried chicken directly on a cooling rack and do not let it come into contact with any paper towels after you remove it from the oil. Laying your chicken on a trapped surface will allow moisture to build, resulting in soggy breading that will pull away from the chicken.
The flavor of the gravy is imperative. Don't be shy about the amount of salt, pepper, and poultry seasoning you use in your gravy. There is nothing worse than bland, milky gravy. That's a no go. Make sure you taste the gravy as you go, adjusting your seasonings until it's perfect. I use a blend of peppers from ground pepper, ground white pepper, and freshly ground black and green peppercorns.
My favorite ingredients for this recipe is WOOS! Hurricane Hot Sauce which you can get on Amazon or on their website. They are based in Charleston so you can already trust they understand hot sauce. All their sauces are INCREDIBLE, but my favorite is for sure the Hurricane sauce which I use in my egg-milk mixture (and put on the table when serving). The other secret ingredient I ADORE is the Chicken Fried Steak seasoning from The Savory Spice Shop in Franklin, TN. I discovered them while shopping with my parents in Franklin, my mom smelled it and said OH MY GOSH – this smells exactly like Grandma's fried chicken seasoning – instant purchase! That was just last week and what prompted me to even make this recipe. You can't find this seasoning on amazon (but you can find their other stuff there). But it is available on their website here. I was thrilled to discover them because I am permanently vetoing Penzey's spices after their unbelievably hateful messaging to unmasked/unvaccinated customers during covid. So now the Savory Spice Shop will get all my business.

What Sides to Pair with Southern Chicken Friend Chicken?
This meal will not be complete without incredible country sides like:
Mashed Potatoes
Corn
Green beans
Rolls or biscuits
English peas
You May Also Like:
Prince's Nashville Hot Chicken Copycat Recipe
The Best Chuy's Creamy Jalapeno Dip Recipe
Cheesecake Factory Orange Chicken Copycat Recipe
Popeye's Famous Spicy Chicken Sandwich Recipe
Nashville Hot Chicken Nuggets Cheesecake Factory Recipe
I look forward to your questions and feedback. Please be sure to tag me @BadBatchBaking using hashtag #badbatchbaking if you made this recipe and I will feature you on my story! Plus, I LOVE to see your baking accomplishments!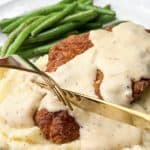 Print Recipe
The Best Southern Chicken Fried Chicken
This chicken fried chicken is authentically southern with well-seasoned tender crispy breading making this very remeniscent of a Sunday dinner at grandma's house. The gravy is incredible and worth drizzling over everything on your plate! Serve with buttery mashed potatoes and your favorite sides like green beans, peas, corn, biscuits, etc.
Ingredients
Chicken Fried Chicken
6-8

thinly sliced chicken breasts or thinly pound regular breasts

air-chilled chicken is beast, like Bell & Evans or similar

2

cups

flour

2

teaspoons

baking powder

1

teaspoon

baking soda

2

teaspoons

salt

1

teaspoon

pepper

1/2

teaspoon

cayenne pepper

1 1/2

teaspoons

garlic powder

1

teaspoon

dried onion flakes

or onion powder works too

2

teaspoons

paprika

1 1/2

cup

whole milk

do not use buttermilk, it will soften breading

2

eggs

1

tablespoon

hot sauce

peanut oil for frying (vegetable oil works too)

I use one quart in a cast iron skillet
Pepper Gravy
3

tablespoons

reserved oil from frying

with pan bits

4

tablespoons

butter

1/4

cup

flour

2

cup

whole milk

1-2

teaspoons

salt

add in increments to taste

1

teaspoon

poultry seasoning

1-2

teaspoons

white pepper and fresh ground pepper to taste
Serve With:
biscuits, mashed potatoes, green beans, corn, peas, etc.
Instructions
Prep Chicken Dredge and Heat Oil
In a shallow dish whisk together flour, baking powder, baking soda, and dry seasonings. In a second shallow dish whisk together milk, eggs, and hot sauce until smooth.

In a cast iron skillet or fry-safe pan on stove over medium, heat oil (a few inches deep) until it reaches about 350 degrees. Begin dredging the chicken while it comes up to temp.
Coat the Chicken
Flour-egg-flour: Fully coat each chicken breast in the flour mixture, dip into the egg mixture (not letting it drip off first), than back into the flour mixture. Make sure to press the flour onto the chicken. Put finished pieces on a foil/parchment lined baking sheet.
Pan Fry Chicken
Place chicken in hot oil and fry on each side 3-5 minutes until golden brown, remove and drain directly on a cooling rack placed on top paper towel lined baking sheet. Do not place directly on paper towels as it will make chicken soggy. (Place chicken tray in the oven at 200 degrees if you want to keep it warm while you prep gravy and finish up side items.)
Make Gravy
To make your gravy, in a saucepan add 3 tablespoons oil + pan bits, butter over medium heat, stir in your flour until absorbed and cook for about 1 minute (it'll bubble slightly).

Slowly add in your milk whisking to blend and heat until thickened then stir in seasonings until it's nice and seasoned. This part is very important as all the flavor is in the salt, pepper and poultry seasoning.

To serve, plate your chicken and pour spoonfuls of gravy directly over each piece (and over the potatoes if serving).
Notes
If you have a poultry seasoning you love to use, you can use that in the flour mixture and in the gravy in lieu of the paprika, garlic powder, etc. I LOVE the Chicken Fried Steak seasoning from Savory Spice and I use this in my recipe. Once I plate the chicken and pour the gravy over, I will sprinkle just a pinch on top before serving. It adds an extra kick of flavor.
I usually recommend using a candy thermometer when deep frying. In this instance, I feel it's pretty intuitive to pan-fry chicken. Just make sure your oil isn't smoking and you keep it between medium-medium high heat throughout the process.