Today is Football Sunday and it's the perfect day to make these Nashville Chicken Nuggets inspired by the Cheesecake Factory. Super spicy and crunchy chicken breast nuggets with a hint of sweetness, cooled down by a thick and herby homemade ranch. This will be your new favorite game day food, and let's face it, the good food is the main reason why I am so interested in football 🙂
If you have ever been to the Cheesecake Factory you know their menu is a mile long. It's hard to settle on what to order, so I am usually the person getting several small plates and appetizers so I can experience an array of amazingness. But in addition to the ridiculously awesome Sweet Corn Cakes (which are literally pure butter and corn – omg YES) I am always sure to include their Nashville Chicken Nuggets to my order. So today, we are re-making them at home!
Nashville hot chicken is trending everywhere. If you haven't tried this style of chicken yet, it's an absolute must. These babies are hot! You can use this same recipe to make a delicious chicken sandwich by adding some cool coleslaw. Or make chicken tenders and serve them up with homemade biscuits.
This perfect ranch dip was inspired by Taco Mac, a Georgia based sports bar chain that serves up wings and tacos. But I really find myself using their celery, fries and wings as a delivery system for their epic ranch dip. After asking the restaurant a few questions about their house-made ranch, I think I've come pretty close to mastering it. Even if you have never visited a Taco Mac and don't live in Georgia, this ranch dip will create lovers all over the world.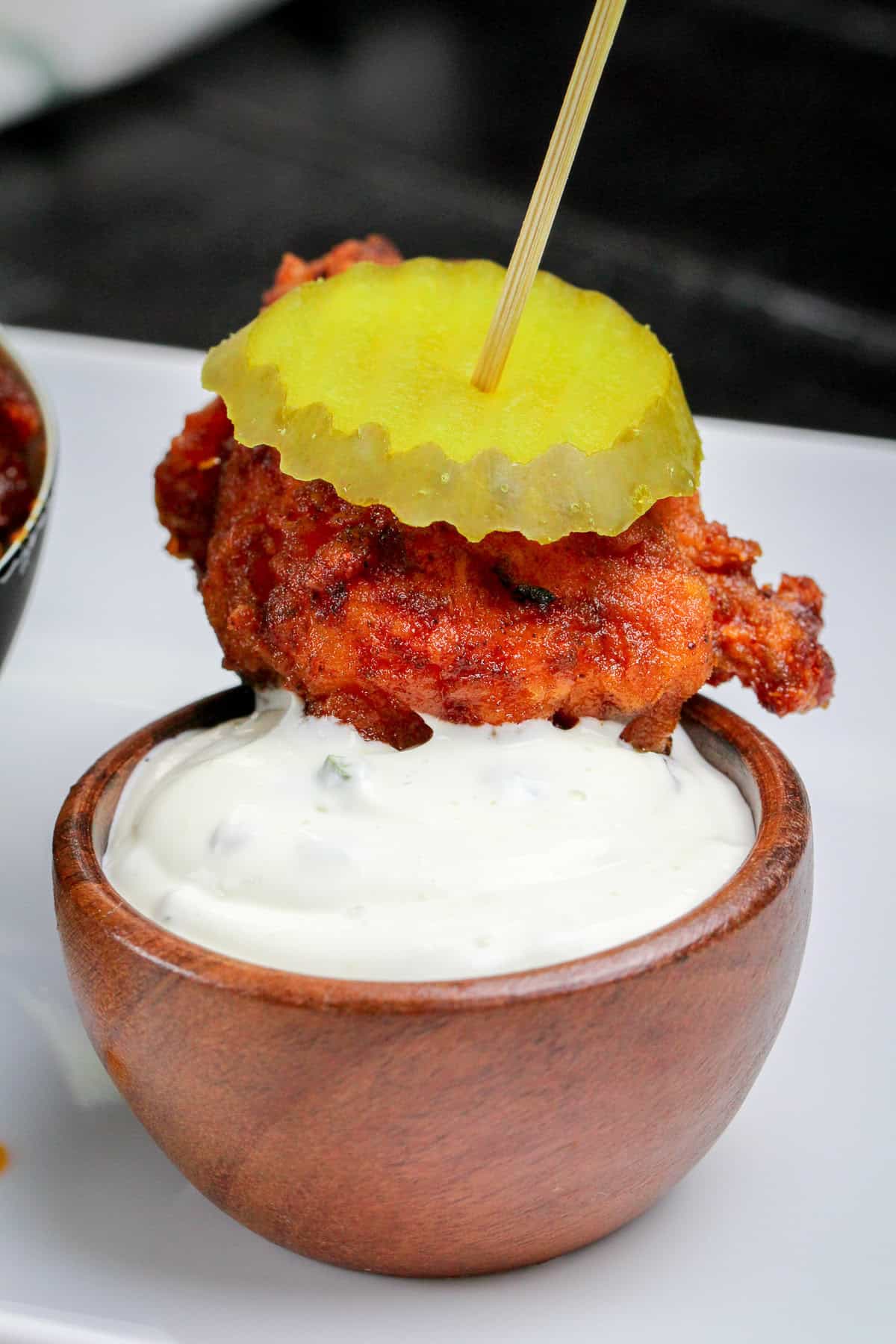 If you make this chicken (or any of my recipes), be sure to tag @badbatchbaking or use the #badbatchbaking hashtag so I can see and share!
Print
Nashville Hot Chicken Nuggets (Cheesecake Factory Copycat Recipe)
---
Author:

Total Time:

1 hour

Yield:

4-6 servings
Description
Super spicy and crunchy chicken breast nuggets with a hint of sweetness, cooled down by a thick and herby homemade ranch dip
---
Pickle Brine
• 6 chicken breast cut into nugget sized chunks
• 1 quart pickle juice
• 1/2 cup pickle slices (for serving)
Dredge and dip
• 3 cups all-purpose flour
• 1 tablespoon sea salt
• 1 tablespoon cayenne pepper
• 1 teaspoon garlic powder
• 1 teaspoon paprika
• 1 teaspoon black pepper
• 1 cup whole milk
• 2 eggs
• 1 1/2 tablespoon Louisiana hot sauce
• vegetable oil (enough to fill the frying pot about 4 inches high with oil)
Nashville Sauce
• 3/4 cups butter, melted
• 1 tablespoon dark brown sugar
• 1 tablespoon honey
• 4 tablespoons cayenne pepper
• 1 tablespoon Louisiana hot sauce
• 1 teaspoon paprika
• 2/3 teaspoons garlic powder
• Salt and pepper to taste
• 1/2 cup pickle slices (for serving)
Thick and Herby Homemade Ranch
• 1 cup full-fat mayo
• 1/3 cup sour cream
• 1/3 cup full fat buttermilk
• 1-2 garlic cloves, grated
• 2-3 tbsp freeze dried chives (I found these at Wax-Mart)
• salt and pepper to taste
---
Instructions
Thick and Herby Homemade Ranch
• In a small bowl, add the mayo, sour cream and buttermilk. Mix well to combine. You can add more buttermilk if you prefer a thinner dip.
• Add the remaining ingredients and mix well. Adjust the amounts of herbs and spices as needed. Refrigerate overnight to allow the flavors to meld.
Brine
• 8-24 hours before cooking: In a large bowl, add the chicken breast chunks and pour over enough pickle juice to cover all of the chicken. Cover tightly and refrigerate overnight or at least 8 hours.
Dredge and dip
• Heat oil to 325 in a heavy-bottom pot that is safe for frying. This temperature will prevent the chicken crumbs from burning at the bottom of the pan and won't smell up the house like oil for days.
• While the oil is heating, prepare the flour mixture by combining all ingredients into a large glass bowl. In a separate bowl, prepare the dip by combining the eggs, milk and hot sauce. Mix well to combine.
• Remove chicken from brine, pat dry.
• Place chicken in the flour, coat well, then into the egg mixture and back into the flour mixture.
Frying the chicken
• Prepare a cooling rack covered in paper towels in a safe location beside the fry station.
• Once oil has reached the correct temperature, place a portion of the chicken in the oil. Working in batched to not overcrowd the pan.
• After 6-7 minutes of frying, chicken should be light golden brown. Remove from the oil and place on paper towels. Let it rest for 1 minute, then place back into the oil for an additional 2 minutes. Make sure internal temp reaches 165 degrees.
• If any of the remaining raw chicken gets gummy from sitting aside waiting to fry, give it a quick toss in the flour mixture before frying.
Nashville Sauce
• Prepare the spicy coating sauce by melting the butter in a small bowl. Add all other ingredients and mix well until combined.
• Using a basting brush, fully coat the chicken while it's still warm and serve with pickle slices.
Prep Time:

45 mins

Cook Time:

15 mins

Category:

Game Day Food & Appetizers

Method:

Fried

Cuisine:

American