Chinese food is the greatest cuisine ever. In the history of time, I don't think I have left a Chinese restaurant without spending at least $60. I can't just get one entree. No, no. I must get two of my favorite entrees (which is always a tie between General Tso's, Orange Chicken, Sesame Chicken and Sweet & Sour Chicken) plus Lo Mein and an appetizer or two; spring rolls and pan fried dumplings. I am getting so hungry just talking about it.
Why am I making an Orange Chicken Copycat Recipe from The Cheesecake Factory of all places? I realize it's a bit random to be sharing an orange chicken recipe from the Cheesecake Factory as it's not an authentic Chinese restaurant or even a Chinese restaurant for that matter LOL but, they do have a really good version that's widely loved.
So I decided to create a recipe for this dish so I can help all the people that adore this dish (myself included) make this at home!
The Key To Extra Crispy Chicken:
To get the ultimate crispiness on your chicken pieces for this dish and others, the key is a double deep fry. There is nothing worse than breaded, fried chicken pieces that turns mushy after it's coated in sauce. You want that chicken coating to withstand the saucy moisture and still keep a crunch.
Fry the chicken according to the recipe, but once you remove the chicken and let it cool for a moment on a paper towel lined plate or sheet pan, you put it back into the hot oil for an addition minute. Frying twice gets the chicken twice as crispy!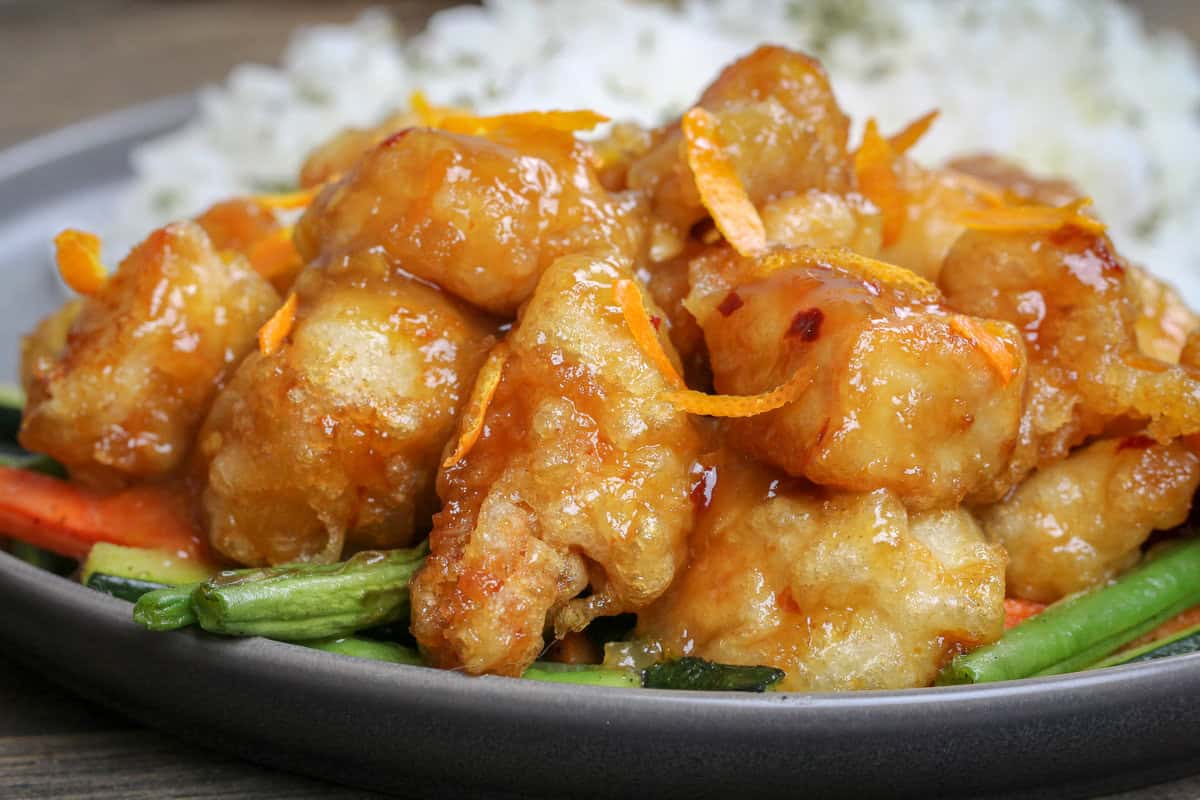 Looking for another great Asian-inspired chicken recipe?   Try my Sesame Chicken Recipe that was inspired by a local Mandarin/Cantonese restaurant in my hometown in Oregon.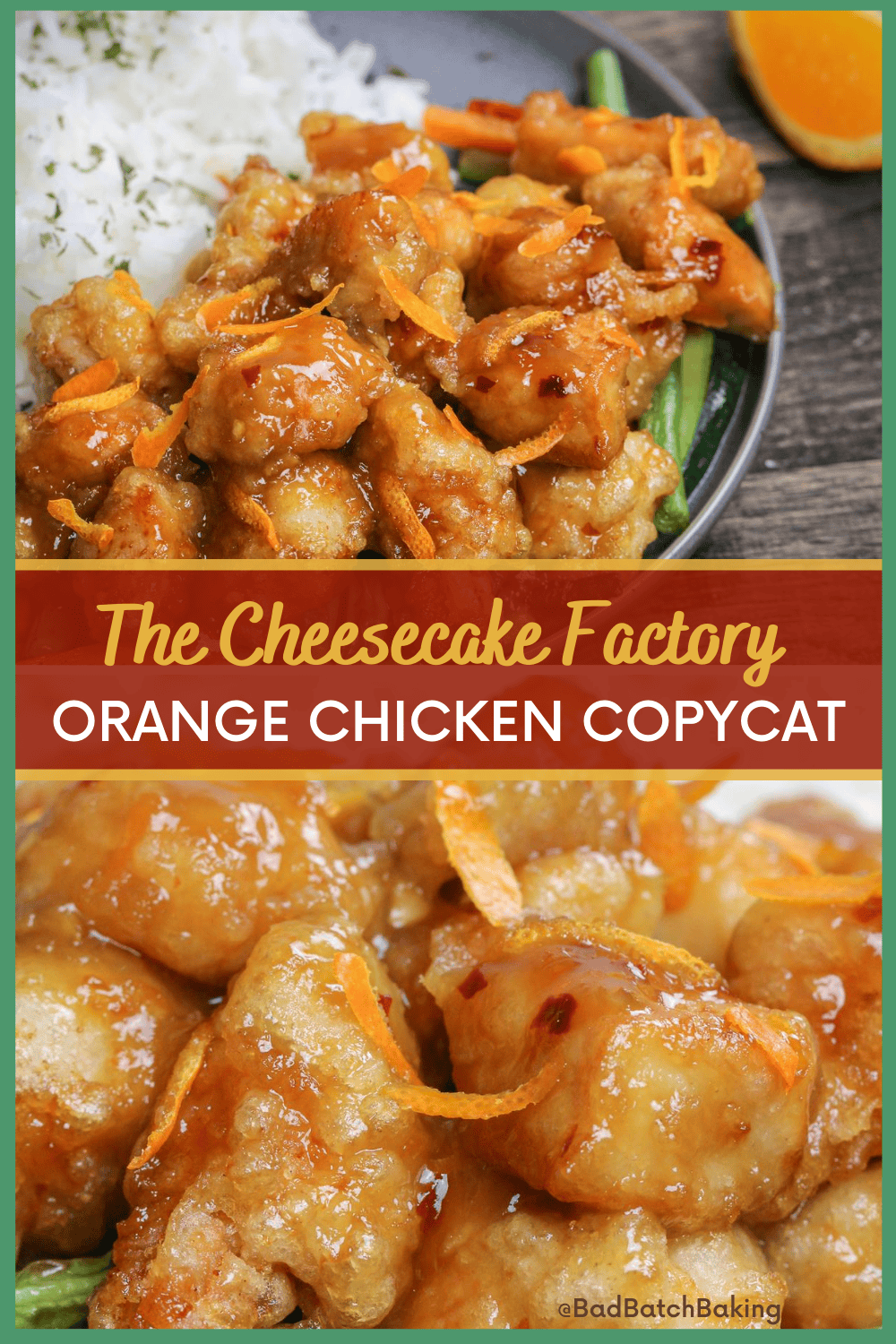 I look forward to your comments and any questions you may have! Please feel free to list them below and don't forget to tag me on social media if you make this recipe @BadBatchBaking and use #BadBatchBaking.
Print
Cheesecake Factory Orange Chicken Copycat Recipe
---
Description
This orange chicken tastes just like the Cheesecake Factory version; extra crunchy pieces of juicy chicken covered in a tangy, fruity orange sauce with a kick of heat.
---
Scale
Ingredients
The Chicken:
4

Boneless Skinless Chicken Breasts

cut into bite-size pieces

3

Eggs,

whisked well


1/3

cup

Cornstarch

1/3

cup

Flour

Oil – enough for frying
Orange Sauce:
1/4 cup

chicken broth

3/4 cup

orange juice

2 tablespoon

s lemon juice

2 tablespoon

s rice wine vinegar

2 tablespoon

s low sodium soy sauce or Tamari for GF
Zest from

one

orange

1 cup

packed brown sugar

1 teaspoon

ginger, grated

2

garlic cloves, grated

1/4

 teaspoon red pepper flakes

2 tablespoon

s cornstarch

2 tablespoon

s water
Garnish – chopped green onion and grated orange peel
---
Instructions
In a saucepan over medium heat combine chicken broth, orange juice, lemon juice, vinegar, soy sauce, ginger, garlic and chili flakes. Heat for several minutes.
Stir in brown sugar and  continue to cook until the sugar is dissolved, bringing the sauce to a low boil.
In a small dish whisk the water and cornstarch together and add into the sauce. Allow the sauce to thicken, then remove from the heat and add the orange zest.
Set the sauce aside until ready to use. The sauce will continue to thicken as it cools down.
The Chicken:
Pre-heat oil in a fry-safe pot to 375 degrees, monitoring and adjusting the temp with a thermometer as you go.

Combine the flour and cornstarch in a shallow dish. Add a generous pinch of salt and mix well to incorporate.

Whisk eggs in a separate shallow dish.

Dip chicken pieces in egg mixture and then flour mixture and directly into the hot oil.

Deep fry chicken in batches until completely cooked through, turning the chicken pieces frequently as you go, about 3 minutes per batch.
Turn out the chicken onto a sheet pan lined with layers of paper towels or paper bags.
Optional: For extra crispy chicken, let the chicken settle for a few moments and then add it back into the oil for an additional minute.
To serve, toss the crispy chicken pieces in the sauce and reserve a little sauce to top off the chicken and rice. Add grated orange zest and chopped green onion.
---