This post is all about how to make a copycat version of the Cheesecake Factory orange chicken. One of the most popular dishes that this restaurant serves, you can now make this dish at home in just 30 minutes! Plus it's even tastier 🙂
My copycat Cheesecake Factory Orange Chicken is sweet and tangy with a strong orange-essence that derives from the zest and juice of fresh oranges.
In this recipe, I'll show you my tips and tricks to get an extra crunchy puffy batter to ensure a stay-crisp coating, just like we experience at the restaurant.
This addictively delicious crowd-favorite tastes just like the Orange Chicken that's served up at the Cheesecake Factory (and better than any takeout restaurants for that matter).
This post is all about how to make the perfect copycat recipe for Cheesecake Factory Orange Chicken
Is the Cheesecake Factory Orange Chicken any good?
Why am I making an Orange Chicken Copycat Recipe from The Cheesecake Factory of all places? I realize it's a bit random to be sharing an orange chicken recipe from the Cheesecake Factory. After all, it's not an authentic Chinese restaurant or even a Chinese restaurant for that matter. But they do have a really good version that's widely adored.
Consistently delicious from location to location. Their chicken is always super crispy and hot, the sauce is tangy, sweet, with a kick of spice and has a strong real orange scent that permeates from the plate. So although this is certainly an americanized dish, it's one that is exceptionally delicious and crave-able.
So I decided to create a recipe for this dish so I can help all the people that LOVE this dish (myself included) make this at home!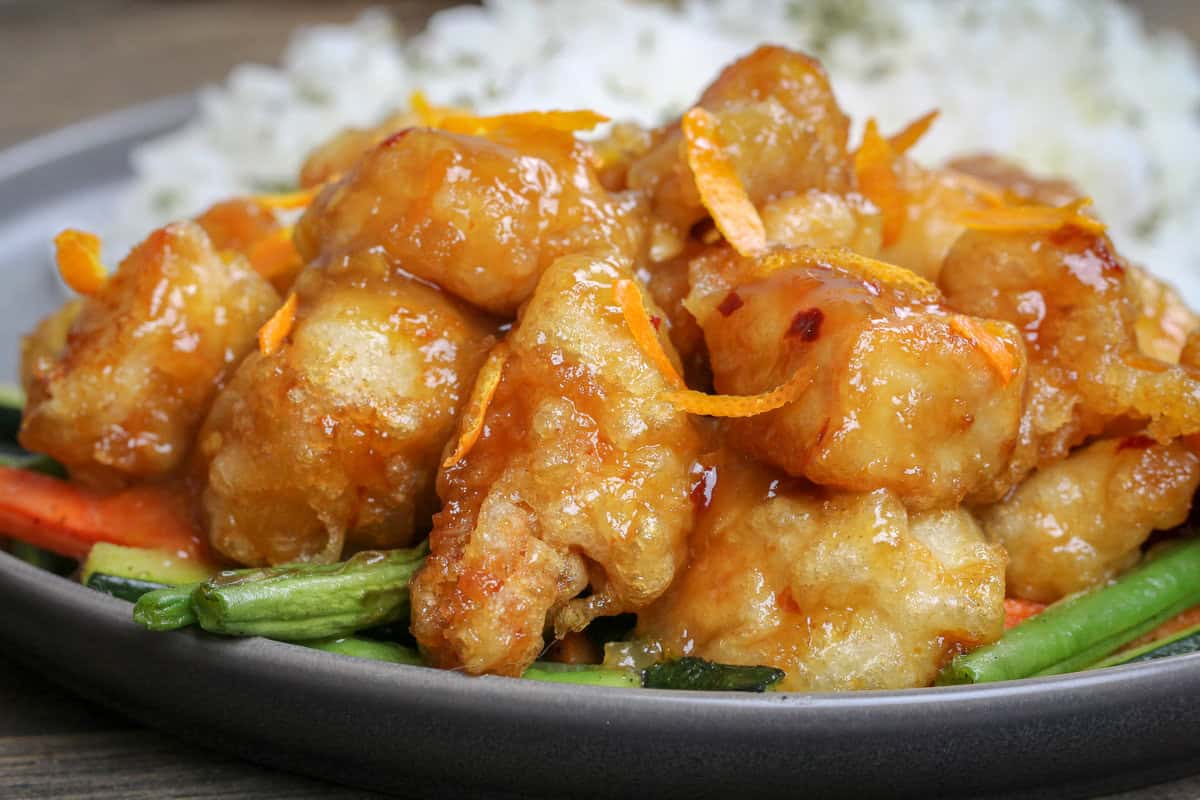 The Key To Extra Crispy Cheesecake Factory Orange Chicken:
To get the ultimate crispiness on your chicken pieces for this dish and others, the key is a double deep fry. There is nothing worse than breaded, fried chicken pieces that turns mushy after it's coated in sauce. You want that chicken coating to withstand the saucy moisture and still keep a crunch.
You'll fry the chicken in round 1, then remove the chicken and let it cool for several minutes on a cooling rack. Once the oil reaches the proper temperature, we'll place it back into the hot oil for an addition minute. Frying twice gets the chicken twice as crispy!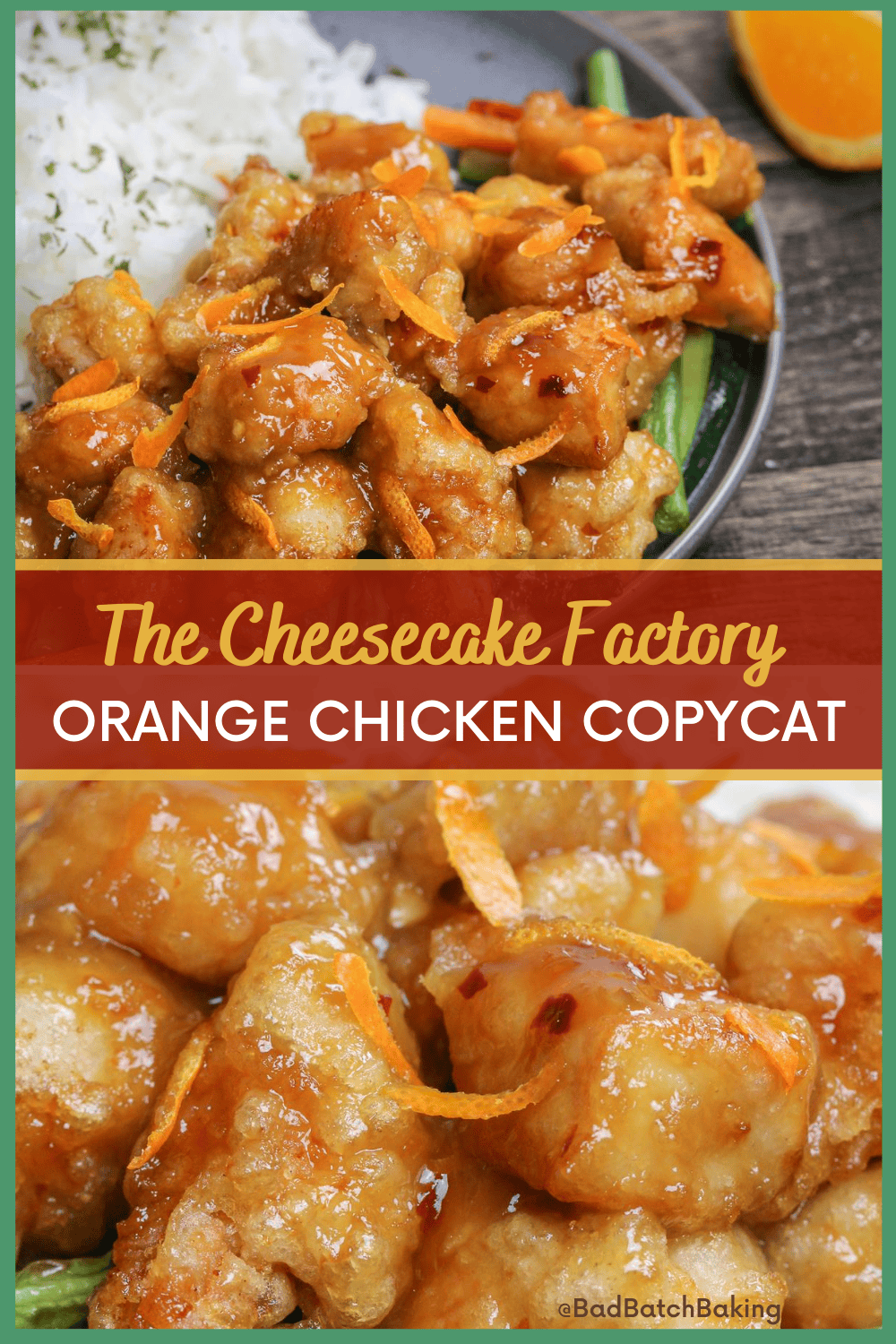 Looking for another great Asian-inspired chicken recipe?
Try my Sesame Chicken Recipe that was inspired by a local Mandarin/Cantonese restaurant in my hometown in Oregon.
I look forward to your comments and any questions you may have! Please feel free to list them below and don't forget to tag me on social media if you make this recipe @BadBatchBaking and use #BadBatchBaking.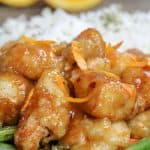 Print Recipe
Cheesecake Factory Orange Chicken Copycat Recipe
Sticky coated orange chicken with an ultra crispy batter served over a bed of rice.
Ingredients
4

chicken breasts

cut into bite sized pieces

Oil for frying

about 2-3 cups
Orange Chicken Sauce
1

cup

brown sugar

3/4

cup

orange juice

1/4

cup

chicken broth

2

tbsp

low sodium soy sauce

2

tbsp

rice wine vinegar

2

tbsp

lemon juice

fresh squeezed

2

garlic cloves

minced

1

tsp

ginger

grated

1/2

tsp

red pepper flakes

Zest from 1 orange

avoid the white part

Slurry- 2 tbsp cornstarch + 1 tbsp water
Wet Batter
6

tbsp

cornstarch

4

tbsp

flour

7-8

tbsp

cold soda water

1/4

tsp

baking powder

1/4

tsp

salt

2-3

cups

vegetable oil
prepared rice for serving (optional)

Garnish - orange zest and sliced green onions
Instructions
Preheat oil to 350 degrees in a fry safe skillet. For best results, use a thermometer to maintain accurate oil temperature. Nearby, place a cooling rack atop of baking sheet as a landing space for cooked chicken.

Prepare sauce by combining all sauce ingredients into a saucepan (withholding cornstarch slurry). Bring to a simmering boil until sugar dissolves. Combine the cornstarch+water slurry and add to the sauce, whisk to incorporate and simmer until thickened. Keep warm while preparing the chicken.

Dust Chicken: Place 1/2 cup of cornstarch into a medium bowl and toss chicken chunks in the cornstarch to coat.

Make cold batter by whisking together flour, salt, cornstarch and baking powder in a separate medium bowl. Pour in about ~7 tablespoons of COLD soda water then whisk just a few times until combined, a few lumps are ok - don't overmix.

1st Fry: dunk a handful of chicken pieces into the batter, turning to coat each piece, place one at a time into the oil. Fry for 3 minutes until light golden brown, remove them and drain on a cooling rack. Repeat with remaining chicken.

2nd Fry: bring oil back to temperature (this takes about 5 minutes or so) and again working in batches, add the chicken back into the oil to fry 90 seconds or until medium-golden brown and return to cooling rack to drain excess oil.

Add handfuls of fully coated chicken into prepared warm sauce, tumbling around quickly to coat, repeating with remaining chicken.

Serve over a bed of warm rice and top with grated orange peel and diced green onions and a few spoonfuls of extra sauce.
Notes
For best results, use a thermometer when frying to maintain accurate temperature as the oil with fluctuate.  This calls for a double fry method to ensure maximum crispiness. It's imperative to use cold soda water in order to ensure to proper crisp texture of the chicken pieces. Double the sauce recipe if you tend to like extra sauce to drizzle over the rice when serving.