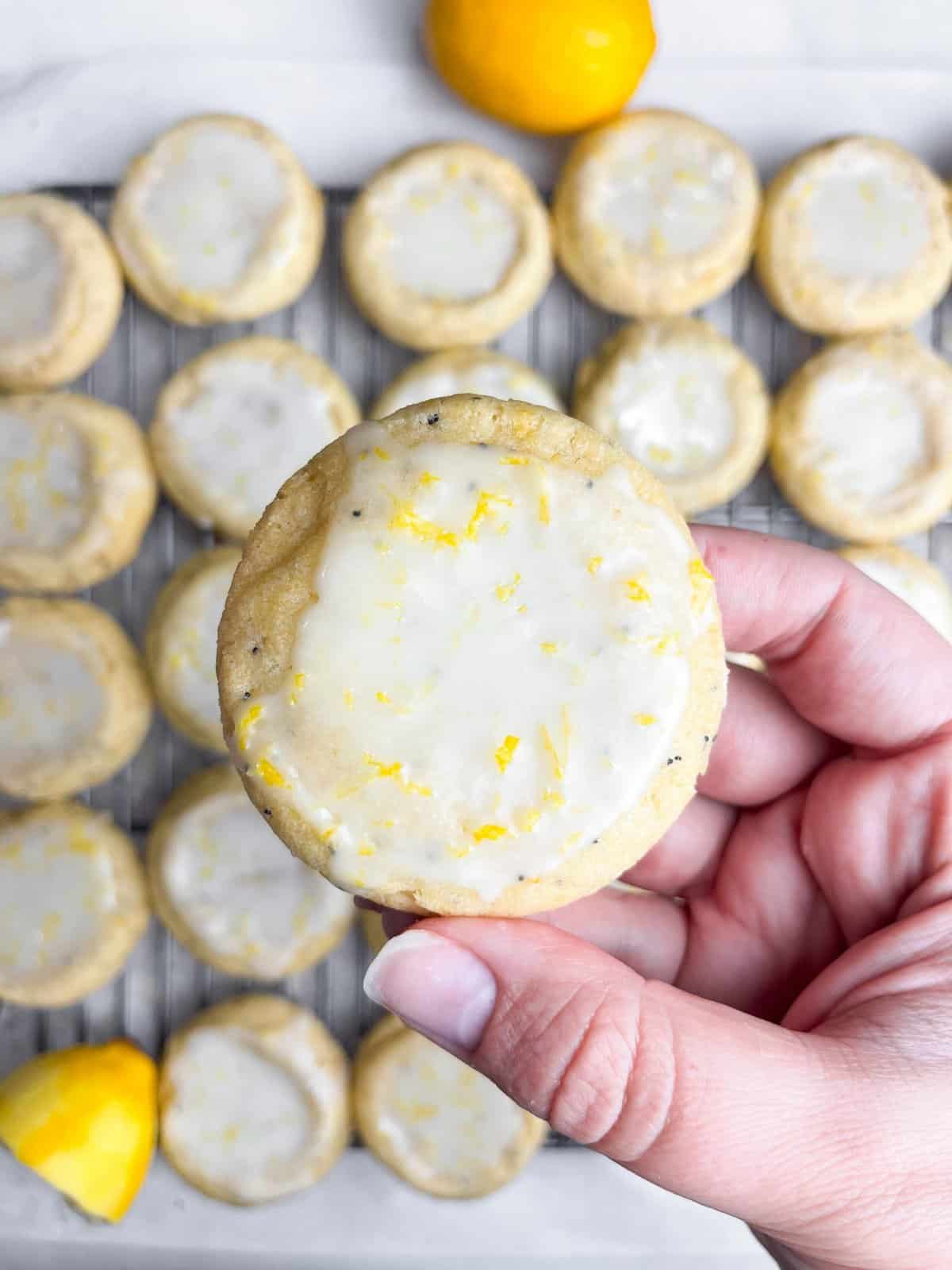 Who likes lemon cookies that are sweet without any sour kick? That's right. None of us! There are few things in life as disappointing as buying lemon cookies or getting a slice of lemon cake from the bakery or a store and it lacks any tangy punch.  It totally misses the mark for me. When I think of lemon, I want it give me that lip-puckering sensation, a tang you can feel, and these Tart Soft-Baked Lemon Poppy Seed Cookies do exactly that!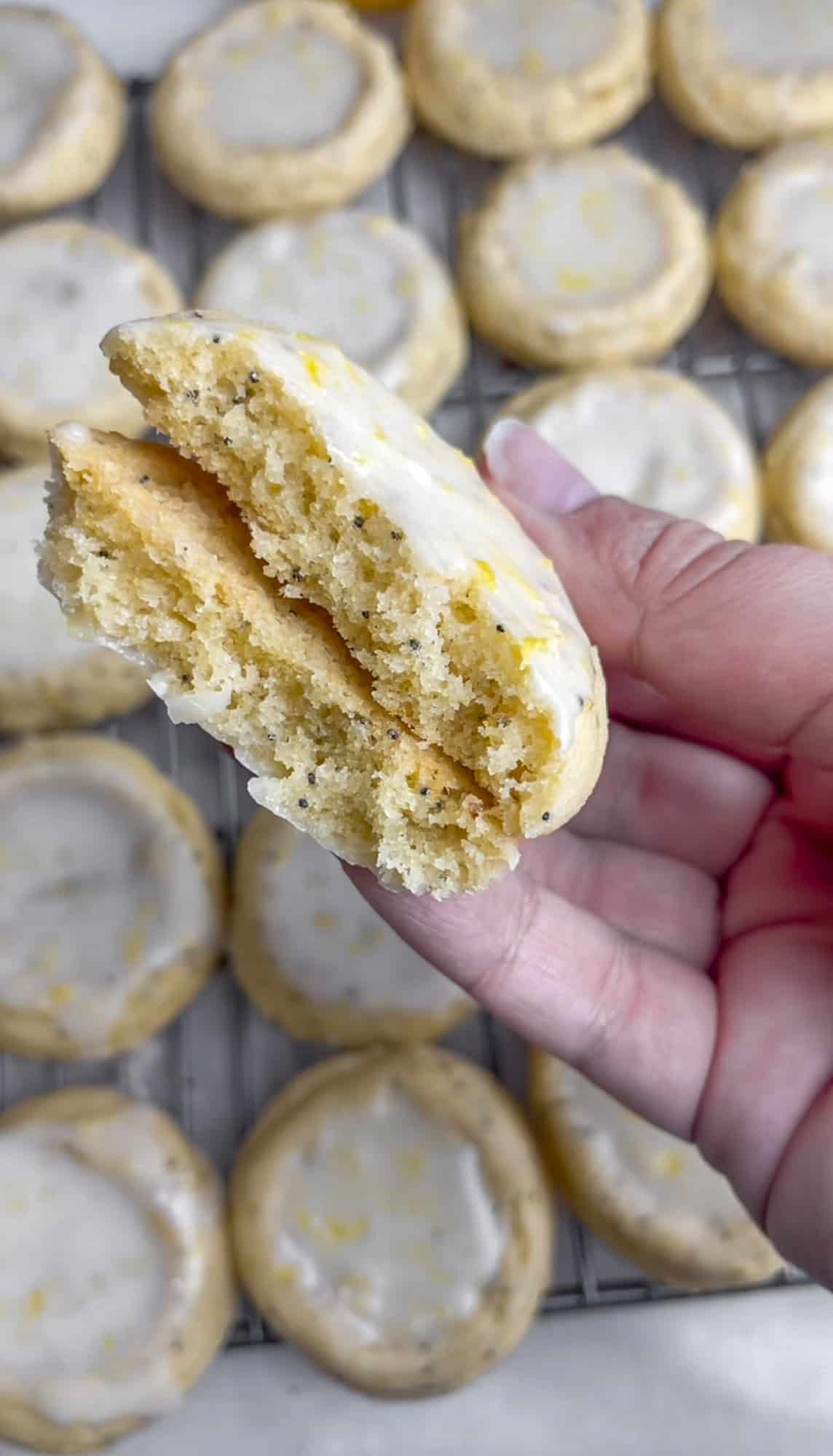 What do these cookies taste like?
Get ready for your friends and families to absolutely adore these cookies and ask you to make them time and time again.  Or at the least, claim it is the best lemon cookie they've ever had. I recently made a big batch of these to send out as a Thank You and the responses I got were hilarious. One of my friends said, "I don't even like lemon desserts, seriously, did you put crack in these cookies? They just can't be THIS good".
Perfect Texture: Extremely buttery with a soft crumb that melts in your mouth. We cream the butter and sugar for an extended period of time to ensure the batter aerates and has natural lift (this is called "mechanical leavening").
Tart Lemony Taste: exploding with lemon flavor, not only from pure lemon juice in the cookie and in the frosting, but the fresh lemon zest also brings out a punchy lemon smell and flavor.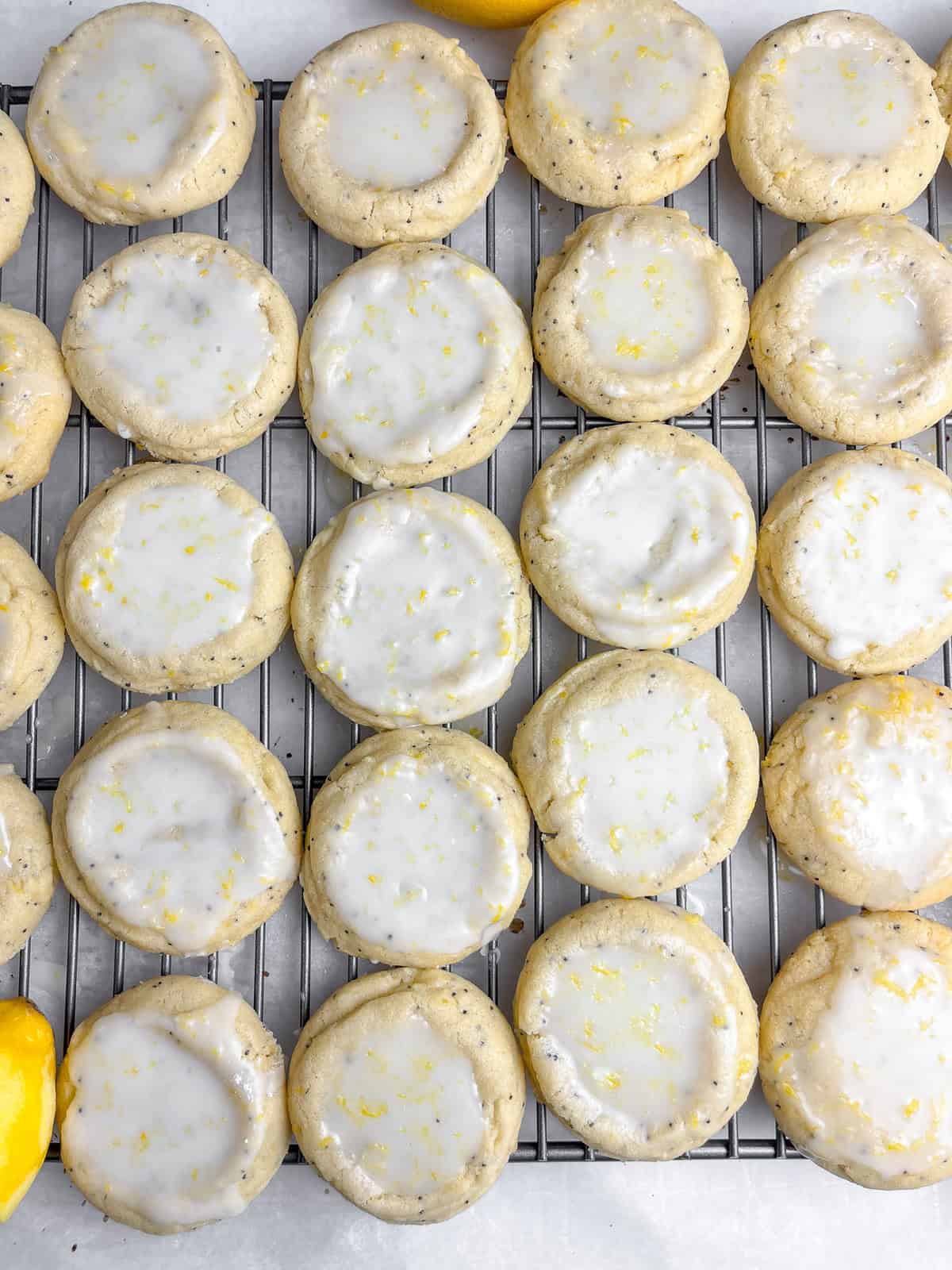 What makes these Tart Soft-Baked Lemon Poppy Seed cookies so tart?
The trick to making these cookies tangy is not just in the frosting but a special trick I do after the cookies come out of the oven.
Lots of recipes call for a few tablespoons of lemon juice directly into the batter. But I find that yields and flat, loose and crumbly cookie that is not appetizing. After years of perfecting this recipe (seriously, years!), I have created a way to make these nice and tart without comprising the texture.

As soon as the cookies are removed from the oven, I squeeze fresh lemon juice directly onto the tops of each cookie, about 5-6 drops evenly distributed among each cookie. The lemon juice absorbs right into the warm cookie and results in a a buttery and tart melt-in-your-mouth cookie, so addictive you'll be arguing over who gets the last one.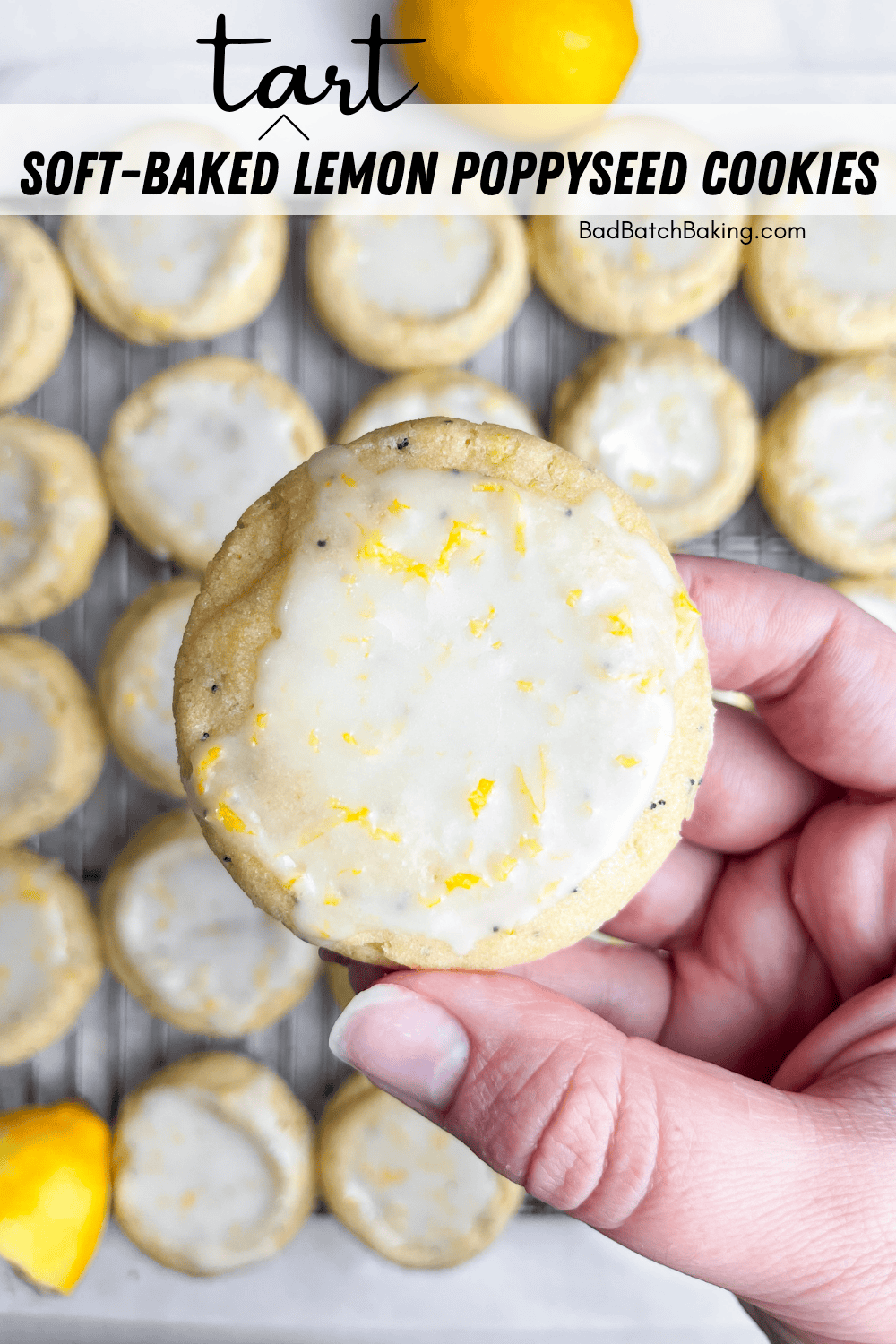 Looking for other delish cookies & treat recipes?
Soft-Batch Triple Chocolate Peppermint Cookies
Brownie Stuffed Chocolate Chip Cookies
Reece's Pieces Chocolate Peanut Butter Cookies
Four Layer Peanut Butter Brownie Bars
Tagalong Girl Scout Girl Cookies Recipe
I look forward to your questions and feedback below. Please be sure to tag me @BadBatchBaking using hashtag #badbatchbaking if you made this recipe and I will feature you on my story! Plus, I LOVE to see your baking accomplishments.
Print Recipe
Tart Soft-Baked Lemon Poppy Seed Cookies
Get ready to fight over who gets the last cookie with the incredibly delicious soft-baked lemon cookie recipe that is bursting with buttery, lemon flavor and packs a powerful tart and tangy lemon punch! These will be your all time favorite lemon cookies.
Ingredients
Lemon Poppy Seed Cookies
2 1/3

cups

all-purpose flour

1

teaspoon

baking powder

1/2

teaspoon

baking soda

1/4

teaspoon

salt

1

cup

salted butter

2 sticks, softened (Kerrygold Preferred)

1

cup

granulated sugar

1

large egg

Zest of 2 lemons

(3-4 lemons needed for whole recipe, including frosting)

2

teaspoons

fresh lemon juice

2

teaspoons

vanilla extract

2

teaspoons

poppy seeds

Lemon wedges for squeezing over tops of baked cookies
Tart Lemon Frosting
1

cup

powdered sugar, sifted

1

tablespoon

fresh lemon juice

Zest of 1 lemon
Instructions
In a gallon zip top bag or medium bowl, mix together the flour, baking powder, baking soda, and salt. Set aside.

Cream the butter and sugar together with an electric mixer until aerated, pale yellow and very fluffy, 5+ minutes (this is called "Mechanical Leavening"). Scrape bottom of the bowl frequently.

Beat in the egg, lemon zest, lemon juice, vanilla, and poppy seeds. Turn the mixer on low and slowly add in half the flour mixture. Scrape the bowl, add the rest of the flour and stir gently by hand until combined, being careful not to overmix. Refrigerate overnight ideally or at least a few hours.

To bake, preheat oven to 350 and line baking sheet with parchment paper. Use a cookie scoop or 1.5 tablespoon portions, to form perfectly round balls. Place them two inches apart. Bake for 8-10 minutes, until they are slightly underdone in the center.

Remove from oven and leave cookies on the pan to cool for at least 5 minutes before transferring to a cooling rack. While cookies are still cooling on pan, squeeze lemon wedges over the tops of the cookies, about 5-6 drops per cookie, distributed evenly over the tops.
Tart Lemon Frosting
In a small bowl, combine sifted (sifting is very important here to avoid lumpy frosting!) powdered sugar with 1 tablespoon lemon juice and lemon zest. Mix until smooth. Avoid adding more lemon juice until mixed well, if needed, add a dash more juice until it's able to drizzle but still sets up hard.

Spoon frosting over each cookie, spreading it in a circular motion toward the edges. Store in an airtight container at room temperature for a few days. They are also delicious served cold!