Tagalongs! The undisputed champion of all Girl Scout cookies. Well ok, maybe not undisputed. The Samoas and Thin Mints are clearly tied for first place. There is something about these cookies and their irresistible crunch, plus that peanut butter and chocolate combination that just makes me weak in the knees. Now more waiting until the Girl Scout season, this Tagalong Girl Scout Cookies Copycat Recipe allows you to have these awesome cookies anytime of the year.
Can we can a moment to remember the Lemon Chalets of the past? Those were my mom and husband's favorites because they were sooo lemony and zesty! Why does life insist on discontinuing the best things? (*ahem* like the classic KFC Chicken Littles, had to make a recipe for those too.)
The only downside to the Tagalong Girl Scout cookies (aside from the hydrogenated palm oil, artificial flavors and many other icky ingredients) is that I always feel guilty dodging those cute little girls as I go in and out of the grocery store. How do you explain that you have already purchased 5 boxes the day prior, without looking like a liar?
These delicious cookies are actually super easy to make and the added benefit is that you are using more quality ingredients, less preservatives! I pulled them together in a little over an hour. The only special item I recommend using is food handling gloves once you assemble the cookies, because you have to get a little "handsy" forming the peanut butter onto the shortbread cookie.
Quick Tip: Put these delicious cooking in the fridge for a chilly treat!
Just like a cold Reese's, I LOVE these cookies chilled. I actually stored them in an air-tight container in the fridge. Since the chocolate is tempered, you can leave them out at room temp!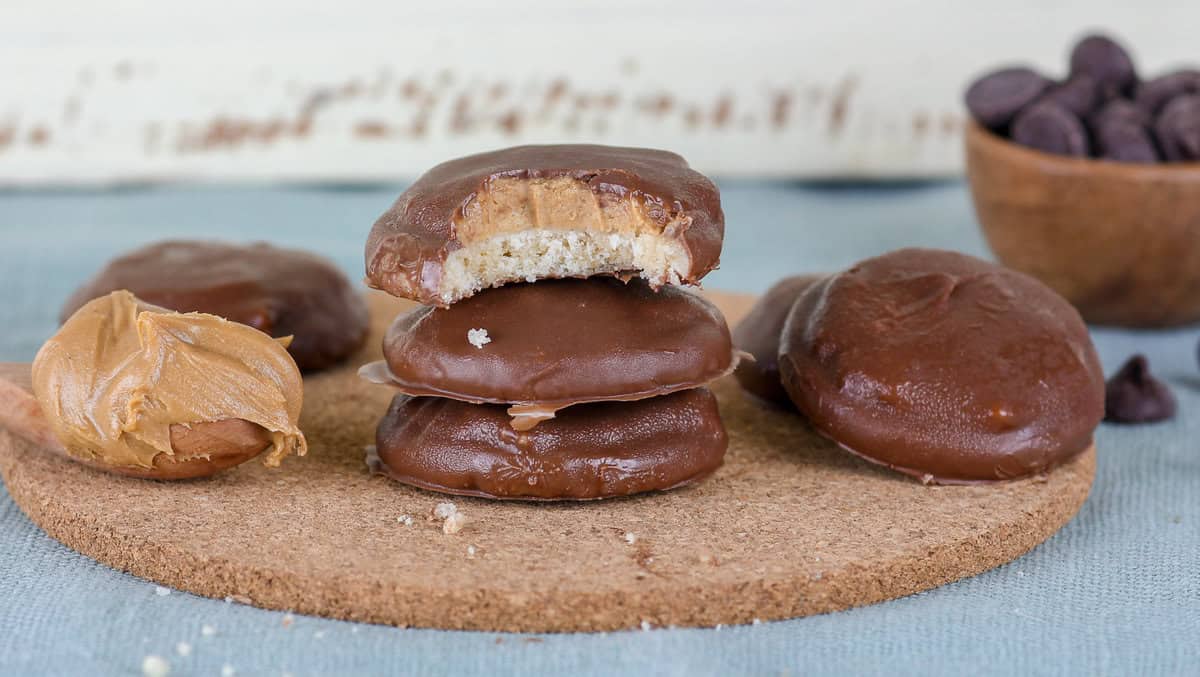 How to Temper Chocolate:
Here is a very helpful video from Callebaut on how to temper chocolate by seeding, using a microwave. This is the same method I describe in the recipe below!
If you enjoy copycat recipes of amazing desserts, check out my recent post for Dairy Queen Peanut Buster Parfaits or Sweet Martha's Cookie Jar Cookies!
I look forward to hearing your feedback in the comments below! 🙂
Print Recipe
Tagalong Girl Scout Cookies Copycat Recipe
Peanut butter and chocolate perfection, these Tagalong Girl Scout Cookies are a more wholesome version of the famous cookies.
Equipment
2" cookie cutter or rim of a champagne flute for cutting circles
Ingredients
Shortbread Cookie Base
1

cup

salted butter, softened

1/2

cup

granulated sugar

1

tsp

vanilla extract

2

cups

all-purpose flour

1/4

tsp

baking soda

1/4

tsp

salt
Peanut Butter Filling
3/4

cup

peanut butter

Jif preferred

2/3

cup

saltine crackers, crushed

3/4

cup

powdered sugar

1

tsp

vanilla extract
Chocolate Coating
2

cups

semi-sweet chocolate, chopped
Instructions
Shortbread Dough
Using a stand mixer or hand mixer, cream the softened butter and sugar until light and fluffy, a few minutes. Add vanilla extract and mix to combine.

In a separate bowl, whisk to combine all of the dry shortbread cookie ingredients. Carefully add them to the mixer slowy while on low, just until combined.

Prepare the counter with two sheets of plastic wrap. Turn out dough onto the work surface, separate dough in half, form into two discs and wrap and freeze for 20 minutes to set.
Baking Shortbread
Pre-heat the oven to 325 degrees.

Line baking sheet with parchment paper. Flour your work surface and roll dough to 1/4 inch thickness. Using a 2" circle cookie cutter (or the rim of a champagne flute or similar), cut circle cookies and place the rounds onto prepared baking sheet.

Place the baking sheet on the middle-high rack to prevent the bottoms of the cookies from browning. (While these are baking, move on to the PB filling). Bake for 20-25 minutes, until the edges turn light golden brown. Remove from the oven and cool on a baking rack while preparing the filling.
Peanut Butter Filling
In a medium bowl, combine the peanut butter and crushed saltines and mix together with a hand mixer (or with a whisk) until incorporated. Add vanilla extract and mix to combine, then add the powdered sugar and continue to beat until a thick paste-like texture is reached. Wrap in seran wrap and refrigerate until ready to assemble the cookies.
Assembling Cookies
Using gloved hands, roll about 1 teaspoon (eyeball it) of the peanut butter mixture into a ball and press it onto the top center of the shortbread cookie. Lightly flatten the ball work it towards the edges of the cookie, making a slight "hill". Repeat with remaining cookies and place onto a flat surface.

Freeze them for 15 minutes to adhere the peanut butter to the cookie. (Plus, cold cookies make the chocolate harden faster)

Tempering Chocolate: Melt half chocolate chunks in a microwave safe container for 1 minute, stopping each 20 seconds and stirring. When chocolate is mostly melted, add the other half of the chocolate and whisk quickly for several minutes until all of the chocolate is melted. The chocolate should now be cooled and tempered.

Prepare a work station with by lining a baking sheet with parchment paper to set the finished cookies. Submerge each cookie one by one into the chocolate, fully coating it. Remove with a fork, tap to remove access chocolate and set on parchment paper. Continue until all cookies are coated. The chocolate covered cookies should stay hardened at room temperature. Store in an airtight container for up to 5 days.
Notes
It's helpful to read the recipe in it's entirety before getting started to ensure that you are not surprised by any steps.