Tagalongs. The undisputed champion of all Girl Scout cookies. Well ok, maybe not undisputed. The Samoas and Thin Mints are clearly tied for first place.  But can we pour out some liquor for the Lemon Chalets of yesteryear? Those were my mom and husband's favorites because they were sooo lemony and zesty!
But there is something about Tagalongs and their irresistible crunch + that peanut butter and chocolate combination that just makes me weak in the knees.
The only downside to Girl Scout cookies (aside from the hydrogenated palm oil, artificial flavors and many other icky ingredients) is that I always feel guilty dodging those cute little girls as I go in and out of the grocery store. How do you explain that you have already purchased 5 boxes the day prior, without looking like a liar?
These delicious cookies are actually super easy to make! I pulled them together in a little over an hour. The only special item I recommend using is food handling gloves once you assemble the cookies, because you have to get a little "handsy" forming the peanut butter onto the shortbread cookie.
NOTE – I absolutely LOVE to keep these cookies in the fridge and eat them cold – so pardon the wet/sweating sheen on the chocolate in some of the photos. Contrary to how it looks, the chocolate does set up hard at room temperature and has that "hard snap" that properly tempered chocolate has.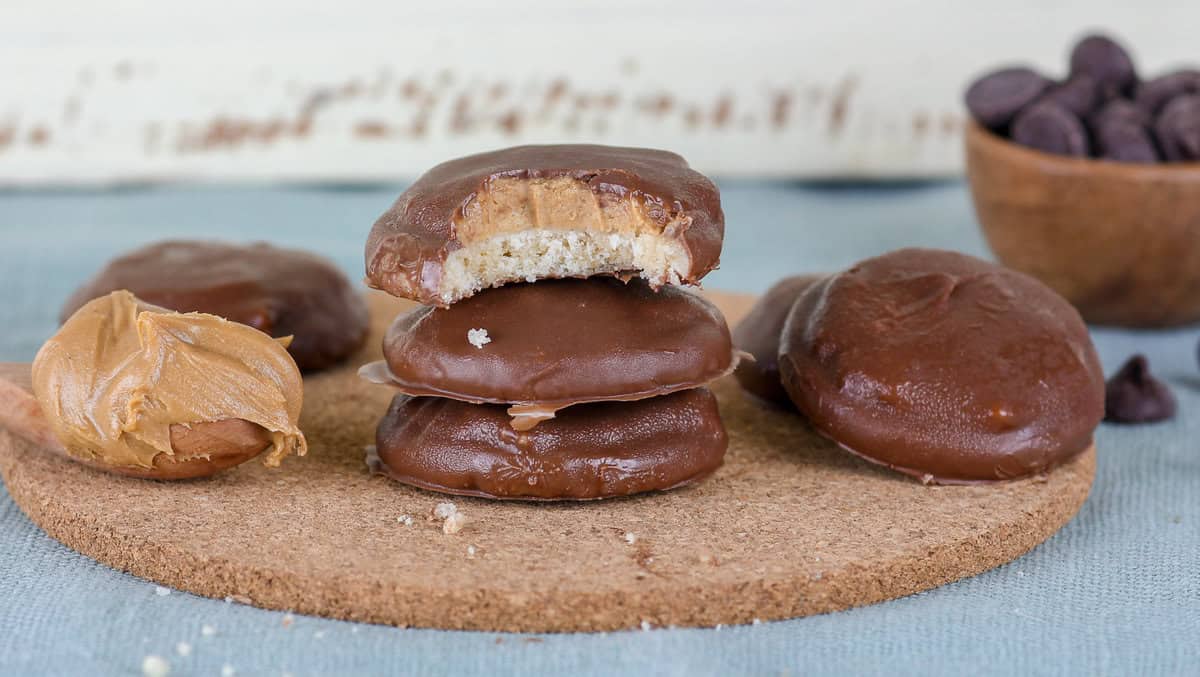 If you enjoy copycat recipes of amazing desserts, check out my recent post for Dairy Queen Peanut Buster Parfaits or Sweet Martha's Cookie Jar Cookies!
I look forward to hearing your feedback in the comments below! 🙂
Tagalong Girl Scout Cookies (Copycat Recipe)

Print recipe
| | |
| --- | --- |
| Serves | 25-30 cookies |
| Prep time | 20 minutes |
| Cook time | 20 minutes |
| Total time | 40 minutes |
Ingredients
Shortbread Cookie
1 cup butter, softened
1/2 cup granulated sugar
1 teaspoon vanilla extract
2 cups all-purpose flour
1/4 teaspoon baking soda
1/4 teaspoon salt
Peanut Butter Filling
3/4 Cup, heaping peanut butter (Jif preferred)
2/3 cups saltines, crushed
3/4 cups powdered sugar
1 teaspoon vanilla extract
Chocolate Coating
2 cups semi-sweet chocolate, chopped
3 tablespoons coconut oil, refined
Directions
Shortbread Dough
Using a stand mixer or hand mixer, cream the softened butter and sugar until light and fluffy, a few minutes. Add vanilla extract and mix to combine.

In a separate bowl, whisk to combine all of the dry shortbread cookie ingredients. Carefully add them to the mixer while on low, just until combined.

Prepare the counter with two sheets of plastic wrap. Turn out dough onto the work surface, separate dough in half, form into two discs and wrap and freeze for 20 minutes to set.
Baking Shortbread
Pre-heat the oven to 325 degrees. Line baking sheet with parchment paper. Flour your work surface and roll dough to 1/4 inch thickness. Using a 2" circle cookie cutter, cut circle cookies and place the rounds onto prepared baking sheet. (You can place them close together since they don't spread when baking.)

Place the baking sheet on the middle-high rack to prevent the bottoms of the cookies from browning. Bake for 20-25 minutes, until the edges turn light golden brown. Remove from the oven and cool on a baking rack while preparing the filling.
Peanut Butter Filling
In a medium bowl, combine the peanut butter and saltines and mix together with a hand mixer (or with a whisk) until incorporated. Add vanilla extract and mix to combine, then add the powdered sugar and continue to beat until a thick paste-like texture is reached.
Assemble Cookies
Using gloved hands, roll about 1 teaspoon (eyeball it) of the peanut butter mixture into a ball and press and flatten it onto the shortbread cookie. Press and work it until it reaches the edge of the cookie. Repeat with remaining cookies. Freeze for 15 minutes to adhere the peanut butter to the cookie. (Plus, cold cookies make the chocolate harden faster)

Melt the chocolate chunks in a microwave safe container for about 1 minute, stopping each 20 seconds and stirring to prevent the chocolate from scolding. When chocolate is mostly melted, add 3 tablespoons of melted coconut oil. Whisk well until the chocolate is "runny". Allow the chocolate to cool.

Prepare a work station with by lining a baking sheet with parchment paper to set the finished cookies.

Submerge each cookie one by one into the chocolate, fully coating it. Remove with a fork, tap to remove access chocolate and set on parchment paper. Continue until all cookies are coated. The chocolate covered cookies should stay hardened at room temperature. Store in an airtight container for up to 5 days.