Super Bowl Sunday!!!!! Even when I don't have a team I am rooting for, I still love Super Bowl Sunday every year. It's basically another fun holiday to look forward to. Time with your friends and family, and most importantly, a reason to cook them awesome food! I'm super excited about these Rib-Eye Sliders with Garlic Parmesan Cream Sauce. It's a lot of gourmet love packed into one tiny sandwich. But it's really the perfect size, snackable, hand-held and finished in a few quick bites. Just enough to satisfy the steak urge while still leaving room for the hot corn dip, buffalo dip, brisket mac & cheese sliders and delicious desserts… that I plan on eating. Possibly all on the same plate 😉
These steak sliders are pretty glorious. I was afraid of steak for many, many years. It's an intimidating meat that's expensive to mess up but I quickly realized I was over-dramatizing this all too much (like most things in my life).   It's very easy to make and really, the simpler, the better. Sometimes too much research on "cooking the perfect steak" can make it seem like a bigger deal. There is just a few things to keep in mind:
---
SEASON SIMPLY WITH KOSHER SALT, PEPPER, OLIVE OIL
USE A CAST IRON SKILLET
SEAR THEN BROIL
NEVER, EVER PIERCE THE STEAK
ALLOW IT TO REST BEFORE CUTTING
That's really it. Nothing more, nothing less. It's not stressful. It's not scary.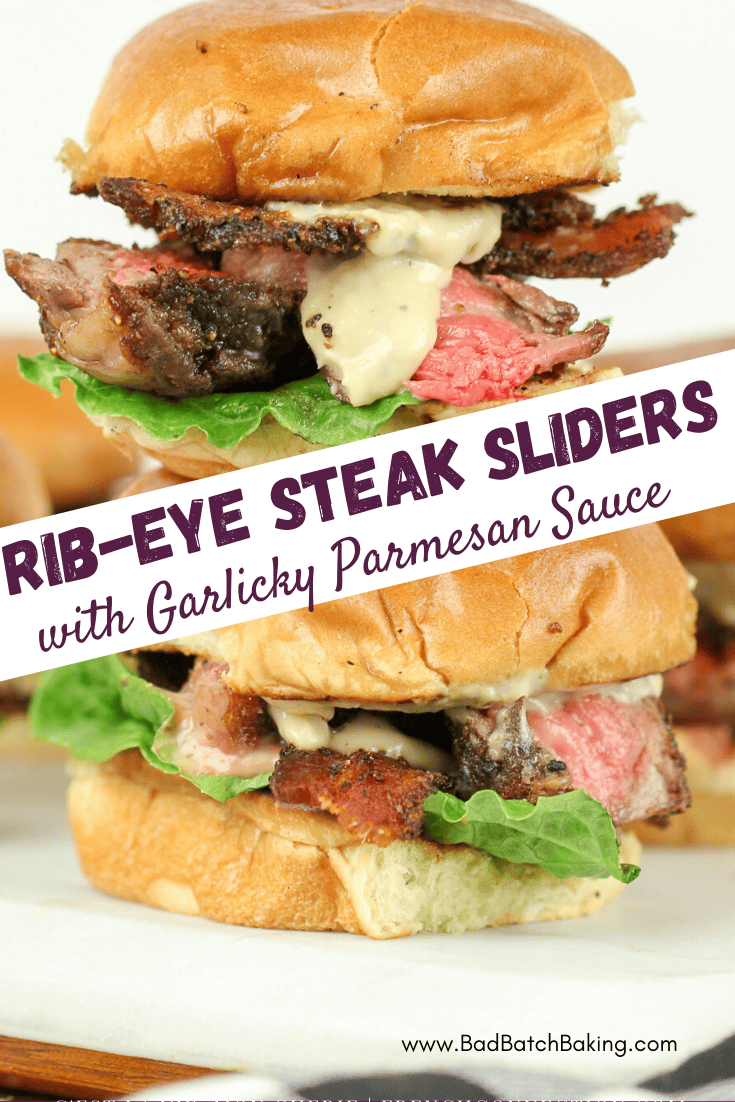 HOW TO GRILL PERFECT STEAKS ON CHARCOAL GRILL
This same recipe can be used on a grill. Either on the cast iron skillet or grilling them directly on the rack until the appropriate temperature is achieved.
Heat your grill to high. Brush the steaks on both sides with oil and season liberally with salt and pepper. Place the steaks on the grill and cook until golden brown and slightly charred, 4 to 5 minutes. Turn the steaks over and continue to grill 3 to 5 minutes for medium-rare (an internal temperature of 135 degrees F), 5 to 7 minutes for medium (140 degrees F) or 8 to 10 minutes for medium-well (150 degrees F).
For other delicious Super Bowl or party food, check out a few of these amazing recipes!
Enjoy! Be sure to leave your comments or questions below.
Print
Rib Eye Sliders with Garlic Parmesan Cream Sauce
---
Description
Decadent rib-eye steak sliders with a punch of peppery, crisp bacon and rich and creamy garlicky Parmesan sauce.
---
2

– Boneless Rib-Eye Steaks (

1

–

1 1/4

inch thick, brought to room temp)
kosher salt
fresh cracked pepper
pepper crusted thick cut bacon, about 8 slices
green leafy lettuce
Garlic Parmesan Cream Sauce
1/4 cup

butter

4

garlic cloves,  grated (if cloves are small, add an additional

1

–

2

cloves)

1 tablespoon

all-purpose flour

1 cup

beef stock, more as needed

1 teaspoon

dried basil

1/2 teaspoon

dried oregano

1/2 cup

heavy cream, more as needed

2/3 cup

freshly grated Romano (or Parmesan)

1 ounce

cream cheese, at room temperature
Kosher salt and freshly ground black pepper (to taste)
---
Instructions
Garlic Parmesan Sauce
In a saucepan, melt the butter over medium heat. Add garlic and cook until fragrant (stirring frequently) about 1 minute. Whisk in the flour and cook for 1-2 minutes, stirring constantly.
Whisk in beef stock slowly and add the dried herbs and cook for another few minutes, stirring constantly. Add the heavy cream slowly, add Parmesan cheese and cream cheese. Stir to incorporate until all cheeses are melted. Salt and pepper to taste. Remove from heat and set aside while you prepare the steaks.
Steak, Bacon & Assembly
Preheat oven to broil. Place a cast-iron skillet or other oven-proof skillet into the oven on the top shelf, about ~6 inches from top of oven.
Trim rib-eye as needed, pat dry with paper towels and season both sides of steak with olive oil, kosher salt and pepper.
Remove the skillet CAREFULLY from the broiling oven. Place onto stove on medium-high heat. Add the steak to the hot skillet, leave the steak untouched as it browns and a dark crust has formed (about 1.5 minutes). Flip with tongs and repeat with opposite side.
Place skillet back into broiling oven and cook until desired doneness about 4-5 minutes for medium-rare, 5-6 minutes for medium, 6-7 minutes for medium-well. Remove from the skillet and rest untouched for 5 minutes. Be careful to never pierce your steak throughout the cooking process.
While steak is resting, in the same cast iron skillet over medium heat, cook the bacon has reached your desired crispness.
Wipe down excess bacon grease from skillet and place both sides of slider buns  onto skillet and toast of medium-low heat. Remove and begin to assemble sandwiches starting with lettuce, a dallop of sauce, steak, bacon and a little more sauce.
Notes
Tongs are very important to use when cooking steak. Do not use forks to flip the steak, avoid piercing the steak to keep all the juices locked into the steak.
You can substitute rib-eye with petite filet, strip steak, etc.