This recipe post is all about Olive Garden's Five Cheese Fonduta!
OMG If melted cheese isn't one of the most mouth-watering, ooey-gooey, sinful foods worth every calorie, I don't know what is! My fiance and I went to Olive Garden recently and got the "Dip Duo" and we got so stuffed on cheese that we both took our entrees to-go. He begged me to make him a homemade version of the Five Cheese Italian Fonduta on Sunday when he watches football (it was way better than the spinach artichoke dip).
I am not 100% sure of every cheese they use in their dip, but I was certain I could taste mozzarella and Parmesan. Regardless, the version I made at home you are going to freaking love! It blows their version out of the water. Mainly because the cheeses you can buy at your supermarket are just higher quality than most chain restaurants trying to cut costs, etc. I use FRESH mozzarella balls, the kind still sitting in water. Another key is to not buy any grated cheese that comes in the bag. You can but it just doesn't have the same melt-ability and potency that freshly grated cheese off the block provides.
Next, you have to buy fresh baguette bread from your bakery and broil it with lots and lots of butter and freshly chopped garlic. Magnifico! It will be perfectly crunchy and chewy – just the right texture to dip into your stretchy cheese.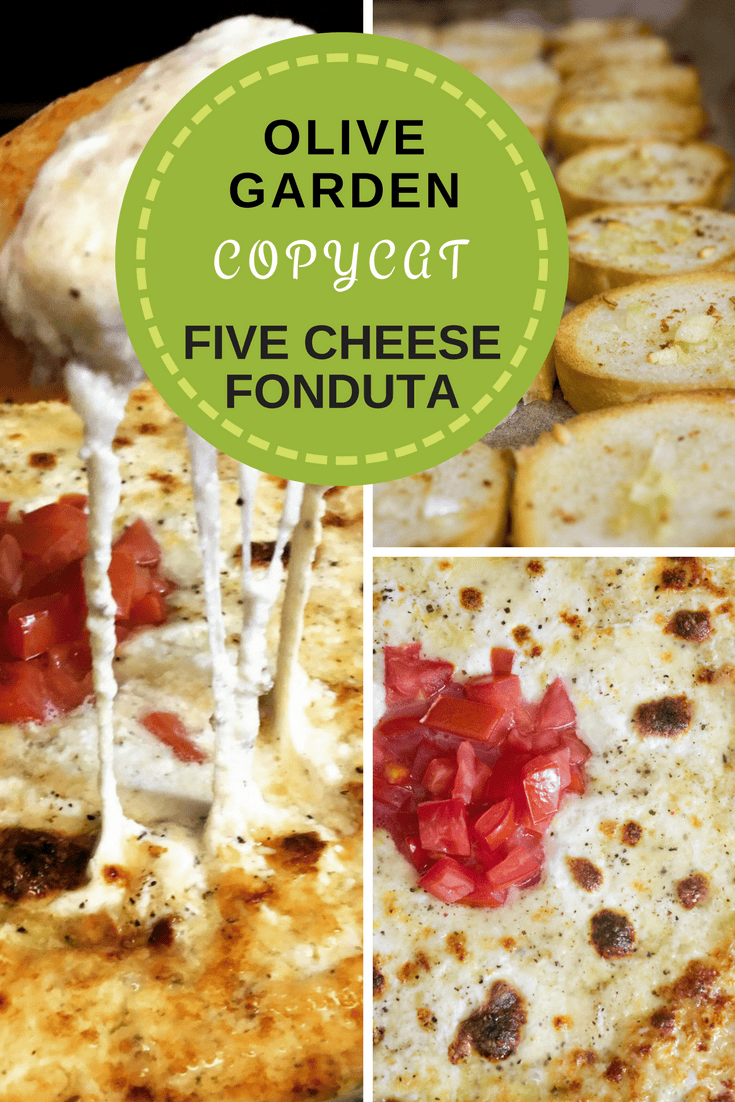 This five cheese fonduta is a wonderful appetizer for an Italian dinner night at home, for a game day gathering (could be made in a crockpot as well) or on a cold winter night when you are cozy in the house! Or, on any day of the week during any season when you are in the mood for cheese 🙂 🙂 🙂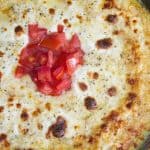 Print Recipe
Olive Garden's Five Cheese Fonduta
Cheese addicts unite! This appetizer was offered at Olive Garden for a limited time. I adored it so much that I set out on a mission to recreate it. I am happy to say this one is even better than the original.
Five different cheeses are used to create the perfect lusciously comforting appetizer that's as creamy as it is sharp. Dig in with toasty buttered baguettes or tortilla chips.
Ingredients
8 oz

block

Philadelphia cream cheese

softened

8 oz

fresh mozzarella grated or chopped

1/2

cup

parmesan, freshly grated

4 oz

provolone

freshly grated

4 oz

fontina

freshly grated

1

teaspoon

red pepper flakes

adjust to your heat preference

1

Roma tomato, diced

excess moisture removed on paper towel

freshly ground pepper

I don't add salt as cheese contains enough sodium
Baguette
1

loaf

french baguette

1/4

cup

salted butter

3

garlic cloves, minced
Instructions
Preheat oven to 450 degrees. Grease a glass Pyrex dish (I use a pie dish) with a little butter or non-stick spray.

In a medium bowl, combine the softened cream cheese with all other cheeses. Mix well to combine thoroughly until smooth. Add the pepper flakes and freshly ground pepper and combine.

Place the mixture into the greased dish and level the mixture with spatula. Place it in the oven and cook for 15 minutes.

While the cheese is cooking, slice the baguette and lay on a baking sheet. Add 1/4 cup of butter and garlic in a small bowl. Microwave together for 20 seconds or until butter is melted. Brush garlic butter onto each slice of baguette.

Turn the oven on broil, add diced tomatoes into center of cheese mix and cook for an additional 3-4 minutes or so, until the top is bubbly and browned.

Broil baguettes for 4-6 minutes or until golden brown, rotating the pan half way through.