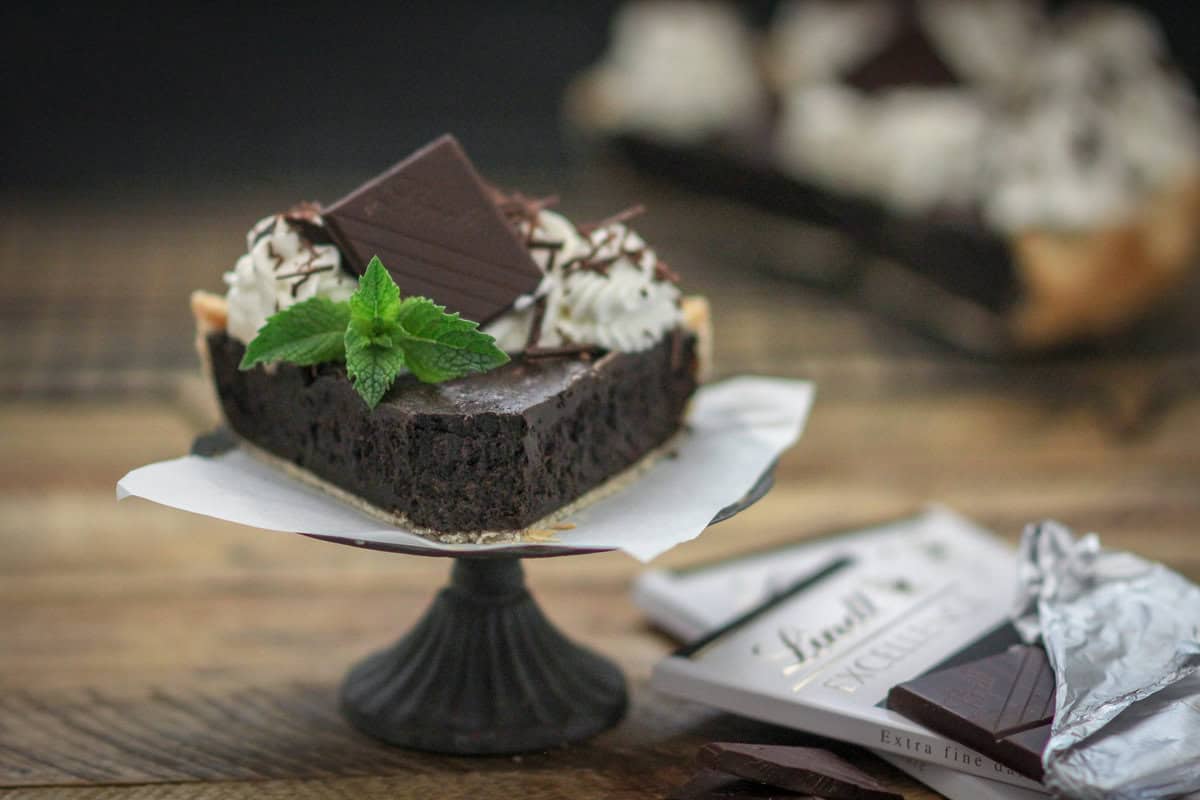 Decadence is an understatement. This is like, a boozy chocolate truffle and a brownie had a baby, and it's this Irish Cream Chocolate Fudge Pie!  Listen, this pie is rich. So you can't make this pie and then say, "omg it's rich". Because, duh. It's rich. That's the point 🙂 If you aren't crazy for chocolate (like in the way that you could always eat it after you are already very full), this one may not be for you. 
I am writing this from 35,000 feet on a Delta flight heading to Portland, OR to visit my parents, family and some amazing friends. I get to see my niece and nephew that I am meeting for the first time (what up lil Carter and Cora!). I'll be sure to add some photos of my trip in one of my next blog posts. If you haven't traveled to Oregon it is by far one of the most beautiful states in the US.
I made this pie last weekend, and it was seriously so good I actually commented out loud when I took the first bite. You genius batch! lol ok, maybe that never happened. But it was really that good.
If you read my other posts, you know I am serious about the chocolate I select when making a recipe. A helpful tip, especially around the holidays when we all bake more – if you have a Restaurant Depot in your city, they sell a 5.5 lb bag of Callebaut Callets, ranging from white chocolate to bittersweet. It's about $25 per bag but it will last you a zillion recipes. If you don't know anyone with proof of owning a business, you can also buy them on Amazon here. They are a little pricier but still way cheaper than buying bags or bars of chocolate individually at the store.
Another one of my absolute favorite brands is Cadbury and Lindt chocolates. You can get these at any grocery store of course (in the candy/chocolate bar aisle not usually the baking aisle).  I am using Lindt Excellence in this recipe. P-H-E-N-O-M-E-N-A-L and worth every penny.
I would love for you to give this recipe a try. So fasten your seatbelts and get ready for the best chocolate overload ride of your life (airplane pun intended).
Looking for more chocolate recipes? Check these out:
Entenmann's Devil's Food Donuts Copycat Recipe
Cherry Almond Chocolate Cookies
Brownie Stuffed Chocolate Chip Cookies
Salted Dark Chocolate Peanut Butter Patties
Irish Cream Chocolate Fudge Pie
Print recipe
Ingredients
1 Roll prepared pie crust (Pillsbury recommended)
3/4 cups half and half
1/3 cup Irish cream liqueur
1/4 cup butter
8oz bittersweet chocolate (+ extra for shavings, Lindt recommended)
1 1/2 cup granulated sugar
3/4 cups cocoa powder
1/3 cup all-purpose powder
1/4 teaspoon salt
2 whole eggs
3 egg yolks
whipped cream (homemade preferred but pre-made works too)
Directions
Pre-heat oven to 350 degrees.

In a medium bowl, whisk together all dry ingredients: sugar, flour, cocoa powder, and salt.
In a sauce pan over medium-low heat, add the half and half, butter, and chocolate and stir until it become smooth. Once smooth, remove from heat and add Irish cream. Let cool for 15 minutes.

While it's cooling, put the pie crust into a pie dish, prepared with nonstick cooking spray.
Pour the cooled chocolate mixture into the dry ingredients. Stir just barely to combine. Add the eggs and yolks and whisk until fully mixed but do not over-mix.
Transfer filling to pie crust and bake 45 to 50 minutes. Monitor it around 40 minutes by checking the center for doneness with a toothpick. When done, the center will be fully cooked and edges may begin to crack.

Cool 10-15 minutes before serving. Serve chilled with a glass of ice cold milk or serve warm with vanilla ice cream.