I was first introduced to these cookies on an episode of The Barefoot Contessa. Ina brought Kathleen King on her season 2 episode, Baking Basics. Kathleen owns Tate's Bake Shop in Southampton, NY. In this episode, she made one of their well-known cookies, Double Chocolate Almond. Once I tried these cookies, I was hooked but I felt the recipe needed a few modifications to make them more "my style". Here's what I changed:
First, the baking time is reduced by about 5-7 minutes. I found these cookies to be more on the firm and crunchy side. I enjoy soft cookies that literally melt in your mouth, so we bake them for only 8-10 minutes, remove them from the oven and allow them to firm up on the cookie sheet.
Secondly, I add a 1/2 teaspoon of almond extract. Almond and cherry have similar flavor profiles in baked goods. The almond extract adds a nutty flavor, but also has notes of cherry. I absolutely adore cherries and chocolate, so as a third modification, I add dried tart cherries (or fresh cherries if they are in season) to the cookie batter. The cherries really pop in this cookie and hits you right in the cheeks! I also find that it adds freshness and breaks up the rich intensity of double chocolate.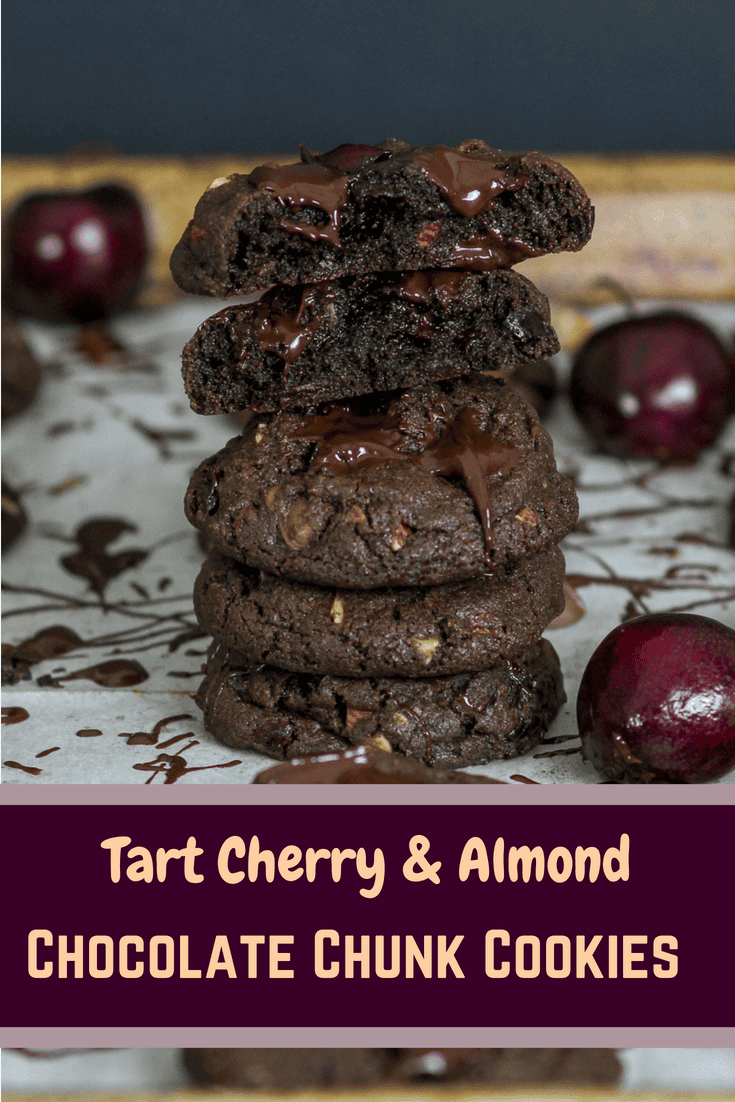 Have you ever tried Kathleen King's recipe before? I am curious to hear if you are a fan of these as well. I would love to hear your feedback in the comments below.
Tart Cherry Almond Chocolate Cookies (Kathleen King Remixed)
Print recipe
| | |
| --- | --- |
| Serves | 24 |
| Prep time | 10 minutes |
| Cook time | 10 minutes |
| Total time | 20 minutes |
| Meal type | Dessert |
Ingredients
2 1/3 cups all-purpose flour
3/4 cups cocoa powder
1 teaspoon baking soda
3/4 teaspoons salt (ee)
2 1/2 sticks butter, room temp (1 1/4 cup)
1 cup granulated sugar
1 cup dark brown sugar, firmly packed
1 egg, large
2 teaspoons vanilla extract
1/2 teaspoon almond extract
3/4 cups Bittersweet chocolate chunks/chips (+ extra for topping)
3/4 cups milk chocolate chunks/chips (+ extra for topping)
3/4 cups almonds, chopped (unsalted)
2/3 cups dried or fresh cherries, chopped (juice strained out/patted dry if using fresh cherries)
Directions
Preheat the oven to 350 degrees F. Line baking sheet with parchment paper or coat with nonstick spray.

In a medium bowl combine flour, cocoa powder, baking soda, and salt.

In a mixing bowl cream the butter and sugars. Beat for a few minutes until the butter is light in color and very fluffy. Add the egg and both extracts and mix together. Add the flour mixture and continue mixing until just combined.

Add the dark and milk chocolates, cherries and almonds and mix until combined. Using a small ice cream scoop, drop the dough two inches apart on cookie sheet. Bake for 8-10 minutes. Around 7 minutes, remove from the oven and top with more chocolate chunks, then return to the oven to finish baking. When finished, remove from the oven and allow cookies to set-up and cool for 10 minutes on the cookie sheet before transferring to cooling rack.