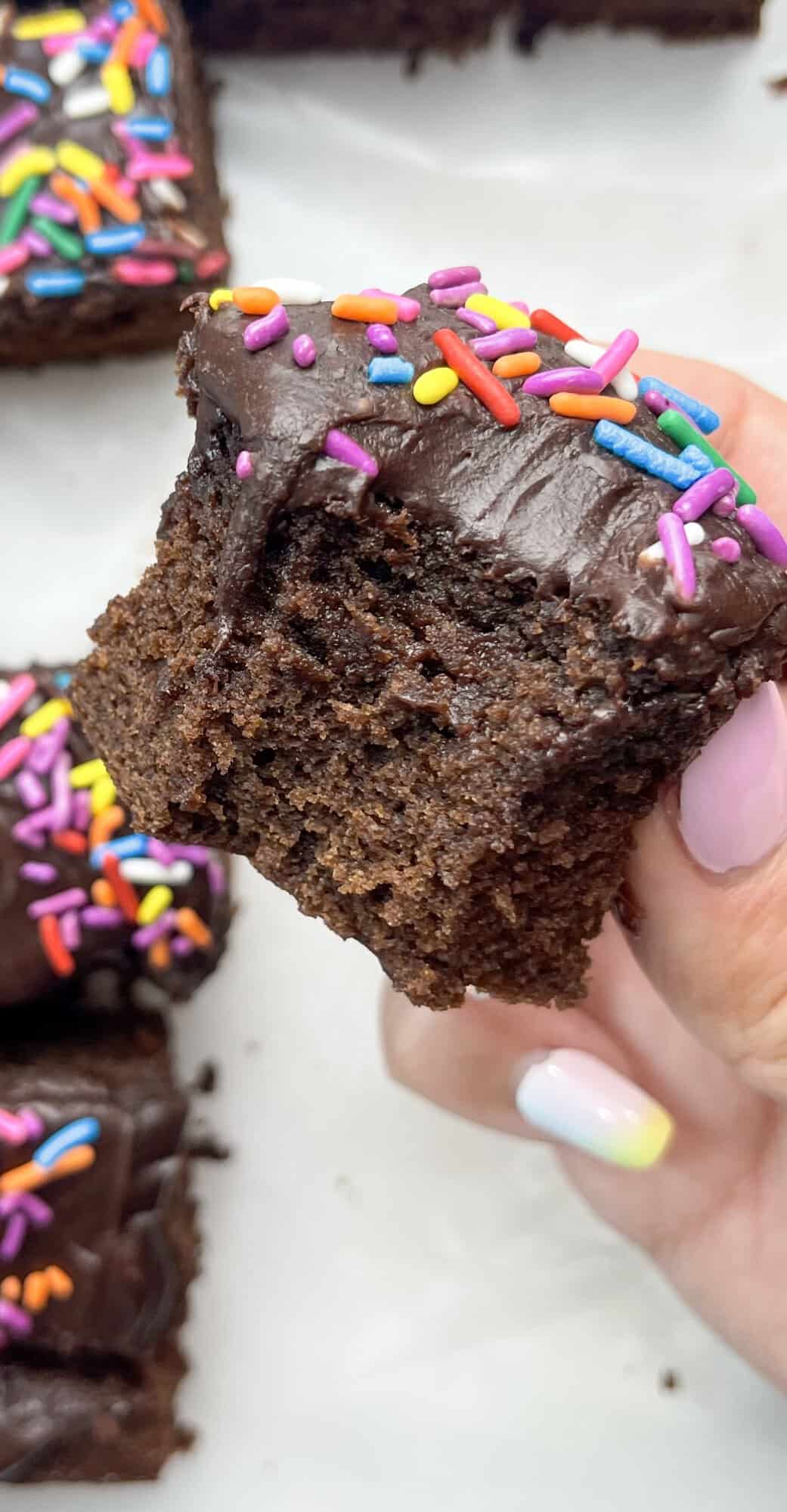 We are celebrating my birthday this week and I was thinking of a fun dessert to make. Something about the look of sprinkles just gives you a happy, celebratory feeling inside, so I knew whatever I made needed to have sprinkles! Whenever I think of desserts my mind wonders to unconventional, over-the-top places, trying to think of something I've never done before. While this gives me great ideas (like my Cookies & Cream Tres Leche or my Peanut Butter Stuffed Reese's Pieces Cookies) I also tend to underestimate just how incredible simple frosted cake can be. But since I can't help but put my usual spin on things, I wanted to turn cake into cake bites (poppable, bite-sized pieces somehow = more fun!) and frost it with my favorite homemade donut frosting. So, the decision was made, Chocolate Donut-Frosted Cake Bites it is. A little bit cakey and a lot a bit donutty.

Why You'll Love These Chocolate Donut-Frosted Cake Bites:
Bite-sized fun size
Easy to make – no mixer required
Decadent double chocolate flavor
Perfect cake texture – sturdy dense texture while still super fluffy
Lots of sprinkles!!
Delicious to eat cold with a glass of milk (store in the fridge!)
Fun to make and fun to eat!
What Is The Texture of These Chocolate Cake Bites?
We all know and love Ina Garten's famous chocolate cake, right? It seriously doesn't get any *cringe* moister than that. It just crumbles in your hands, melts in your mouth and is the softest, most beautiful texture. BUT! After years of using that recipe, I have come to find a few cons with the structure. All that softness and light and airy texture makes the pieces of cake keel over from the weight of the frosting. This chocolate cake has a bit denser of a structure, but not too dense. Think al dente vs. a sad wet noodle.
Perfect crumb texture
These cake bites are majorly soft but I'd describe these somewhere between fluffy and dense. The cake can stand strong to frosting and wont crumble apart without structure, while still being soft and tender. If you use this cake recipe as a cupcake, it will not have that stickiness where the cake pulls off and clings to the liner.
Rich & Chocolatey
Irresistible chocolatey flavor! We add boiling water/coffee, which intensifies and draws out the chocolate flavor.
Lots of Moisture
I would never eat a dry cake and I certainly would never share a recipe for one. Rest assured this recipe is perfectly moist. The sour cream adds a bit of that moist pound cake texture and structure while the extra egg yolks ensure a super soft texture which yields a very fluffy cake!
Tips, Tricks & Equipment
• To avoid frosting clumps and air bubbles – make sure to sift the powdered sugar in the donut frosting AND incorporate it into the frosting slowly.
• Sprinkles – the classic multicolored sprinkles that are available at target, Kroger, etc were missing blue and purple. So I went to Michael's next door and bought those colors al a carte and mixed them together to give more of that classic donut look.
• Parchment paper folding into your cake batter? I use this technique – get some wooden clothes pins and use two to pin the parchment paper against the sides of the pan to keep the paper taut.
• Cake ingredients at room temp – this is my go to for almost all my cake or muffin recipes. To ensure they incorporate properly, the eggs, milk and sour cream should be room temp.
• Need room temp in a hurry? Try this:
Eggs: place cold eggs in a bowl of hot water for 10 minutes, this will take a good amount of the chill off.
Sour cream & milk: each of these items can be safely microwaved (separately) for 30-45 seconds to take the chill off.
My favorite equipment:
9" square baking pans
Hand mixer
Whisks
Spatulas
More of my favorite baked goods!
Easy Bakery-Style Pistachio Muffins
Triple Oreo Chocolate Cupcakes
Entenmann's Devil's Food Cake Donuts Copycat Recipe
Brownie Stuffed Chocolate Chip Cookies
The Best Hostess Cupcake Copycat Recipe
Four Layer Peanut Butter Brownie Bars
Soft-Batch Triple Chocolate Peppermint Cookies
I look forward to your questions and feedback below. Please be sure to tag me @BadBatchBaking using hashtag #badbatchbaking if you made this recipe and I will feature you on my story! Plus, I LOVE to see your baking accomplishments.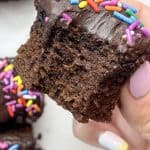 Print Recipe
Chocolate Donut-Frosted Cake Bites
Double chocolate snack-sized cake bites covered in rich, chocolate donut frosting and coated in colorful sprinkles! These are as fun to look at as they are to eat.
Read the blog details to understand the texture of this incredible cake -ultra moist and a little dense while still having a fluffy crumb, but stands nice and sturdy. Fluffy cake meets poundcake!
Equipment
2 - 9" square baking pans

Electric hand mixer
Ingredients
Chocolate Cake Bites
1 1/2

cups

granulated sugar

1/2

cup

packed brown sugar

dark or light both work

3/4

cup

unsweetened cocoa powder

1

tsp

baking soda

3/4

tsp

salt

1

cup

boiling water

or strong coffee, omit espresso powder

2

teaspoons

espresso powder

3/4

cup

vegetable oil

1/4

cup

butter, melted

2

large eggs

room temp

3

large egg yolks

2

teaspoons

vanilla extract

2

cups

all-purpose flour (spoon and level to measure)

1/2

cup

sour cream

room temp

1/3

cup

milk

room temp
Chocolate Donut Frosting
4

tablespoons

butter

4

tablespoons

unsweetened cocoa powder

sifted

1/2

cup

heavy whipping cream

1

teaspoon

vanilla extract

2

cups

powdered sugar

sifted

Sprinkles
Instructions
Preheat oven to 350F. Spray two (2) 9-inch square baking pans with baking spray. Line with parchment paper, letting excess extend over sides of pan (wooden clothes pin can be used to keep it in place as it bakes).

In a large heat-proof mixing bowl, whisk together both sugars, cocoa powder, baking soda and salt. Combine the boiling water and espresso powder (or use coffee instead) and gently pour in to cocoa mixture and immediately whisk to blend well. Allow to cool 10 minutes.

Using an electric hand mixer on low, add in vegetable oil and melted butter until combined. Add eggs, egg yolks and vanilla extract and blend just until combined. Then add flour in slowly and blend until just combined. Scrape the bottom of the bowl to evenly incorporate. Finish by blending in milk and sour cream just until combined.

Divide mixture evenly among 2 prepared pans. Bake in preheated oven until toothpick inserted into center of cake comes out clean or with a few moist crumbs, about 25-30 minutes. Allow to cool in pan 5 minutes. Carefully lift the cakes up and out of pans and onto a wire rack. Allow to cool completely, removing the parchment once it's set.
Chocolate Donut Frosting
Melt the butter in a small saucepan over low heat.

Add the sifted cocoa powder and cream. Whisk until it thickens but do not let it boil. About 2 minutes total.

Remove from the heat and add vanilla extract, whisking to incorporate. Add the sifted powdered sugar and whisk slowly until perfectly smooth. If you whisk too quickly you will get air bubbles in your glaze.

Distribute the glaze evenly between both cakes, pouring the frosting to the center of the cooled cakes. Smooth with an offset spatula, allowing excess to drip over the edges. Add the sprinkles.

Once fully set, cut into bite-sized cake bite (about 2 inch pieces). Store the donuts in an airtight container at room temp or in the fridge. I prefer to enjoy mine cold with a glass of milk!
Notes
** You can also freeze the cake bites. To do this, I placed them evenly on a plate, froze for 30 minutes to ensure they were set. Then tossed them in a zip top freezer bag. They need about 15 minutes at room temp to return to normal.