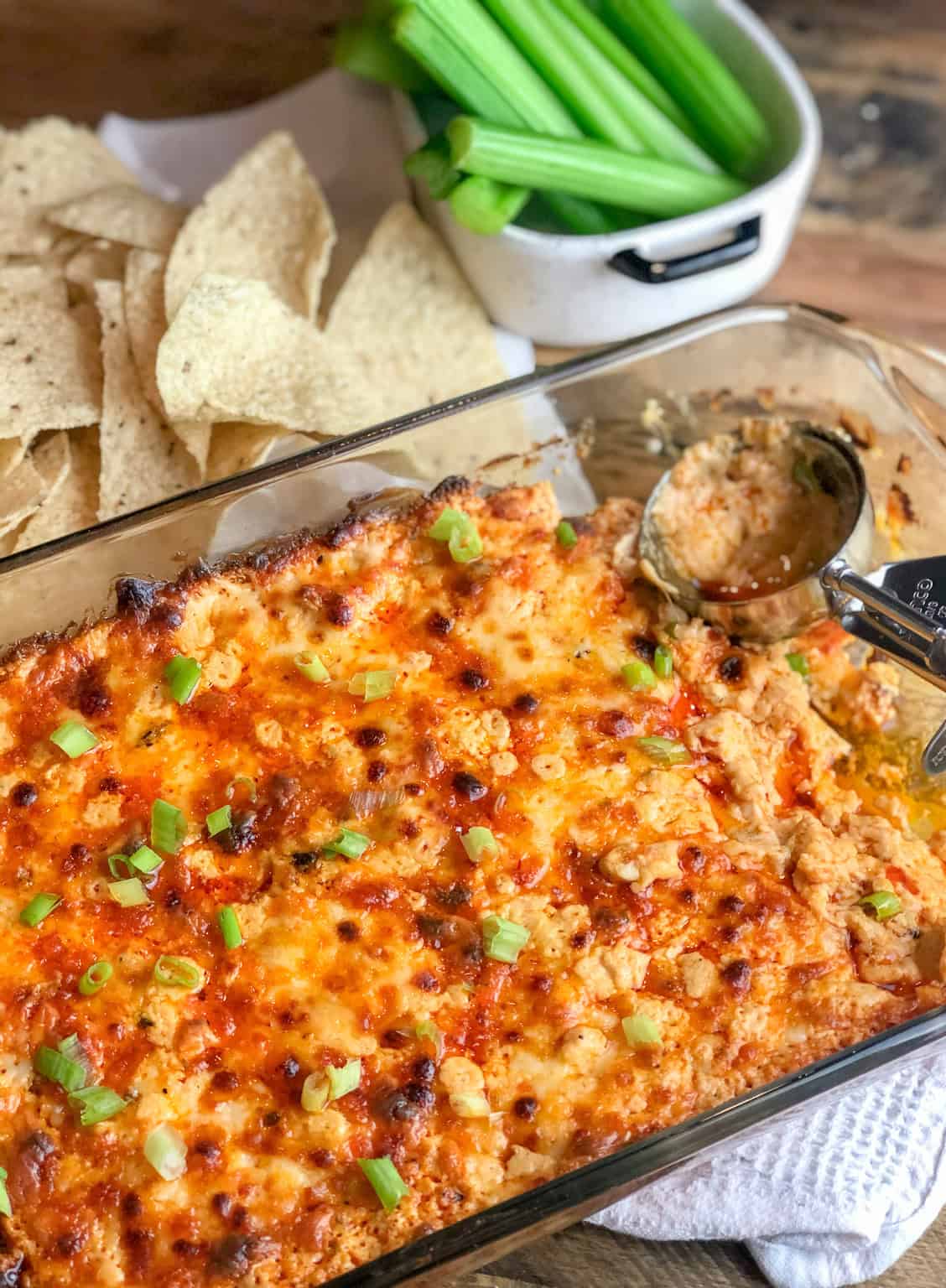 Buffalo Chicken Dip seems to be one of those crowd favorites that everyone loves! It's the easiest way to get your chicken wing fix without the messiness. There are lots of awesome recipes out there, but in this recipe we will be making Grilled Buffalo Chicken Dip. By grilling the chicken (hit with a squeeze of lime when you remove it from the grill) it adds a deliciously tangy and smokey grill flavor that elevates this dish to a whole new level.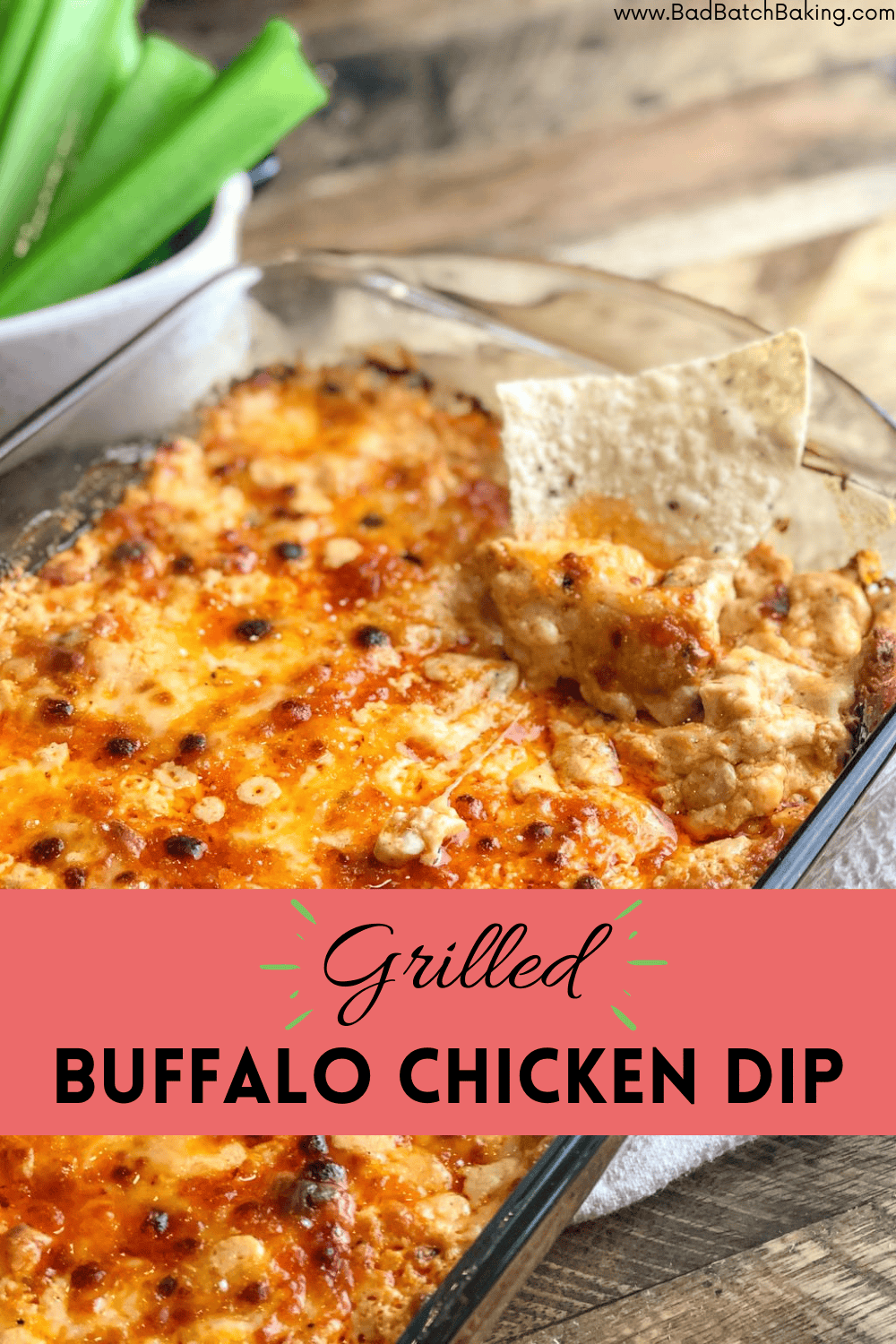 BUFFALO CHICKEN DIP MAKE-AHEAD TIPS:
One of the reasons I am obsessed with baked dips isn't just because they are delicious, but they are incredibly easy for parties. Last weekend we went to a painting party and we volunteered to bring appetizers. Due to the ease of making this ahead, I was able to bring three impressive appetizers. I looked like a real Stepford Wife being able to show up with a car full of food whilst still looking beautiful AND just getting off work a few hours prior. It's all about these hacks, I am telling you.
If you have an oven available at your destination that makes it even easier. You can skip the baking step altogether until you arrive. 15 minutes at 400 degrees will have this ready in no time.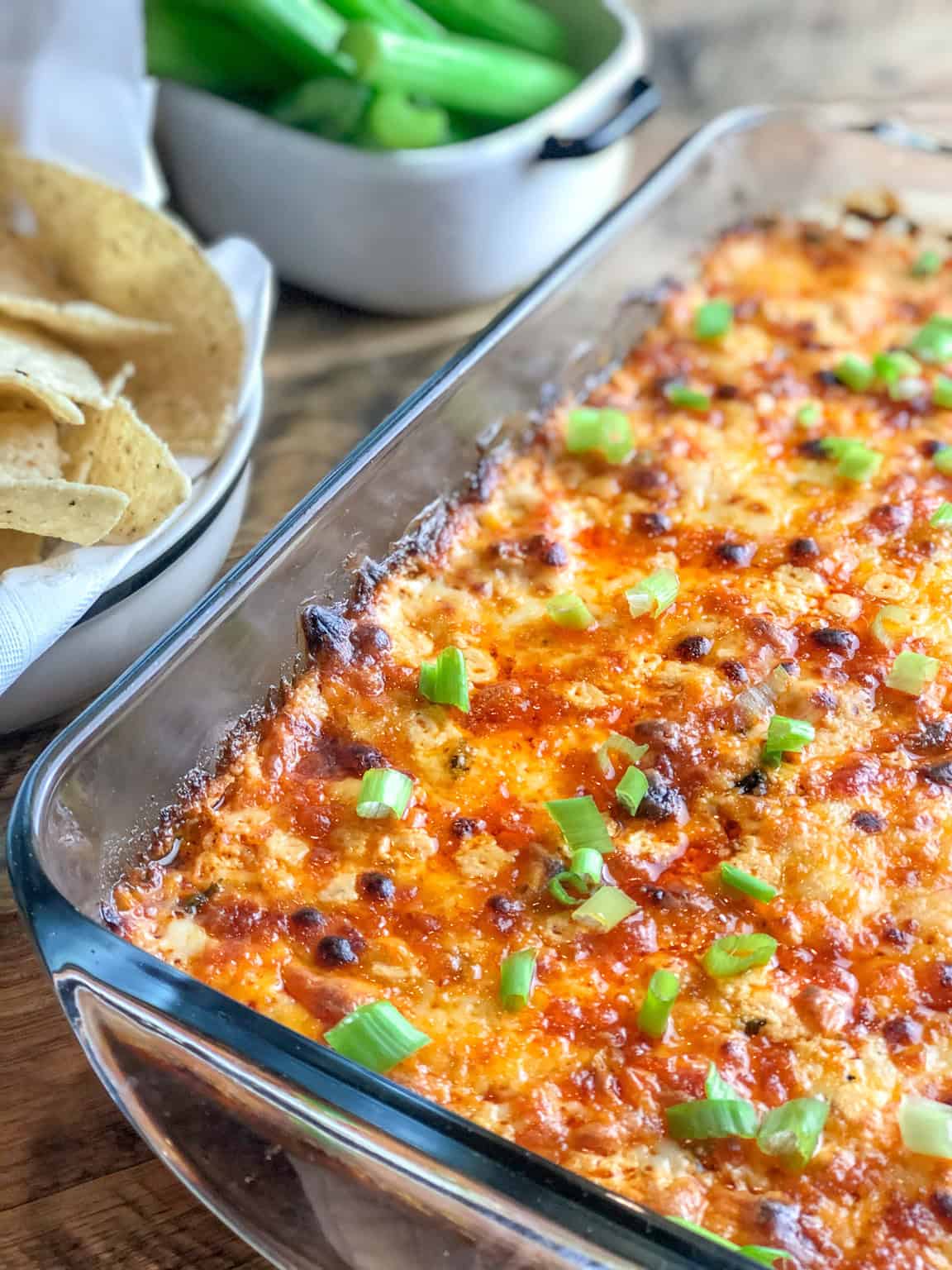 What makes this buffalo chicken dip recipe different from the rest?
For starters, it's GRILLED!
The grilled chicken adds an incredible amount of smokey grill flavor to this dip that truly kicks up the flavor. I add a squeeze of lime of the chicken after pulling it off the grill and it makes for a lusciously juicy chicken that's smokey and tangy.
I realize the extra step of grilling may be tempting to skip. And if you are in a bind and don't have the energy for this extra step, you can always buy a rotisserie chicken. Just be sure it doesn't have preservatives like Costco's rotisseries. I opt for the $9.99 Simply Truth organic rotisserie from Kroger as it contains no carageenan.
Using fresh mozzarella / a three cheese blend
my recipe also calls for fresh mozzarella. and cheeses off the block. Let's take a pledge to skip pre-shredded bagged cheeses FOREVER. They add so much powdered dust to prevent clumping that it really impacts flavor, freshness and meltability. Nothing compares to blocks of cheese that you shred yourself.
Using quality Ranch dip
A terrific ranch dressing can make or break a good quality buffalo dip. THE best ranch dressing I have ever bought from a store was GW Clisso's Ranch Dressing. This is the greatest dressing of all times. I am sortwhat of a ranch snob (it comes from all the years of living off of "yeast rolls and ranch" from my middle school and high school cafeteria). I found this dressing at Ingles Market and this one may not be available in your area, but always opt for a fresh/refrigerated good quality ranch dressing. Some of the better grocery store brands are Marzetti or Brianna's Home Style.
Chicken chunks vs. Rotisserie shredded
This is purely a personal preference. There is something about chunks of chicken that I prefer over shreds of chicken. I get a little put off by shredded chicken sometimes and chunks make me feel like it's a heartier dip rather than having a "blended" feel. Feel free to shred away if you prefer the classic shredded style.
What to Serve with Buffalo Chicken Dip?
Some of the items I love to serve buffalo chicken dip with are:
Crackers
Carrot sticks
Tortilla chips
Toasted baguettes (brushed in melted butter and garlic before broiling for a few minutes)
Low Carb Dippers for Buffalo Chicken Dip:
Celery
Bacon strips
Red Pepper and Green Pepper spears
Zucchini spears
Cauliflower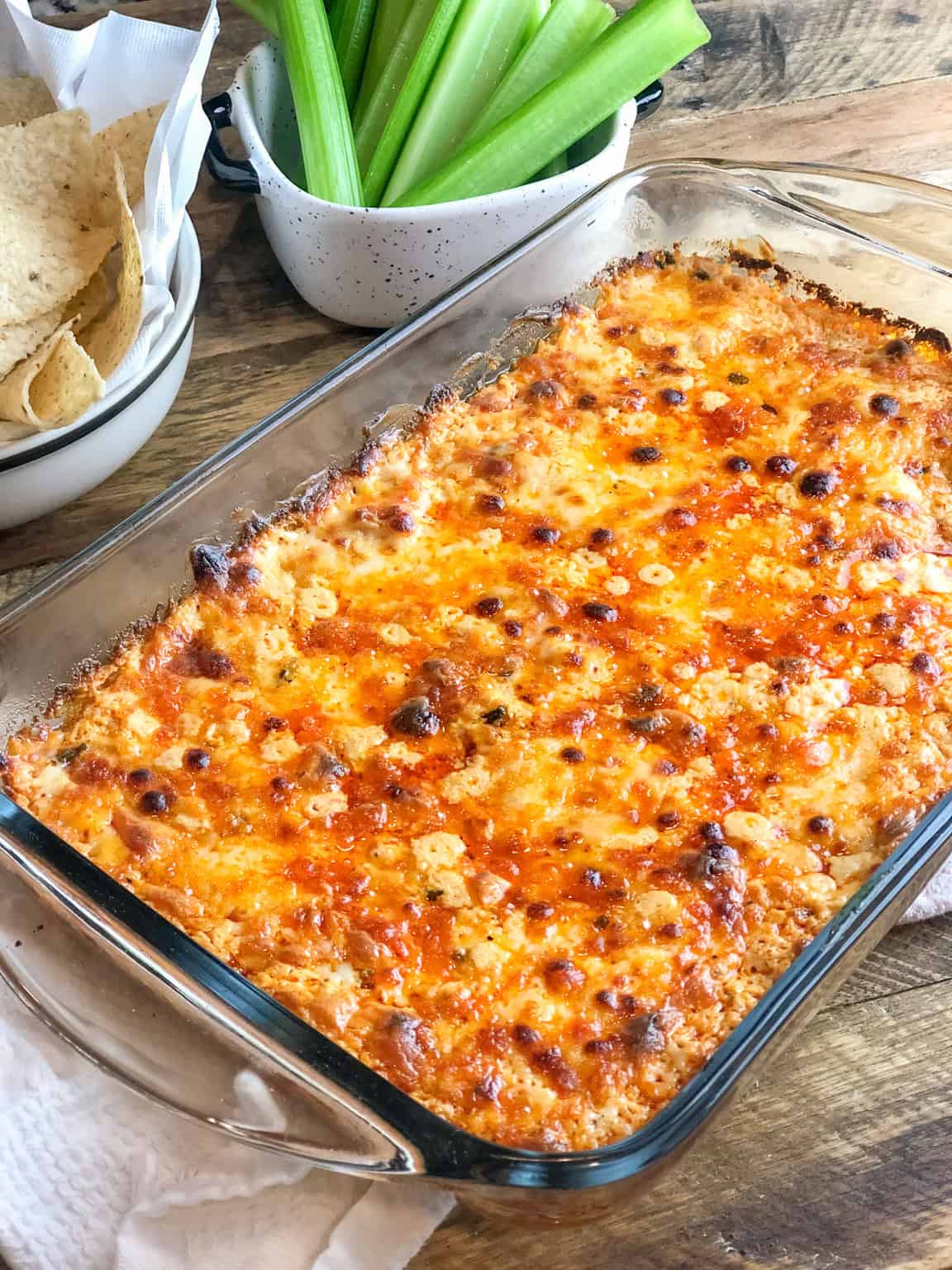 LOOKING FOR OTHER APPETIZERS?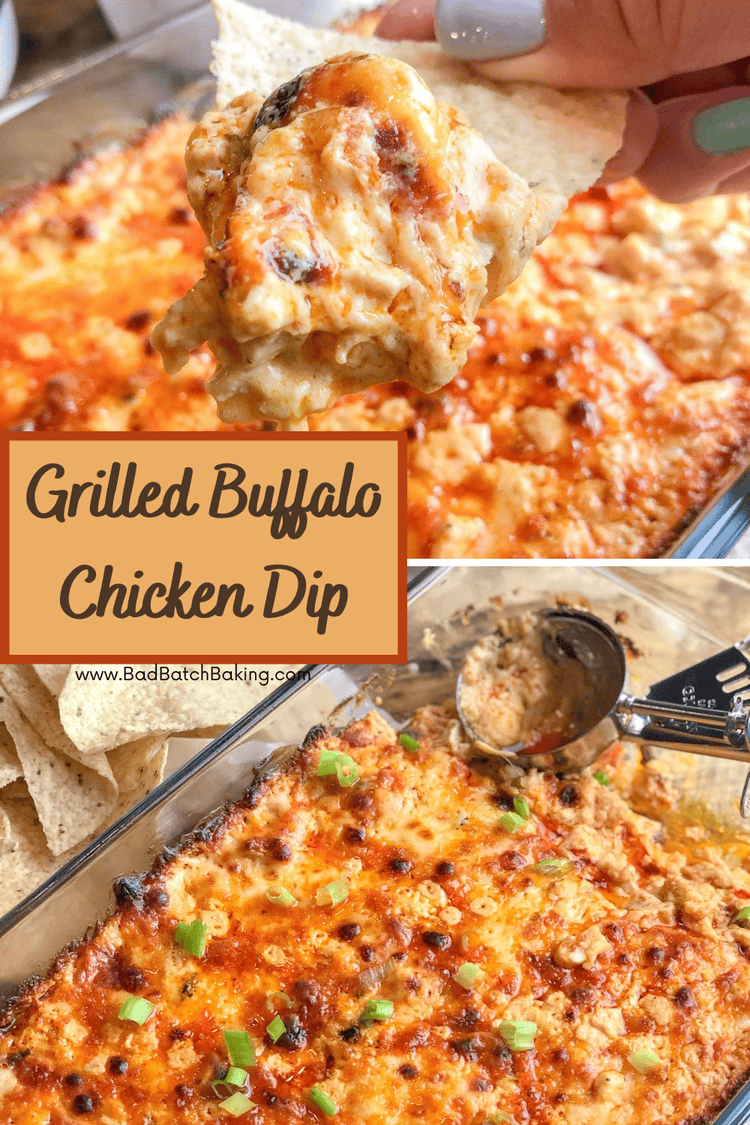 Enjoy this Grilled Buffalo Chicken Dip recipe and be sure to comment below with any questions or feedback! If you make these or any other recipes, be sure to tag me on IG @BadBatchBaking to be featured on my story.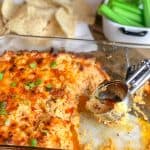 Print Recipe
Grilled Buffalo Chicken Dip
Flame-grilled tender and juicy chicken breasts add a kick of smokiness to the traditional cheesy, spicy buffalo chicken dip in this recipe
Ingredients
Grilled Buffalo Chicken
4

chicken breasts; boneless, skinless

1

tbsp

vegetable oil

1/2

cup

Frank's Red Hot Wing Sauce

1/2

tsp

garlic powder
Buffalo Chicken Dip
8

oz

Philadelphia cream cheese, 1 block

room temp

1/2

cup

ranch dressing

good quality brand

3/4

cup

sharp cheddar, shredded off the block

divided

1/2

cup

fresh mozzarella, chopped

divided

1/2

cup

pepper jack cheese, shredded off the block

divided

3

cloves

garlic, grated

3/4

cup

Frank's Red Hot Wing Sauce

Tortilla chips, celery, baguette, etc. for serving

2

lime wedges
Instructions
Grilled Buffalo Chicken
Prepare the chicken by pounding to 1/4 inch thick to tenderize. Place into a bowl or ziplock bag. To it, add the garlic powder, oil and hot sauce. Marinade for at least 30 minutes or up to 24 hours ahead.

Grill the chicken until the internal temperature reaches 165 degrees (about 10 minutes on a standard grill). Remove from the grill and squeeze the chicken with lime wedges. Tent and rest while preparing the dip, chopping into small pieces before adding to the mixture below.
Buffalo Chicken Dip
Preheat oven to 375 degrees.

Set aside 1/2 cup of the combined cheeses for topping the dip later.

In a mixing bowl add the cream cheese and ranch dressing and mix well until the cream cheese is mostly smooth (small lumps are OK as they will melt). Add all remaining ingredients and mix well until combined.

Pour mixture into an ungreased casserole dish (1 quart, 8x8, 9x13 will work). Cook for 20 minutes. Remove from oven and add remaining cheese to the top of the dip.

Return to the oven, placing on the top rack (about 6 inches from top) and turn oven to broil on high. Allow the buffalo dip to broil for about 5-7 minutes or until it's bubbly and browned.