Let the Valentine's baking season begin! These Double Dark Homemade Milano Cookies are lightly sweet, perfectly crunchy and filled with decadent dark chocolate in the center. After Christmas I always need a break from baking because I literally bake myself sick. We have so many sweets in our house from Thanksgiving to New Years and once January comes around we are over it! But…. once the month of January comes and goes and I've been putting my kitchen energy into making healthy meals, I get the baking bug again when I see the pink and red aisle at Target. This season I will be sharing a handful of Valentine's recipes that are equally cute as they are delicious!
What are Double Dark Homemade Milano Cookies?
Double Dark Chocolate Milano cookies are double the indulgence. Double Dark Chocolate Milano has twice the amount of rich, dark chocolate in the center of two lightly sweetened buttery and crunchy biscuit cookies.

Yeah, the store-bought cookies are good but I'll take this homemade version any day of the week. And honestly, once you try these, you'll be spoiled and only want to make them from scratch. It's a pretty simple recipe and can be pulled together in less than an hour. Plus, you can customize the flavors – like orange zested chocolate or mint chocolate.
Double Dark Milano Cookie Ingredients
Butter: quality salted-butter. Kerrygold is always my go-to
Sugar: a combination of both regular granulated and powdered sugar does the trick for helping recreate the classic texture of the milanos we know and love.
Vanilla: vanilla is super important in this recipe to give these subtle cookies a vanilla kick to contrast the rich chocolate filling.
All purpose flour: of course you need some sort of flour to create cookies and these ones just need the regular all purpose variety.
Chocolate ganache: dark chocolate melted down with heavy cream creates a luscious filling for these cookies.
How to Make Double Dark Homemade Milano Cookies?
Trace heart-shaped cookie cutters (or just a straight shape for standard Milano) onto parchment paper to make 12 heart outlines, 3″ apart. Flip the parchment over and use the under side so the batter is not in contact with the ink.
Make the batter with room temp ingredients following recipe instructions.
Put the batter in a piping bag and pipe heart-shapes onto the parchment.
Using a clean finger, dip in milk and lightly smooth out the tops of each heart to reinforce the heart shape and even out the cookie batter.
Bake at 325 degrees for about 9 minutes, rotating the pan every three minutes.
Make ganache, allow it to cool and thicken for about 15 minutes, then assemble cookies.
Store in cupcake liners (for the classic look) in an airtight container
My Favorite Products for These Cookies
.
Looking for other delish copycat recipes?
The Travis Scott Burger Copycat Recipe
The Best Five Guys Burger Copycat Recipe
Olive Garden Chicken Alfredo Pizza Fritta Copycat Recipe
McDonald's Chicken McGriddle Copycat Recipe
KFC Chicken Littles Copycat Recipe
Popeye's Famous Chicken Sandwich Recipe
CPK Cauliflower Buffalo Bites Copycat Recipe
I truly hope you enjoy this Double Dark Homemade Milano Cookie copycat recipe. I look forward to your questions and feedback below. Please be sure to tag me @BadBatchBaking using hashtag #badbatchbaking if you made this recipe and I will feature you on my story! Plus, I LOVE to see your baking accomplishments.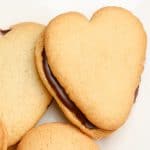 Print Recipe
Double Dark Homemade Milano Cookie Recipes
Double Dark Homemade Milano Cookies are tender, buttery and lightly sweet cookies with a nice crunch sandwiched around a layer of rich dark chocolate ganache in the center! These homemade Milano cookies are ten times better than the store-bought version.
Servings:
12
sandwich cookies
Ingredients
Milano Cookie Biscuits
1 ½

cups

flour

1

tbsp

cornstarch

¾

tsp

baking soda

½

tsp

salt

½

cup

butter room temperature

salted

½

cup

powdered sugar

⅓

cup

granulated sugar

1

egg

room temp

1

tsp

vanilla extract

1

tbsp

milk
Double Dark Filling
8

ounces

semi-sweet or bittersweet chocolate

chopped

1

cup

heavy cream
Instructions
Double Dark Filling
Start with ganache filling so it can cool and thicken while cookies bake.

Place chopped chocolate in a medium heat-proof bowl. Heat heavy cream in microwave for about 90 seconds or until tiny bubbles form at the surface - do not let it boil.

Pour over chocolate and let sit 2-3 minutes untouched. Gently stir until combined and chocolate has completely melted. Allow to cool and thicken until spreadable consistency - about 30 minutes.
Milano Cookie Biscuits
Preheat oven to 325 degrees. Use a heart-shaped cookie cutter and trace 12 heart shapes onto parchment paper, about 3" apart.

In a bowl or ziptop bag add the dry ingredients and mix to comine: flour, cornstarch, baking soda, and salt.

In a stand mixer fitted with the paddle attachment, or mixing bowl using a hand mixer, beat butter, powdered sugar, and granulated sugar until light and fluffy, about 3-5 minutes. Add the egg and vanilla and beat until combined.

Slowly add in the dry ingredients until incorporated. Add in milk

Transfer the batter to a piping bag cut 1' wide at the opening or fitted with a ½ inch round tip. Pipe the batter onto the lined baking sheets using the guides you marked earlier.

Bake in the oven for about 9 minutes, rotating the pan every 3 minutes. They are finished when the edges are golden brown. Allow to cool on the pan for a minute to set before transferring to a cooling rack.
Assemble Double Dark Milano Cookies
Try to pair up cookies with the most similar matching counterpart. To assemble the cookies, spread a thick layer of ganache onto the flat side of one cookie and sandwich with the flat side of another cookie. Repeat with remaining cookies. Store in cupcake liners to give the authentic Milano look, in an airtight container.