If it wasn't $18, I would get it all the time.
The BBQ Chicken Salad from CPK is one of my favorite decadent salads to order but it's too dang expensive to get it at the restaurant so we are making a copycat recipe at home! This salad is rich, creamy, and loaded with hearty ingredients like barbecue chicken breasts, black beans, avocados, crisp sweet corn, crunchy tortilla chips and lots of other fresh ingredients. The drizzled barbecue sauce and ranch dressing over the top really takes it to the next level. Who would've thought barbecue sauce would be good on salad?? But it works.
What is the CPK BBQ Chicken Salad?
Inspired by the BBQ Chicken Pizza, the BBQ Chicken Salad from CPK is a chopped salad loaded with romaine and iceberg lettuce, tomatoes, avocado, black beans, corn, jicama, and topped with tortilla strips, Monterey jack cheese, cilantro, green onion, and drizzled in barbecue sauce and ranch dressing.
CPK BBQ Chicken Salad Copycat Ingredients Needed
Romaine & Iceberg Lettuces –the lettuces are chopped and combined as the base of this salad.
Black Beans– good quality black beans are rinsed and added as a delicious hearty protein-packed topping
Corn off the cob – you can sub frozen corn here, but seasonal crisp, sweet corn is ideal. I seared mine in a cast iron skillet fist to slightly blacken some of the kernels. It really brings out the corn flavor and adds a little smokiness.
Jicama– this root vegetable adds the perfect crunch!! Don't worry if you can't find it, a granny smith apple can be used instead.
Tomatoes – vine-ripened tomatoes add the perfect tang and freshness. I prefer Roma tomatoes for the flavor.
Monterey Jack Cheese – to make this salad even more decadent, it's topped with finely shredded cheese
Grilled Chicken Breast– I used 1 breast and diced it up. You may want to add more.
Cilantro & Green Onion – the top of this salad is garnished with fresh chopped cilantro and diced green onion.
Ranch Dressing-I prefer Lighthouse (in the squeeze bottle) but you can use your preferred ranch.
BBQ Sauce– I used Bulls Eye as it's always been a family favorite. But use your preferred barbecue sauce.
BONUS – I added chopped bacon to my salad. I realize it's not in the original recipe but I'll often ask the restaurant to add it when I order it (making it a $20 salad – face palm!!). Bacon adds the perfect smokey-saltiness that pairs wonderfully with these ingredients.
Try My Other CPK Copycat Recipes:
Tips for Making CPK BBQ Chicken Salad Copycat Recipe:
Cook The Chicken (and bacon if you are adding) – to make this salad more simplified I basted my chicken with barbecue sauce and baked them in the oven at 375 degrees. To ensure perfect juicy chicken, I used tenders and first seasoned them with salt, pepper, and paprika. I baked them for 12 minutes, flipped and re-basted in barbecue sauce, then cooked for another 10 minutes. I cooked the bacon on the stove until it was crisp, set it aside and let it cool before chopping into bits.
Chop and prep all ingredients while chicken cooks – once I removed the bacon from the frying pan, I wiped out access grease, and seared my corn cobbs for a few minutes on each side to slightly blackened some of the kernels. Removed from the heat and allowed it to cool before shaving the kernels off the cobb with a serrated knife. Then, I chopped all other veggies and garnishes and grated my cheese (I always prefer to buy blocks of cheese to avoid the powdery coating additive).
Wait to chop the lettuce until you are ready to plate – I saved my lettuce for the very end as once you chop it, the wilting clock starts to tick. I made a few passes with my knife, chopping the lettuce to small bite sized pieces so it more easily incorporates with the other ingredients.
Mix or stack ingredients – you can carefully organize all the ingredients on top a bed of chopped lettuce for a plated look. Or, you can combine all ingredients and pre-toss to incorporate the dressings and all ingredients in a true chopped salad form. Either works and both are delicious.

Looking for other delish copycat recipes?
Prince's Nashville Hot Chicken  Copycat Recipe
The Travis Scott Burger Copycat Recipe
The Best Five Guys Burger Copycat Recipe
Olive Garden Chicken Alfredo Pizza Fritta Copycat Recipe
McDonald's Chicken McGriddle Copycat Recipe
KFC Chicken Littles Copycat Recipe
Popeye's Famous Chicken Sandwich Recipe
CPK Cauliflower Buffalo Bites Copycat Recipe
Wendy's Copycat French Fries Recipe
I look forward to your questions and feedback. Please be sure to tag me @BadBatchBaking using hashtag #badbatchbaking if you made this recipe and I will feature you on my story! Plus, I LOVE to see your baking accomplishments!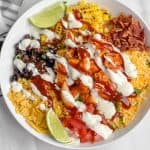 Print Recipe
CPK BBQ Chicken Salad Copycat Recipe
The CPK BBQ Chicken Salad is one of the most popular menu items at California Pizza Kitchen, second to the BBQ Chicken Pizza - which inspired this dish to be created. This salad is hearty and filling with a variety of textures from crispy and crunchy toppings, to the creaminess of the avocados and ranch dressing and barbecue sauce. You will adore making this at home for a fraction of the price!
Servings:
2
Entrée Salad Portions
Ingredients
8

chicken tenders or 2 chicken breasts

sliced or diced

2

tablespoons

olive oil

Salt and pepper

1

teaspoon

paprika

1

cup

barbecue sauce, divided

I use Bull's Eye

2/3

cup

crushed tortilla chips

4

cups

romaine hearts lettuce

thick part of stem removed

4

cups

iceberg lettuce

or green cabbage for a firmer texture

2/3

cup

canned black beans

rinsed

2/3

cup

diced jicama

sub with diced granny smith apple – skin removed

2/3

cup

sweet corn

fresh or frozen

2/3

cup

chopped vine-ripened tomatoes

2/3

cup

Monterey Jack cheese

shredded

3

green onions

mostly green parts

3

tablespoons

cilantro

chopped

Ranch dressing

I used Lighthouse squeeze bottle

Optional: Avocado and Bacon

1

Lime, cut into wedges
Instructions
BBQ Chicken
Preheat oven to 375 degrees. Prep tenders and place into a baking dish. Season both sides with salt, pepper, and paprika. Add two tablespoons olive oil and massage into chicken. Set aside for 15 minutes while prepping toppings.

Baste chicken with barbecue sauce and cook for about 12 minutes, flip chicken, and re-baste opposite side. Cook additional 10 minutes or until the internal temp reaches 165 degrees and juices run clear. Allow chicken to rest for 10 minutes in pan on counter than slice. If using bacon, cook in a frying pan until crispy while chicken is in the oven.
Prep Toppings
In a cast iron skillet or pan, sear corn cobbs over medium-high for a few minutes on each side until some kernels have blackened. Set aside to cool then shave off kernels using a serrated knife. Chop and prep all other toppings.
For Tossed Salad Assembly:
Combine all toppings in a mixing bowl, drizzle with barbecue sauce and ranch dressing ¼ cup at a time and toss the salad using tongs. Add more dressing as needed and divide into two large dinner bowl or deep plates.
For Plated Salad Assembly:
For a prettier presentation, divide salad among the large plates or deep bowls and arrange the toppings atop the bed of lettuces. Drizzle BBQ sauce and ranch dressing as shown.