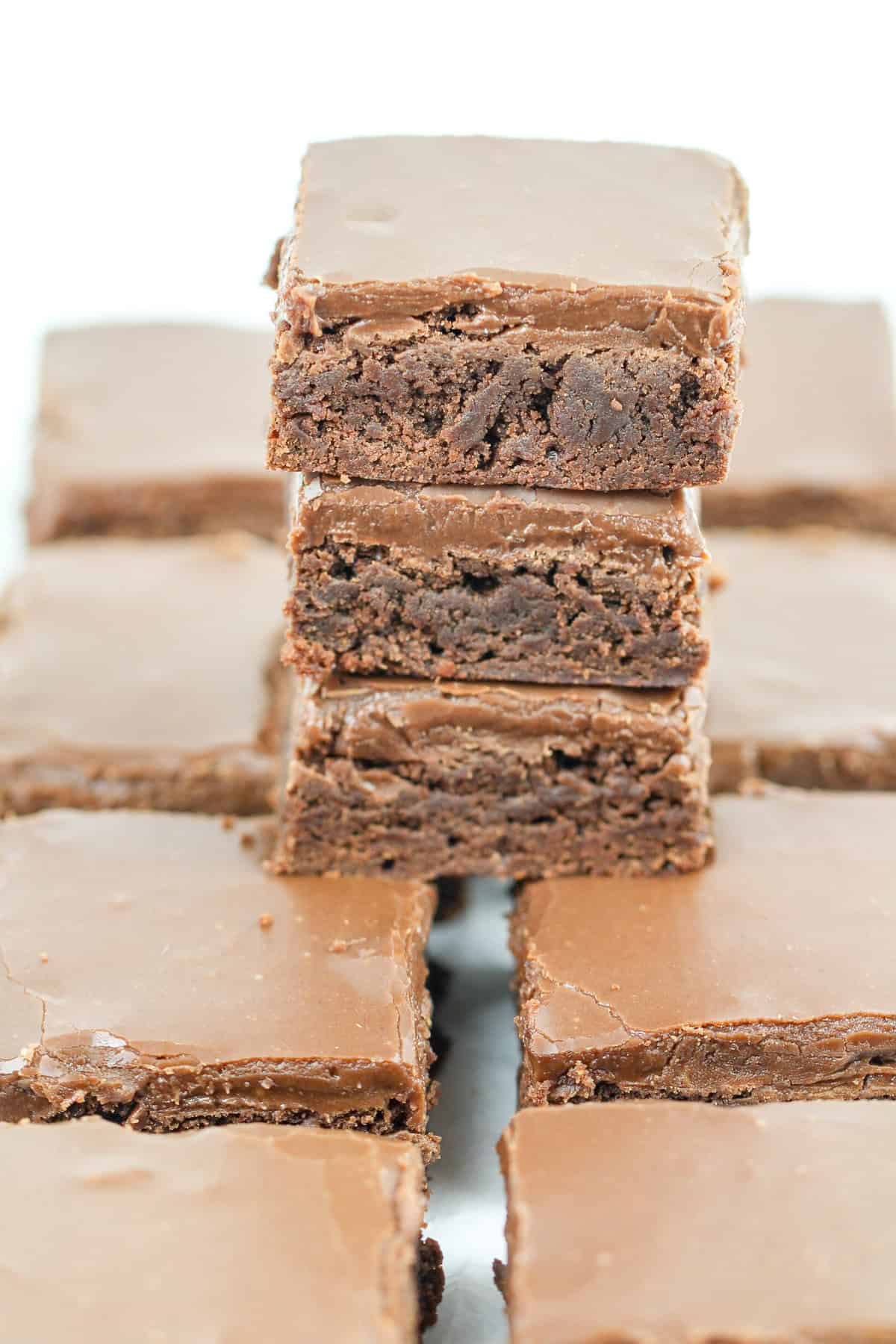 These retro brownies make me reminisce on my elementary school days. I can taste the memories just by looking at these photos. Weren't those school years just the good ole' days!? When all you had to worry about was simple things (like , when is snack time?). It's funny how we think back to our childhood and it's often just the good stuff you remember. At least for me. Sure there were plenty of bad things too but I find it is interesting that I always look *back* when I think about the best times of my life. Total side bar, there is a quote from the final season of The Office when  Andy says:
"I wish there was a way to know you are in the good ole days, before you've actually left them".
Such a simple quote but I think about it often. Who knows what lies ahead for any of us, in just months or years from now you may look back on today and realize how lucky you are, how easy you had it, or how grateful you should've been. Sorry to get so deep on a post about brownies, LOL, but this feels very relevant to mental space lately. 
Pro Tip: To get that super smooth, sheet-of-glass smooth frosting, use a mesh sieve to pass your frosting through at least once, before you pour it onto your brownies. Then, try to resist touching them until they are hardened 🙂
I added a video to TikTok of my frosting process! It's embedded below. I don't post on there too often but I am trying to get better at it and add it to my routine!
I look forward to your feedback or questions below! As always, feel free to tag me in your photos if you make this @badbatchbaking using #badbatchbaking
Print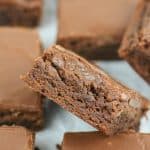 School Cafeteria Brownies
---
Description
Retro brownies that will remind you of your childhood – soft and chewy chocolate brownies with a slightly stiff, crackling chocolate fudge frosting that just melts in your mouth!
---
Brownies
1

cup

butter

melted

2 1/2

cups

granulated sugar

1

tbsp

vanilla extract


4

eggs

1 1/2

cups

all-purpose


1

cup

cocoa

about

80g

1/2

tsp

salt

optional – chocolate chips or walnuts for mixing in or topping

Chocolate Frosting
1/4

cup

butter

softened, Kerrygold or other European/Irish butter preferred


1/4

cup

milk

(I use whole milk)


1/4

cup

unsweetened cocoa powder, sifted


3

cups

powdered sugar, sifted

---
Instructions
Brownies
Preheat oven to 350 degrees.
In a large bowl, combine butter, sugar and vanilla extract and whisk together until smooth.

Whisk the eggs in, one at a time, being sure to beat well each time.

Stir in cocoa powder, flour and salt, whisk until combined.

Line a 9×13″ pan with tin foil or parchment and spray with non-stick spray. Spread batter evenly into the prepared pan.

Bake for 26-30 minutes or until a toothpick comes out clean.
Chocolate Frosting
In a small saucepan, melt butter on low. Once melted, add the milk and cocoa powder, whisking constantly. Add the sifted powdered sugar one cup at a time. Whisk until the mixture is perfectly smooth. You can add a little more milk or powdered sugar to adjust the texture as needed.
If lumps have formed, strain the frosting over a mesh sieve to remove any lumps.
Pour mixture over warm brownies. For ease cutting brownies into clean squares, wait to cut the brownies until the frosting has slightly hardened and the brownies have cooled completely.
Notes
** My trick to cutting perfect brownies with no jagged or "pulling" edges is to use a plastic disposable knife. Or, you can oil a regular kitchen knife.
**European or Irish butter has a stronger butter flavor that intensifies the buttery-ness in baked goods.