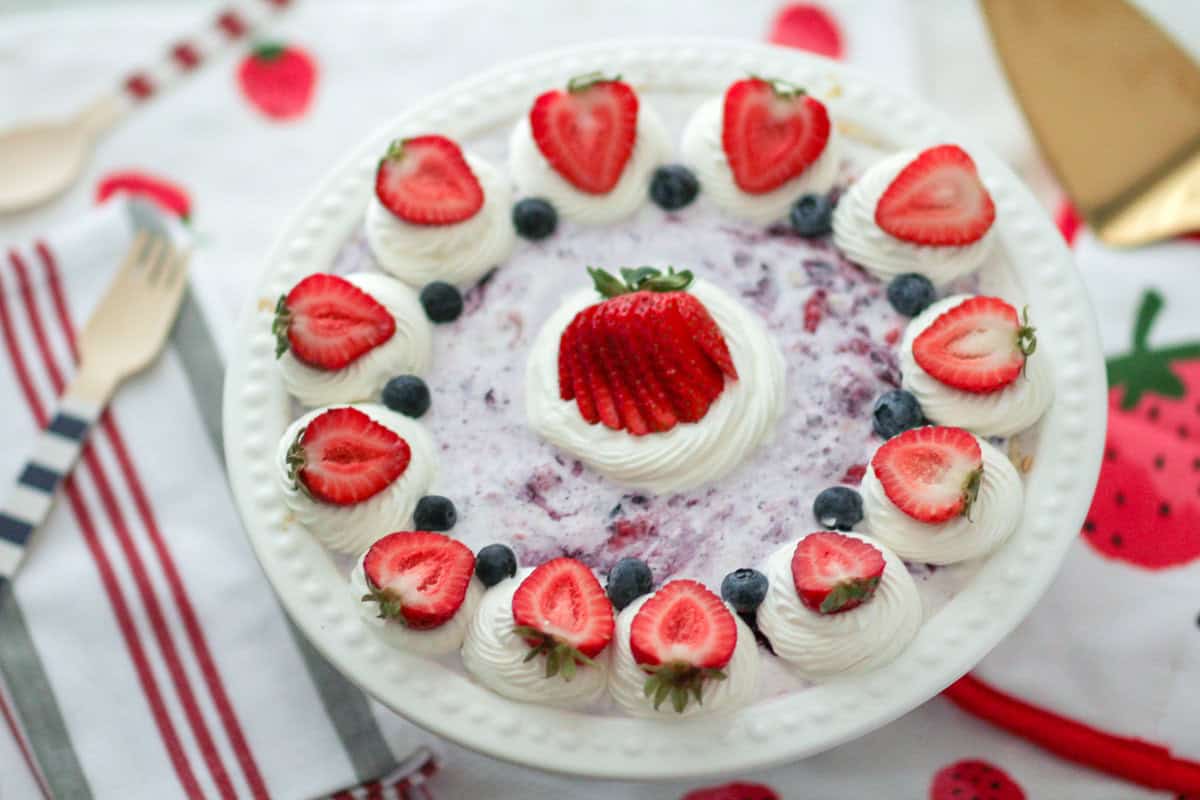 Super chewy, pillowy soft, thick sugar cookie crust is the base of this beautiful short-cut dessert, converting store-bought vanilla ice cream to a white chocolate strawberry and blueberry dream. This is the ultimate dessert for the summer.
Forth of July party, picnic, family gathering, whatever the occasion this summer, ice cream pie can always be your answer. It's so universal and can be made in many ways. It's always a crowd pleaser and is super easy to make – not requiring any ice cream machine, because you are just elevating store bought ice cream (of course if you want extra credit you can make your own ice cream – I am all about that life).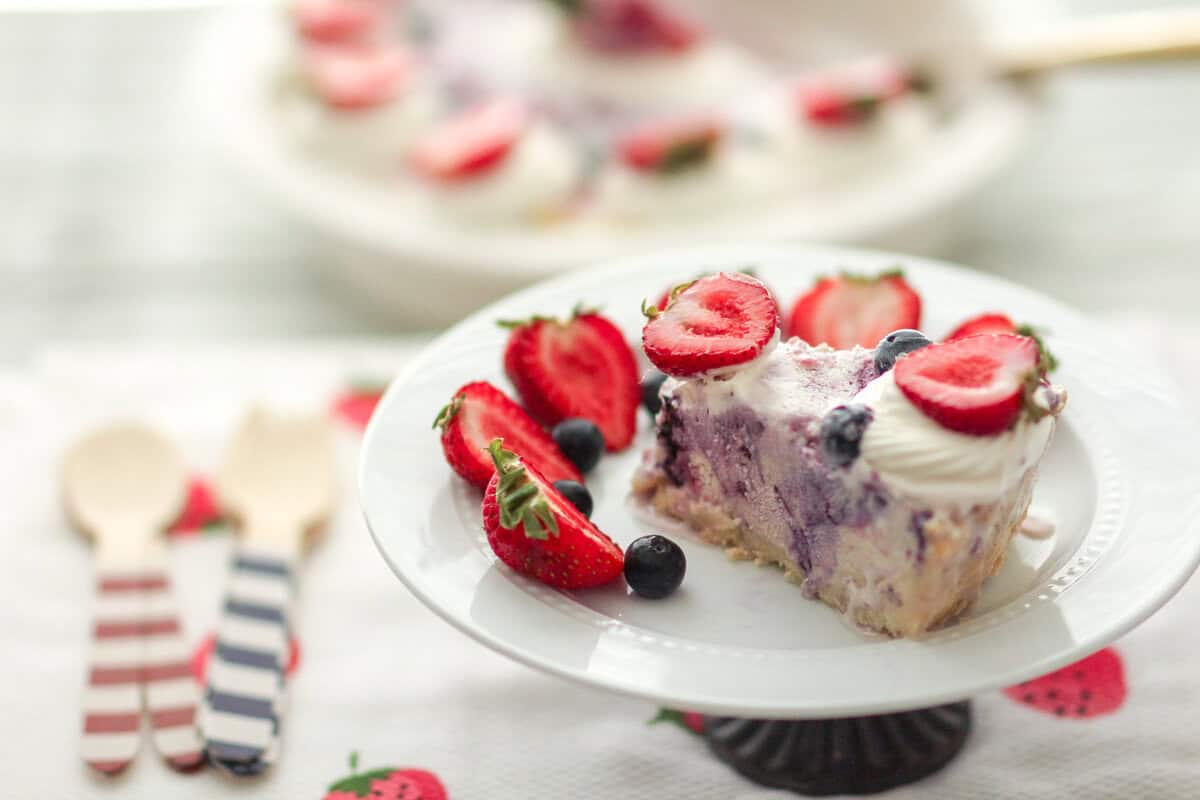 The key to success with this recipe is definitely using super high-quality ice cream. It's the star of the show, after all. And I am not talking Breyers quality, I am talking Haagen-Dazs or Blue Bell.  It's $7+ for a half gallon, but it is seriously worth every penny.  This stuff is nearly as good as homemade.
You can certainly go the cheaper route, but there are certain items in life that really command their value, and these ice cream brands are no exception.
Adding the melted white chocolate is also a complete game changer. It mostly mixes in and adds to the vanilla flavor in the ice cream. But you will also get these delightful crunchy chunks of white chocolate that are an exciting surprise!
We don't usually have any plans for the 4th, not even a party to attend where I could bring this ice cream pie (queue tiny violin). Last year when we lived in a high rise, we got to enjoy zillions of firework shows right from our cozy balcony.
But now that we have downsized to the "struggle-is-real" apartment (so we can allegedly pay off debts before moving into our first home) we will spend this year being hermits and working on our side businesses.
So here is this pie, from my jealous heart to yours, for you to enjoy in your exciting happy life. Take this to a party and at least bring me with you in spirit.
Enjoy the 4th!!! XOXO
White Chocolate Strawberry Blueberry Shortcake Ice Cream Pie
Print recipe
| | |
| --- | --- |
| Serves | 12 slices |
| Prep time | 30 minutes |
| Cook time | 25 minutes |
| Total time | 55 minutes |
Ingredients
Sugar Cookie Crust
2 cups cake flour
1 1/2 teaspoon baking powder
1/4 teaspoon salt
1/2 cup butter, softened (1 stick)
3/4 cups granulated sugar
1 egg white
1 1/2 tablespoon heavy cream
2 teaspoons vanilla extract
White Chocolate Strawberry Blueberry Ice Cream
1 carton vanilla ice cream (half gallon, high quality brand)
2 cups strawberries + more to garnish
1 1/2 cup blueberries + more to garnish
1/2 cup granulated sugar
2 teaspoons corn starch
1/2 lemon
1/2 cup white chocolate chips, melted
Topping
Directions
Bake the cookie crust (make ahead optional)
Preheat oven to 350 degrees. Line a pie dish with parchment paper, measured to fit comfortably in the dish. Mist with nonstick spray.

In a mixing bowl, cream the butter and sugar until light and fluffy. Add the egg white and continue to mix. Add the vanilla and cream, mixing again until smooth.

In a bowl, combine the cake flour, baking powder and salt and whisk together. Slowly add the flour to the wet ingredients until smooth and dough comes together.

Press evenly to the pie pan, pressing dough onto the sides of the pie dish. See photo for reference. Prick the dough with a fork and bake for 25-35 minutes, until edges are golden brown. Half way through baking, remove pie dish and using a spatula, press the puffed up dough back down into place. Repeat if needed after crust is done baking. Cool the crust at room temp for 10 minutes, then cool in the freezer until cold.
Prepare the ice cream filling (make ahead optional)
Clean fruit and hull strawberries. Dice strawberries and blueberries and add to a saucepan on medium high with sugar and a squeeze of lemon juice. Bring to a boil, then lower to medium low. Mash until fruit is pureed, smashing any chunks.

Add 1 tablespoon of lemon juice to the cornstarch, mix to combine, then add to the fruit and stir. When fruit has cooked down and thickened, remove from heat and place in the freezer for 30 minutes or until cold. Remove ice cream from the freezer and let it softened while waiting for the berries to cool.

In a large bowl, empty the ice cream and using a hand mixer or masher, blend/smash until it is smooth. Fold in melted/cooled white chocolate and most of the fruit mixture, spoonfuls at a time, until reaching the desired taste. Reserve remaining fruit puree.
Assemble and serve ice cream pie
Spread the ice cream onto the pie crust, smoothing to level with an offsite spatula. Add remaining fruit puree and swirl into ice cream with a knife. Cover and freeze until ready to serve.

To serve, allow the pie to soften slightly at room temp for 10 minutes or so before slicing. Decorate the pie with whipped cream, fruit slices and white chocolate.

To cut, rinse a sharp knife and pie cutter under very hot water. Cut the slices, making sure to slice through the cookie crust. It may take a few passes of the knife to loosen each slice. Re-rinse utensils under hot water as needed.