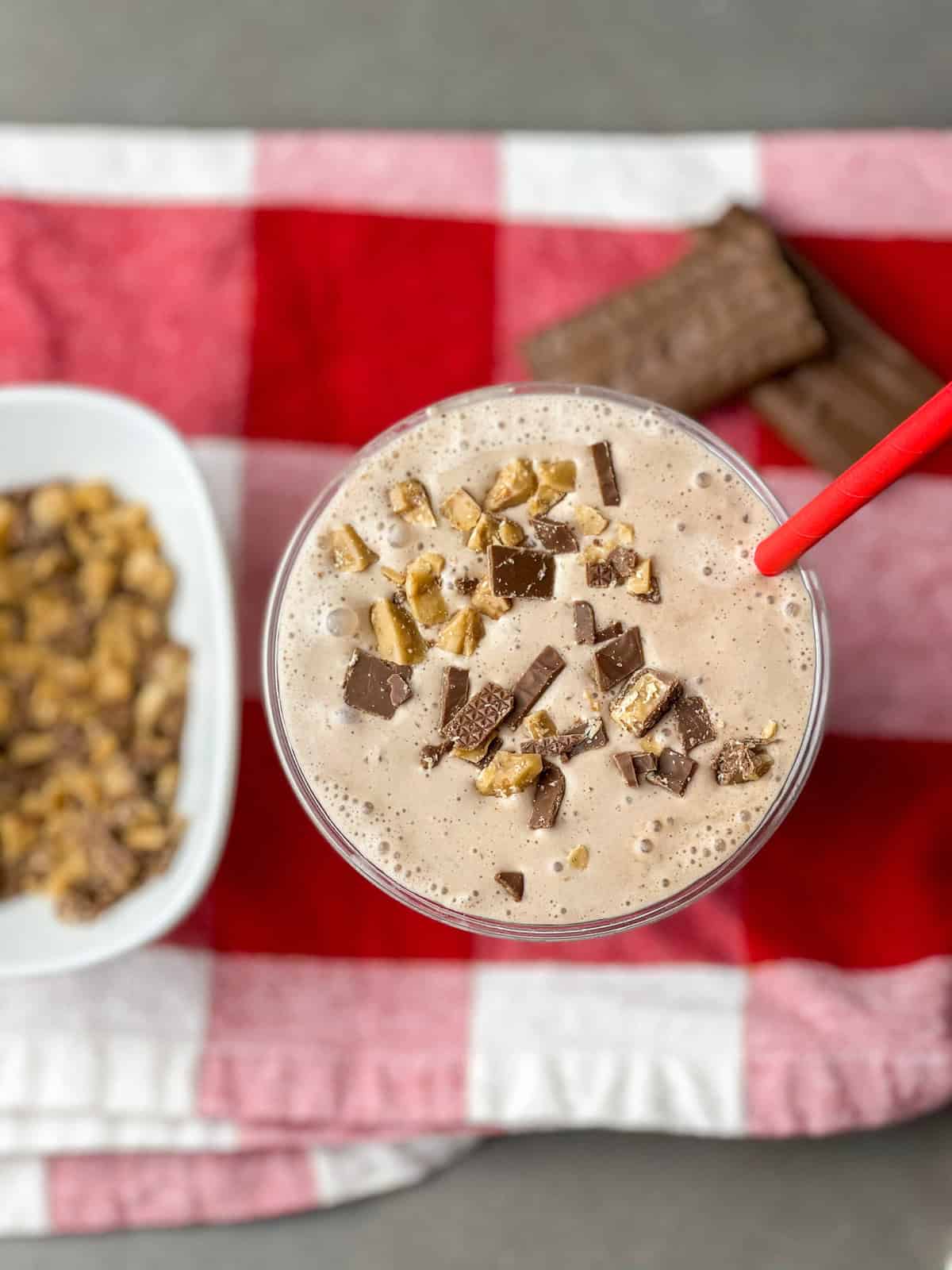 Today I am remaking a beloved Wendy's item from the early 2000's – the Twisted Frosty! Who remembers these? They offered them in four different flavors; Oreo, M&M, Chocolate Chip Cookie Dough, and Coffee Toffee. This was the Wendy's version of the McFlurry but SO MUCH BETTER! I don't go to Wendy's often, but when I do, I rarely ever leave without at least a snack size Frosty. It's basically a condiment for my fries 🙂
We start by making my copycat version of the Wendy's Frosty as the base recipe. You can use this recipe as a standalone recipe, or turn it into a Twisted Frosty by using the mix-ins of your choice.
What is a Wendy's Twisted Frosty
Thick & Creamy – The Wendy's Frosty has a thick and creamy texture that's smooth and drinkable but thick enough to be eaten with a spoon or to dunk crispy, salty fries in.
Full of Mix-In's – Pick your favorite mix-in! Wendy's offered Oreo, M&M's, Coffee Toffee (pictured), and Chocolate Chip Cookie Dough.
Subtle Malty Chocolate Flavor – what gives a Wendy's Frosty their signature taste is the addition of vanilla ice cream, giving it just a slight chocolate flavor, lighter even than milk chocolate. It's more of a vanilla-chocolate flavor. There is also a small amount of malt added which most people don't realize.
Looking for copycat Wendy's French Fries to dip in the Twisted Frosty's?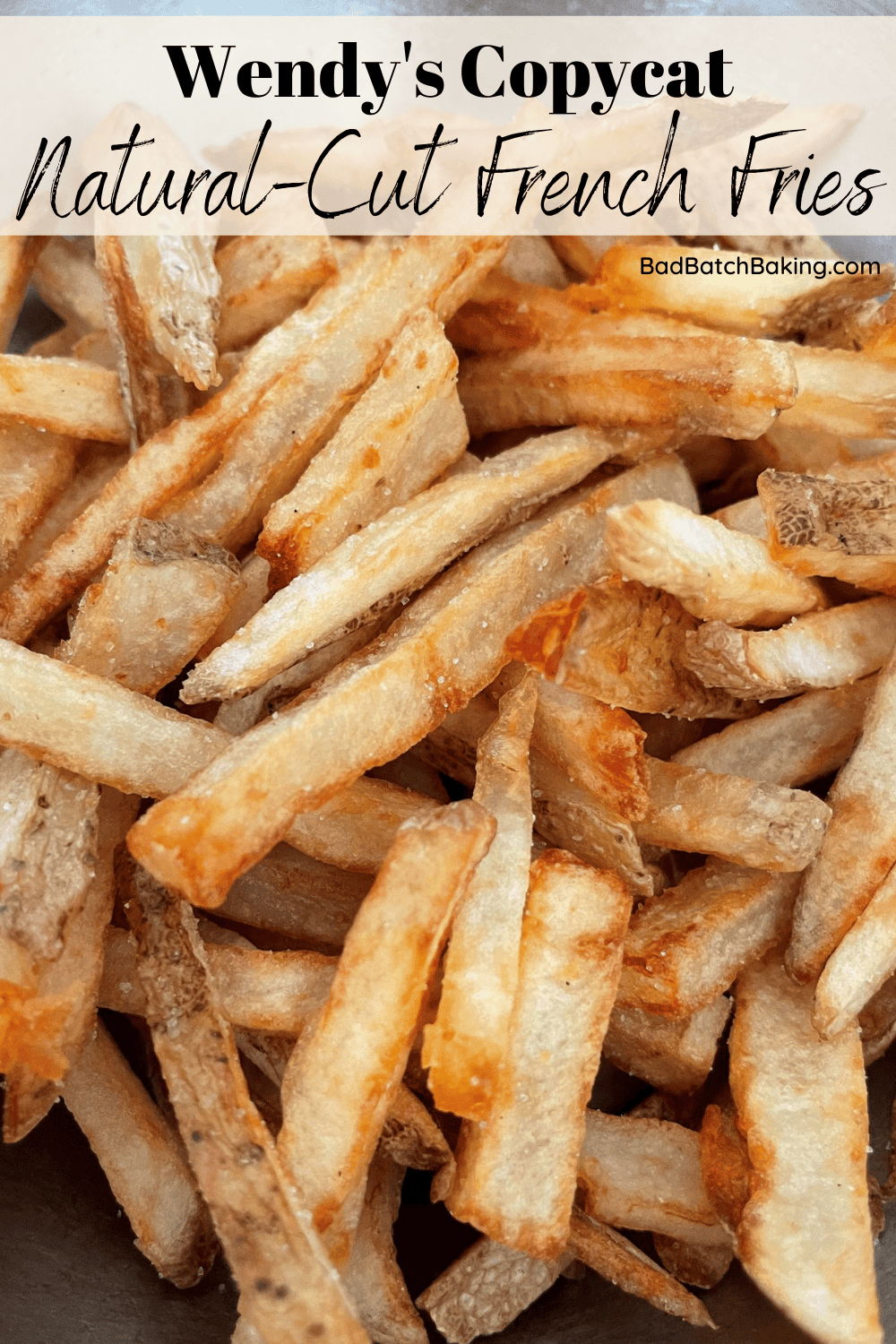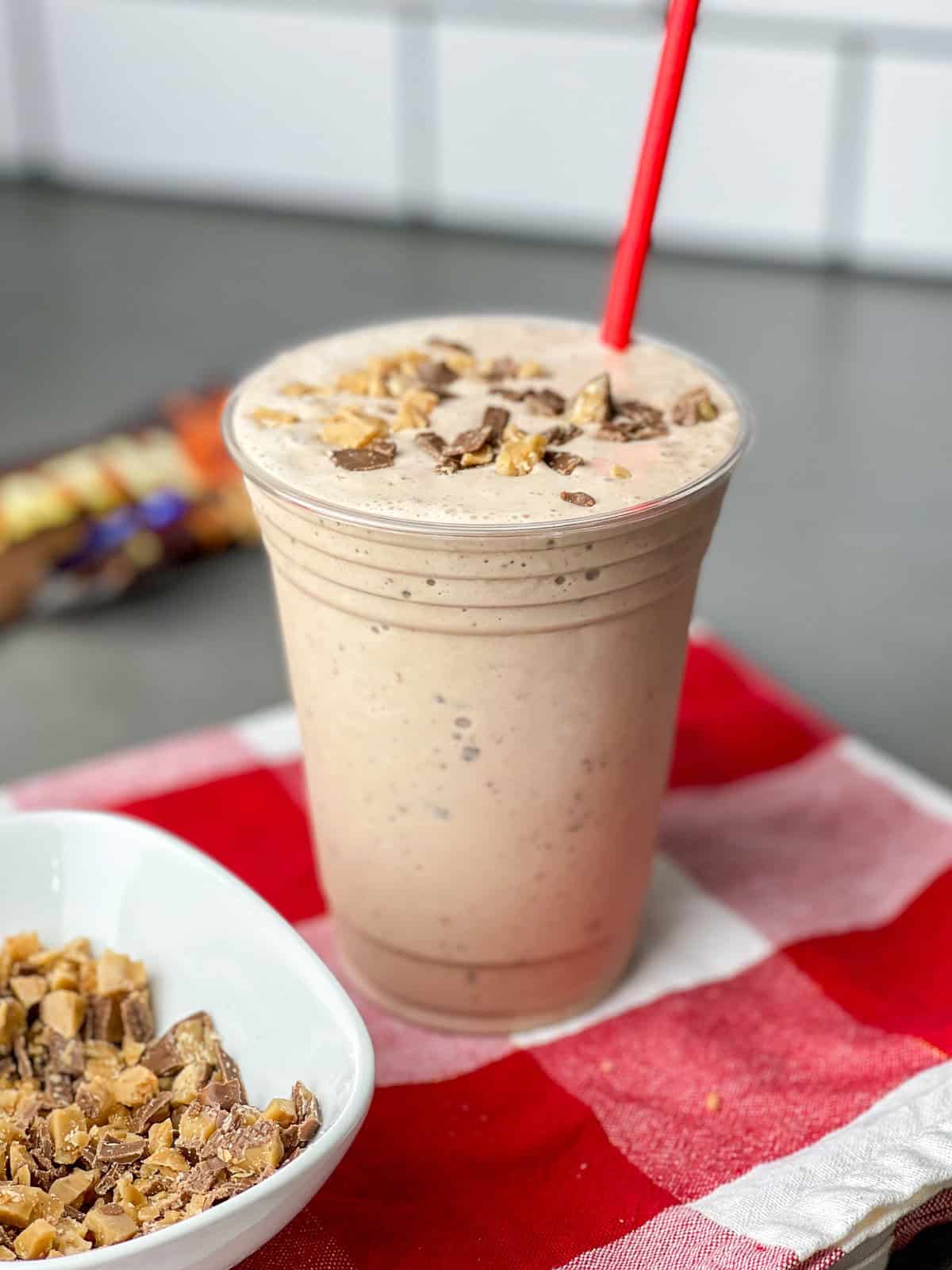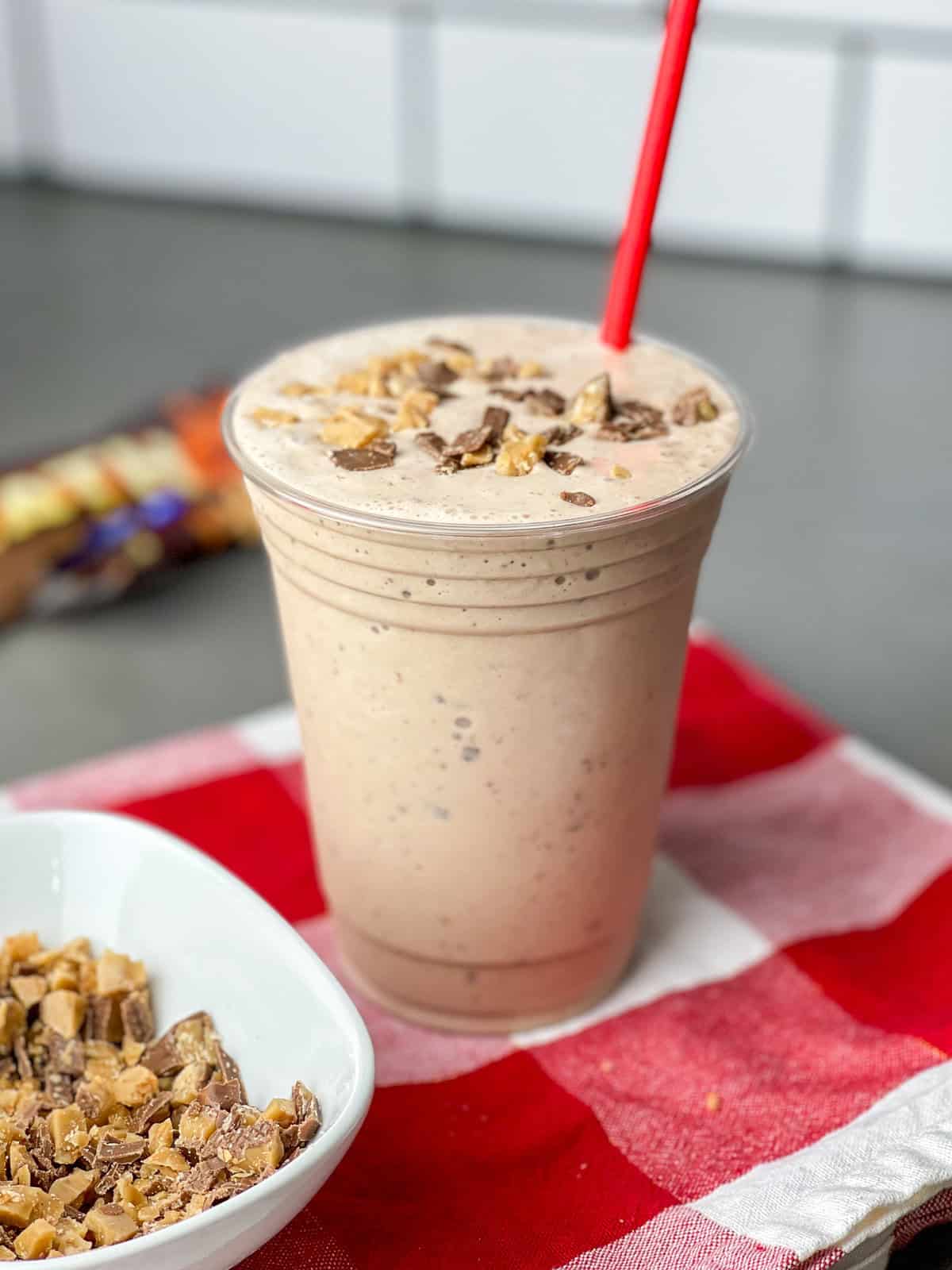 HOW TO MAKE A WENDY'S FROSTY AT HOME
There is one popular recipe for a Wendy's Frosty floating around on the internet that just annoys me! You're speaking to someone who DESPISES "whipped topping" aka Cool Whip. The trending recipe is Sweetened Condensed Milk and Cool Whip creating a Wendy's Frosty. Maybe you like this, or maybe it worked well for you, but sorry, that's just not my style. Although I realize the true Wendy's version doesn't have much more quality ingredients than Cool Whip, I believe in making copycat recipes at home to be better than their restaurant counterpart. Better tasting and better quality! Here is my version, still just four simple ingredients:
Vanilla ice cream
Nesquick powder
Malted milk powder
milk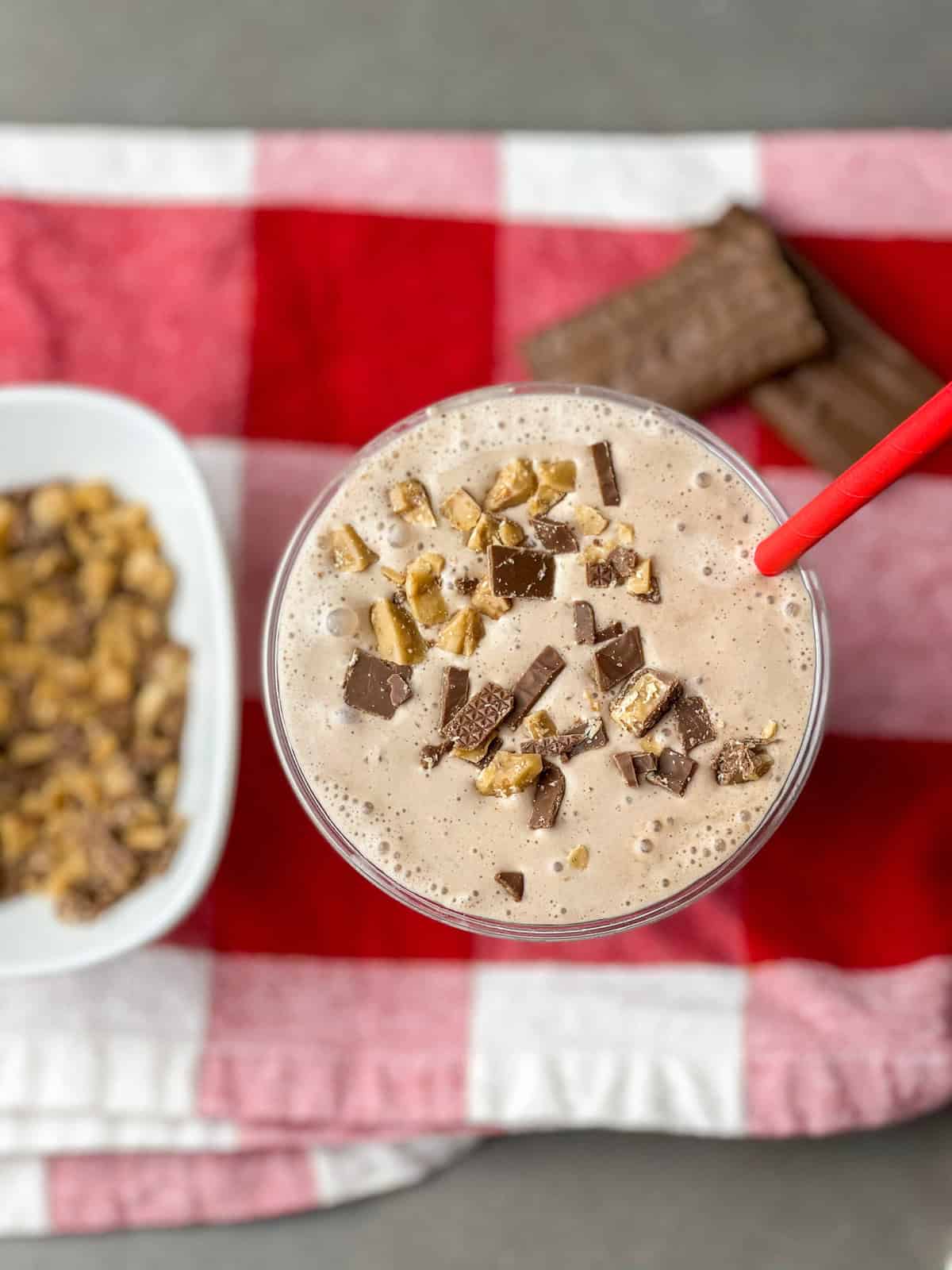 HELPFUL TIPS TO MAKE THIS WENDY'S TWISTED FROSTY COPYCAT RECIPE
Take out the ice cream a few minutes before you plan to make this to ensure the ice cream is easy to scoop into the blender.

You can easy double this recipe if you're blender is large enough to handle that liquid capacity. I like to make two at a time and freeze one batch while the other is blending.

You'd be surprised how little Frosty's you can make from a quart of ice cream. Plan accordingly if you are making these for a large family.

If you don't have malted milk powder you can skip that step and it will still taste delicious. It will just be missing that hint of nostalgia 🙂

You can adjust the thickness by adding less or more milk. I like to start with just a tad under what the recipes calls for and gradually add more. I found that's much easier than making it too thin at first and having to add more ice cream to thicken, which throws off the ratios of the other ingredients.
Looking for other delish copycat recipes?
The Travis Scott Burger Copycat Recipe
The Best Five Guys Burger Copycat Recipe
Olive Garden Chicken Alfredo Pizza Fritta Copycat Recipe
McDonald's Chicken McGriddle Copycat Recipe
KFC Chicken Littles Copycat Recipe
Popeye's Famous Chicken Sandwich Recipe
CPK Cauliflower Buffalo Bites Copycat Recipe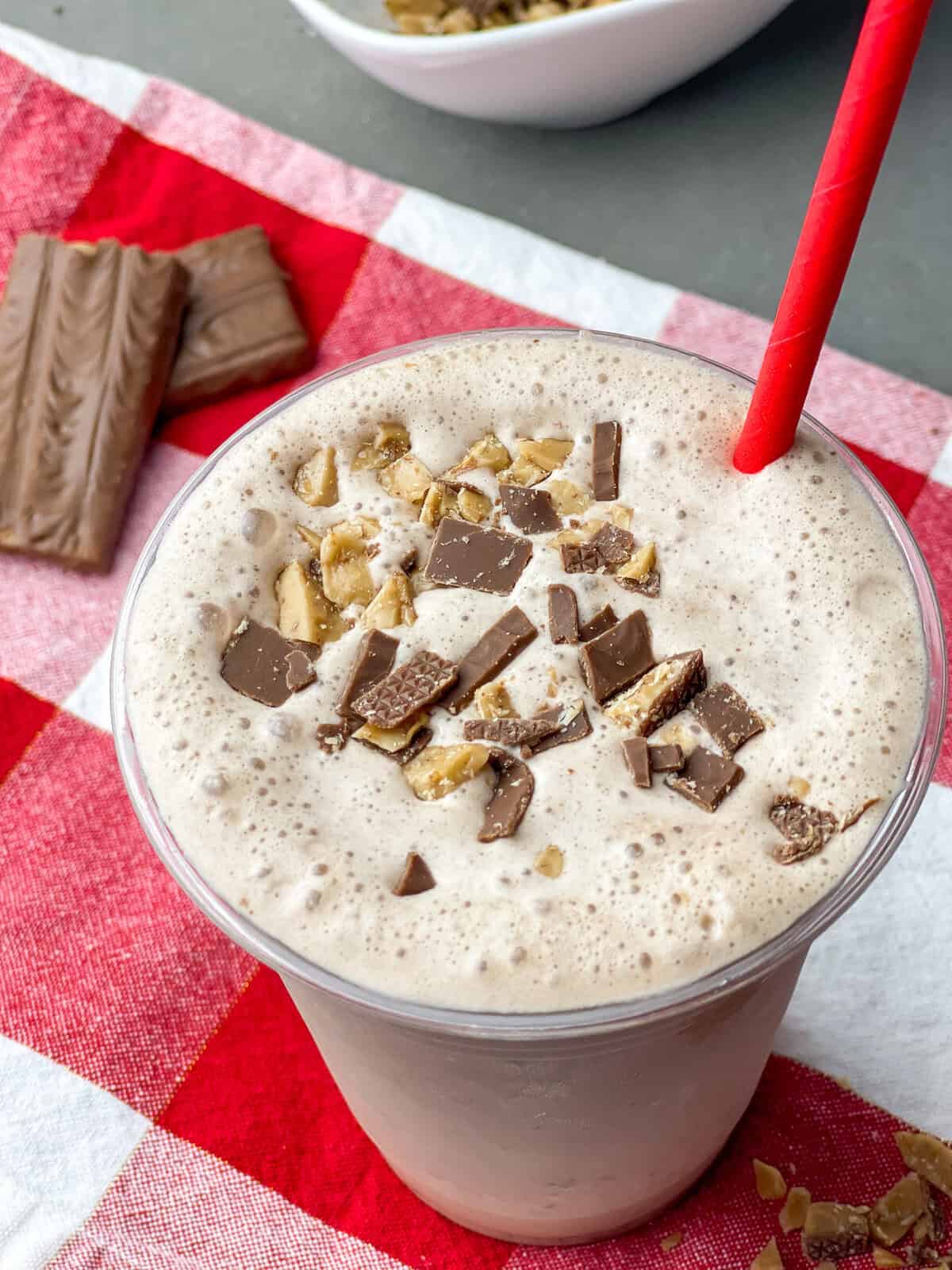 I look forward to your questions and feedback below. Please be sure to tag me @BadBatchBaking using hashtag #badbatchbaking if you made this recipe and I will feature you on my story! Plus, I LOVE to see your baking accomplishments.
Print Recipe
Wendy's Twisted Frosty Copycat Recipe
My copycat version of the famous Wendy's Frosty with mix-in's that they called the Twisted Frosty (similar to McDonald's McFlurry). These were featured on the Wendy's menu back in 2007 and super popular but sadly discontinued. For all of my fellow Twisted Frosty fans - this one is for you! In this recipe we will review all the flavors; Coffee Toffee, Chocolate Chip Cookie Dough, Oreo, and M&M.
Servings:
2
Twisted Frosty's
Ingredients
Wendy's Frosty Base
⅓

cup

Milk

2

tbs.

Nesquik Powder

chocolate flavor

2

cups

Vanilla Ice Cream

1

tbsp

malted milk powder
Twisted Frosty Mix-in's
1/3

cup

chopped Heath bar

divided

2

teaspoons

instant espresso powder
Instructions
Add all Frosty ingredients to the blender and mix until thick and smooth. Add 1/4 cup of chopped Heath bar and the 2 teaspoons instant espresso powder. Briefly blend for another 15 seconds to incorporate. Pour the Twisted Frosty's, dividing equally among two glasses. Sprinkle with remaining chopped Heath bar pieces.

Other variations of Twisted Frosty's - Oreo, Chocolate Chip Cookie Dough and M&M's. Using the recipe and instructions above, swap out the espresso and Heath bar for your preferred toppings. For the Chocolate Chip Cookie Dough, you can buy edible cookie dough and chop into small chunks.