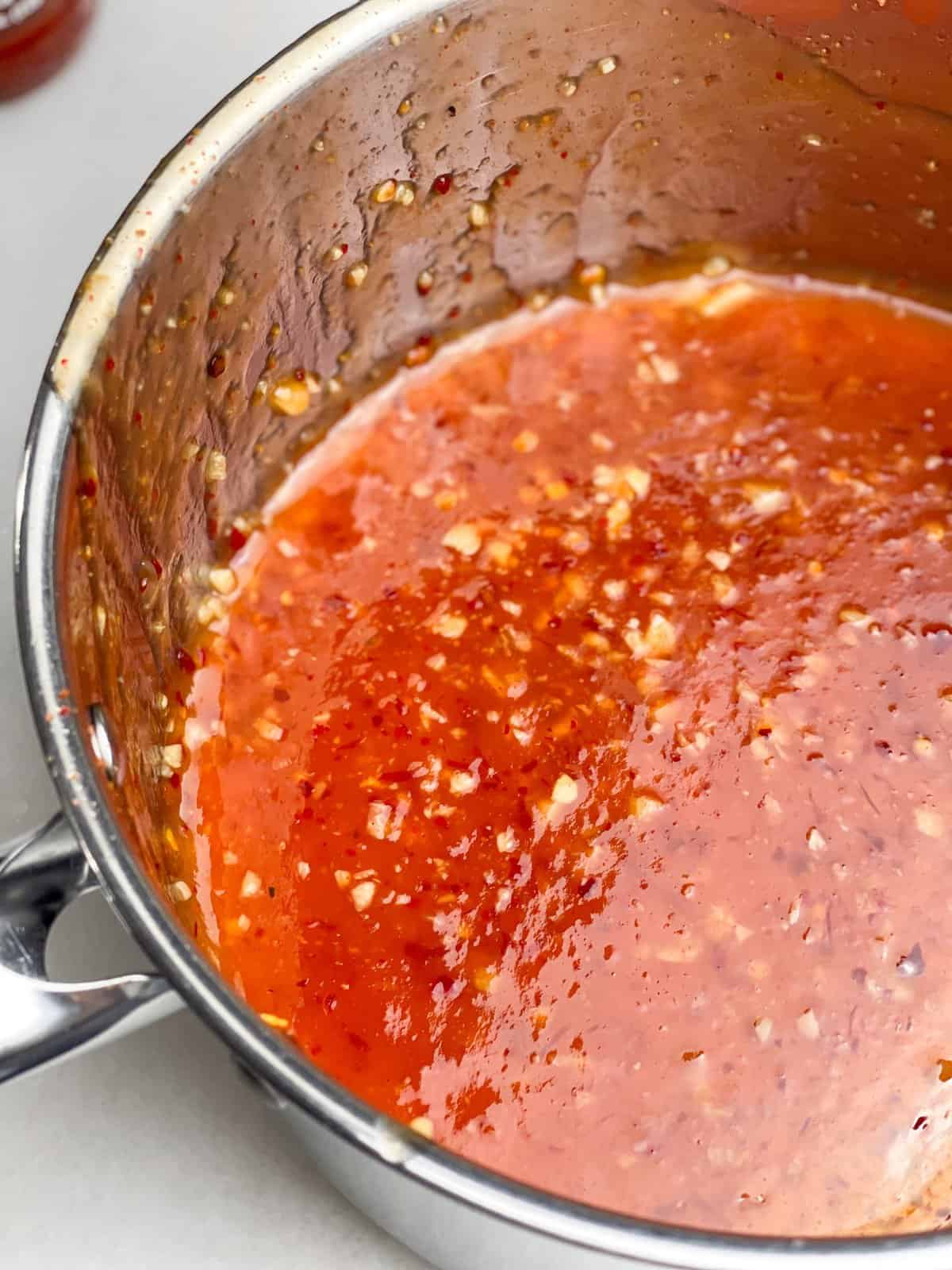 My personal favorite condiment for all things chicken – coconut chicken tenders, Popeye's style chicken tenders, or any type of chicken nuggets. Not to mention steaming hot homemade egg rolls or cream cheese ragoons. Pungently tangy, super garlicky and perfectly sweet, this is seriously the best ever sweet chili sauce recipe.

What is Sweet Chili Sauce
Sweet chili sauce is a sticky, garlicky, tangy sauce that is perfectly sweet as it is sour. You find it in a lot of Asian and Thai cuisine but it's incredibly versatile from fries to burgers and everything in between.
It always seems in the fall and winter I am making double batches of this stuff monthly. Something about football game days that bring out the chicken wings (yes, you can use this to toss chicken wings in), egg rolls, and all the dippable appetizers that we dunk into this sauce.
You may wonder why you'd bother making this sauce when you can buy bottles of it in your grocery aisle. While those are OK, they don't hold a candle to this homemade version. This sweet chili sauce is so good that you will never purchase a store-bought sauce again.
What ingredients are in sweet chili sauce?
1. Lots of garlic – this recipe calls for 10 cloves of garlic. Don't worry, it's not too much. The amount of sugar and vinegar in the sauce is very strong and the garlic will be distributed throughout the 30 ounces.
2. Sambal Oelek – fresh ground chili paste that can be found in any major grocery store in the asian foods aisle.
3. Ginger – a staple in Thai and Asian cuisine, grated fresh ginger adds a wonderfully intense flavor.
4. Rice Vinegar – a crisp, slightly sweet and deliciously pungent vinegar that adds the perfect tang to this sweet spicy sauce.

How to make the BEST ever sweet chili sauce?
This is an easy one-pan recipe that makes 30 ounces of sauce that you can store in your fridge for three months. The only effort in this recipe is grating the ginger and mincing all of the garlic. Yes, it's a lot of garlic, but it's worth every single clove 🙂
You'll start by adding most all of the ingredients (except the sambal oelek and cornstarch slurry) to a saucepan and bring to a low boil until it begins to thicken. Finish it off by adding the sambal oelek and the cornstarch slurry to thicken the sauce.
The sauce continues to thicken as it cools. You can store it in mason jars with air-tight lids for several months.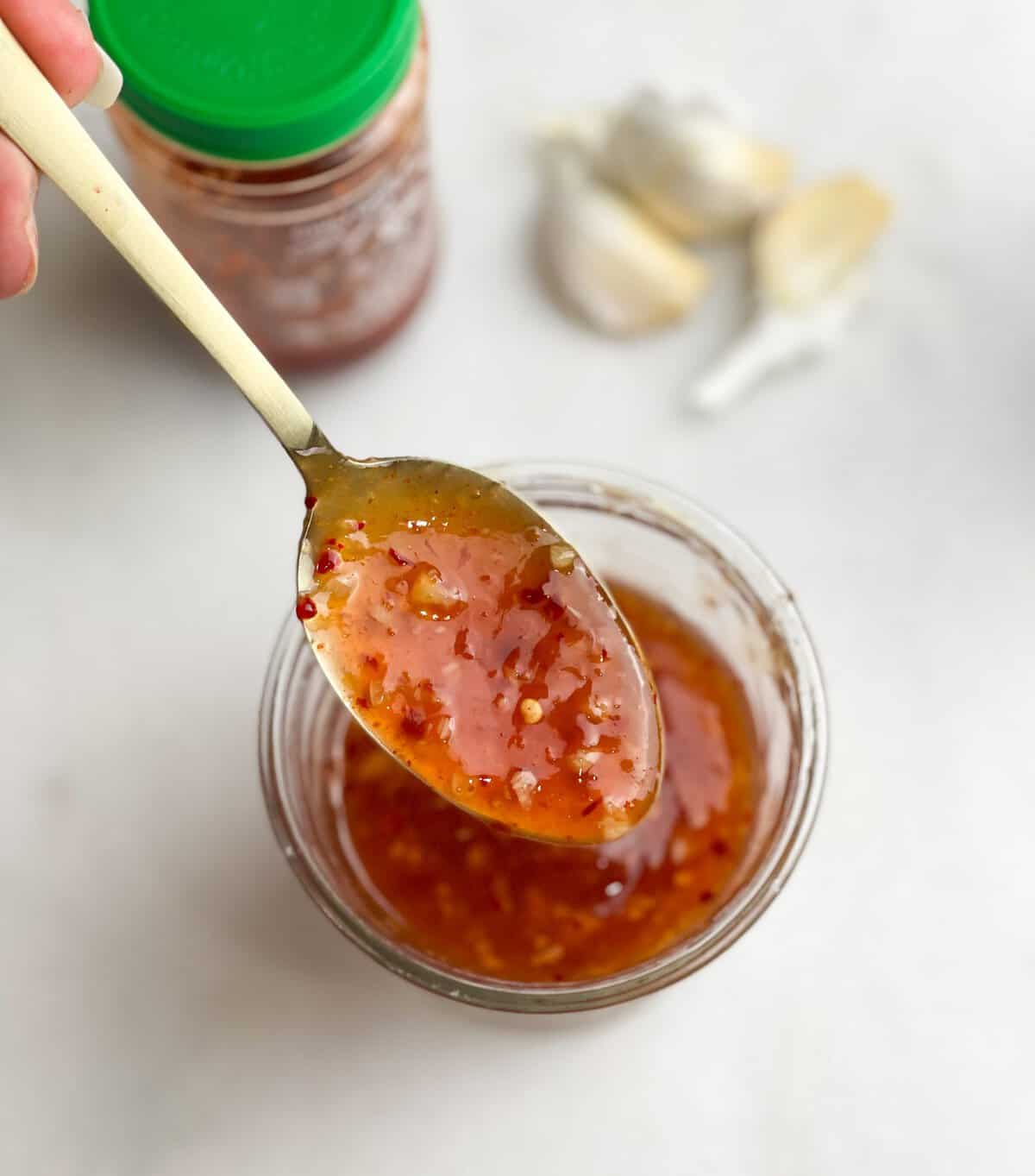 I truly hope you enjoy this best ever sweet chili sauce. Feel free to comment below with any questions or feedback, I monitor my comments regularly. If you make these or any other recipes, be sure to tag me on IG @BadBatchBaking and use #BadBatchBaking to be featured on my story. Seeing your results makes my day!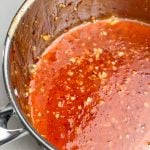 Print Recipe
The Best Ever Sweet Chili Sauce
A sweet and tangy garlic-centric condiment with a kick of spice, this sweet chili sauce is truly the best you'll ever try!
Equipment
Glass jars with air-tight lids
Ingredients
1

cup

rice vinegar

unseasoned

1.5

cups

water

1

cup + 4 tbsp

sugar

10

garlic cloves chopped finely

1

teaspoon

grated ginger

2

tbsp

lite soy sauce

2

teaspoons

red pepper flakes

more or less to your heat preference

4

tablespoons

sambal oelek

2

tablespoons

cornstarch + 3 tablespoons water
Instructions
Add the vinegar, water, sugar, garlic cloves, ginger, soy sauce, and red chili peppers in to a medium pot. Heat to medium heat, stirring to dissolve sugar.

Increase the heat to medium-high and bring it to a low boil for two minutes. Then reduce heat to medium low and let it simmer and add the sambal oelek and mix through. Let it cook for a few minutes until it's slightly thickened (2- 5 minutes).

Mix the cornstarch and water together into a smooth slurry and add this to the sauce as well. While stirring frequently (to prevent the sauce from burning at the bottom), simmer the sauce for a further 2 – 5 minutes or until it reaches a desired thickness. Remember, the sauce thickens as it cools as well.

Pour into glass jars with air-tight lids. Cool to room temperature and store in the fridge.