When you find a perfect recipe you just have to share it! This is one of those crowd-favorites, one that will be requested constantly, in rotation in your household, friends will ask you for the recipe, etc. You just know when you make the "one". Tangy White Chicken Enchiladas are perfectly seasoned tender shredded chicken, layers of melty gooey Monterey jack cheese, bundled up in flour tortillas and smothered in a rich and tangy sour cream-lime sauce. These are so good you will be burning your mouth trying to take another bite before they cool off. 
WHAT I LOVE ABOUT THIS RECIPE
These tangy white chicken enchiladas are a perfect balance of everything we all love!
Smothered in a scratch-made rich homemade sauce with a kick of tangy lime
You can whip these up in less than 30 minutes
Crowd pleaser! Everyone will adore these –Some people don't like red sauce enchiladas, some people don't like verde enchiladas – but everyone loves white creamy enchiladas.
Easy to pair – serve with a variety of sides like a southwest salad, black/pinto/refried beans, rice, chips and salsa, and of course it goes great with margs!
WHAT ARE WHITE CHICKEN ENCHILADAS?
In one word, HEAVEN! White enchiladas are in a class of their own.  The sauce is loaded with green chilis, sour cream, lime juice and is smothered over the top of the rolled tortillas. These enchiladas are layered with cheese, from the handful of cheese stuffed inside each enchilada, to the extra cheese piled on top of the sauce. These are baked until deliciously bubbly and golden brown on top. The green onion gives it a fresh, crisp light oniony kick to each bite. Tangy white chicken enchiladas will be your next family favorite recipe and everyone will be fighting over who gets the leftovers. 
HOW TO MAKE TANGY WHITE CHICKEN ENCHILADAS:
Start by seasoning your chicken – with just some sea salt, pepper, and adobo seasoning. If you don't have adobo on-hand, you can use a good sprinkle of paprika, cumin, garlic powder, onion powder, and chili powder. 
Roll your enchiladas – place a good sized scoop (about 1/4 cup) of chicken into the center of each tortilla, top with a sprinkling of cheese (about 2 tablespoons) and roll them up and place them into your baking dish.
Smother in sauce – whip up the 5 minute sauce with just a few ingredients: butter, flour, chicken stock/broth, green chilis, sour cream, and fresh lime juice. Pour over the pan of rolled tortillas and smooth out to evenly cover.
Bake and broil – at 350 degrees, bake these enchiladas for 25 minutes. Turn the oven to broil and leave them in the oven for another ~2 minutes or until the cheese on top starts to bubble up and lightly brown.
LOOKING FOR OTHER FAMILY FAVORITE RECIPES?
The best Five Guys burger copycat recipe
Olive Garden Chicken Alfredo Pizza Fritta Copycat Recipe
Better Than Olive Garden Chicken Scampi
Crispy Honey Chicken PF Changs Copycat Recipe
McDonald's Chicken McGriddle Copycat Recipe
KFC Chicken Littles Copycat Recipe
Cheesecake Factory Southern Fried Chicken Sliders Copycat Recipe
THE TOOLS I USED:
9X13 Baking Dish
Parchment Paper
La Tortilla Factory Flour Tortillas (they freeze well!)
The BEST Tortilla Chips Ever Made:
I look forward to your questions and feedback. Please be sure to tag me @BadBatchBaking using hashtag #badbatchbaking if you made this recipe and I will feature you on my story! Plus, I LOVE to see your baking accomplishments!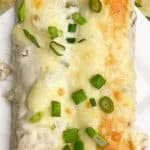 Print Recipe
Tangy White Chicken Enchiladas
Creamy enchiladas with a kick of tangy lime, stuffed full of perfectly seasoned chicken and tons of gooey Monterey jack cheese. You will be fighting over who gets the last serving.
Ingredients
2.5

cups

shredded cooked chicken

(rotisserie is easy)

2

teaspoons

adobo seasoning

8-10

flour tortillas

taco sized not burrito

2.5

cups

shredded Monterey Jack cheese

or mozzarella

4

tablespoons

salted butter

3

tablespoons

flour

2

cups

chicken stock

1

cup

sour cream

1

lime, juiced

(plus wedges for serving)

1

4 ounce can

diced green chilis

salt & pepper

3

green onions

sliced (green and white parts)
Instructions
Prep + Roll Enchiladas
Preheat oven to 350F degrees. Grease a baking dish with butter or nonstick cooking spray.

In a medium-sized bowl or zip top bag, add shredded chicken and season with salt, pepper and Adobo seasoning and mix to evenly coat. Add the shredded cheese in a separate bowl or zip top bag.

Put about 1/4 cup of chicken onto each tortilla, top chicken with 3 tablespoons of shredded cheese. Roll the tortilla up and place seam-side down into the prepared baking dish. Nestle each one side by side. Cover the baking dish with a dish towel while you prepare the sauce.
Make Sauce + Bake
In a sauce pan, melt butter over medium low heat. Whisk in flour and let cook and thicken while continuing to whisk, being sure not to let it burn. Add chicken stock slowly while whisking until smooth. Remove from heat.

Stir in the can of green chilis, lime juice, and sour cream until smooth. Pour over the enchiladas making sure to evenly spread it to cover all areas. Top with remaining shredded cheese.

Bake for about 25 minutes. Set the over to broil, then broil for 2 minutes to get the top of the cheese toasty and bubbly.

Remove from oven, top with diced green onions and serve with wedges of lime. I like to let me enchiladas set for 20 minutes before serving so they are easier to cut.