These cookies are what the holidays are made for. Soft pumpkin pillowy dreams that just melt in your mouth and the bourbon just warms your body! Fall is in the air and I have been craving some delicious pumpkin recipes to officially kick off the best season of the year. There aren't many things that are better than this holiday season… being cozy indoors, excusably wearing comfortable clothes that hide all the flaws, being with family, more time off from work… from now until new years, it's nothing but joy!
Seriously, my weekends the past three weeks have consisted of:
1) Cleaning my house early in the morning with the windows open with crisp cool breeze
2) Burning my NEST pumpkin scented candles
3) Going to Barnes & Noble, sitting in the cafe with a coffee, researching recipes in cookbooks and magazines, and listening to classical music on my headphones.
….. this combination is seriously what life is all about!!! Seriously, this B&N trip is the best thing to do ever.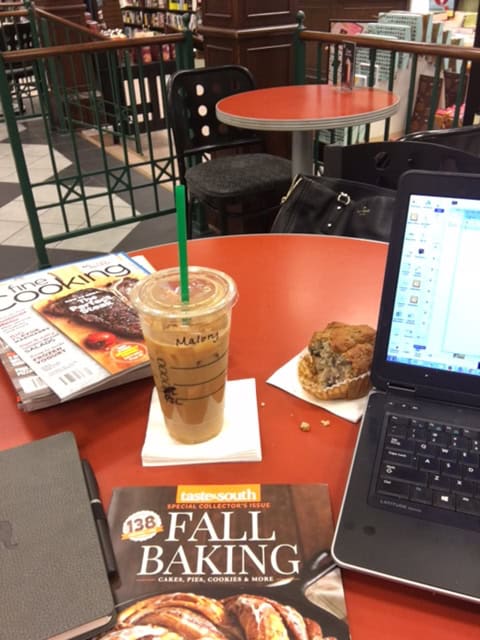 The actual cookie was introduced to me by my mom last year. The only issue I had was that they spread a little too much and were a bit too cakey. So this time I reduced a bit of the liquid that resides in the pumpkin puree, and now they are a perfect fluffy, soft cookie. The perfect texture to turn them into whoopie pies!
As you can see, this cream filling and cookies are the perfect texture so that they don't spill and drip out of the sides when you bite into it.
Since bourbon pairs so well with pumpkin, I experimented with adding this to the creamy center. Absolutely phenomenal! These will get you into the fall spirit instantly. The hole house smelled like baked goods + pumpkin spices.
I froze a bit of the dough so that I can make these again and experiment with different flavors of filling. You can also skip the whoopie pie part , leave them as singular cookies and make a delicious brown butter frosting (like the original recipe calls for). These cookies are seriously such a perfect canvas for so many delicious variations!
Pumpkin Spice Whoopie Pies with Bourbon Cream
Print recipe
| | |
| --- | --- |
| Serves | 30 |
| Prep time | 40 minutes |
| Cook time | 12 minutes |
| Total time | 52 minutes |
| Meal type | Dessert |
Ingredients
Pumpkin Spice Cookies
1 1/3 cup Granulated sugar
1 1/3 cup Dark brown Sugar
3 sticks Butter, softened
2 teaspoons Vanilla extract
1 cup Pure pumpkin puree, liquid strained (not pumpkin pie mix)
4 Eggs
4 1/2 cups All-purpose flour
2 teaspoons Baking soda
1 teaspoon cinnamon
1 tablespoon Pumpkin pie spice
1 teaspoon Salt
1 tablespoon Reserved pumpkin liquid
Finishing salt
Bourbon Cream
2 1/2 sticks Butter, softened
1 1/2 cup Marshmallow fluff
4 cups Powdered sugar
2 tablespoons Bourbon whiskey (decent brand or better)
2 teaspoons Pumpkin pie spice
1-2 tablespoon Milk or cream
Directions
Pumpkin Spice Cookies
Heat oven to 375°F.

Strain the pumpkin puree in cheesecloth or paper towels to remove the excess liquid (you should be able to remove near 1/4 cup or more liquid). Reserve some of the liquid.
In a bowl, combine flour, baking soda, spices and salt. Set aside.

In large bowl, beat granulated sugar, brown sugar, 3/4 cup butter and 1 teaspoon vanilla with electric mixer on medium speed, scraping bowl occasionally, until well blended.

Beat in pumpkin and eggs until well mixed. On low speed, beat in flour mixture and mix until combine, being careful to not over-mix.
On a parchment lined cookie sheets, drop dough by evenly leveled tablespoons (mini ice cream scoop recommended)
Bake 10 to 12 minutes or until almost no indentation remains when touched in center. Immediately remove, sprinkle lightly with a touch of finishing salt. Remove from cookie sheets to cooling rack. Cool completely, about 30 minutes
Bourbon Cream
While the cookies are cooling, prepare the cream filling. In a mixing bowl, cream the butter until light and fluffy.

Sift together the powdered sugar and the pumpkin pie spice. Add half of the mixture to the butter. Add one tablespoon of the milk and continue to mix together. While mixing, add the marshmallow fluff and cream together .

Add the remaining powdered sugar and the bourbon. Add more bourbon or spice to taste. Mix well until smooth. Texture should be thick and creamy to prevent dripping out of cookie
Assemble Pies
Put the bourbon cream into a prepared piping bag with preferred tip. Pipe filling on flat sides of half of cookies and top with remaining cakes.