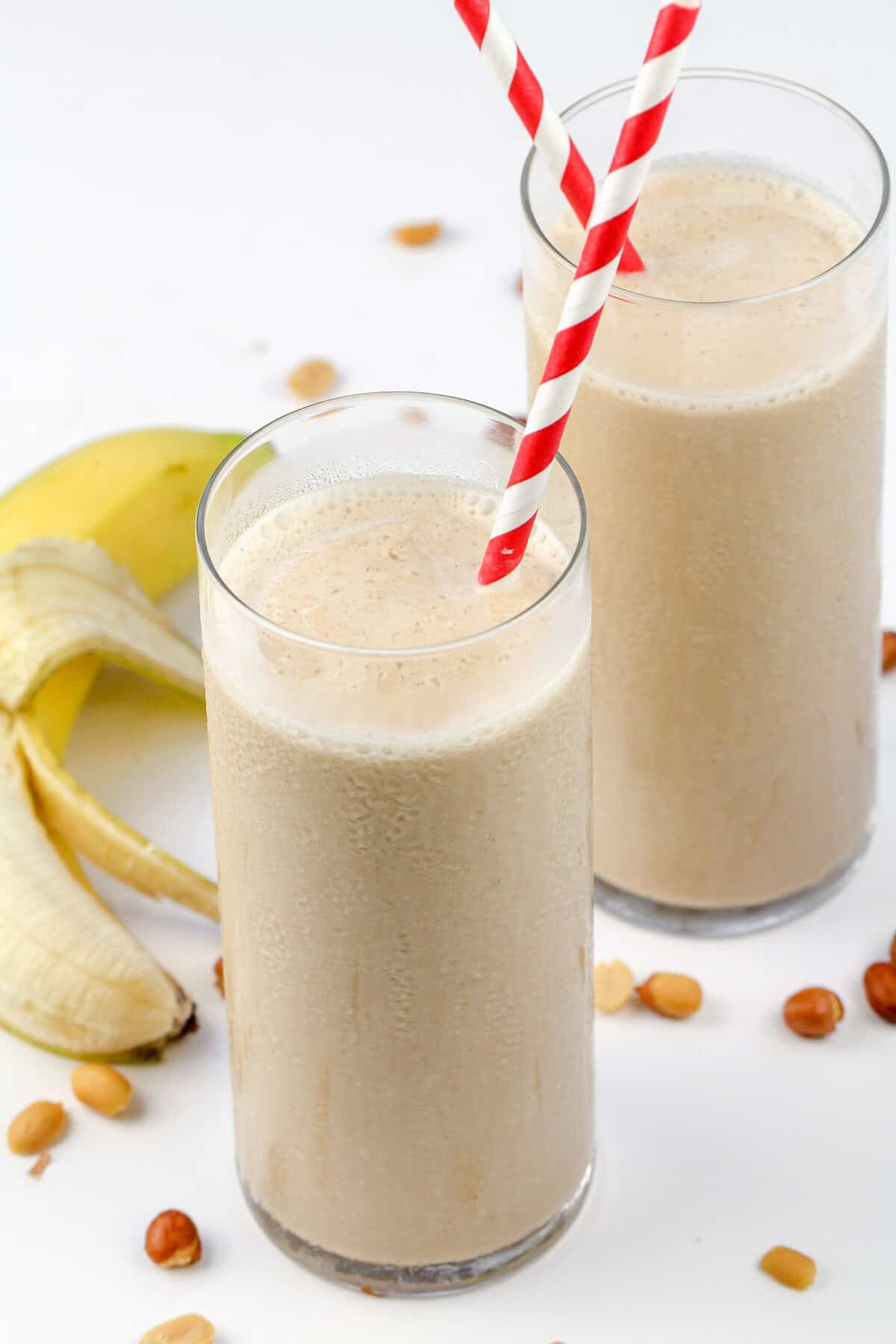 My Peanut Paradise smoothie recipe is finally ready and I am so happy to add this to my growing collection of Tropical Smoothie recipes. I think this is the third one I've posted so far, can you tell I am addicted to their smoothies? I am a huge fan of TS but, I am a bigger fan of learning how to make something at home to save us time and money,  am I right? After a bunch of requests for this smoothie recipe, I knew I had to give it a try. Especially since I am a huge peanut butter and banana lover. And, better yet, I will show you how to make yours for WAY less than 700 calories. What's your favorite Tropical Smoothie recipe? Let me know in the comments if you have a fan favorite you would like to make at home!
What is in the Peanut Paradise Tropical Smoothie?
The Peanut Paradise smoothie from Tropical Smoothie is extremely delicious but it's the simplest smoothie and after looking at the ingredients, you'll wonder why you are forking over $7 each time you buy want. The Peanut Paradise smoothie can be easy made at home!  Here are the ingredients you will need:
Almond Milk

– Tropical Smoothie uses filtered water for most of their smoothies, which I am sure this is a money saving technique. Subbing water for almond milk (or any milk of your choice) will create a richer, creamier smoothie. But feel free to use filtered water if you prefer to save calories.


Non-Fat Yogurt

– I use non-fat greek yogurt because I prefer the tanginess but you can use regular vanilla non-yogurt if you prefer that over greek yogurt.


Natural Peanut Butter

– a few spoonfuls of peanut butter go a long way to adding the perfect amount of peanut buttery saltiness to this smoothie. I always opt for natural peanut butter as it has less filler ingredients than the emulsified kind.

Banana –

one whole banana adds creaminess and previously freezing the bananas will also add to the icy milkshake texture of this smoothie.




Ice Cubes

– these are necessary to ensure the frozen texture. I opt for crushed ice to give my blender a head start, but any ice cubes suffice. Just give it an extra spin if the ice texture is too chunky.


Sweetener

–

Tropical Smoothie uses turbinado sugar. I recommend honey or an alternative sweetener if you don't want to add sugar to your drink. Honestly, the bananas add enough sweetness for me so I rarely feel the need to add any sweetness.

Optional

– Protein Powder of your choice if you want to add this.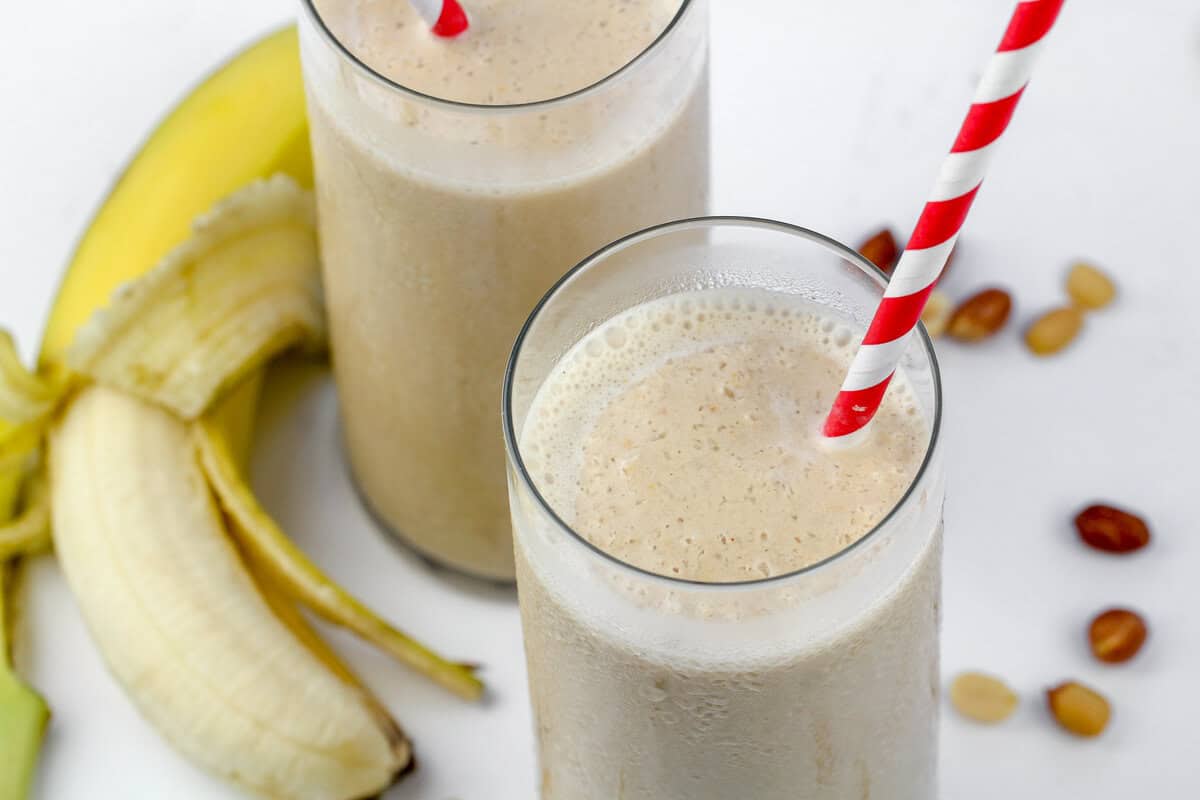 My favorite brands for this Peanut Paradise Smoothie Recipe:
PB2 Peanut Protein Powder – this is my absolute FAVORITE protein. It's vegan, derives from peanuts. Not only does it taste like a dream, it really adds to the peanut butter flavor in this smoothie!
SweetLeaf Sweet Drops in Vanilla Creme – if I am going to use an alternative sweetener, this one tastes less *weird*. Just a few drops blend right in and add enough sweetness without overpowering your smoothie with that icky artificial taste.
Santa Cruz Dark Roasted Crunchy Natural Peanut Butter – you had me at dark roasted! This peanut butter has intense peanut butter flavor and it's my favorite go-to for smoothies.

Looking for more Tropical Smoothie Recipes? Check these out:
Tropical Smoothie Kiwi Quencher Copycat Recipe
Chia Banana Boost (Max) Tropical Smoothie Copycat Recipe
Have any Tropical Smoothie copycat recipe request? Let me know in the comments below.
I look forward to your questions and feedback. Please be sure to tag me @BadBatchBaking using hashtag #badbatchbaking if you made this recipe and I will feature you on my story! Plus, I LOVE to see your baking accomplishments!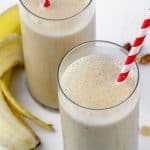 Print Recipe
Peanut Paradise Tropical Smoothie Copycat Recipe
Peanut butter and bananas are the star of this refreshing and healthy smoothie! Make this Tropical Smoothie copycat recipe at home today to save time and money!
Ingredients
1

cup

almond milk

or milk of your choice (dairy, oat, etc.)

3/4

cup

non-fat yogurt

I use greek yogurt but you can use regular yogurt as well.

1

whole

banana, preferably frozen in chunks

*see notes

2

tablespoons

natural crunchy peanut butter

2

tsp

honey or turbinado sugar

or use a sugar replacement of your choice

1

scoop

protein powder

1

cup

crushed ice
Instructions
Place the ingredients into the blender starting with the milk and working down the list ending with ice. Blend on high until smooth.

If your bananas are room temp, you may need a little more ice to build up the smoothie texture. Adjust as needed to get the desired thickness.
Notes
Tropical Smoothie uses 2 bananas in this smoothie (and a bunch of turbinado sugar), hence the 700 calories. I have found that using a milk instead of water (like they use) helps make up for some of the creaminess lost by only using 1 banana.

I keep a bunch of bananas in my freezer at all times and I recommend this if you make smoothies frequently. I peel them, break each banana into 4 equal sized pieces and pile them into a gallon zip top bag and keep in the freezer. If they get a little stuck together when you go to use them, just give the bag a whack on the counter to break them up.