Dark, rich chocolate glaze covers the super fluffy sour cream doughnut, filled with sweet and tart Bordeaux (bing) cherry sauce.
Oh what a surprise, the Royal Harvest Bordeaux cherries are highlighted in another one of my recipes! LOL As you know, in the spirit of Valentine's Day, these cherries have been my flavor of the month! I am sooo obsessed with them that I try to add them to every recipe. Hmm… which makes me think next to come may be Bordeaux cherry pancakes… are ya with me?
Forewarning, this is about to be a long blog post 🙂 I want to tell you a really cool story about the company that created these gems – this company seriously deserves a shout out – and also I need to vent about the hours and hours I spent to take these pictures ♥
My dad introduced me to these jarred cherries about a year ago (that I later learned were created for Whole Foods when they requested a maraschino cherry that didn't have any preservatives or artificial flavors). You can find them at any Whole Foods across the country or you can buy them on amazon in various sizes. When he introduced them to me, I didn't even think about how I would use them other than for perhaps some fun drinks. It wasn't until recently that I really explored their potential.
I come from a family of food snobs that are better self-taught chefs than you'd find in most high end restaurants. When they tell me about a good ingredient – I know it has to be stellar, and these are no exception.
My dad is creating a specialty cocktail for my wedding and it includes these cherries and the juice. Since they are pricey, I figured I would reach out to the company to see if they have a larger size and if they sold the juice separately in a large container for this special occasion.
I was contacted back by the Foodservice Manager and after talking for a bit (such an awesome guy!!!) and learning more about their cool company (Oregon Cherry – a co-op owned by local farmers) he offered to send me whatever quantity I needed of the cherries/ juice as a wedding gift…. MIND = BLOWN!
I seriously can't remember the last time I have ever received this level of service and connection from a company to their customers. It was such a touching story, it's one I will share FOREVER about these cherries. It just reinforced how much I love this product. And since then, my true quest to discover these cherry's potential was born!
As you will notice, these pictures are completely better than all of my previous posts. I had the worst camera lens (just the stock lens that comes with the Canon Rebel T5i – which is basically a kids toy). I take full responsibility for just jumping in the deep end with my food photos and new camera, with zero knowledge of the basics of my camera and lens, aperture, shutter…. no comprende for me! I just move dials around until it looks good in the little window screen thingy. Huge mistake.
My lack of knowledge has been majorly holding me back from capturing my food in it's truest, most beautiful form. And what I came to realize, and told my fiance this past weekend, without good pictures, I am nothing more than a good baker. I can't begin to think I will have a super successful blog without investing the time and money to take REALLY appetizing photos of my food. I have to be honest, we don't have the best set-up. I crammed my "photo station" beside our bed in our apartment. And every time I try to take pictures I knock things over, stub my toe, and honestly just want to scream! I freaking despise trying to be functional in complete dysfunction. I am not the most patient person lol. Oh, bless my fiance! He is always talking me off the edge lol.
So, for Christmas be bought me an 85mm lens. It's quality makes me uncomfortable. It's just so heavy and "serious". I didn't think I was ready. But after lots of studying this weekend and hours and hours of shooting (some very frustrating hours – why did I choose a glossy chocolate reflective doughnut for my first subject? Hindsight, smh!) we finally got some pretty awesome shots! I may look back on these in six months and scoff at myself, but for now, I am super proud that I overcame the challenge of learning something completely new and actually being pretty successful putting all that learning into action.
Bordeaux Cherry Filled Doughnuts with Dark Chocolate Glaze
Print recipe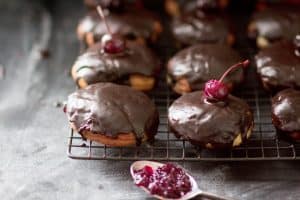 Ingredients
Sour Cream Doughnuts
3 1/2 cups all-purpose flour
1 packet Active dry yeast (2 1/4 teaspoons)
2 tablespoons granulated sugar
2/3 cups milk, lukewarm
5 tablespoons butter, melted
1 cup sour cream
1 egg
pinch of salt
oil for frying (enough to cover 2-3 inches in a pot)
Bordeaux Cherry Filling
1 cup Bordeaux cherries, chopped finely
1/4 cup Bordeaux cherry juice
2/3 cups sugar
1/3 cup water
1/2 teaspoon almond extract
2 teaspoons vanilla extract
1 lemon, juiced
2 teaspoons corn starch (dissolved in a tablespoon of water first)
Chocolate Glaze
1 1/2 cup powdered sugar
4 tablespoons cocoa powder (dark cocoa preferred)
2 tablespoons milk
2 teaspoons vanilla extract
Directions
Doughnuts
In a bowl, add yeast, milk and sugar and mix together until dissolved. Allow to sit for 15 minutes.
In a stand mixer with a paddle attachment, add the flour and salt and mix together to combine. Add the yeast mixture, egg, sour cream and butter. Mix together until well combined, being careful not to over-mix.

Place the dough in a large bowl sprayed with nonstick cooking spray and cover with a towel or plastic wrap. Let it rest (in a warm area preferred) until it doubles in size, about 2 hours. **Use this time to prepare the glaze and filling**
Heat oil over medium heat in pot.

Roll out the dough on a floured surface, to about 1/4 inch thick. Use a 2" circle cutter and cut out the doughnuts. When oil is ready, place 2-3 doughnuts in the hot oil at a time, flipping them after about 30 seconds. When done, place on a wire cooling rack with paper towels set underneath to absorb any oil drippings.

To assemble the donuts, carefully slit the side of each doughnut and insert the piping bag tip and squeeze about 1 tablespoon of filling into each doughnut.
Bordeaux Cherry Filling
In a saucepan, combine the Bordeaux cherries, Bordeaux cherry juice, water, sugar, extracts and lemon juice. Allow it to come to a boil and keep on medium low for 15-20 minutes. Whisking every few minutes. When the liquid is mostly boiled out, add the corn starch and whisk. Remove the thickened jam and allow to cool then place in a piping bag with a round tip.
Chocolate Glaze
In a medium bowl, place all chocolate glaze ingredients together and whisk until smooth. Add a tad more milk or powdered sugar as needed to get it to the right texture.