I'm not sure what stands out more, this pretty purple smoothie or those gorgeous flowers. I bought these flowers at this cute little local market in Atlanta, Floral Park Market. The sweetest family runs this market and their flowers are super "gardeny" (as I like to call it) and unique.
Today I am sharing a very simple recipe for one of my favorite smoothies that I was introduced to at my local Whole Foods Market. I am not sure if they make this flavor at all locations, but it's so wonderful that I had to share it with you. The associate at their juice and smoothie counter showed me how they made this and I still make this smoothie at home today two years later.
Granted, a smoothie isn't exactly a "recipe" per say, but measurements are important to get just the right silky-creamy texture (a ratio of more frozen fruit than ice) rather than an icy, watered down, bland mess (too much ice was added).
Quick Tips for the Perfect Smoothie Texture:
Frozen fruit is very important in a recipe rather than regular fruit because it requires a lot more ice to get your smoothie to the proper temperature and texture.
As soon as I get home from the store, I cut up my fruit and put them into ziplock bags in the freezer. These act as ice in your smoothie without having to water down your drink with a bunch of ice. If you've ever had your smoothie taste like lots of tiny ice crystals (think those pre-made frozen cappuccino machines at a gas station) this was the culprit.
I haven't found any other product that can compare to the frozen Wyman's Wild Blueberries. They are so blueberry-y. I just bought lots of beautifully plump fresh blueberries from the market and froze them, but to my dismay, I blended them and it tasted like nothingness. I won't venture away from these again!
---
BTW – here was my little smoothie teaser that I put on TikTok. I don't use it often enough but when I do make them it's lots of fun!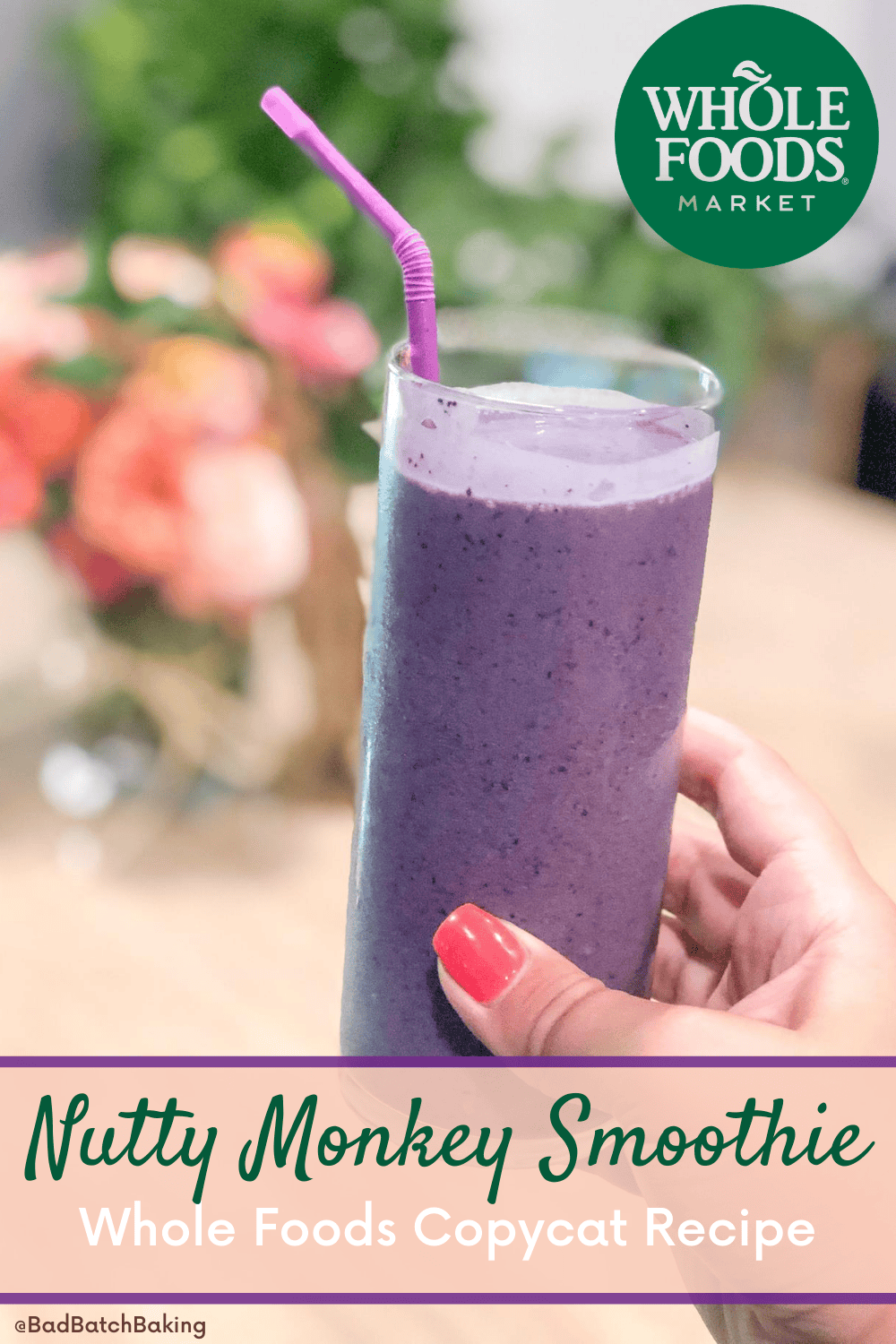 Print
Whole Foods Nutty Monkey Smoothie
---
Description
Bananas, almond butter and blueberries pair perfectly to create this delicious and fulfilling smoothie. It's fruity without being too sweet with lots of nuttiness!
---
1 cup almond milk, unsweetened vanilla


3/4 cup

frozen blueberries (Whole Foods uses frozen Wyman's Wild Blueberries)

1 cup

frozen banana chunks

1

–

2

tablespoons natural almond butter
Optional: Vanilla protein powder and/or Collagen Peptides
Optional: 1/2 cup crushed ice
---
Instructions
In a blender, add all of the ingredients in the order they are listed (starting with the almond milk and ending with the ice).

Blend on high to ensure the ingredients are smooth and fully combined. I usually do two passes on my Ninja "Smoothie" setting.
Notes
I usually keep ziplock bags full of frozen banana pieces in my freezer at all times. As soon as I get the bananas home from the store, I break or cut them into 1-2 inch pieces and through them into a baggy. This way they are always ready to go! If they get stuck together, just give the bag a good whack.