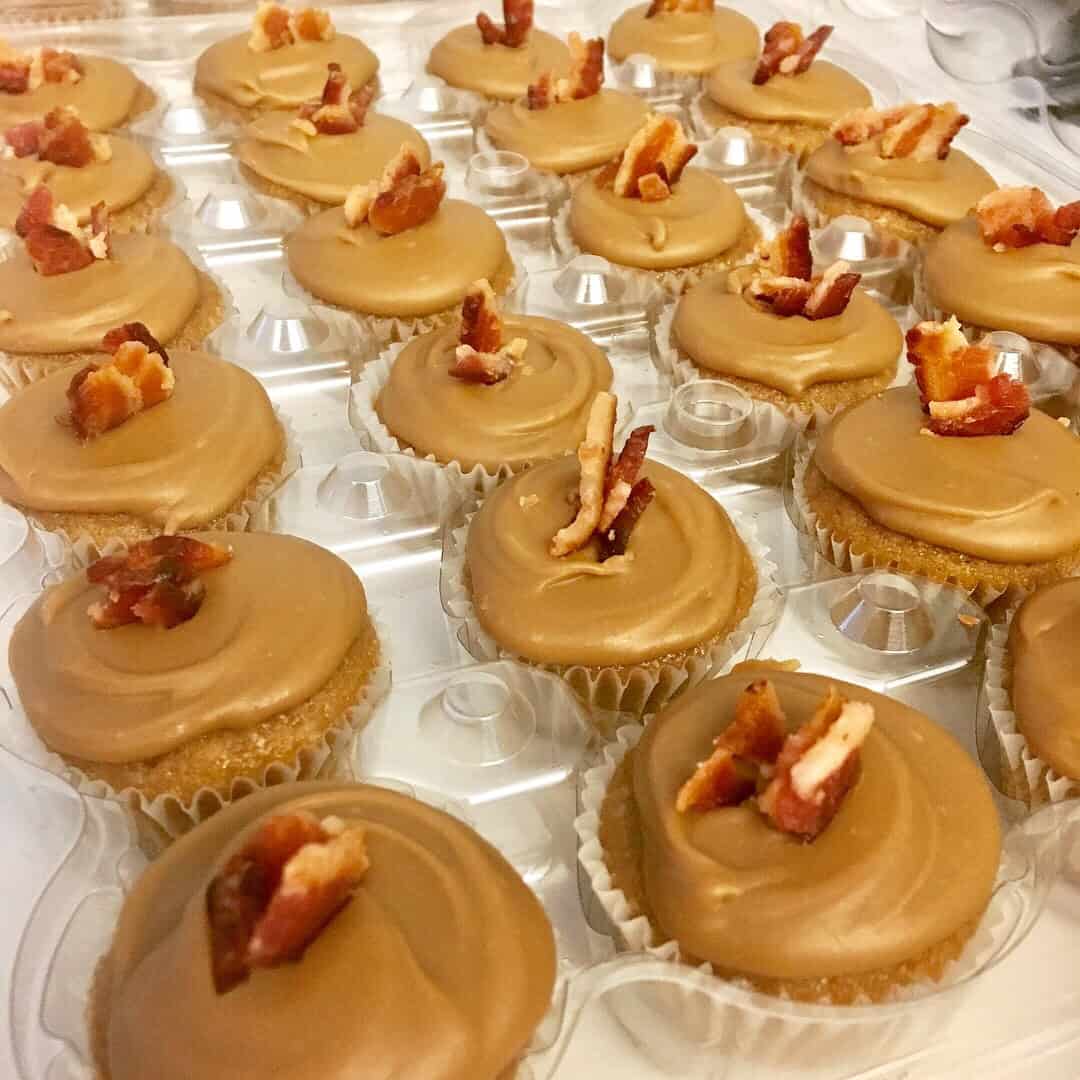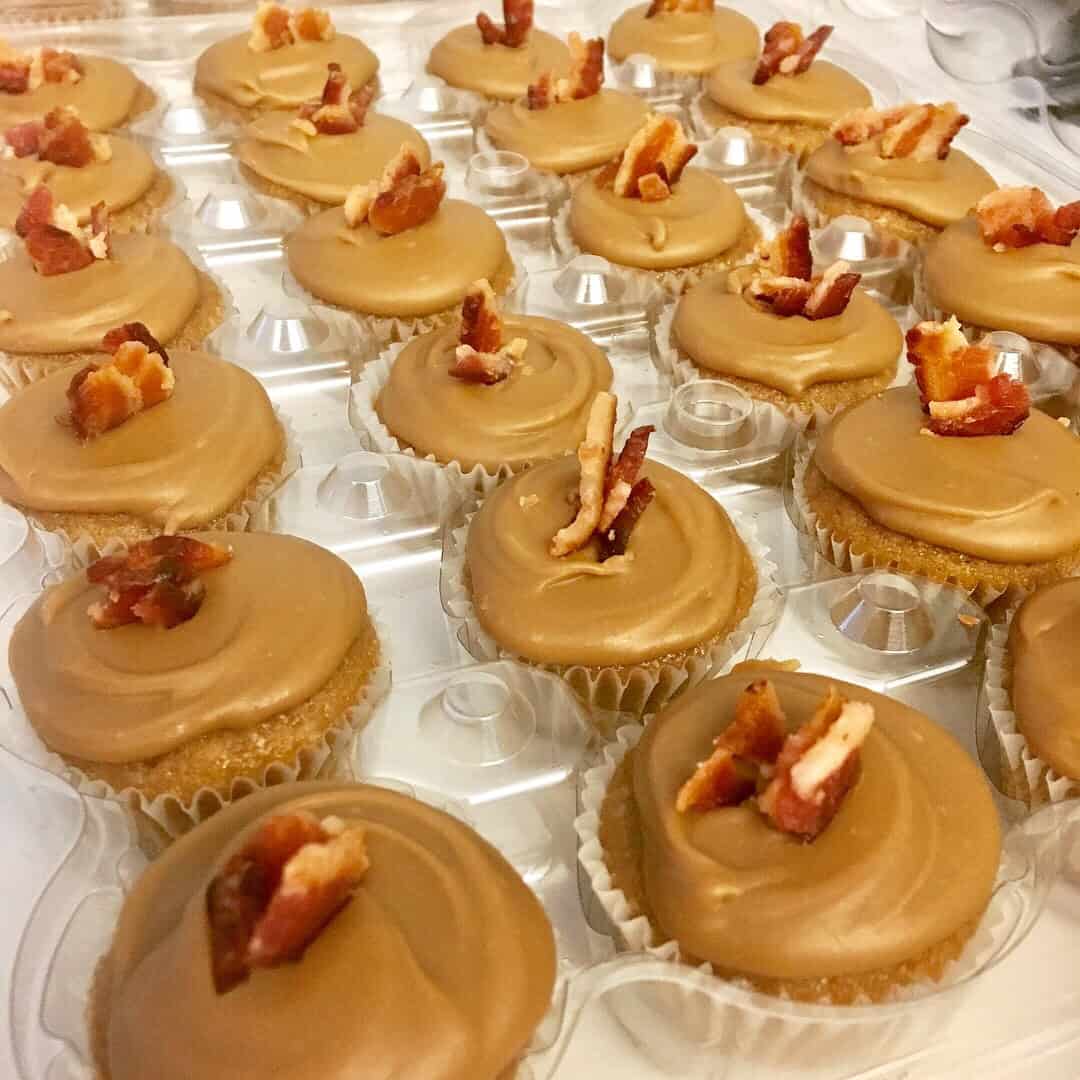 These cupcakes are a spin on the maple bacon donuts that are wildly popular in my hometown of Portland, OR (and I'm sure in a million other places too). I am majorly obsessed with maple donuts in general and to me, salted caramel is just as fab!
Sadly, I never took any high quality photos of these cupcakes. I made these for a work party and was in too much of a hurry to bother putting them on my blog. But I've been asked by a few people for the recipe, so I figured it was better to share this gem instead of withholding just because the pictures weren't up to my typical standard – I'll replace them soon when I remake these, I promise.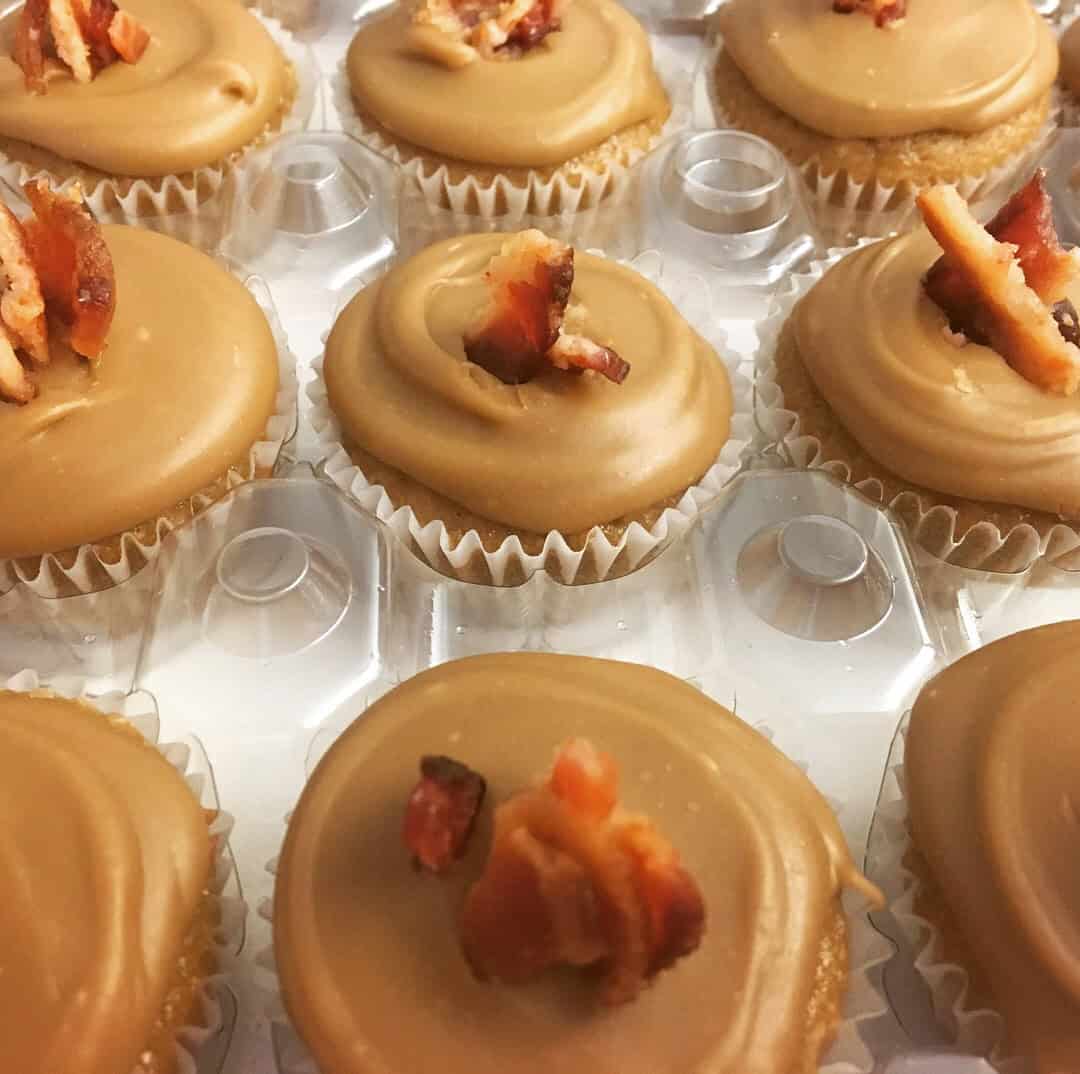 There is a unique secret ingredient in these and I really hope you will follow the recipe as is and use it – it's soy sauce. Not commonly found in baked goods. But it adds a deep, dark and rich saltiness that regular salt does not provide. You can't taste the soy sauce specifically but the flavor of the finished product will be outstanding! Please share your feedback below.
Salted Caramel Bacon Cupcakes
Print recipe
| | |
| --- | --- |
| Serves | 24 |
| Prep time | 10 minutes |
| Cook time | 40 minutes |
| Total time | 50 minutes |
| Meal type | Dessert |
Ingredients
Garnish
16oz Bacon (16 oz. is usually a standard sized pack)
Caramel Cupcake
3 cups all-purpose flour
1 1/2 teaspoon baking powder
1 teaspoon salt
2 cups dark brown sugar
1 cup granulated sugar
1 cup butter, softened
4 eggs, room temp
1 tablespoon vanilla extract
1 cup buttermilk
Salted Caramel Frosting
1 stick butter, softened
1 cup dark brown sugar
1/3 cup heavy cream
1 teaspoon soy sauce
2-3 cups confectioners sugar
Directions
Roast the Bacon
Heat oven to 400 degrees. Place a cooling rack on top of a rimmed baking sheet. Lay strips of bacon side by side on the rack and roast for 15-20 minutes until crispy. Transfer cooked bacon onto paper towels to remove excess grease. Then chop into chunks and set aside.
Make the Caramel Cupcakes
Preheat oven to 350 degrees. Line 24 cupcake pan with liners and set aside.

In a medium bowl, whisk together the flour, baking powder and salt.
In a large mixing bowl with a paddle attachment, cream the butter with the sugars until light and fluffy (3-4 mins). Add the eggs, one at a time, scraping down the bowl as you go. Add the vanilla.

With the mixer on low, add the flour mixture slowly until just incorporated. Slowly add the milk being sure to not overmix. Fill each liner 3/4 full and bake for about 15-18 minutes, until a toothpick inserted in the center comes out clean.
Frost the Cupcakes
While the cupcakes are in the oven, prepare the caramel for the frosting. In a saucepan over medium heat, melt the butter. Once fully melted, add the brown sugar, heavy cream and soy sauce, stirring constantly until the sugar dissolves. Bring to a boil for a full 3 minutes. Remove from the heat and cool at room temperature for 20 minutes.
Once cooled, using a hand mixer (or pour caramel sauce into a mixing bowl), add the powdered sugar one cup at a time. Adding a little more or less if needed. If it becomes too thick, you can add a tablespoon of cream. The frosting is not really pipe-able. Frost the cupcakes using an offset spatula. Then garnish with the bacon shards and serve.