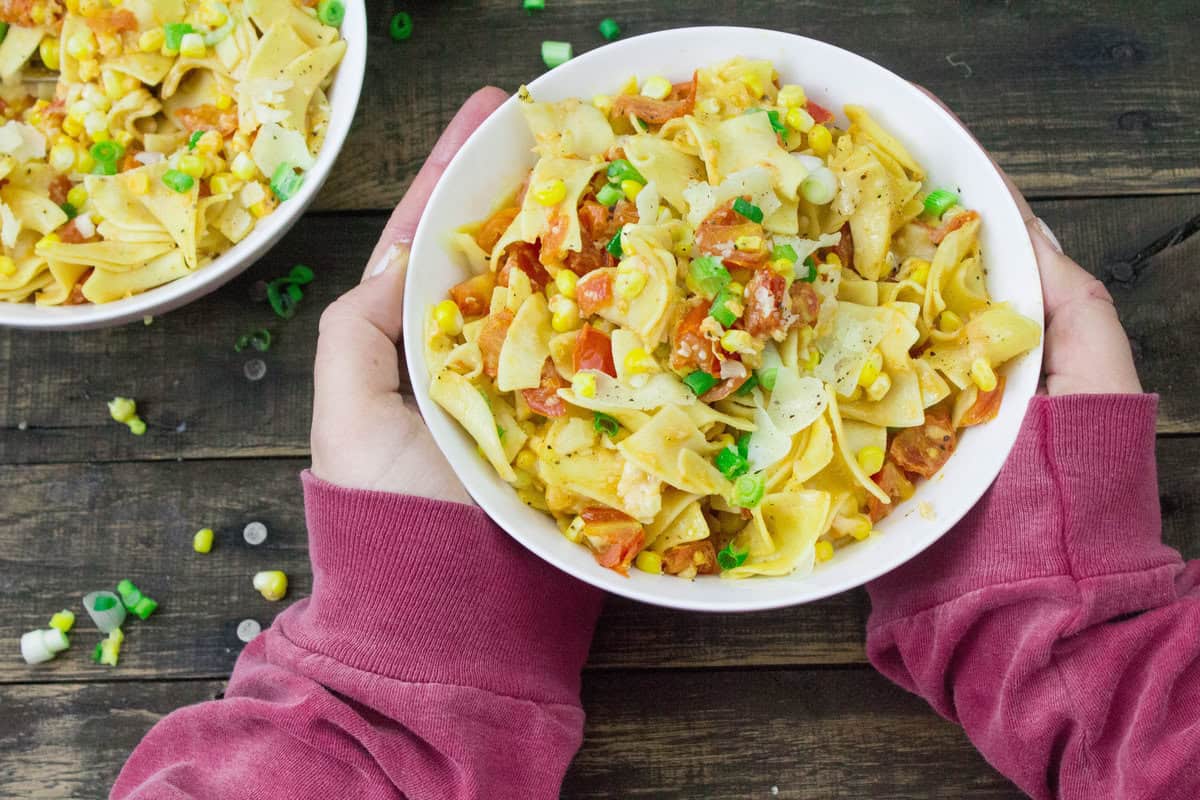 This has been my favorite pasta dish since 2011. I love pasta and have tried hundreds of renditions, but this is by far the best pasta dish ever. Seriously, if I was asked for my top 10 dishes, this would make it on the list. It's so simple looking and it may be hard to understand but it's all about the bite of the Pinot Grigio, the stringy and pungent Parmesan and the fresh crunchy corn, carved off the cob.
The recipe was discovered by my sister when we lived together at a really cool apartment above a pizzeria in Midtown Atlanta. We used to walk to the grocery store because it was just two blocks away – the life! There was a Food Network magazine that had this dish featured on the front. Made according to their recipe it's still terrific, but over time we have made some necessary improvements to make this dish over-the-top delicious.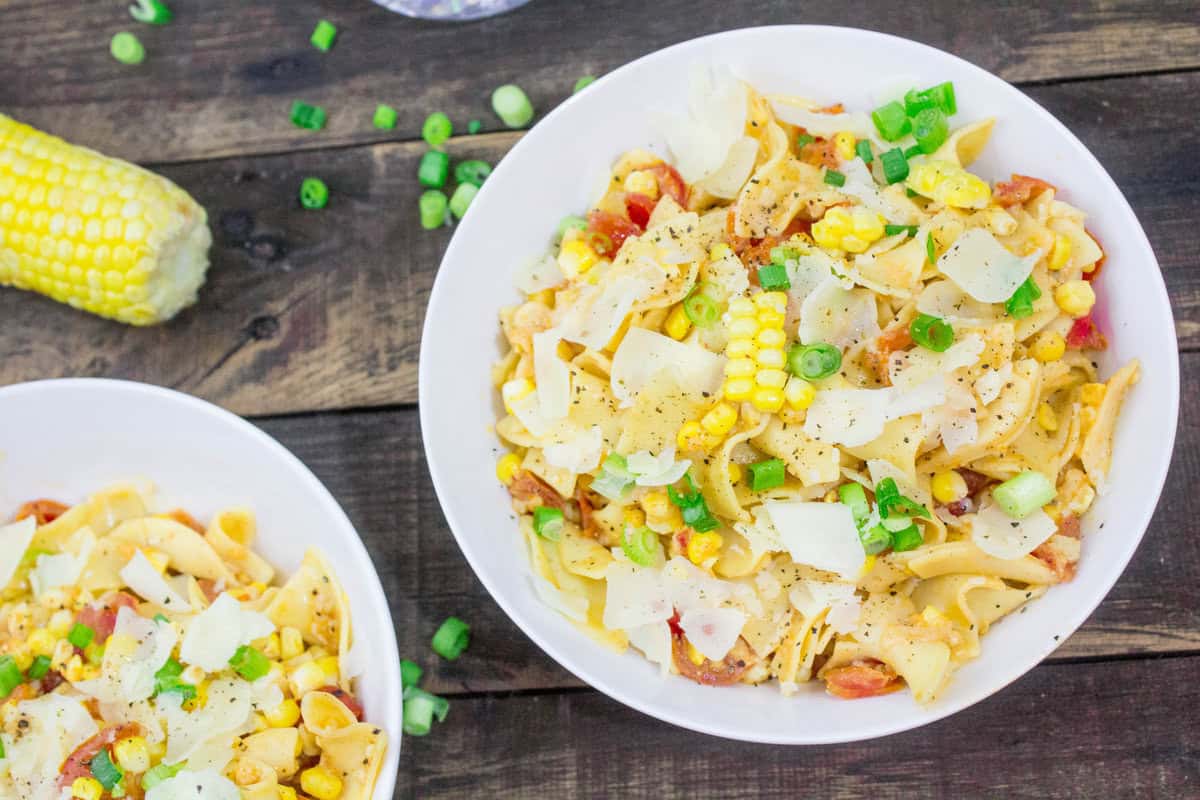 If you love pasta and the taste of wine in your cuisine, you will beg for this! The best part about this dish is that it doesn't dry out when you reheat the leftovers like most "sauceless" pastas. The wine, broth and juices from the tomatoes really keep this pasta alive, even after refrigeration.
Remember to select a good wine to cook with, one that you would actually drink 🙂 and fresh corn is super important. Frozen corn will not provide the same level of freshness and crunch that fresh corn does. It's really key!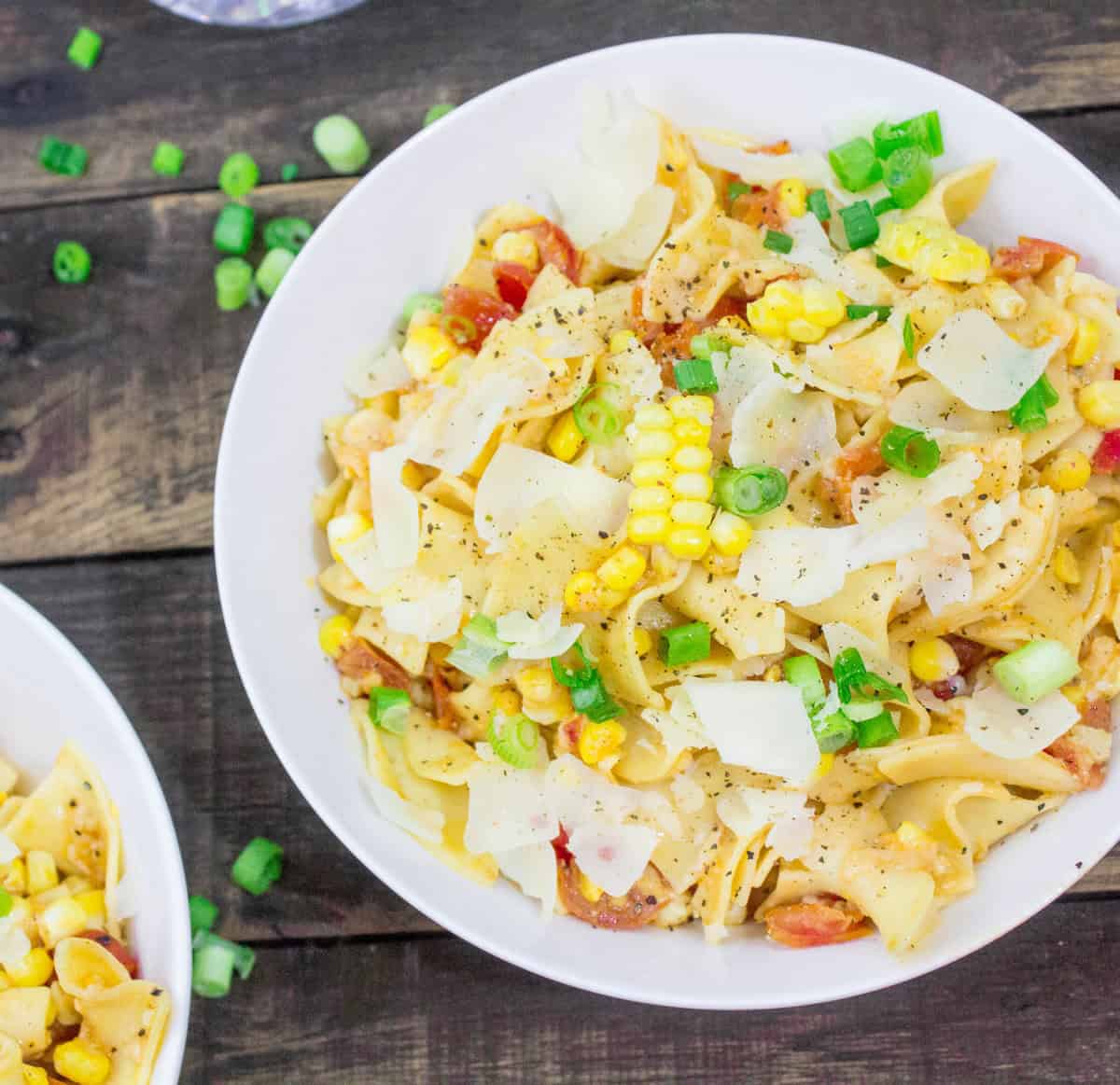 Pinot Grigio Pappardelle with Tomatoes & Corn
Print recipe
| | |
| --- | --- |
| Serves | 4 |
| Prep time | 10 minutes |
| Cook time | 15 minutes |
| Total time | 25 minutes |
Ingredients
4 earns corn
6 tablespoons butter, salted
2 pints grape tomato
3 large garlic cloves (double the amount for small cloves)
3/4 cups Pinot Grigio wine (drinking quality)
12oz Pappardelle pasta (high quality brand like Al Dente)
1/4 cup chicken stock
1 bunch scallions, thinly sliced
5oz Parmesan cheese (freshly shaved off the block)
basil, torn for garnish
freshly ground black pepper
sea salt
Directions
| | |
| --- | --- |
| | Bring a large pot of salted water to a boil. Add the corn and cook until slightly tender, about 3 minutes. Remove with tongs (keeping the water for the pasta later), let the corn cool for a few minutes, then cut off the kernels. |
| | Melt 3 tablespoons butter in a large skillet over medium heat. Add the tomatoes, 1 teaspoon salt and freshly ground pepper and cook until the tomatoes soften, about 4 minutes. Add the garlic and cook 1 more minute. Add 1/2 cup of wine and cook until reduced by half, about 5 minutes. |
| | Meanwhile, cook the pappardelle in the corn water as the label instructions to al dente. Drain the water. |
| | Add the chicken broth and corn kernels to the skillet and bring to a simmer. Add the pasta to the skillet; add the scallions, the remaining butter and 1/2 teaspoon salt. Toss to combine, adding the remaining wine and most of the Parmesan, reserving a handful to top once plated along with torn basil. |