Have you ever tried Chicken Tinga before? It's a smoky Mexican tomato sauce made to braise your chicken in until it's tender and easily shreds with a fork. This easy Instant Pot Chicken Tinga is one of my favorite versatile chickens to make for all my Mexican cuisine, from burritos to nachos and everything in between.
One of my favorite versions are these Chicken Tinga Quesadilla Tacos where the chicken is sandwiched between two cheese-stuffed pan fried tortillas and smothered in my homemade avocado-poblano sauce.
This avocado-poblano sauce is a cross between a salsa verde and guacamole. Equally as tart and tangy as it is creamy and subtly spicy. This is a unique sauce that's as addictively delicious on tacos as it is for dipping your tortilla chips in. It pairs wonderfully with these halibut fish tacos as well.
This recipe post is all about Chicken Tinga Instant Pot Tacos! If you don't have an Instant Pot, I will also show you how to make these on the stove top or slow cooker.
Why You'll Love these Chicken Tinga Tacos:
Quick and Easy – perfect for busy weeknights
Multiple Preparations – You can make this in an Instant Pot or slow cook it on the stove or in a crock pot
So Versatile – you can double the recipe and make tacos then for leftovers make chicken tinga nachos with all the fixins'
Bursting with Flavor – this is one of those dishes your family will ask you for again and again.
How to Make Chicken Tinga:
Step 1: Roast the veggies and make avocado sauce
I love to have this sauce ready to go in the fridge before I make my chicken tinga tacos. So usually, I'll make it in the morning or even a day or two ahead. If you're in a time crunch, you can forego making this delicious sauce and instead top these tacos with guacamole and a pre-made verde salsa.
You start by oiling up your peppers, tomatillos, and garlic and roasting them in the oven. Once they cool, you'll blend them in a food until smooth with avocados, lime juice, onions, cilantro, a dash of sugar and seasonings.
Step 2: Make the Chicken Tinga
To make the chicken tinga sauce, you'll need a blender or food processor. Add in all of your sauce ingredients (canned tomatoes, chipotles in adobo, garlic, etc.) Blend it until smooth.
Sauté up sliced red onions in an Instant Pot or in a large pot over the stove. Once they are fragrant and softened, about 3 minutes, pour in half the sauce and chicken broth. Submerge your chicken into the sauce and top with remaining sauce. Pressure cook for 15 minutes with a natural release, or slow cook for 2-3 hours or until the chicken is fork tender. Shred the chicken and return it to the pot to continue to braise in the warm sauce while preparing the shells.
Step 3: Assemble Quesadilla Tacos
In a pan or griddle over low heat, add a dash of oil and place a few tortillas a time into the pan. Top each tortilla with some shredded cheese, then top with another tortilla. Once the bottom shell is golden brown and cheese begins to melt, flip the tacos and continue to cook until both sides of the taco are golden brown and cheese has melted through. Be sure the taco shells are still pliable and not cooked until crispy.
Use a slotted spoon to scoop out chicken from the tinga sauce, allowing excess sauce to drip away. Add chicken to each taco and drizzle over the avocado sauce. Top with toppings of your choice, I like grated cojita cheese, minced cilantro, diced onions, etc.
Tools I Love


Looking for more taco recipes?
Did you love this Chicken Tinga Recipe? Be sure to comment below with any questions or feedback. Don't forget to tag me on IG with any photos; @BadBatchBaking and use #BadBatchBaking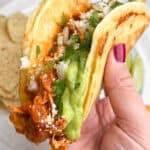 Print Recipe
Chicken Tinga Quesadilla Taco (Instant Pot)
This Chicken tinga is dripping with tons of chipotle tomato flavor! Topped with chopped onions, cilantro and grated cojita cheese then drizzled in a homemade avocado poblano sauce and sandwiched between two cheese stuffed pan-fried flour tortillas.
Ingredients
2

lbs

boneless skinless chicken breast, sliced in half horizontally

tenders or thighs work too

16

flour tortilla shells, taco sized

1.5

cups

quesadilla cheese, shredded

Oaxaca or Chihuahua. Mozzarella can work as a substitute

oil for pan frying shells

Toppings: cilantro, lime wedges, grated cojita cheese, diced onion, etc.
Chicken Tinga Sauce
4

cloves

garlic

3

chipotles in adobo

1

tablespoon

adobo sauce

from the chipotle can

1

tsp

dried oregano

1/2

tsp

cumin

1

tsp

salt

1/2

tsp

black pepper

28 oz

can

canned peeled tomatoes

San Marzano tomatoes have the most flavor

1

red onion, sliced

1/2

cup

chicken stock

2

tablespoons

olive oil
Avocado Poblano Sauce
1

poblano pepper

3

small tomatillos, husked and rinsed

3

cloves

garlic

1

jalapeno

1

tablespoon

olive oil

2

whole

avocados, peeled and seeds removed

1/4

cup

cilantro

1

tsp

sugar

1/2

tsp

cumin

1/2

tsp

red pepper flakes

1

lime, juiced

1/4

white onion, roughly chopped

1/4

tsp

salt and pepper (each)
Instructions
Make the Avocado-Poblano Sauce
I like to make this a day ahead and store in the fridge to save myself a step when dinner time comes.

Preheat oven to 450 degrees.

Place poblano, tomatillos, garlic cloves and jalapeno to a lined baking sheet. Rub with a drizzle of olive oil and roast for 8 minutes. Flip and continue to roast for another 5 minutes. Allow them to cool then remove any stems and seeds.

Into a food processor add avocados, cilantro, sugar and seasonings, lime juice, onion, and roasted veggies. Blend until smooth, adding more lime juice or a splash of water if needed. Texture should be creamy but not runny. Taste and adjust any seasonings if needed.
Prepare Chicken Tinga
In a blender, add the 4 garlic cloves, chipotles + sauce, seasonings and canned tomatoes. Blend until smooth.

In an Instant Pot, turn on saute mode (or medium heat in a large pot on the stove). Add 2 tablespoons of olive oil and saute the red onions until softened, about 3-4 minutes.

Pour in half the tomato mixture from the blender. Followed by chicken stock. Submerge the chicken into the pot, then top with remaining tomato mixture.

Pressure cook for 15 minutes with natural steam release. Or, slow cook on low heat on the stove in a covered pot until the chicken easily shreds with a fork, about 2 hours. You can also cook in a crock pot on high or 4 hours or low for 6 hours.

Once the chicken can be easily shredded with a fork, remove the chicken and shred it. Meanwhile, bring the sauce to a low boil (on saute mode if using an Instant Pot) then reduce heat to simmer or Keep Warm mode on an Instant Pot. Place the shredded chicken into the liquid to braise while you prepare the taco shells.
Assemble Tacos
Add a splash of oil to a pan or griddle over low heat. Pan fry the soft taco shells, a few at a time and add 1/4 cup of shredded cheese then top with another shell (like you are preparing a quesadilla). Once the underside is lightly browned and cheese begins to soften, flip and continue to cook until both sides are lightly brown but still pliable.

To assemble, add shredded chicken to each quesadilla taco with a slotted spoon so the excess sauce drips away. Top with avocado-poblano sauce and toppings of your choice. Store any leftover chicken with the tinga sauce for maximum flavor. It's great to use for homemade nachos!