Soft and chewy cookie dough texture + salty and sweet + hints of deep espresso + oozing chocolate + nutty sweetness of browned butter = MASTERFUL GREATNESS! These cookies are perfection at its finest. I have made a lot of really good chocolate chip cookie recipes in the past, but I combined so many elements into these that have seriously taken the #1 spot of the best chocolate chip cookies I've ever eaten.
I know I can't speak for everyone, but these cookies seriously check every box on my list. I am obsessed with browned butter. Like, why even use regular butter if you can replace it with browned butter? When butter is browned, essentially it is caramelizing the milk solids in the butter, in turn, transforming it into a whole different ingredient. It gets rich and nutty and almost adds a caramel-y flavor to the cookie.
If you are a sweet and salty feign like me, you will be obsessed. And as I mention in most all of my recipes…. please, please, please, skip the cheap chocolate chips and seriously invest in a high quality bar of chocolate, such as Lindt Excellence and chop them up into chunks. You will be so incredibly happy you did. I use "good" chocolate so often that I actually invested in Callebaut dark chocolate baking callets. Best freaking investment ever. It changes the game entirely. It's $40 bucks and will last you a while, even if you bake a lot.
Another item that I find incredibly necessary for cookie making is a cookie scoop. It makes absolutely perfect uniform cookies each and every time. As I explain below in the recipe, make sure to really pack the dough into the scoop and when you place the dough balls on the baking sheet, leave them in ball form. We press them down after they are 75% baked. When you press them down at this point, it bursts the chocolate pieces, giving it the look shown in the pictures. I don't know about you, but I would rather have gooey melty chocolate cookies rather than solid chunks of chocolate. Are ya with  me on that?
I look forward to hearing your feedback on these little baby delights!
Chewy Bakery-Style Chocolate Chip Cookies with Browned Butter
Print recipe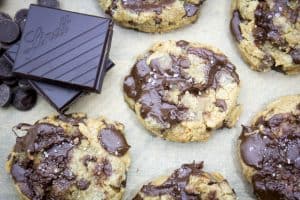 | | |
| --- | --- |
| Serves | 24 cookies |
| Prep time | 45 minutes |
| Cook time | 9 minutes |
| Total time | 54 minutes |
| Meal type | Dessert |
Ingredients
2 cups + 2 tablespoons, all-purpose flour
2 tablespoons instant espresso powder
1/2 teaspoon baking soda
1/2 teaspoon salt
12 tablespoons butter, salted (1 + 1/2 sticks)
1 cup dark brown sugar
1/3 cup granulated sugar
1 egg, large
1 egg yolk, large
1 tablespoon vanilla extract (good brand is always ideal)
1 cup Lindt Excellence semi-sweet and dark chocolate, chopped (High quality chocolate is necessary. I use a combination of semi-sweet and dark chocolate)
1 cup mini chocolate chips, semi-sweet
fleur de sel or sea salt (for topping)
Directions
Brown the butter

** The dough should ideally be made at least 30 minutes before you plan to bake so it has time to cool and set up in fridge/freezer.**

Begin by browning the butter first as this needs to cool before you begin. On medium low heat, add 12 tablespoons of butter to a small saucepan. Once butter is melted, stir the butter often until it begins to brown (around 10 mins). You may want to adjust the temp higher or lower depending on how hot your burners get. It will be a deep golden brown color (almost amber) with brown sediment on the bottom and smell very fragrant. That's when you know it's ready. See pic above for reference.

Cool butter at room temp or in the freezer to expedite, but we want it to still be melted.

Make the cookies
In a large bowl, combine the flour, espresso powder, baking soda and salt. Set aside. In a stand mixer, add melted butter and sugars and mix well, about 2-3 minutes on medium speed. Make sure to scrape the bottom with a rubber spatula to incorporate ingredients as you go.

Add egg + egg yolk and mix, add the vanilla extract. Mix about 30 seconds to get it well combined. Add flour mixture on low speed. Add all chocolate and make sure to mix it in well so the chocolate is evenly distributed.
Wrap dough in plastic wrap tightly. I usually separate my dough into two portions and flatten to a 1 inch disc so it sets up quicker when I refrigerate. Freeze for 30 minutes if you are in a hurry, or refrigerate for at least 1 hour.
When ready to bake, preheat oven to 350 degrees. Line a baking sheet with parchment paper. Using a cookie scoop, pack the scoop tightly with dough and place on the baking sheets about 2 inches apart. Add extra chocolate chips to the tops of any cookies that need extra lovin.

Bake for 7 minutes, open the oven and, using the bottom of a measuring cup or spoon, press down the dough slightly. Return to oven (rotate pan) and bake for 2 more minutes. This also breaks open the chocolate chips making an oozy gooey beautiful mess! Remove cookies from oven and sprinkle the tops of the cookies with fleur de sel or sea salt. Cool on a cooling rack.