Can I just cry? How have I been living in Georgia (just a few hour drive from Nashville) for seven years and this chicken is just now grazing my taste buds? How have I been living this long and thought I was so happy? My life was never complete until now. I feel like I will sleep better at night.
Nashville Hot Chicken seems to be on the rise of becoming a trend. It may be that I noticed it recently and since then I keep hearing the name. You know how it is when you learn a word, it suddenly appears everywhere? I know KFC is currently featuring their version of Nashville chicken, which I assume is not comparable to this.
This is an adaptation of the Nashville famous, Hattie B's. With just a few, what I believe to be, improved changes 🙂
Be sure to check out my Nashville Hot Slider Recipe here to turn these babies into little Nashville Hot Chicken Minis coming soon. Ahhh! Life is so good!
Best Ever Nashville Hot Fried Chicken
Print recipe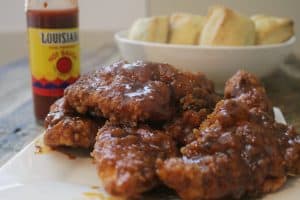 | | |
| --- | --- |
| Serves | 6 |
| Prep time | 30 minutes |
| Cook time | 30 minutes |
| Total time | 1 hour |
| Meal type | Main Dish |
| Misc | Serve Hot |
Ingredients
6 Chicken breast (cut in half lengthwise, then horizontally to create four pieces from each breast)
1 quart Pickles
72oz Vegetable oil (enough to fill the frying pot about 4 inches high with oil)
1/2 cup Pickle slices (for serving)
Dredge
3 cups Flour
1 tablespoon Sea salt
1 tablespoon Cayenne pepper
1 teaspoon Garlic powder
1 teaspoon Paprkia
1 teaspoon Black pepper
Dip
1 cup Whole milk
2 Eggs
1 1/2 tablespoon Louisiana hot sauce
Spicy Coating Sauce
3/4 cups Butter, melted
1 tablespoon Dark brown sugar
1 tablespoon Honey
4 tablespoons Cayenne pepper
1 tablespoon Louisiana hot sauce
1 teaspoon Paprika
2/3 teaspoons Garlic powder
Salt and pepper to taste
Directions
8-12 hours prior to cooking
In a large bowl, place the cut chicken breasts and pour over enough pickle juice to cover all of the chicken. Cover tightly and refrigerate overnight or at least 8 hours.
Heat oil to 325 in a heavy-bottom pot that is safe for frying. This temperature will prevent the chicken crumbs from burning at the bottom of the pan and won't smell up the house like oil for days.
Dredge and Dip
While the oil is heating, prepare the flour mixture by combining all ingredients into a large glass bowl. In a separate bowl, prepare the dip by combining the eggs, milk and hot sauce. Mix well to combine.
Remove the chicken from the pickle brine, discard juice, and pat dry chicken very well. Any moisture on the chicken at this stage will make the crispy coating slide off after its cooked.
Start by placing the chicken breasts in the flour, coat well, then place the coated chicken in the egg dip. Remove from the egg dip, shake off excess liquid and place wet chicken back into the flour mixture. This double dip in flour is what creates nice crispy chicken.
Frying the chicken
Once oil has reached the correct temperature, place some of the chicken in the oil. Working in batches to be sure not to crowd the pan. Prepare a cooling rack covered in paper towels.
After about 6-7 minutes of frying, chicken should be light golden brown. Remove from the oil and place on paper towels. Let it rest for 1 minute. Then place back into the oil for an additional few minutes, until chicken is golden brown and cooked all the way through.
If any of the remaining raw chicken get gummy from sitting aside waiting to fry, give it a quick toss in the flour mixture before frying.
Spicy coating sauce
Prepare the spicy coating sauce by melting the butter in a small bowl. Add all other ingredients and mix very well until combined.
Using a basting brush, coat the chicken well with the sauce while it's still warm. Serve immediately with pickles and biscuits or corn bread