Looking for a delicious and easy slider to serve at your next gathering that's different from the norm? These Alabama White Chicken Sliders are perfectly seasoned and smothered in a zingy white barbecue sauce, then topped with pickles and shredded lettuce.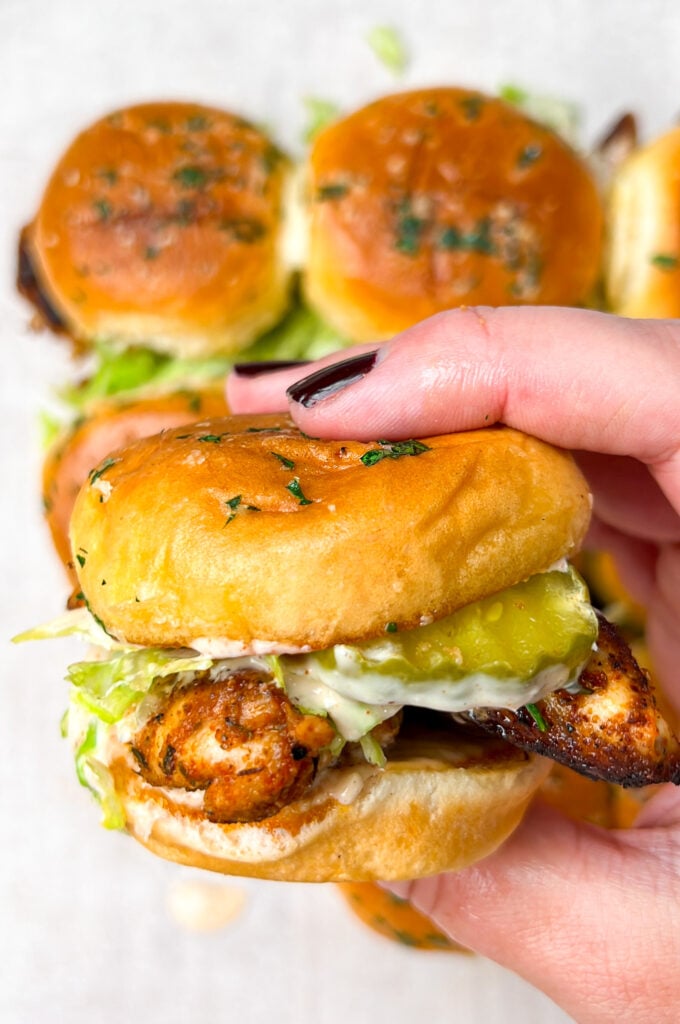 If you are wanting more slider varieties, some of my other popular recipes are Honey Mustard Chicken Club Sliders, Cowboy Butter Steak Sliders, or my Crunchy Barbecue Chicken Sliders.
This recipe post is all about blackened chicken sliders smothered in Alabama white barbecue sauce.
Why You'll Love These Chicken Sliders:
Flavor: perfectly seasoned blackened chicken tenders, zingy Alabama white barbecue sauce, and tangy pickles pairs so well with sweet Hawaiian slider buns.
Crowd Favorite: the time I made these for a family gathering was over a year ago and people are still talking about them. I'd be hard pressed to find anyone who won't adore these chicken sliders.
Perfect Game-Day Food: In need of delish finger food for a football game? Say less. These blackened chicken sliders are the way to go.
Key Ingredients:
In this recipe you'll be making Alabama White BBQ Sauce from scratch, which I recommend making a day ahead. Aside from that, the ingredients in this recipe are rather simple. (This is a summary, the full ingredients are listed in the recipe card below)
Chicken Tenders: preferably air-chilled chicken tenders if you can find them. These are always the most tender. If you cannot find tenders, you can use chicken cutlets or breasts as well.
Alabama White Sauce: this is a mayo based sauce with apple cider vinegar, seasonings, horseradish, dijon mustard, lemon juice, and a dash of sugar.
Hawaiian Sliders: I always reach for the sweet Hawaiian sliders because they offer great contrast to the sweet rolls, tangy sauce, and the crunch of the pickles and lettuce.
Lettuce: iceberg or romaine lettuce, sliced thin into shreds.
Pickles: opt for dill pickles, not bread and butter. We want tangy pickles, not sweet ones.
Butter Herb Topping: melted butter with garlic and flat-leaf parsley.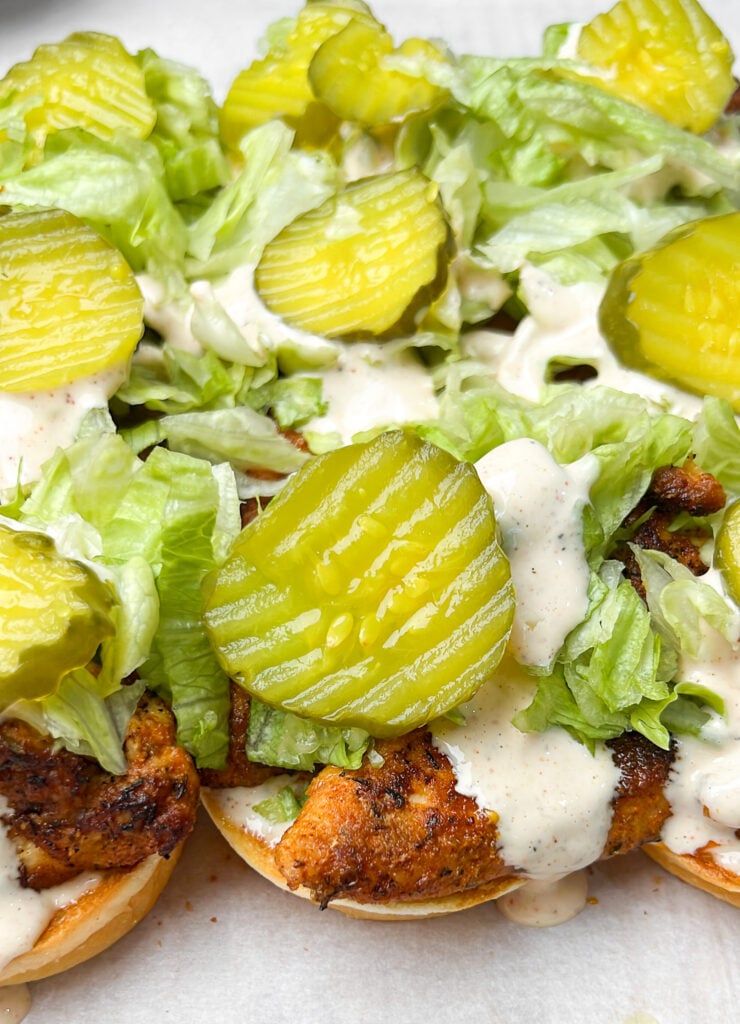 What Is Alabama White BBQ Sauce?
Alabama White Barbecue Sauce is a zingy mayonnaise-vinegar sauce with plenty of seasonings, a bit of horseradish, dijon mustard, and a little sugar. It pairs wonderfully with smoked chicken and turkey as well as smoked beef brisket.
Every time I go out for good barbecue, I load up on extra Alabama white bbq sauce. It's by far one of the best barbecue sauces I love.
How To Make Alabama White Chicken Sliders:
These sliders are so easy to make with just a few quick steps. My best tip is to make the sauce and dry rub ahead of time to make it even easier!
Step 1: Make The Alabama White BBQ
I like to make the sauce ahead of time as it lasts a week in the fridge. The flavors meld together and get better as they sit, plus it's one less task when it comes time to making dinner. Combine all of the ingredients in a medium sized bowl and mix well until smooth and combined. Taste and adjust as needed, it's one of those recipes that may need a dash of "this or that" to get it perfect to your liking.
Step 2: Cook the Blackened Chicken
Season up your chicken tenders and get these cooked over medium heat in a cast iron skillet (or non-stick skillet), flipping just once, about 6 minutes total or until the internal temp reaches 165 degrees.
Step 3: Toast Buns & Assemble
Pre-heat the oven to broil. Mix together the melted butter, garlic and parsley in a small bowl. Smother it over the top buns and set them beside the bottom buns on a lined baking sheet. Toast the slider buns for 2-4 minutes, until golden brown – being sure to watch them to prevent burning.
To assemble, add a dollop of white sauce to the bottom buns, top with chicken tenders – distributing them evenly among all the sliders, followed by pickles and shredded lettuce. Then spoon more white sauce over the top of. the toppings and place the top buns back on. Slice and serve.
Tools I Love:
Looking For More Sliders & Finger Foods?
I hope you enjoy this Alabama White Chicken Slider recipe. Be sure to comment below with any questions or feedback! If you make these or any other recipes, don't forget to tag me on IG @BadBatchBaking to be featured on my story. Seeing your recreations makes my day!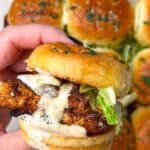 Print Recipe
Alabama White BBQ Blackened Chicken Sliders
Perfectly seasoned blackened chicken sliders smothered in a tangy homemade Alabama white sauce and topped with shredded lettuce and dill pickles.
Ingredients
1.5

lbs.

chicken tenders

4

tbsp

olive oil

1

pack

Kings Hawaiian slider rolls or dinner rolls

1/4

head

iceberg lettuce, shredded

dill pickle slices

enough for two per sandwich
Butter Topping
1/4

cup

melted butter

1

tbsp

fresh parsley

minced

1

garlic clove

minced
Blackened Seasoning
2

tbsp

smoked paprika

regular paprika works as a substitute

1

tbsp

cayenne pepper

1

tbsp

onion powder

1

teaspoon

garlic powder

1

teaspoon

ground black pepper

1

teaspoon

sea salt

½

teaspoon

basil

½

teaspoon

oregano

½

teaspoon

dried thyme
Alabama White Barbecue Sauce
1 ¼

cup

mayonnaise

2

Tbsp

apple cider vinegar

1

Tbsp

Dijon mustard

2

teaspoon

brown sugar

2

teaspoon

creamy horseradish

2

teaspoon

lemon juice

fresh squeezed

1

teaspoon

Worcestershire sauce

2

teaspoon

hot sauce

1

teaspoon

cayenne pepper

½

teaspoon

garlic powder

½

teaspoon

onion powder

salt and pepper to taste

about ½ tsp each
Instructions
Prep Sauce & Blackened Seasoning

Make the sauce ahead by combining all ingredients into a medium bowl and whisking until smooth. You can prepare it up to a few days ahead and keep in the refrigerator.

Combine all blackened seasoning ingredients, mix until evenly combined and place into a small bowl or zip-top bag to store until ready to use.
Cook Chicken

Prep chicken tenders by coating them in 2 tablespoons olive oil, then rub them with several spoonfuls of the blackened seasoning until they are well coated on both sides. Heat a skillet to medium high and add the remaining 2 tbsp olive oil.

Once the pan is hot, add the chicken tenders and cook for 3 minutes on each side, or until they are cooked through, and the internal temperature reaches 165 degrees.
Toast Buns & Assemble

Mix together melted butter, garlic and parsley in a small bowl. Turn the oven to broil. Toast the undersides of the split slider buns until they are golden brown. Remove bottom buns and set aside.

Flip the top buns right side up and spread the tops with the melted butter mixture. Place top buns back under the broiler for 1-2 minutes until lightly toasted.

Assemble the sandwiches by distributing the chicken tenders evenly among sliders. Top with lettuce, a few spoonfuls of Alabama white sauce, and pickles. Slice and enjoy!