Garlicky homemade alfredo sauce oozes out of these crisp, buttery and pillow-soft air fryer calzones.

These chicken alfredo calzones make a fantastic snack, appetizer, game day food or dinner!
I originally created this recipe back in 2020 after trying these on the seasonal menu at Olive Garden. In my original recipe, I deep fried these, which were delicious but not as realistic for most people. Deep frying isn't the most convenient option and air frying is certainly better for a few reasons.
The only downside to this recipe is the urge to dive in before they cool off in the center. Guaranteed your impatience will result in burning your mouth with the molten alfredo inside – don't say I didn't warn you 🙂

Tips for Making Air Fryer Calzones
If you aren't familiar working with pizza dough or folding the edges on calzones, you can get a visual of my method in my TikTok video. There are also lots of great YouTube videos on the topic as well.
Buy premade dough from a pizza place – did you know that most pizza restaurants will sell their dough? It's usually higher quality than ones you can get at the super market.
Don't roll pizza dough with a rolling pin – you will become extremely frustrated by its constant retracting, making it feel near impossible to spread the dough. Instead, use both hands to gently tug the dough pulling and stretching. Allow the weigh of the dough to work to your advantage.
Don't overcrowd air fryer – depending on the size of your air fryer, you may need to make these in batches. I use the Ninja Foodie XL which has two baskets and each can hold two and cook simultaneously.
Key Ingredients in Chicken Alfredo Calzones:
Buying the premade dough helps save a bunch of time, extra steps and extra ingredients. The only items you'll be making is an easy homemade alfredo sauce (that couldn't be easier).
Garlic – we use lots of garlic in this recipe! Of course if you don't LOVE garlic like I do, you can use less or sub for garlic powder.
Heavy Cream – for the base of our alfredo sauce
Parmesan – adds the perfect sharp gooeyness in the alfredo sauce.
Mozzarella – we use shredded block mozzarella to stuff in the calzone.
Rotisserie Chicken – of course you can make bake or poach chicken instead, but rotisserie chicken makes it super easy.
Premade Pizza Dough – grab this from a pizza place or the grocery store.
Butter – used for the alfredo sauce and for spreading over the top of the calzones.
How To Make Air Fryer Calzones
Step 1: Separate dough into 4 oz balls. Separate pizza dough into 4 ounce balls. With clean, flour-dusted hands, work dough into a 6″ pizza sized shapes.
Step 2: Add alfredo sauce and top with chicken and mozzarella cheese
Step 3: Fold the calzone over, making a half circle shape. Press the dough to seal.
Step 4: Pinch the edge of the dough together and fold back. Repeat with the rest of the dough balls.
Step 5: Spread with butter and air fry for 8 minutes, reapplying butter halfway through the cook time.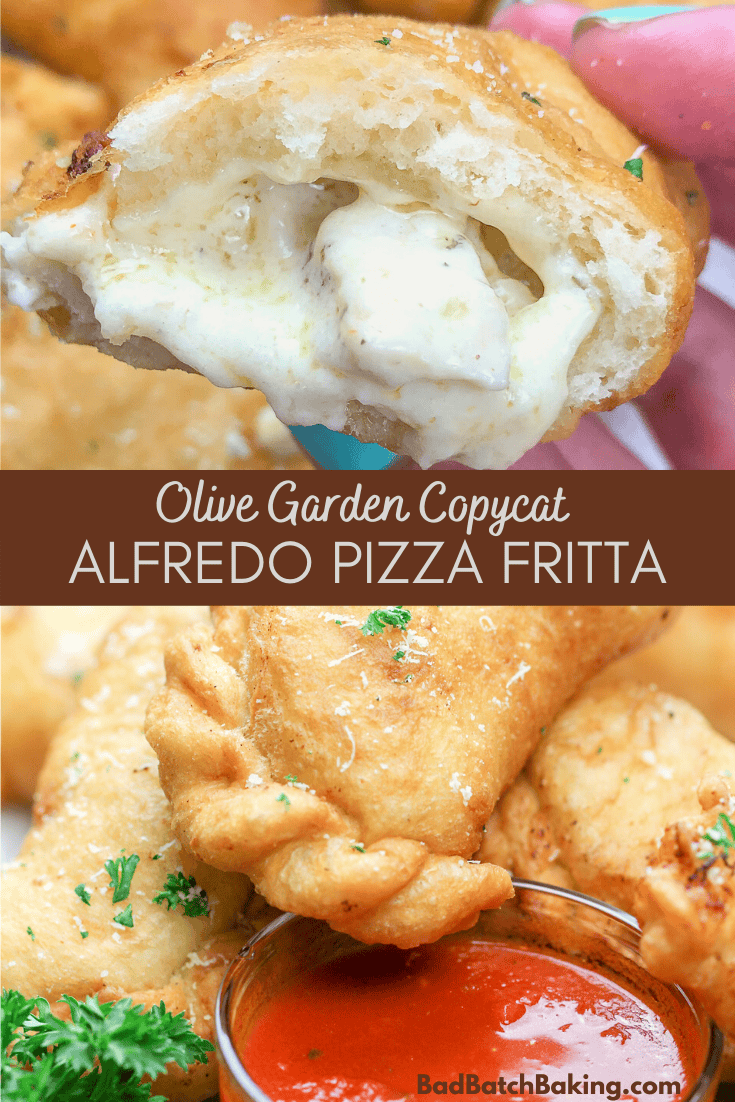 Looking for More Air Fryer Recipes?
Did you try this chicken alfredo air fryer calzones? Feel free to share any pics by tagging me @BadBatchBaking and using the hashtag #BadBatchBaking on IG.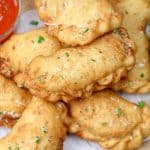 Print Recipe
Chicken Alfredo Air Fryer Calzone
Cheesy, garlic-spiked chicken alfredo oozing out of a homemade pizza pocket calzones that are pillowy soft on the inside and air fried crisp on the outside.
Ingredients
1

lb.

premade pizza dough

store-bought or most pizza places sell their dough

2

cups

rotisserie chicken or 2 chicken breasts cooked and diced

1

cup

mozzarella, shredded

marinara sauce for dipping (optional)
Butter Topping
4

tablespoons

butter, softened

2

teaspoons

fresh parsley, minced
Alfredo Sauce
5

tablespoons

butter

1

cup

heavy whipping cream

4

garlic cloves, minced or grated

1

teaspoon

Italian seasoning or cajun seasoning

¼

teaspoon

salt

or to taste

¼

teaspoon

pepper

or to taste

1

cup

Parmesan cheese freshly grated
Instructions
Alfredo Sauce
In a small saucepan over medium low heat, add butter and allow it to melt. Add garlic and stir. Once it's fragrant, add in the heavy cream and seasonings. Bring to a low simmering boil and allow it to thicken, about 3 minutes.

While it's gently boiling, add parmesan cheese and stir until it's melted through and sauce is thickened and creamy. Taste and adjust the seasonings as needed. Allow to cool while you prep the dough.
Assemble
Separate pizza dough into 4 ounce balls. With clean, flour-dusted hands, work dough into a 6" pizza sized shapes.

Spoon a tablespoons of alfredo sauce on to the center of the dough and spread it in the center, leaving the edges free of sauce.

Top the sauce with a few tablespoons pulled chicken over the sauce, followed by a large pinch of mozzarella cheese.

Fold the dough in half over the fillings making a half circle shape and seal. Pinch the edge of the dough together and fold back. Repeat with the rest of the dough balls.

Melt butter in a small bowl and add parsley.
Air Fry
Load the calzones into the air fryer and spread with the melted parsley butter.

Cook at 375 for 8 minutes or until golden brown, reapplying butter about halfway through.

Spread the calzones again with the melted butter when they finish cooking. Serve immediately with marinara sauce.
Notes
Here is how I like to do it: Prep the pizza dough and while it's rising for an hour… then bake the chicken (this can also be done the day before). While chicken is baking, make alfredo sauce (this can be done the day before). Set both aside to cool while you finish the pizza dough. Assemble the alfredo pockets while oil is heating.