It's about time for a quick and easy recipe that feels fancy and is good enough for company, but only requires 15 minutes and 4 ingredients! The most important element of the dish is the quality of the ingredients. This dish won't have the same affect if you are using Prego and Barrilla noodles. This isn't intended to be a budget dinner, just a simple one. The flavors have to shine! I recently discovered Rao's Homemade Pasta Sauce after they started following me on Instagram. This is not a sponsored post and I genuinely LOVE their sauce. It's a true Italian sauce with imported tomatoes from Italy. It tastes so fresh and delicious and brings me right back to the authentic pasta you find in NYC and Boston.
Burrata is another ingredient that I am such a fan of. It's overshadowed by it's brother, fresh mozzarella, but to me it's so much better. I think it's beginning to make it's way into the mainstream because it's popping up on menus more and more. Something about that oozy center!
Lemon zest is another ingredient that really holds it's own. The lemon adds such a freshness to this dish and is such a MUST!
If you try it, please let me know how you like it in the comments below.
4-Ingredient Pappardelle Pasta with Burrata and Lemon
Print recipe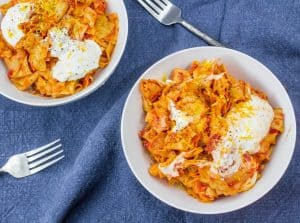 | | |
| --- | --- |
| Serves | 2 |
| Cook time | 15 minutes |
Ingredients
12oz Pappardelle pasta (good brand such as Al Dente)
2 cups Pasta sauce (good brand such as Rao's Homemade)
2 - 4oz Burrata balls
1 Lemon
Directions
| | |
| --- | --- |
| | In a large pot, add about 4 quarts of water (to give the noodles plenty of room to cook). Bring to a boil and salt the water with 2 teaspoons of salt. This will help infuse flavor into the noodles. DO NOT add oil to the water - the sauce won't stick to noodles. |
| | Once the water has come to a full boil, add the noodles and cook al dente (according to the instructions on the package). |
| | Drain the pasta. Return the noodles to the pan and turn off the heat. Add the two cups of sauce and stir well to thoroughly coat as needed. Add more sauce if desired. |
| | Break the balls of burrata into chunks and toss into the pasta. Continue to stir, some of the cheese will melt and others will remain in lumps. The pan should still be warm enough to warm the sauce and cheese. |
| | Serve warm and zest the lemon over the top of each dish. |