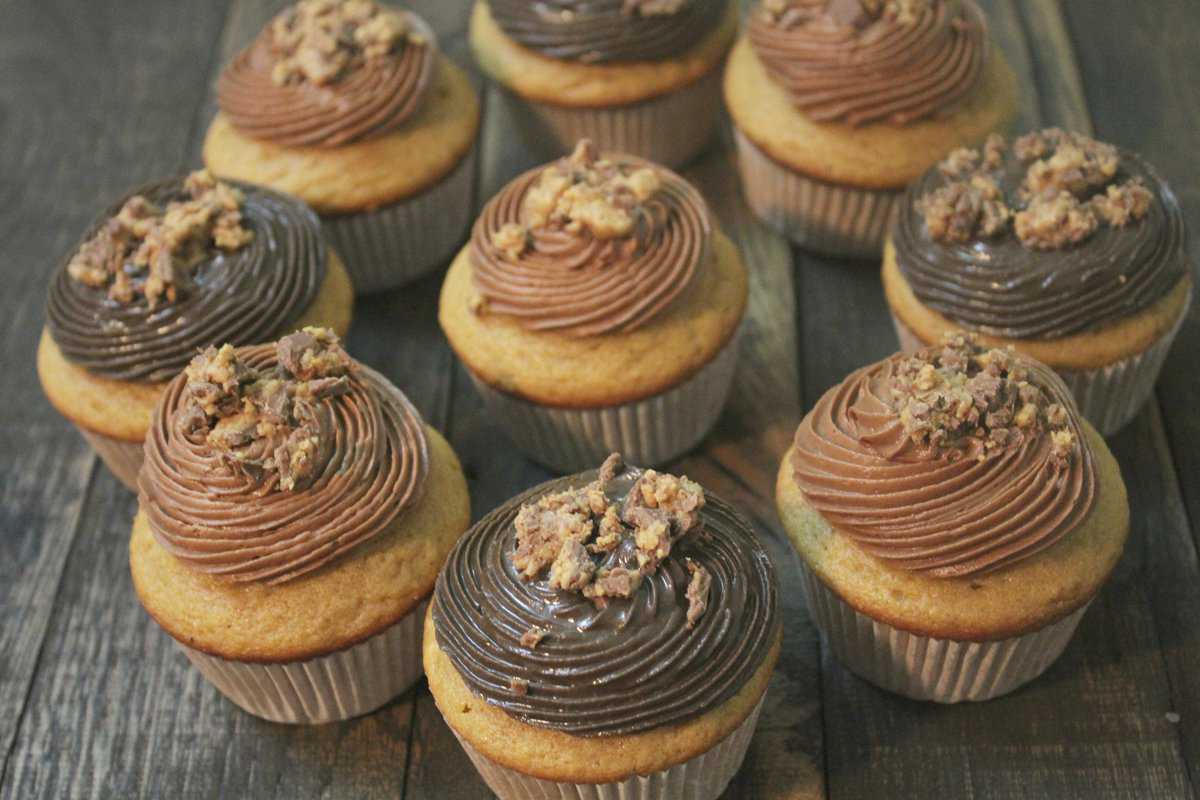 Peanut butter lovers unite! Fall is in the air and I'm in heaven. This is my absolute favorite time of year. It's cozy, cool outside and the trees are beautiful. I have so many happy associations with fall that just give me that warm feeling inside. Holidays, festive music, the food, family time, warm cider, the smells… OMG why is this time of year literally the best!? Although peanut butter is not traditionally a "fall flavor", the colors of these cupcakes remind me of fall, so, yeah, basically any excuse to call this a fall cupcake and still get away with using my favorite ingredient (peanut butter) will do 🙂
If you love peanut butter too, I am personally guaranteeing you that this will be your favorite cupcake of all times ever. Just a few weeks ago my favorite was the chocolate dreams that I call my Hostess Cupcakes Reinvented, but I somehow found one I love even more. Why do I do this to myself when I am trying to desperately lose weight before the wedding in just six short months??
So, I accidentally started a trend last year at my job. We typically bring in a cake when we have employee birthdays. There are a few local cake shops and the one we frequent, everyone loves. Me on the other hand – picky as usual. The cake – to me – is too dry/crumbly and just bland and the frostings are "meh". Just not worth the calories.
So one Thursday night in early 2016, I decided to whip up a small batch of 24 homemade red velvet cupcakes with cream cheese frosting to bring in Friday. Just a sweet treat to end the work week and a good alternative to donuts I thought. Well, the crowd went wild and declared a "Cupcake Friday". Since then, with the exception of a few extra busy weeks, I religiously make a batch of cupcakes (or other fun desserts) each Friday for my job. This has grown in popularity to the point that I have to make 50+ cupcakes each time, so other departments can enjoy them. But it is actually beneficial to me because I can explore new fun recipes and have a test market to judge them. And people are very honest 🙂
So these peanut butter ones were a little bit of a gamble for me. You never know if people LOVE or HATE peanut butter. Well, I put them out at 9:15am yesterday morning and by 10:30am all 48 had vanished. Then I was getting emails and was stopped in the hall asking if there were anymore left – by people I don't even know! Hopefully this will be some reassurance that if you make this recipe – no one will be disappointed, unless they dislike peanut butter.
It's an interesting recipe because it uses peanut butter cake. It's a twist on the typical chocolate cake with peanut butter frosting. This is heavier on the peanut butter flavor with a bit of chocolate peanut butter filling on the inside. Let me know if you enjoy them as much as I do!
Triple Peanut Butter Cupcakes (w/ Peanut Butter "Nutella" Filling)
Print recipe
| | |
| --- | --- |
| Serves | 24 |
| Prep time | 15 minutes |
| Cook time | 15 minutes |
| Total time | 30 minutes |
| Meal type | Dessert |
These delicious cupcakes will satisfy your peanut butter craving with a perfect combination of sweet and salty.
Ingredients
Cupcake
1 1/2 cup All-purpose unbleached flour
2 teaspoons Baking powder
1/2 teaspoon Baking soda
1/2 teaspoon Salt
1/3 cup Refined softened coconut oil (unrefined with give a coconut-y flavor to your cake)
1 cup Smooth peanut Butter (Jif perferred)
1 cup Dark brown sugar
2 Eggs
1 cup Buttermilk
2 teaspoons Vanilla extract
Filling
1 cup Smooth peanut butter (Jif preferred)
3 tablespoons Salted butter, softened
2/3 cups Powdered sugar
1/3 cup Special Dark Cocoa Powder
1/2 teaspoon Vanilla extract
Milk Chocolate Frosting
1 stick Softened salted butter
2 1/2 cups Powdered sugar
1/2 cup Cocoa Powder (add more cocoa powder if you prefer a richer/darker chocolate flavor)
1/4 cup Heavy cream or half-and-half
1 teaspoon Vanilla extract
Topping
20 pieces Mini Reeses Peanut Butter Cups (the ones in the gold wrappers)
Directions
Preheat oven to 350 degrees
Cake
In a medium bowl, whisk together all of the dry ingredients and set aside
In a mixing bowl, combine the peanut butter, coconut oil, and brown sugar. Beat for 1-2 minutes, until combined and becomes creamy. Mix in the eggs and vanilla extract until just combined.
Add in the flour mixture and buttermilk, alternately, beginning and ending with flour
Distribute 1/3 cup portions into a prepared cupcake pan and bake for ~15 minutes or until a toothpick inserted at the highest part of the cake comes out clean. Remove from the oven and set aside on a cooling rack.
While the cake is cooling, prepare the filling and frosting.
Peanut Butter "Nutella" Filling
In a bowl, combine peanut butter and butter and mix with a spatula until well combined and creamy. Add vanilla extract and combine.
Add the powdered sugar, a 1/2 cup at a time until well combined and smooth. Scoop the filling into a prepared piping bag with a large filling tip. Set aside and prepare the frosting.
Milk Chocolate Frosting
In a mixing bowl, cream the softened butter until smooth. Add half of the powdered sugar until the frosting is smooth and thick. Add a splash of the cream and combine.
Add remaining powdered sugar, the cocoa powder and mix well. Pour in the remaining cream and the vanilla extract. Mix well until the texture is silky smooth. Put the frosting into a prepared piping bag with your preferred frosting tip and set aside until ready for use.
Filling & Frosting the cupcakes
Fill the cupcakes by inserting the piping tip into the cupcake and slowly squeezing the filling into the cake while you simultaneously lift upward, pulling the tip out of the cake. Fill all cupcakes. If any filling is left over, you can frost some of the cupcakes with the filling (as I did in the photos).

Frost the cupcakes to your desired specifications. I prefer to pipe a classic swirl with a large Wilton star tip
Peanut Butter Cup Topping
Unwrap the mini Reece's Peanut Butter Cups and cut off the chocolate tops and discard, leaving mostly the peanut butter filling with a little chocolate from the sides/bottom. Chop all of Reece's filling into small bits.
Top the frosted cupcakes with the peanut butter cup pieces and serve!