Dairy Queen Peanut Buster Parfait Copycat Recipe
Print recipe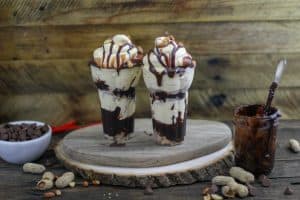 Ingredients
1 quart homemade vanilla ice cream (Blue Bell or Haagen Dazs if using store-bought)
1 cup hot fudge sauce
2 cups Jumbo roasted in-shell salted peanuts
Directions
Remove ice cream from freezer and left soften for 10-15 minutes. Crack open the jumbo peanuts to remove the nuts from the inside and put into a small bowl (the flavor is better when you crack them plus you get the redskin just like DQ). Set aside.
In a large bowl, empty the ice cream from container. Blend until smooth using a mixer/hand mixer until you reach the texture of soft serve. Put the mixing bowl full of ice cream back into freezer while you prep the glasses and heat the fudge.
Place a few spoonfuls of hot fudge into the bottom of each ice cream glass, top with a few peanuts. Using a piping bag with a large tip, pipe ice cream into each glass a few inches high.

Add another layer of hot fudge and peanuts, then more ice cream. Repeating again. Swirl the ice cream on top as you finish filling the glass. Drizzle with hot fudge and sprinkle with more peanuts. Serve immediately!