Crispy Crunchy Fried Sesame Chicken
Print recipe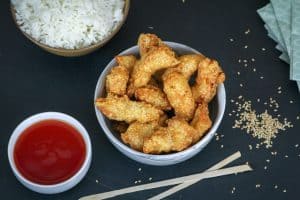 Ingredients
4 chicken breasts, sliced into 1-2
vegetable oil for frying
Serve with jasmine rice
Crispy Sesame Batter
1/2 cup self rising flour
1/2 cup corn starch
1/2 teaspoon salt
1/2 teaspoon granulated sugar
1 cup filtered water
3oz sesame seeds
Sweet & Sour Sauce
1/2 cup filtered water
1 cup granulated sugar
1/2 cup rice vinegar / white vinegar
1/3 cup ketchup
1/4 cup corn starch
Directions
Prepare for Frying
Heat your oil to 375 degrees. Use a candy thermometer to monitor and adjust the heat as needed, throughout the process as it will fluctuate.

Prepare a baking sheet or cooling rack lined with layers of paper towels beside the frying pan for placing the cooked chicken when finished.
Batter & Frying Chicken
Make the batter by mixing together all batter ingredients in a mixing bowl. Whisk until smooth.

Dip chunks of chicken in the batter, ensuring full coverage, then place into the oil. Work quickly so chicken cooks evenly. Don't overcrowd the pan. You will need to cook them in a few batches.

Fry for 5-6 minutes, making sure to get even browning on all sides of the chicken. I use a spider/skimmer to flip and move the chicken around, preventing them from sticking together as they cook.
Sweet & Sour Sauce
To make the sweet and sour sauce, put a small saucepan over medium heat. Add sugar, vinegar and water to the pan. Stir and allow to cook until the sugar is dissolved.

In a small dish, whisk together the ketchup and cornstarch until combined. Add this to the sugar mixture. Whisk well to combine, bring to a boil. Keep whisking as needed to create a smooth, thickened sauce. Remove from the heat and allow to cool. I like to serve the sauce while it's still warm.