Bordeaux Cherry Filled Doughnuts with Dark Chocolate Glaze
Print recipe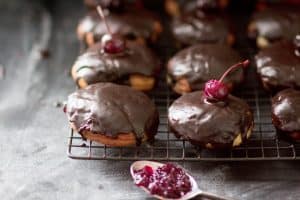 Ingredients
Sour Cream Doughnuts
3 1/2 cups all-purpose flour
1 packet Active dry yeast (2 1/4 teaspoons)
2 tablespoons granulated sugar
2/3 cups milk, lukewarm
5 tablespoons butter, melted
1 cup sour cream
1 egg
pinch of salt
oil for frying (enough to cover 2-3 inches in a pot)
Bordeaux Cherry Filling
1 cup Bordeaux cherries, chopped finely
1/4 cup Bordeaux cherry juice
2/3 cups sugar
1/3 cup water
1/2 teaspoon almond extract
2 teaspoons vanilla extract
1 lemon, juiced
2 teaspoons corn starch (dissolved in a tablespoon of water first)
Chocolate Glaze
1 1/2 cup powdered sugar
4 tablespoons cocoa powder (dark cocoa preferred)
2 tablespoons milk
2 teaspoons vanilla extract
Directions
Doughnuts
In a bowl, add yeast, milk and sugar and mix together until dissolved. Allow to sit for 15 minutes.
In a stand mixer with a paddle attachment, add the flour and salt and mix together to combine. Add the yeast mixture, egg, sour cream and butter. Mix together until well combined, being careful not to over-mix.

Place the dough in a large bowl sprayed with nonstick cooking spray and cover with a towel or plastic wrap. Let it rest (in a warm area preferred) until it doubles in size, about 2 hours. **Use this time to prepare the glaze and filling**
Heat oil over medium heat in pot.

Roll out the dough on a floured surface, to about 1/4 inch thick. Use a 2" circle cutter and cut out the doughnuts. When oil is ready, place 2-3 doughnuts in the hot oil at a time, flipping them after about 30 seconds. When done, place on a wire cooling rack with paper towels set underneath to absorb any oil drippings.

To assemble the donuts, carefully slit the side of each doughnut and insert the piping bag tip and squeeze about 1 tablespoon of filling into each doughnut.
Bordeaux Cherry Filling
In a saucepan, combine the Bordeaux cherries, Bordeaux cherry juice, water, sugar, extracts and lemon juice. Allow it to come to a boil and keep on medium low for 15-20 minutes. Whisking every few minutes. When the liquid is mostly boiled out, add the corn starch and whisk. Remove the thickened jam and allow to cool then place in a piping bag with a round tip.
Chocolate Glaze
In a medium bowl, place all chocolate glaze ingredients together and whisk until smooth. Add a tad more milk or powdered sugar as needed to get it to the right texture.