Cherry, Butterscotch & Chocolate Dipped Cones (Dairy Queen Copycat)
Print recipe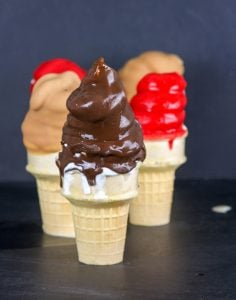 Ingredients
piping/cake decorating bags
shell dip, flavors of your choice
1 Gallon vanilla ice cream
4-6 sugar cones
Directions
Take a portion of the shell dip and place into tall, wide glasses. Following the manufacturers instructions, melt until just barely softened. Make sure it comes to room temperature before dipping the ice cream otherwise it will cause melting.
In a metal bowl or a stand mixer, empty the gallon of ice cream into the bowl by scooping it. Blend the ice cream until the texture is very smooth and silky. Put the bowl in the freezer for 30 minutes or so to prevent it from getting melty but still keeping it's softened form.
While ice cream is re-freezing, prepare your dipping station by lining up your shell flavors and having ample space in the freezer to rest your ice cream cones for after dipping so they can quickly harden.
Scoop ice cream into a piping bag fitted with a large round tip (or just cut the bottom of the piping bag by 1"). Pipe the ice cream like you are frosting a cupcake. Make sure to fill the bottom of the cone with ice cream first as it acts like "tree roots", allowing the ice cream to stay sturdily in place when turning upside down.

Pipe to the desired shape (it's hard to make them perfect but close enough was good for me), turn the cones upside down and dip into each shell flavor.

Remove, then re-dunk to ensure full saturation. Allow excess to drip off, then immediately place it back into the freezer to set for 10 minutes and serve!