Let me walk you through the pleasurable experience of eating Nashville Hot Chicken. You pick up a piece of chicken from atop the sliced white bread that is now partially soaked absorbing some of that seasoning. The chicken is still glistening from the deep orange-red dunk into the spicy coating, the crust is thick and hard (that's what she said) and easy to grip (that's what she said again). The fumes from the hot spice almost burn your nose as you bring it close to your mouth to take a bite. CRUNCH!! The crack of the crust is so loud you can taste the crunchiness. Your lips are wet and oily from the sauce and you are so mesmerized by the juiciness of the chicken that you don't realize your lips are starting to burn. You continue to take more bites and as the spice sets in you try to heal the burn by taking more bites faster and faster but to no avail because it only burns more. So you eat some pickles. That cools it down for a moment. But you miss the burn, so you return for more bites, only to start the process over.
Not only did you just experience complete divinity, you just made this yourself and people love you for it! This recipe will make you a proud hero and if you are intimidated by the description of all that heat, you can easily tone down the spice level to something more comfortable for you or your fam.
Ready to get started?

What is Nashville Hot Chicken?
Nashville Hot Chicken is distinctly different from regular spicy fried chicken. This chicken is fried hard (explained below) and has a super crispy crunch, then is dunked into a hot oil mixture full of intense spices ranging from cayenne to paprika and garlic powder and a hint of sweetness. It's so perfectly spicy that you suffer in the best way possible while eating it. Not an uncomfortable amount of spice though (unless you opt for that) but more of a pleasure is pain type of heat that literally warms your body. It's so craveable and a taste I yearn for almost weekly, that's how incredible this flavor is.
Nashville Hot Chicken was originated by Thorton Prince of Prince's Hot Chicken almost 100 years ago. Hattie B's and other brands came much later, with their own copycat version of Prince's. Nothing comes close to the uniqueness of Prince's though. Their recipe is a super-secret but after a trip to Nashville trying the chicken many times and doing extensive research, I've created a great version of Prince's super crispy, make-you-sweat hot chicken that I am very excited for you to try.
Their story is pretty cool and relatable, hot chicken being born from a woman scorned lol lol lol. She was trying to punish her man by cooking up his favorite fried chicken but secretly making it deathly hot. It wasn't supposed to be an enjoyable experience, but he LOVED it. And not much later the legendary chicken shack was born. I guess one could argue that his infidelity paid off 😆
What Does "Fried Hard" Chicken Mean?
In the chicken community (you know, us fried chicken obsessed folks), fried hard means that it's extra crispy with an audible crunch and that it's extra saucy. This recipe perfects crispiness with a few important steps that I outline in the next section.  
In this recipe we use a few fun techniques to create THE PERFECT FRIED CHICKEN!!
Steps to Making the Perfect Nashville Hot Chicken
Use any combination you prefer of drums, thighs, and tenders. I prefer tenders myself, but the cooking instructions for all of these is outlined in the recipe below. Avoid breasts because of their longer cooktime.
Salt the chicken first (quick brine)

To ensure moist, flavorful and tenderized chicken, salt the chicken and allow it to rest for 30 minutes at room temperature or overnight in the fridge.
Rather than adding the spices only to the flour drudge, in this recipe, we add part of the spice mixture directly onto the raw chicken pieces. This direct contact infuses each piece with lots of flavor.
Special ingredients to create an extra crispy coating.
Egg whites – helps the flour stick to the chicken like glue. Yolks make the chicken crust softer due to the fat content.
Vodka – since it evaporates rapidly in the frying oil, it sets the coating and creates flaky layers as it does in pie crust.
Cornstarch weakens the protein in the flour just enough to make the coating tender. all play a role in making this chicken incredibly crispy.
Bold spicy coating mixture
Don't be shy with the spices. It may feel crazy to add several tablespoons of cayenne pepper to a chicken coating, and it should since there aren't many recipes comparable to hot chicken. Unless you are intolerant of spicy food, be heavy handed with the spices. You won't regret it! But do be sure to taste-test your hot chicken coating first before dunking every piece in. You may find that you want more or less of something, so adjust as needed. It's more of an art and intuition than a science.
Tools Needed
Be prepared
Finally, safety with frying is very important. Always use thermometers to monitor your heat so prevent it from smoking and getting too hot. Be sure to set up your fry station so that you have everything you need readily available and don't need to run around and create a stressful moment. Lastly, be sure to read through all the steps and notes of the recipe to ensure you aren't flying by the seat of your pants. Is there anything worse than being mid-way through a recipe and realizing you don't have what is needed? I want to prevent you from wasting any of your time or money.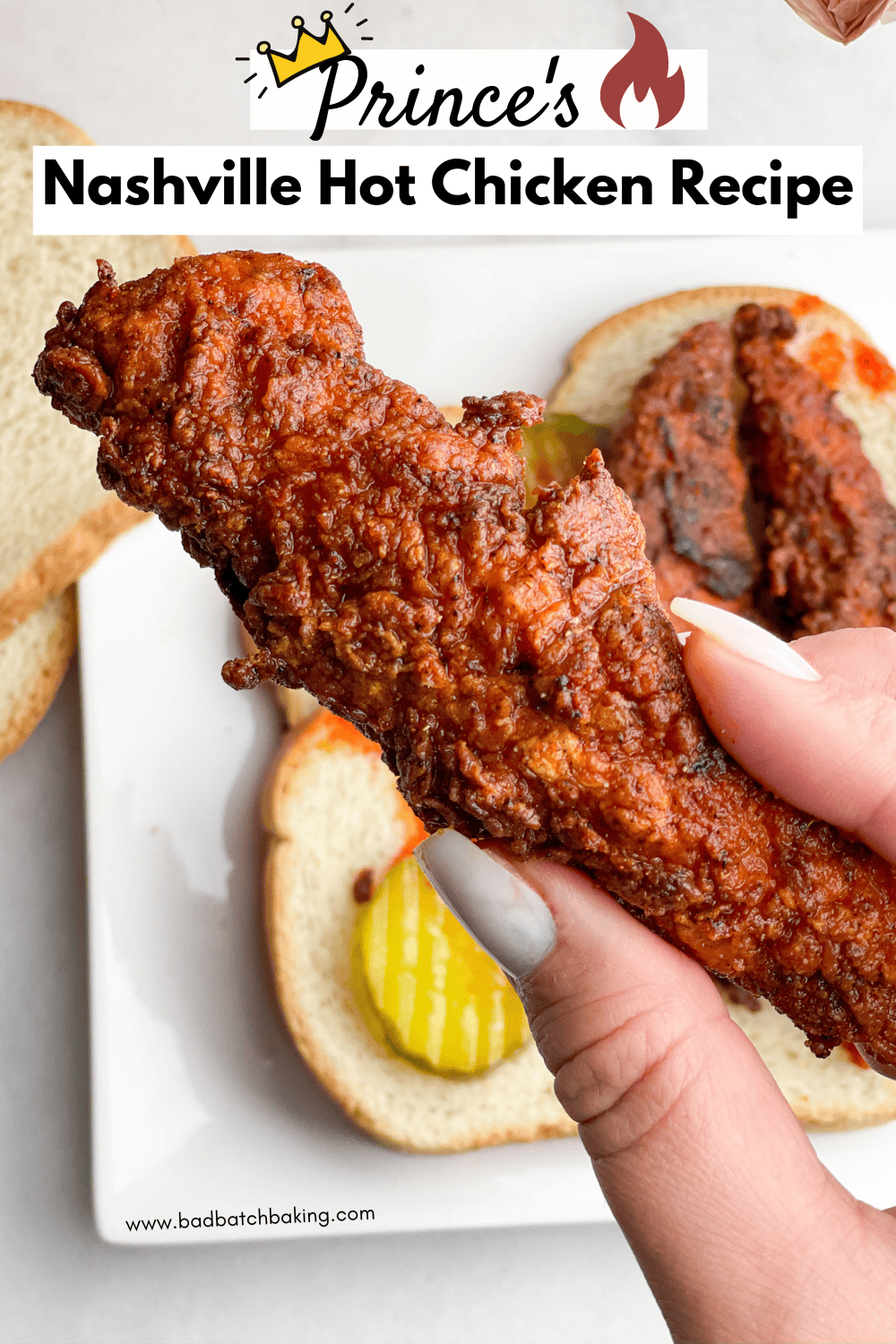 Looking for other delish copycat recipes?
The Travis Scott Burger Copycat Recipe
The Best Five Guys Burger Copycat Recipe
Olive Garden Chicken Alfredo Pizza Fritta Copycat Recipe
McDonald's Chicken McGriddle Copycat Recipe
KFC Chicken Littles Copycat Recipe
Popeye's Famous Chicken Sandwich Recipe
CPK Cauliflower Buffalo Bites Copycat Recipe
Wedny's Copycat French Fries Recipe
I look forward to your questions and feedback below. Please be sure to tag me @BadBatchBaking using hashtag #badbatchbaking if you made this recipe and I will feature you on my story! Plus, I LOVE to see your baking accomplishments.
Print Recipe
Nashville Hot Chicken Recipe (Prince's Hot Chicken Inspired)
This Nashville Hot Chicken recipe is inspired by Prince's Hot Chicken, the originator of the famous Nashville hot chicken. This extra crispy chicken is fried hard and dunked in a delicious blend of extreme spice that'll heat you up! Serve it over pieces of white bread and a handful of pickle slices.
I highly recommend reading the entire recipe and notes in detail before making this dish. Although it's not hard, there are a few special steps and tools that are imperative. As always, it's important to fully understand the recipe first so no time or money is wasted 🙂
Ingredients
8-16

pieces

chicken tenders or bone-in chicken pieces

8 pieces of bone-in or about 16 tenders

1

tablespoon

kosher salt

divided among chicken pieces
Chicken Seasoning
1

tablespoon

smoked paprika

regular paprika works as a substitute

1

tablespoon

cayenne pepper

2

teaspoons

garlic powder

2

teaspoons

freshly ground black pepper

1

teaspoons

ground white pepper
Chicken Coating
2

cups

all-purpose flour

2

tablespoons

cornstarch

1

tablespoon

hot sauce

I use Louisiana

1

cup

whole milk

buttermilk can be substituted but it makes the crunch a little softer

2

large egg whites

2

tablespoons

vodka

don't skip this step!!

about 2

quarts

peanut or vegetable oil

for deep frying
Nashville Hot Seasoning
1/2

cup

hot fry oil

2

tablespoons

cayenne pepper

1

tablespoon

light brown sugar

1

tablespoon

Kosher salt

2

tsp

freshly ground black pepper

1.5

teaspoon

garlic powder

1

teaspoon

paprika

1

teaspoon

onion powder

1

teaspoon

chili powder
For Serving
sliced white bread

pickle slices
Instructions
Prep the Chicken
Place the chicken pieces on a baking sheet or cutting board and sprinkle all over with 1 tablespoon of kosher salt, dividing among the chicken. Set aside at room temperature for 30 minutes (or refrigerate overnight).

In a large bowl, combine the paprika, white pepper, black pepper, cayenne, and garlic powder. Use 2 tablespoons (about half) of the spice mixture and sprinkle directly onto the chicken pieces, patting it into the chicken as you go.
Chicken Drudging
Add the flour and cornstarch to the remaining spice mixture in the bowl and whisk well to combine. In a separate medium bowl, place the buttermilk, egg whites, hot sauce, and alcohol and whisk thoroughly to combine.

Use one hand for the wet mixture and one hand for the dry, take 1 piece of chicken at a time, toss in the flour mixture, shaking off excess, dip chicken in the buttermilk mixture to completely coat, then place back in the flour mixture. Toss as needed to completely coat the chicken, pressing into it with your fingers. Repeat with remaining chicken.

Set aside at room temperature for at least 10 minutes (up to 30 minutes) while you set up for frying and heat the oil.

Place the oil in a large Dutch oven or deep, heavy-bottom pan, attach a candy or deep-fry thermometer, and heat over medium-high heat until the oil is 360°F, about 15 minutes. Set up your serving plates nearby with pieces of white bread. This is where the cooked chicken will land.
Frying the Chicken
Working in batches, place 3 chicken pieces (or 5 tenders) at a time in the oil and fry, using tongs to rotate the pieces every 3 to 4 minutes and adjusting the heat as needed to keep heat at 325°F, until golden-brown with an internal temperature of 165°F (check by inserting a probe thermometer into the thickest part of the chicken without touching bone). About 12 to 15 minutes for whole pieces or 8 to 10 minutes for tenders.
Nashville Hot Coating
While chicken is cooking, carefully ladle 1 cup of hot oil directly from the fryer into a heatproof bowl (I use a stainless steel mixing bowl or glass dish). Whisk in the Nashville hot seasoning rapidly but carefully until the brown sugar incorporates. Taste test and adjust seasonings as needed. Dip the hot fried chicken immediately into the spice mixture straight from the frying pan. Tossing several times to coat well . Place the finished pieces onto slices of white bread, top with pickles and serve immediately.
Notes
TOOLS NEEDED
Tongs, preferably long
Whisk
Candy or deep-fry thermometer
Probe thermometer
Dutch oven or heavy-bottomed pan
Stainless steel large bowl or heatproof large bowl